Are you thinking about a Perth to Albany road trip in Western Australia? Or do you want the quickest way there? Find out how to get there, what to see on the way, and tips for your journey. All this by a local who has lived in Perth for over 20 years.
My favourite way is to drive from Perth to Albany. I enjoy seeing the beautiful countryside as we pass and stopping at the cute country towns along the way. There are two routes to get to Albany from Perth; direct along Albany Highway or the longer, more scenic way via Margaret River or Pemberton. What one you choose will depend on how much time you have and if you have visited the South West region previously.
If you are short on time, take Albany Highway and make stops on the way down. If time isn't an issue and you want to see more of Western Australia's southern region, I suggest going via Margaret River.
Disclosure: This post may contain affiliate links (of which we use) so we may receive a small amount of commission if you buy something through them. As an Amazon Associate, I earn from qualifying purchases. You can read the full disclaimer here.
How to get to Albany from Perth
International and domestic visitors will fly into Perth Airport. Find details about visas, prohibited items, currency, and safety in this Australia Travel Guide and tips on arriving into WA and other essential travel information in this Western Australia Travel Guide.
There are a few options to get to Albany from Perth, including flying, bus, and car.
Flights from Perth to Albany
At present, only REX (Regional Express) are flying to Albany from Perth. The average flight time is just over an hour and costs around $280 return. The prices rise considerably at peak times, like summer school holidays.
The downside to flying is that a vehicle is needed to get to most of Albany's best places. Also, the only option from the airport is a taxi or car hire. Therefore, budget on renting a car when you get there.
Car Hire
There are car hire booths at Perth airport, but it's best to pre-book your car rental. Choose from Avis, Budget, Europcar, Sixt, Hertz, Enterprise, and Thrifty.
To compare rental car company prices, I use Discover Cars, an award-winning car rental comparison website. They offer competitive pricing in over 10,000 locations worldwide and are have a high rate of customer satisfaction.
Drivenow is a good resource to compare campervan hire in Western Australia as it includes all the large companies like Britz, Maui, Jucy as well as smaller ones.
Perth to Albany Bus
TransWA buses run from East Perth to Albany and take about 6 hours. Return tickets start at $67. As with flying, it is best to hire a car upon arrival in Albany.
Tours from Perth to Albany
If you're looking for a tour from Perth to Albany, this tour from Viator is a good option.
Highlights include:
4-day Margaret River, Albany, and Valley of the Giants tour from Perth
Stroll through the quaint township of Margaret River
Visit the Valley of the Giants Tree Top Walk
Climb the Gloucester Tree for amazing views
Enjoy a wilderness cruise on Nornalup Inlet
Go underground in the limestone Mammoth Cave
View The Gap and Natural Bridge rock formations at Albany
Click here to check the price and availability.
How Far is the Perth to Albany Drive?
Travelling direct, it's a 415km Perth to Albany road trip.
What is there to do on the way from Perth to Albany via Albany Highway?
Williams
Williams is one of the oldest settled towns in Western Australia and the perfect place as the first of your Albany Highway stops. It's just over 2 hours from Perth and the gateway to the Great Southern Region. This rural community is made up of wool, livestock, and grain-producing areas.
Williams Lion Park
Williams Lions Park is the ideal place to let the kids run around and have a picnic or barbecue. There's a flying fox, playground, picnic table and the toilets were clean.
Williams Wool Shed
Williams Wool Shed is another great place to spend some time. There's a café as well as other shops, including giftware and woollen products.
Kojonup
Kojonup is one hour on from Williams, so you can choose to stop in both places or choose one. It's a farming country town with lots of historical sites to visit. Some of the buildings date back to the mid-1840s.
Kojonup Springs
If you didn't have something to eat in Williams, stop at Kojonup Springs, a popular picnic spot.
Kojonup Military Barracks
Right opposite the springs, you will see the Kojonup Military Barracks. It is the oldest building in Kojonup, being built in 1845, to replace the wooden original. The soldiers of the 51st British Regiment used this stone building and is in near perfect condition. It has been a school, a meeting place, and a private home but is now the town museum.
The Barracks' peppermint trees were planted while it was a school and are now over 100 years old.
The Kodja Place
We haven't visited here yet but hope to on our next Perth to Albany road trip in January. The Kodja Place weaves together Kojonup's Noongar-Aboriginal and settler cultures by photos, art, and objects. More information is on the Kojonup Visitor Centre's website.
Mount Barker
Another hour later and you will arrive at Mount Barker. It's a beautiful area and surrounded by the Stirling and the Porongurup ranges. It is only 40 minutes to Albany from here.
Old Police Station
If history interests you, consider having a look at the Old Police Station Museum. It is open weekends and Public holidays from 10 am to 2 pm. Convict labour was used to build it in 1868, and remained a Police Station until 1908.
Mount Barker Lookout
This lookout is located 3km from the Visitor Centre and has panoramic views over the surrounding countryside.
Vineyards
There are some lovely wineries to pop into if you want to purchase some wine for your evening. A couple of our favourites include West Cape Howe and Plantagenet Wines.
Stirling Ranges
If you are feeling energetic, consider one of the walks in the Stirling Range National Park. However, please note that you should allow at least 2 hours for the shortest 2.6km hike.
Porongurup Ranges
Porongurup Village is 15 minutes east of Mount Barker. Here you will find a cute village shop with tea rooms, craft outlets, and vineyards. You will need a National Parks Pass to visit Porongurup National Park, which you can purchase at the Mount Barker Visitor Centre.
They are the oldest mountain ranges in the world, dating back billions of years.
Perth to Albany Road Trip Itinerary Via Margaret River
This route is approximately 650km and around 8 hours of driving, without detours. However, this defeats the idea of this road trip. As for a self-drive itinerary from Perth to Albany, I will give you ideas on where to stop and what to see, but it will depend on if you are a slow traveller or like to cram your days as to how long to spend in each place. I would suggest, however, spending at least three days in each place.
There are some gorgeous towns between Perth and Albany, so it's worth spending time to explore them.
Busselton – Stop 1
Busselton is 223km from Perth and will take just under 3 hours to get there. There are rest stops along State Route 2, some of which have fast food outlets, petrol stations, cafes, bakeries, toilets, and picnic tables.
You can park at the oceanfront, take a walk along the promenade, and view the longest timber piled jetty in the southern hemisphere. The Underwater Observatory is worth doing and includes a return train ride along the jetty.
Busselton, or Dunsborough, are the best bases to explore this part of the Margaret River region. It's a beautiful area with plenty to do and see. The beaches along Cape Naturaliste are some of the best in the world, my favourite being Meelup Beach.
Best thing to do: Busselton Jetty & dive or try out the SeaTREK ® undersea walk
Read: Things To Do in Busselton, Things To Do in Dunsborough and Things To Do in Yallingup.
We use Booking.com for most accommodation bookings as they offer free cancellation on most rooms, have a loyalty program (Genius), a price match guarantee, the site is user-friendly and they have great customer support. We also book through Stayz for private accommodation as they are often cheaper than Airbnb.
Camping
When we camp, we stay at RAC Caravan Park. It's a clean and well-kept camp site with plenty of facilities. Our review of RAC Busselton gives more information and photos. If you want to book a cabin there, I booked through Booking.com.
Private Accommodation
Our favourite place to stay in this region, is at Cape Villas, which are conveniently located within a twenty-minute walk of Dunsborough's centre. Booking.Com have a few villas on their site here.
A popular Bed & Breakfast is Baudins of Busselton Bed and Breakfast.
Luxury
My luxury pick for Busselton accommodation, would be the Aqua Resort as the reviews are excellent and it offers luxurious beachfront accommodation and facilities.
Read: The Best Accommodation in Busselton
Margaret River – Stop 2
It's only a 45-minute drive from Busselton to Margaret River, but there are lots of places to explore. There are more stunning beaches to swim at, wineries to lunch in, breweries to drink in, art galleries, and another lighthouse in Augusta.
Read: Hamelin Bay (how to see the stingrays) and Things to do in Margaret River.
Camping
Big 4 Taunton Farm Holiday Park is where we camp near Margaret River. The campsite is 4 km north of Cowaramup and 15 km north of Margaret River. It's great for families with daily animal feeding, kids' playground, and bouncy pillow. We liked the large barn-style campers' kitchen with log fire and the free gas BBQ's to cook our evening meal on.
If you'd prefer to stay in a cabin, you can book here.
Private House for 8 Guests
We stayed at Kings Landing one Christmas. It's a luxurious property on the outskirts of Margaret River that sleeps up to eight guests. This holiday home is in a rural setting on 3.8 acres of land. We had kangaroos come and visit us each night. This beautiful house has spacious open plan living areas and a modern large kitchen. It contained everything we needed for our weeks' stay, even table tennis in the garage! We booked through Stayz (part of VRBO) as it was a lot cheaper than Airbnb.
Luxury Accommodation
A luxury option would be Losari Retreat, set on 66 acres and bordered by National Park. You don't even have to leave the property to go hiking! Apartments have a bathroom with a rain shower and some a private hot tub.
Mid-Range
My pick for mid-range accommodation, would be Bushy Lake Chalets. These self-catering chalets have a cosy fireplace, a relaxing spa bath, and are just a 7-minute drive from the heart of Margaret River.
Budget
For a budget option, I would book Surfpoint Resort in Gnarabup Beach. There are different room options including family, triple, double or twin rooms. You also have use of the large well-equipped communal kitchen, games room, and outdoor swimming pool.
Some other ideas for accommodation near Margaret River:
Pemberton – Stop 3
One and a half hours from Margaret River is the country town of Pemberton. Watch the landscape change from countryside to forests. Pemberton is the place of the tall Karri trees. Some can even be climbed, like the Gloucester Tree above, or hike one of the many trails in the National Parks.
It's spectacular in spring with the wildflowers and Manjimup isn't far from Pemberton and worth a visit.
Read: Things to in Pemberton and what to do in Manjimup.
Camping
Big Brook Arbaretum Campground is 3 km from Big Brook Dam and offers basic camping for around $11 per adult per night. It is situated amongst the karri trees with picnic tables, barbecues, and toilets.
If you prefer more facilities when camping, we stayed at Fonty's Pool, between Manjimup and Pemberton. It has the best reviews in the area, but it was jam-packed, so we had to queue to use toilets and showers. The sites are also quite close to each other, which didn't provide much privacy. However, the pool was great, and the site is in a beautiful setting.
Luxury Accommodation
If you are after a bit of luxury, or a romantic getaway, consider Mudstone Suites. These suites come with all the usual amenities, including a coffee machine, barbecue, and sun terrace. Some suites also have their own spa and sauna! Just note, the property is located on an unsealed road.
Mid-Range
Both Big Brook Retreat and Rainbow Trail Chalets are very highly rated, and I'd consider either of them on our next visit to Pemberton. Click on the links to view the full range of facilities and amenities on offer at these properties, as well as the price.
Budget
Maybe not budget but definitely on the cheaper end of the scale and good value for money is the Karri Forest Motel. All rooms are air-conditioned, have a TV, and barbecue facilities are provided. The gym and swimming pool are available for use all year round.
Family
We stayed previously at Diamond Forest Cottages and recommend it for families. Our children adored the farm animals, and feeding them each morning was a highlight of their day. They still talk about Choppa (the kangaroo) five years later. Read our full review of Diamond Forest Cottages before booking.
Walpole – Stop 4
Walpole is an hour and a quarter drive from Pemberton through the Shannon National Park. You have the option of taking the Great Forest Trees Drive or going on a hike here. You can view this brochure for more information. Alternatively, Fernhook Falls is on the way to Walpole, although these falls are only worth doing after heavy rains (late winter/early spring).
Walpole is a quaint country town with friendly locals and is one of our favourite places in WA. The massive red tingle trees are magnificent as are the surrounding forests and sandy beaches.
Read: Things To Do in Walpole for more information.
Camping
We've stayed at Coalmine Beach Holiday Park twice; camping and in their glamping tents. I have to say that it's the best campsite we have stayed at in Western Australia. Our site was huge and had a fire pit that we could use (bag of wood purchased from reception). There were four campers' kitchens with stove/oven, microwave, toaster, kettle and fridge/freezer, seating, and barbecues. The amenities were clean, and we never had to wait to use the showers. Best of all is it felt like camping in the bush (with kangaroos around us and lots of birds) but with the luxury of having all the amenities.
The glamping tents were amazing and it was great to not have to set it all up. Each one has a Nescafe pod coffee machine, fridge, microwave, kettle, and toaster. The oil heater and electric blankets are an added luxury for the cooler months. We enjoyed sitting out on the decking with the throw blankets provided watching the sunset and the kangaroos hop past.
Mid-Range
Tinglewood Cabins would be my choice if I wanted to stay in a chalet. It gets a 9.5 star rating on Booking.com, and I like that it has a fully equipped kitchen and a fireplace. See if it is still available for your dates by clicking here.
Budget
Tingle All Over Budget Accommodation is a hostel but suitable for families too. They have family rooms, one of which has a private bathroom. The rest of the rooms have a shared bathroom. Tingle All Over gets great reviews with prices around $30 per person for a dorm, going up to about $130 for a family room with a bathroom for four people.
Denmark – Stop 5
Denmark is a 45-minute direct drive from Walpole with so many places to see. You can't miss Greens Pool and Elephant Rocks, they're my favourite places in Denmark. There are some scenic drives around this area, showcasing the stunning landscapes, like the Scotsdale Scenic Drive.
Read: Denmark travel guide and things to do
Camping
We stayed at the Ocean Beach Holiday Park in a superior chalet. Ok, it's not camping, but it is in a caravan park. There were great facilities, including a jumping pillow, playground, tennis court, and mini-golf.

There's a new camp kitchen featuring luxury stone benchtops, three deep kitchen sinks, fridges, two aircons, and a huge TV. I also checked out the amenities, which were clean.
The park itself is well maintained and just a short walk to Ocean Beach.
Budget
My recommendation for a budget stay in Denmark would be the Koorabup Motel. All rooms have a fully equipped kitchen with an oven, stovetop, microwave, fridge, and toaster. Room types vary from a studio to a two-bedroom apartment that sleeps up to 5.

Mid-Range
William Bay Cottages would be amazing to stay at, especially in winter. Who can resist a log fire?! Each cottage also has a patio, a fully equipped kitchen, a flat-screen TV, and a private bathroom. They are situated on a working farm, making the perfect choice for children who love a farm stay. There's also a private beach track to Mazzoletti Beach. Don't just take my word on how good this looks; see it here.
Luxury
Ark of Denmark features only two beautiful chalets with everything required for a relaxing getaway. Set on 2-acres of natural bush, enjoy inlet glimpses, sounds of the ocean, sunrises, rare bird-life, and Australian bush scenes from every window. A unique treehouse type timber building with a pot belly fire, private bathroom, kitchen, and coffee machine.
Bed and Breakfast
Sensational Heights B&B sits on 101 acres of beautiful Karri Forest. All suites feature a TV, DVD player, heating, air conditioning, and tea/coffee making facilities. 
Albany – Stop 6
The final part of the Perth to Albany road trip is from Denmark to Albany which will take 45 minutes.
Read: Things To Do in Albany and the best accommodation in Albany WA.
Camping & Budget Accommodation
There are plenty of accommodation options for your Albany trip. We stayed in a two-bedroom cabin at Middleton Beach Caravan Park. This campsite is right on the beach and a 10-minute drive from the center of Albany. It was perfect as it had kitchen facilities and bathrooms, plus it was only a short walk to cafes. We booked it through booking.com as they had the best rates.

See what price you can get it for today here.
Mid-Range
On our second visit, we stayed at Banksia at Middleton, in a perfect location in the heart of Middleton Beach. The apartment itself was clean with full kitchen facilities. The bedrooms were upstairs along with the bathroom. The décor is a bit dated, but it's reflected in the price. The air conditioning is downstairs, so we found it a bit hot upstairs (we stayed at the hottest time of the year). The other down point was the pipes occasionally groaned when water was turned on.
We haven't stayed in the following accommodation but would look at them for future stays:
Big 4 Emu Beach Holiday Park
Pelicans Middleton Beach
Albany Bali Style Accommodation
Tours from Albany
Tips for a Perth to Albany Road Trip
Leave early in the morning to arrive well before dusk when animals can hinder and danger the roads.
Don't drive tired. If you feel sleepy, pull over at one of the many rest stops on the side of the road.
Pack a picnic to enjoy at one of the beautiful parks on your road trip to Albany. Maybe make a flask of tea or coffee too.
Make sure you have plenty of water for your journey – stay hydrated.
Keep some snacks handy for the car journey.
Allow time to stop at least once in one of the destinations mentioned above.
Be prepared that you may lose the radio signal in some parts, so bring some music with you.
What to take with you on a Perth to Albany Road Trip
Here are a few items that I recommend you bring on your Perth to Albany road trip: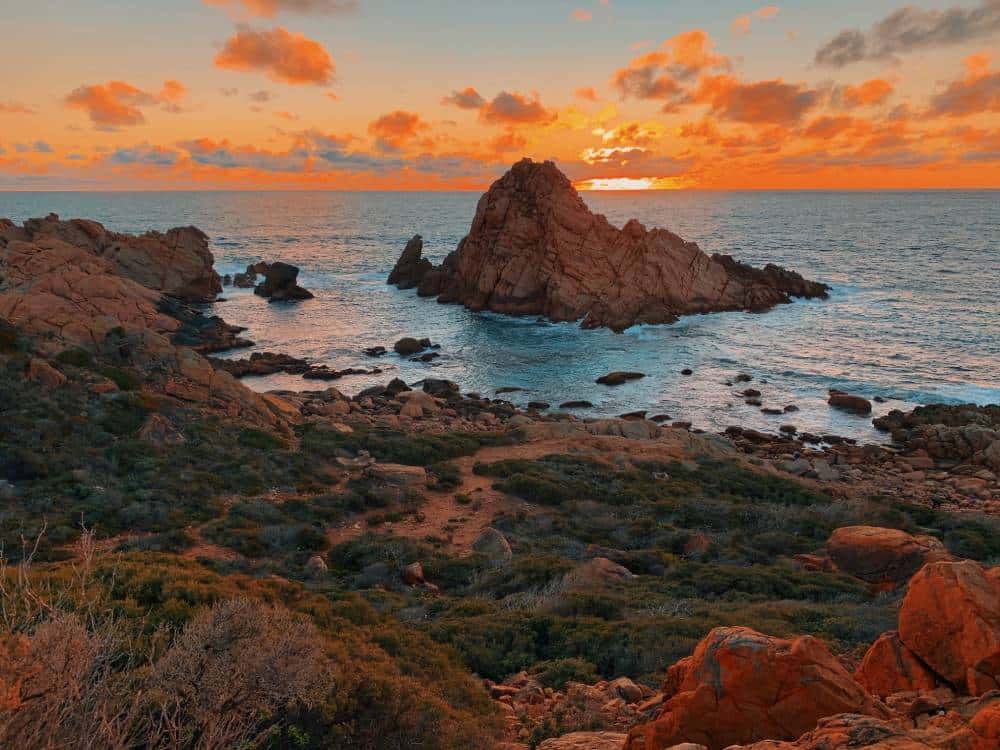 Western Australia's South West Travel Guide
This detailed travel guide provides information on all the regions that make up Australia's South West. Read about the destinations, including what to do and where to stay.



For other ideas on where to visit in Western Australia along with the best things to do, where to stay, how to get around, and other essential information, click on the link below.


Save money planning your holiday
Flights: We use different sites to get the best possible price for flights. Check matrix.itasoftware.com to get an idea of the cheapest dates, but you can't book through this site. Compare the cost of flights with Kiwi.com and try different routes.

Accommodation: We mainly use Booking.com for accommodation as they consistently have the lowest rates with free cancellation on most properties. We also book through Stayz for private accommodation as they are usually cheaper than Airbnb.
Car Rental: To compare rental car company prices, we use Discover Cars, an award winning car rental comparison website. They offer competitive pricing in over 10,000 locations worldwide and are highly-rated.
Campervan Rental:Drivenow is a good resource to compare campervan hire in Western Australia as it includes all the large companies like Britz, Maui, Jucy as well as smaller ones.
Tours: We use third-party sites Viator, Get Your Guide & Klook due to their free cancellation policies, instant confirmation, price guarantees, and mobile ticketing. We occasionally book through Red Balloon too.
Mobile: Telstra has the best coverage in Western Australia. We buy our sims through Boost who provide 4G/4GX coverage on full Telstra 4G Mobile Network. With up to 82GB for 28 days or 240GB for 12 months, unlimited national calls & text, and international inclusions on selected plans, you're sure to find the right prepaid SIM for you. See plans here.
Travel Insurance: Cover-More protects the travel dreams and experiences of more than 15 million people worldwide every year (including us!). Part of Zurich Insurance Group, they cover 22 countries across five continents with leading positions in the USA, Australia, Brazil, Argentina, Ireland, India and New Zealand. Protect your trip against several COVID-19 scenarios during the current coronavirus pandemic. 
FAQ
What is the Perth to Albany distance?
The distance from Perth to Albany is 415km via Albany Highway.
What is the Perth to Albany drive time?
The drive time from Perth to Albany is around 4.5 hours without stops. This is the quickest route along Albany Highway.
Where to stop on the way to Albany?
You can stop at Williams, Kojonup, Mount Barker, and The Porongurup National Park.
If you found our Perth to Albany Road Trip guide helpful, please consider booking through one of our links. It won't cost you anything but will help towards the cost of running this site. Thank you.