Cervantes: Local's Guide & Things To Do in 2023
Cervantes is a small coastal fishing town at the start of Australia's Coral Coast region and is known for its stunning beaches, crystal clear waters, and natural beauty. It's a popular destination for those seeking a relaxing and rejuvenating holiday away from the hustle and bustle of the city.
Being predominantly a cray fishing town, you will see the boats moored along the coast, ready for their early morning starts. The houses are a mixture of old fibro shacks to modern double-storey mansions.
I've lived in WA for over 20 years, and Dave was born here, so we've spent many years exploring our state.
In this article, we will take a closer look at what makes Cervantes worth visiting and provide a comprehensive guide to help you plan your next trip to this corner of Western Australia.
So, if you're looking for a unique and unforgettable travel experience, read on to find out why Cervantes should be on your list.
Top 10 Things To Do in Cervantes Western Australia
1. Pinnacles Desert, Numbung National Park
The Pinnacles can be found in Nambung National Park, 29 km south of Cervantes. These natural limestone pillars form part of a unique landscape scattered amongst the sand dunes and are one of Australia's natural wonders.
The 4 km loop drive, which has plenty of bays to stop, takes you through the Pinnacles Desert with opportunities to get up close to the pinnacles and visit the Desert View Lookout.
Find out more about these interesting geological features in this guide to The Pinnacles.
2. Lake Thetis
Lake Thetis is a small inland saline lake and is one of only a few places in the world with living marine stromatolites, or 'living fossils'. The rock-like structures have been dated to about 3,370 years old and built by microbes similar to those found in 3,500 million-year-old rocks, resembling the earliest forms of life on Earth.
You can walk around an easy 1.5 km loop trail, which provides opportunities to see and learn about the fossils, geology, flora, fauna, and Indigenous culture. The first 300 m has an accessible boardwalk, passing Lake Thetis's best examples of stromatolites.
The best time to visit Lake Thetis is in summer when it's dry so that you get a better view of the stromatolites.
You can also see stromatolites in Hamelin Bay, in the Shark Bay region and thrombolites in Lake Clifton.
3. Hansen Bay Lookout & Thirsty Point Lookout
Hansen Bay Lookout gives you a panoramic view of Hansen Bay, the surrounding islands and reefs, Lake Thetis, and Cervantes.

A bush and beach walk trail connects Thirsty Point and Hansen Bay lookouts. It's beautiful during the wildflower season and can be extended along Hansen Bay Road to take in the Stromatolites at Lake Thetis, then return to town via Cervantes Road.
4. Hangover Bay
With its sandy beach, Hangover Bay is close to the Pinnacles and is great for snorkelling, swimming, and surfing. Bottlenose dolphins often frequent the area, and you may spot sea lions.
Beach shacks were present in the 70s and 80s, mainly belonging to farmers that would head to the coast for summer holidays. It is said that Hangover Bay got its name from people visiting the beach after New Year's Eve festivities!
5. Kangaroo Point
Before you reach Cervantes on Indian Ocean Drive, you will see a sign pointing to Kangaroo Point, a popular shore fishing and boating beach. It's also used by 4wd vehicles driving along the sand from Lancelin to Cervantes.
The beach is remote but has a drop toilet and barbecue.
6. Cervantes Beach
Cervantes Beach is usually calm and has designated swimming areas. However, a large amount of seagrass is typically close to shore and washed up on the beach.
Ronsard Bay, Thirsty Point, and Hansen Bay are other nearby beaches.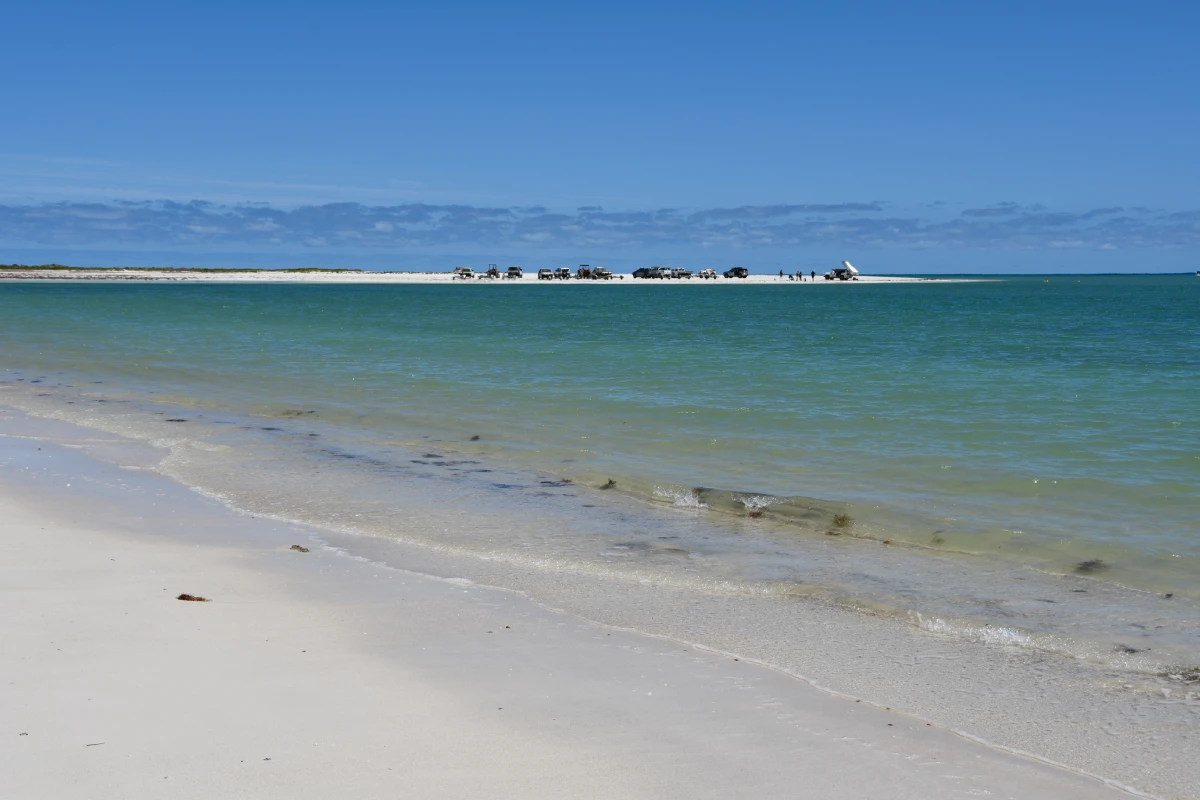 7. Sea Lion Tour
From the end of September to the end of April, Lobster Shack runs Australian Sea Lion tours out to the islands around Cervantes.
8. Fishing
Cervantes Jetty is the best spot for fishing, especially at dawn and dusk. You may catch tailor, whiting, mulloway, and squid.
Children's Playground
The Cervantes Oval Adventure Playground is great for parents looking for somewhere to break up their journey or to entertain the kids for a while. I'm sure they will enjoy the fort in the shape of a shark.
9. Wildflowers
If you visit Cervantes between August and October, you will be rewarded with a beautiful display of wildflowers. The best places to see them in their glory are Nambung National Park, Lesueur National Park, Stockyard Gully Reserve, Badgingarra National Park, and Tathra National Park.
10. Cervantes Art Trail
The Cervantes Art Trail in Western Australia is a self-guided trail taking visitors on a journey through the picturesque coastal town of Cervantes and the surrounding countryside, showcasing 23 works of art.
Trips from Cervantes
Jurien Bay
Jurien Bay is becoming a popular short break destination for families attracted to the white sandy beaches and proximity to Perth.
Only 20 minutes north of Cervantes, you can make a day trip to discover Jurien Bay Marine Park and, hopefully, see an endangered Australian Sealion. They are often spotted in the area.
Where is Cervantes?
Cervantes is located off Indian Ocean Drive, 198 km north of Perth, Western Australia.
Getting there: Perth to Cervantes
International and domestic visitors will fly into Perth Airport. Find details about visas, prohibited items, currency, and safety in this Australia Travel Guide and tips on arriving into WA and other essential travel information in this Western Australia Travel Guide.
It will take you just over two hours to drive from Perth to Cervantes along Indian Ocean Drive.
Why not make it part of an Indian Ocean Drive Road Trip?
There are car hire booths at Perth Airport, but it's best to pre-book your car rental.

To compare Australian car hire prices, Discover Cars is an award-winning car rental comparison website. They offer competitive pricing in over 10,000 locations worldwide and are highly rated.

DriveNow is a good resource to compare campervan hire in Western Australia. It includes all the large companies like Britz, Maui, & Jucy as well as smaller ones.

Compare Rental Cars Here.

What is there to do between Perth and Cervantes?
If you want to stop along the way, these are great options to break up the journey.
Yanchep
Visit Yanchep National Park to see koalas, and western grey kangaroos, explore caves, go on walks, take an Aboriginal culture tour, or zipline through the forest.
Guilderton
Guilderton, or Moore River as it is also known, is a popular locals' day trip from Perth. The beautiful beaches are perfect for swimming, fishing, and surfing, while Moore River provides cruises, canoeing, fishing, and a safe swimming spot for the kids.
Read more about things to do in Guilderton here.
Lancelin
Lancelin Sand Dunes, the largest in WA, are around 2 km long and are the main attraction in Lancelin. They consist of soft white sand with no vegetation making them perfect for sandboarding. Read more about things to do in Lancelin here.
Wedge Island
Wedge Island is a rustic coastal community with one of the last remaining beach shack settlements in Western Australia. The newly sealed road makes getting there easy and is fully accessible to the car park. However, the real fun of Wedge Island is driving your 4wd along the beach, parking up, and enjoying the views/beach/surf.
The Top 2 Cervantes Accommodation
Have you booked accommodation?

We use Booking.com for most accommodation bookings as they offer free cancellation on many properties and have a price match guarantee. We book through Stayz (part of VRBO) for private accommodation as we find it is often cheaper than Airbnb.

Tip: Accommodation gets booked quickly, especially during the WA school holidays. To avoid disappointment, book early.
1. RAC Cervantes Holiday Park
RAC Cervantes Holiday Park offers a range of two and three-bedroom poolside villas with a fully equipped kitchen, large living room, and private bathroom facilities.
Facilities include:
A nature playground.
BBQ area.
Heated outdoor swimming pool.
Kids' activity area with pool table.
Table tennis.
Large screen TVs.
You can enjoy a meal at Seashell's Café, which is open daily for breakfast, lunch, and snacks.
If you're a RAC member, you'll receive a discount if you book direct. Compare with prices from Booking.com
Rating: 9 with reviews like "Newly renovated apartment, well equipped kitchen with heated pool for children. My family had a great stay at RAC!"
2. Pinnacles Edge Resort
Cervantes Pinnacles Edge Resort offers air-conditioned studios, spa suites, and two-bedroom apartments with either a kitchenette or a fully equipped kitchen. In addition, the resort has a swimming pool, a restaurant, and a bar and is a 5-minute walk from Cervantes Golf Course.

Guests can use the fitness centre, and the on-site restaurant is open for breakfast, lunch, and dinner.
Rating: 8
Private Accommodation in Cervantes
Stayz, part of the VRBO group, have a wide range of private properties for holiday rentals.
Eating out in Cervantes
The Lobster Shack Cervantes
The Lobster Shack is advertised as one of the best places in Western Australia to have crayfish (lobster). Unfortunately, we didn't enjoy our meal there. However, if you have dined at the Lobster Shack, please let me know your thoughts in the comment section to help other readers decide.
Cervantes Bar & Bistro
The Cervantes pub is your best bet for dining out in Cervantes, serving traditional pub food in a casual atmosphere.
What's the weather like in Cervantes?
Summer is the best time to visit Cervantes if you want to swim or snorkel.
August to October is wildflower season in Cervantes.
The most rainfall in Cervantes is during the winter months.
Origin of Cervantes Name
The town was named after the Cervantes that was wrecked nearby.
History of Cervantes
Cervantes was originally home to the Yuat people before European settlement.
It wasn't until 1962 that the WA government removed 505 ha from the northwest corner of the Nambung National Park to establish a town to accommodate local cray fishing workers.
FAQ
Where can I snorkel in Cervantes?
Hangover Bay is the best place to snorkel in Cervantes.
If you found this article helpful, please consider booking through one of our links. The small commission I may receive helps with the cost of running the site. Thank you.

For other ideas on where to visit in Western Australia along with the best things to do, where to stay, how to get around, and other essential information, click on the link below.


Save Money Planning Your Trip
Click on the links, which will take you directly to the website.
Flights ✈️
We fly Virgin Australia domestically due to their competitive prices and fantastic customer service, and fly with Qatar Airways to Europe.
Accommodation 🏩
We mainly use Booking.com for accommodation as they consistently have the lowest rates with free cancellation on most properties.
For pet sitting in Western Australia and worldwide, we are members of Trusted Housesitters. Free accommodation for pet and house sitting.
Car Rental 🚘
To compare rental car company prices, we use Discover Cars, an award-winning car rental comparison website. They offer competitive pricing in over 10,000 locations worldwide and are highly rated.
Campervan/RV Rental 🚐
DriveNow is a good resource to compare campervan hire in Western Australia as it includes all the large companies like Britz, Maui, and Jucy as well as smaller ones.
Travel Insurance 🌏
Cover-More and Travel Insurance Direct are our preferred travel insurance companies for domestic and international travel.

See this Travel Insurance for Australia guide for more information.