Lake Leschenaultia Guide | A Perfect Family Day Trip in 2023
Lake Leschenaultia is a beautiful, crystal-clear recreational lake in the Perth hills. The surrounding countryside is picturesque and the perfect place to take a family day trip or a camping weekend. Plenty of water- and land-based activities keep everyone entertained, like hiking, biking, fishing, and kayaking.
If you're looking for a relaxing day out, this beautiful lake is the perfect spot.
Where is Lake Leschenaultia?
Lake Leschenaultia is in the country town of Chidlow, part of the Shire of Mundaring in the Perth metropolitan area.
Lake Leschenaultia Directions & Address
The address of Lake Leschenaultia is 2135 Rosedale Road, Chidlow. It is about a 50-minute drive east of Perth city via Great Eastern Highway (National Route 94).
Lake Leschenaultia Map
See this copy of the Lake Leschenaultia map for the location of the campground, café, parking etc.
Things To Do at Lake Leschenaultia
Some of the best things to do at Lake Leschenaultia include:
Hire a kayak or SUP to enjoy on the lake
Walk around the 3 km lake trail (look out for birds, echidnas, and possums)
Let children paddle in the calm water
Swim to the lake pontoon
Have a picnic or barbecue
Relax over lunch at Reflections Cafe
Watch kids have fun in the playground
Wildflower spotting (in spring)
Tackle the 12 km mountain bike trail network, which includes nine trails spanning 540 m to 1.9 km, ranging in difficulty from basic to intermediate
Camp
Astrophotography
Lake Leschenaultia Canoe Hire
Canoe and stand up paddle board hire is currently closed for the winter season. Hire will re-commence on Saturday 23 September 2023.
Hire will not be available when storms, heavy rain, or strong winds are forecast.
Please note that you must be over 16 to hire a canoe or SUP and a competent swimmer (there must be at least one competent swimmer per canoe).
Lake Leschenaultia Mountain Bike Trail
Choose from a range of trails that have been designed with the environmental impact in mind, including avoiding native fauna, leaving a minimal trail footprint, and considering dieback mitigation.
Trails are:
Railway Run (700 m): Easy, flat trail following the old miniature rail line. Ideal for beginners and children.
Man vs Machine (1.5 km): Long, technical climb for those who like a challenge. Intermediate skills required. This has been hand built.
Eastern Line (1.25 km): Easiest way to get to the top of the Trail Head. Basic skills required.
Yeehaa (540 m): Fast, flowy trail. Leads into the Wahoo trail. Intermediate skills required.
Hula (1.4 km): Flowy trail. Basic skills required.
Woohoo (720 m): Ramps and flow. Links to Yeehaa and Shakes n' Ladders. Intermediate skills required.
Shakes n' Ladders (1.3 km): Rock gardens and a shore-style ladder. Intermediate skills required.
Stewies (1.9 km): Introduction to Cross Country trails. Basic skills required.
Blue Panther (1.4 km): Old-school XC style. Intermediate skills required.
See this copy of the Mountain Bike Trail Map.
Can you Swim in Lake Leschenaultia?
You can swim at Lake Leschenaultia, but care should be taken as with any untreated warm water due to the possible presence of amoeba that could be harmful. It is best to keep your head above water and avoid jumping into the lake. The risks here are low, though, and the current water temperature is displayed daily at the main entrance gate.
Locals have reported leeches in the lake, another reason to put me off swimming in there! I'm not sure how true it is, though, so if you've had any experience, please let me know in the comments.
Can you Fish at Lake Leschenaultia?
Fishing is not allowed at Lake Leschenaultia.
Can you Jet Ski at Lake Leschenaultia?
Jet skis or other motorised or model boats are prohibited at Lake Leschenaultia.
Lake Leschenaultia Astrophotography
Lake Leschenaultia is a great spot to photograph the stars.
Is Lake Leschenaultia open?
Lake Leschenaultia is open every day of the year except on high fire danger days – see their Facebook Page for updates.
Gates open at 8.30 am from Monday to Friday and at 8 am on weekends and close half an hour after sunset.
Entry Fees
It is free to enter Lake Leschenaultia for the day.
Are Dogs Allowed at Lake Leschenaultia?
Dogs are not allowed at Lake Leschenaultia except when they are approved in writing by the Shire or are registered Assistance Dogs (an authorisation card must be carried when entering the park).
Lake Leschenaultia Café
Reflections Coffee & Kiosk is open on weekends, public holidays (excluding Christmas Day), and every day during the WA summer school holidays.
Lake Leschenaultia Weather
Perth weather – summers are warm and dry, and winter is cool and wet. It is usually windy year-round.
The best time to visit Lake Leschenaultia for water activities is from late November to late March.
Lake Leschenaultia Camp Site
Lake Leschenaultia campground is divided into three separate camping areas:
Main campground (tents, campervan, and towed camping vehicles)
Tent campground
Group campground (tents only)
See this Lake Leschenaultia camp map for the location.
Lake Leschenaultia campfires
1st April to 31 May (Restricted Burning Period)
Campfires are only permitted after 6 pm in the fire pits provided at each campsite and must be out by 11 pm and FULLY extinguished before midnight (fully extinguished means no heat, smoke, or steam and no white ash).
1 June to 30 September
Campfires are only allowed in the fire pits provided at each site.
1 October to 30 November (Restricted Burning Period)
Campfires are only permitted after 6 pm in the fire pits provided at each campsite and must be out by 11 pm and FULLY extinguished before midnight.
1 December to 31 March (Prohibited Burning Period)
No campfires are permitted. This period may be extended earlier or later depending on the weather conditions. 
Collection of firewood is NOT permitted within the park grounds, so you should bring your own. However, there is a limited supply of firewood available to purchase for A$16 per bag. 
Lake Leschenaultia camp kitchen
The camp kitchen is equipped with:
Fridge/freezer 
Electric BBQ and hot plate
Food preparation bench
Lake Leschenaultia camping fees & booking
Camping fees start from A$20 per night for two people – to find out more and to book, visit Shire of Mundaring camping.
Lake Leschenaultia Glamping
If you're after a more luxurious camping style, Eversprings Glamping is located in Mount Helena on a 100-acre alpaca farm, only a 15-minute drive from Lake Leschenaultia. They offer glamping tents with a queen bed and a camp kitchen with a bbq. Note that there isn't any heating, so it might be cold during winter. Portable evaporative coolers are available on request.
The shower and toilet are in little cubicles outside the tent.
Book through: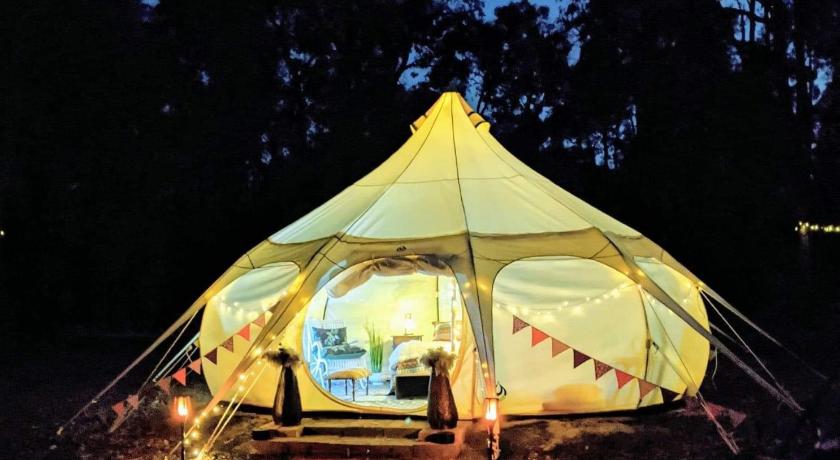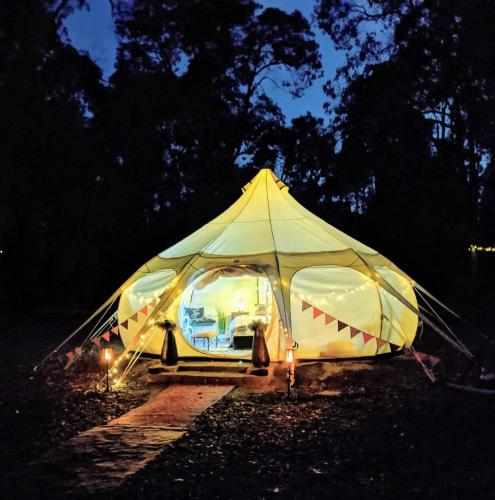 Lake Leschenaultia Accommodation
We use Stayz to book private accommodation as we generally find them cheaper than Airbnb.
The most popular and highly rated is the Hillborne Cottage, which sleeps up to four people in two bedrooms.
Lake Leschenaultia History
Lake Leschenaultia, pronounced layk leh·shuh·nol·tee·uh, is a man-made lake created around 1897/98 as a railway reservoir to supply water for the steam locomotives stopping on the Eastern Railway at Chidlow's Well Station.
Anglers started visiting the lake around 1907 due to the amount of Redfin Perch in it.
In 1930, the water became unsuitable for steam trains due to the pine trees, which were planted to improve water quality but actually increased the salinity.
The Greenmount Road Board bought the lake around 1933, and it started to become a picnic area and has been a recreational site since (except for 1941 to 1947, when the reservoir was set aside for possible wartime use).
The name is derived from the blue Leschenaultia flower as the colour of the lake was said to resemble the flower.

For other ideas on where to visit in Western Australia along with the best things to do, where to stay, how to get around, and other essential information, click on the link below.


If you found this article helpful, please consider booking through one of our links. It won't cost you anything but will help towards the cost of running this site. Thank you.