The Kimberley in Australia's North West is one of the most breathtaking places in the whole world. There are so many things to do in the Kimberley region WA that it can be hard to decide where to start. In this post, we will give you 10 ideas for things that you should make sure not to miss when visiting the Kimberley region.
Disclosure: This post may contain affiliate links (of which we use) so we may receive a small amount of commission if you buy something through them. As an Amazon Associate, I earn from qualifying purchases. You can read the full disclaimer here.
Things to do in the Kimberley Region WA
Take a Horizontal Falls Tour
David Attenborough described Horizontal Falls as one of the world's greatest natural wonders. Some of the largest tidal movements create a waterfall effect as a huge volume of water is forced through a narrow cliff passage.
The falls are in Talbot Bay in the Buccaneer Archipelago and can only be accessed by a scenic flight. Some tours offer a boat ride to experience the power of the white water as well. Most tours depart from Broome or Derby.
Scenic flights take you over the Buccaneer Archipelago, which is home to 1,000 islands made of Precambrian sandstone over 2 billion years old.
We haven't been lucky enough to see the Horizontal Falls yet but hope to in the next couple of years. Friends and family have seen them and have highly recommended taking the tour. Click on the Viator link below to find out more.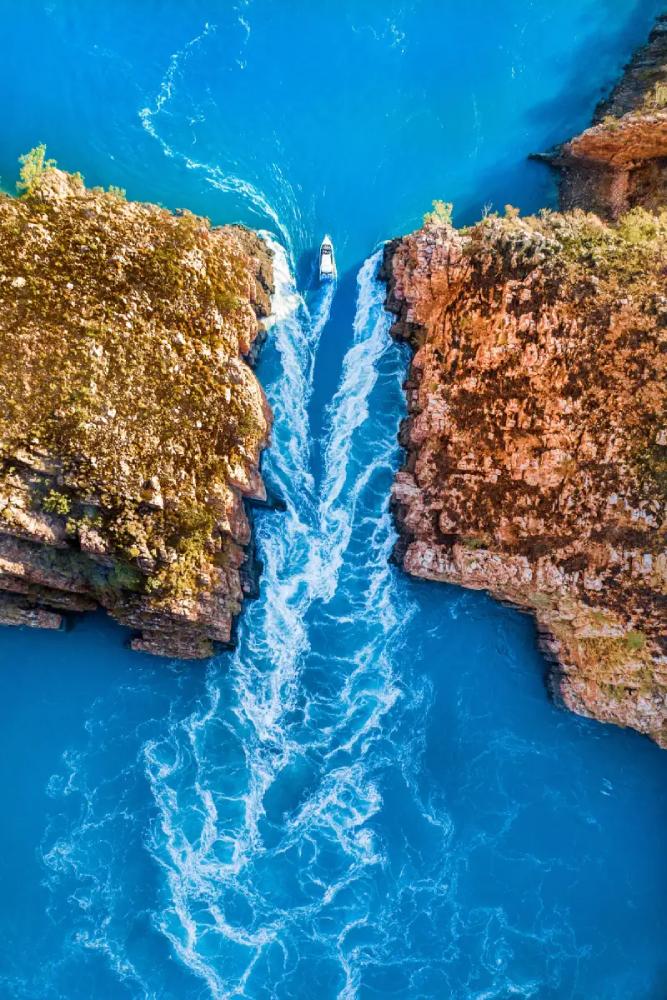 Bungle Bungle Range
The world heritage-listed Bungle Bungle Range is in Purnululu National Park, about 250 km west of Kununurra and 108 km east of Halls Creek. The Djaru and Gija Aboriginal people are the custodians of Purnululu National Park, Purnululu meaning sandstone.
The famous bee-hive striped domes of the Bungle Bungle range are found in the southern end of the park along with Cathedral Gorge, standing 300m above the spinifex terrain.
Purnululu National Park is the highlight of many 4wd tours through the Kimberley region, but to get a true appreciation for the Bungle Bungle domes, you should take a scenic flight to view it from the air. Seeing the Bungle Bungle range from above is truly spectacular.
A one-day bus tour of the park leaves from the caravan park at the turnoff to Purnululu.
Kununurra and Lake Argyle
Kununurra, 45 km from the border of the Northern Territory, lies on the banks of the Ord River. While here, you can enjoy the serenity of the Ord River and Lake Kununurra and cruise the 55 km to Lake Argyle. Kununurra means "meeting of big waters".
From Kelly's Knob Lookout, you can see the stunning view of the Ord Valley then visit Mirima National Park to view the mini Bungles.
In town, you can spend time in one of the art galleries or at the Kununurra Museum.
Did you know that the Kimberley produced 90% of the world's pink diamonds before it closed in 2020, after nearly 40 years of operation? Following closure, the land was returned to the Traditional Owners as the custodians of Country, for activities such as cattle grazing, tourism, cultural use, and small-scale agriculture. Pink diamonds are incredibly rare, representing less than 1% of the total diamonds mined. I'm just wishing I had one stashed away!
Lake Argyle is the biggest man-made lake in the southern hemisphere, holding up to 10.7 billion cubic metres of water (over 21 times the size of Sydney Harbour!). There are a few ways to see Lake Argyle: self-drive to the day use area, take a helicopter flight to see it from above, or one of the many cruises on offer.
Once there, you can have a swim, take a birdwatching charter, hire a boat, kayak or even a BBQ pontoon, or go on one of the bushwalking trails.
If you have time, consider a day trip to Wyndham, Western Australia's most northern town. Wyndham has some of the most stunning scenery in the Kimberley with incredible landforms, rivers and wetlands and the view at sunset from the Five Rivers lookout is phenomenal. Visit the caravan park to see the 'biggest boab tree in captivity', thought to be over 2000 years old.
Gibb River Road
If you own a 4wd, I'm sure the Gibb River Road is on your radar due to it being one the best Australian 4wd adventures. This wilderness drive takes you through massive cattle stations, epic gorges, and untouched natural beauty. It's not for the faint-hearted though and a lot of preparation has to be done to drive this 660 km 4wd track that gives you access to cascading waterfalls, swimming holes to cool off in, and stunning river gorges.
The Gibb River Road was originally a road linking the cattle stations, who now provide great hospitality with accommodation, food, and drink.
Wolfe Creek Crater National Park
Wolfe Creek, known as Kandimalal to the local Aboriginal people, is the second largest crater in the world. It is believed that the meteorite crashed to Earth around 300,000 years ago and would have weighed more than 50,000 tonnes. Dreamtime tells of two rainbow snakes who formed the nearby Sturt and Wolfe Creeks as they crossed the desert, and the crater is the place where one of the snakes emerged from the ground.
Wolfe Creek Crater National Park is 145 km from Halls Creek on the Tanami Road and gravel access road (only accessible to conventional vehicles during the dry season). It's about a two-to-three hour drive.
Windjana Gorge & Tunnel Creek
Windjana Gorge and Tunnel Creek are both part of the 375-million-year-old Devonian Reef System. The deep freshwater pools attract flocks of corellas, fruit bats and freshwater crocodiles.
You can wade through 750 m of Tunnel Creek, Western Australia's oldest cave system, to see ancient stalactites, stalagmites, and rock art (you will need a torch). Look out for the freshwater crocodiles in the water!
Windjana Gorge and Tunnel Creek have a deep cultural significance to the Bunuba people, the traditional owners of the land, and is home to the legend of Jandamarra, a Bunuba warrior and clever, courageous leader.
The drive here is via Fairfield Road, an unsealed road that can be closed due to flooding.
Tours are available from Derby and Broome.
Broome
Broome is not just the gateway to the Kimberley region but a holiday destination in its own right and a popular place for West Australians looking to avoid the cool weather of the south.
If relaxing on the 22 km of pristine white sandy Cable Beach isn't your thing, then explore the town's history in Chinatown or Old Broome. We enjoyed our day trip to Willie Creek Pearl Farm but the highlight was this Broome Whale Watching tour and riding a camel along Cable Beach.
Read this comprehensive guide on things to do in Broome for more ideas and information.
Cape Leveque & Dampier Peninsula
Cape Leveque and the Dampier Peninsula, 200 km north of Broome, is where you'll find sparkling turquoise water and white sand beaches that contrast against the red pindan cliffs. The local Bardi and Nyul Nyul people share their culture and traditions on various tours where you'll learn about traditional fishing, hunting, and bush medicine.
You drive to the Dampier Peninsula via the partially unsealed Cape Leveque Road or take a tour from Broome.
El Questro
El Questro, in East Kimberley, covers 700,000 acres with an incredibly diverse landscape and is perfect for adventures. You will experience rugged sandstone ranges, thermal springs, deep gorges, rainforests, tidal flats, and waterfalls, all within just over an hours drive from Kununurra (or the choice to arrive by plane).
You can visit El Questro for the day (fees apply) but the best way to experience this stunning location is by staying there. There are a few accommodation options including luxurious stays, rooms by the river, tented cabins in the wilderness or nights under canvas.
Emma Gorge, one of the most spectacular gorges of The Kimberley, is the park's most accessible gorge but still requires some rock scrambling and water crossings to reach it.
El Questro Gorge is a harder trail and can take up to five hours to complete but the crystal-clear plunge pool and waterfall is worth it.
Chamberlain Gorge, only accessible by boat, stretches over 3 km with stunning views of the surrounding flora, fauna, and red rock gorge walls. Tours of the gorge leave in the late afternoon and feature a fish feeding session where you'll have the chance to see archerfish, catfish, and barramundi.
Mitchell Falls
This iconic Kimberley attraction is one of the most spectacular waterfalls in Australia. The four-tiered Mitchell Falls, known as Punamii-Uunpuu to the Wunambal people, can be viewed by air, or close up by walking the track to the falls. In February and March, you will see the four-tired falls at their peak, tumbling one into the next.
View these incredible falls on this Mitchell Falls Explorer tour.
Kimberley Cruise
Taking a cruise from Broome to Darwin, exploring the Kimberley on the way, would be a dream come true. This unforgettable 13-day adventure on a 10-night small-ship cruise includes seeing the incredible phenomena, Horizontal Falls with a visit to Doubtful Bay and Ngumbree. The cruise also takes in Mitchell Falls and Oomari Falls before arriving in Darwin. There are many more stops along the way with plenty of inclusions.
Luxury Escapes are offering this cruise for a great price at the moment.

For other ideas on where to visit in Western Australia along with the best things to do, where to stay, how to get around, and other essential information, click on the link below.


Save money planning your holiday
Click on the links which will take you direct to the website.
Flights: We use different sites to get the best possible price for flights. Check matrix.itasoftware.com to get an idea of the cheapest dates, but you can't book through this site. Compare the cost of flights with Kiwi.com and try different routes.
Travel Guides: As well as using online resources, like other travel blogs, I like to flick through a paper travel guide too. I either rent them from our local library or buy them from Bookdepository if I want to take it with me.

Accommodation: We mainly use Booking.com for accommodation as they consistently have the lowest rates with free cancellation on most properties. We also book through Stayz for private accommodation as they are usually cheaper than Airbnb.
Car Rental: To compare rental car company prices, we use Discover Cars, an award winning car rental comparison website. They offer competitive pricing in over 10,000 locations worldwide and are highly-rated. Another option is Rentalcars.com
Campervan Rental:Drivenow is a good resource to compare campervan hire in Western Australia as it includes all the large companies like Britz, Maui, Jucy as well as smaller ones.
Tours: We use third-party sites Viator, Get Your Guide & Klook due to their free cancellation policies, instant confirmation, price guarantees, and mobile ticketing. We occasionally book through Red Balloon too.
Travel Insurance: Cover-More protects the travel dreams and experiences of more than 15 million people worldwide every year (including us!). Part of Zurich Insurance Group, they cover 22 countries across five continents with leading positions in the USA, Australia, Brazil, Argentina, Ireland, India and New Zealand. Protect your trip against several COVID-19 scenarios during the current coronavirus pandemic. 
If you found our article helpful, please consider booking through one of our links. It won't cost you anything but will help towards the cost of running this site. Thank you.