Australia's North West: Informative Guide 2023
Australia's North West is a true gem of the Outback. This stunning region boasts some of Australia's most untouched and dramatic landscapes. It is a vast, wild and rugged area where you can experience the power of nature in its purest form.
The Kimberley and Pilbara are like nowhere else on Earth – special, soulful places that stop you in your tracks and forge a reconnection with yourself and the land. Feel the remarkable power of nature in its two and a half billion-year-old gorges, 350 million-year-old ranges, surging tides, horizontal waterfalls or staircase to the moon.
The North West region is now one of Western Australia's most popular destinations for local holiday-makers and international visitors alike. A network of sealed roads and a light plane network enable visitors to explore the region's national parks, beaches and bushland. Experience Australia's North West your way!
The Kimberley Region – Australia's North West
The Kimberley region of Australia isn't just an incredible example of the Australian Outback, it also has amazing things to do and sights to see. The unique landscape provides spectacular gorges, waterfalls, rock formations, caves, and diverse wildlife. This region is high on must-visit lists and will be an adventure you will never forget.
Covering an area of 424,517 km2, the Kimberley region is three times the size of England and comparable to California. However, it is home to less than 40,000 people! The economy is diverse with mining, agriculture, construction, and tourism all contributing to the region.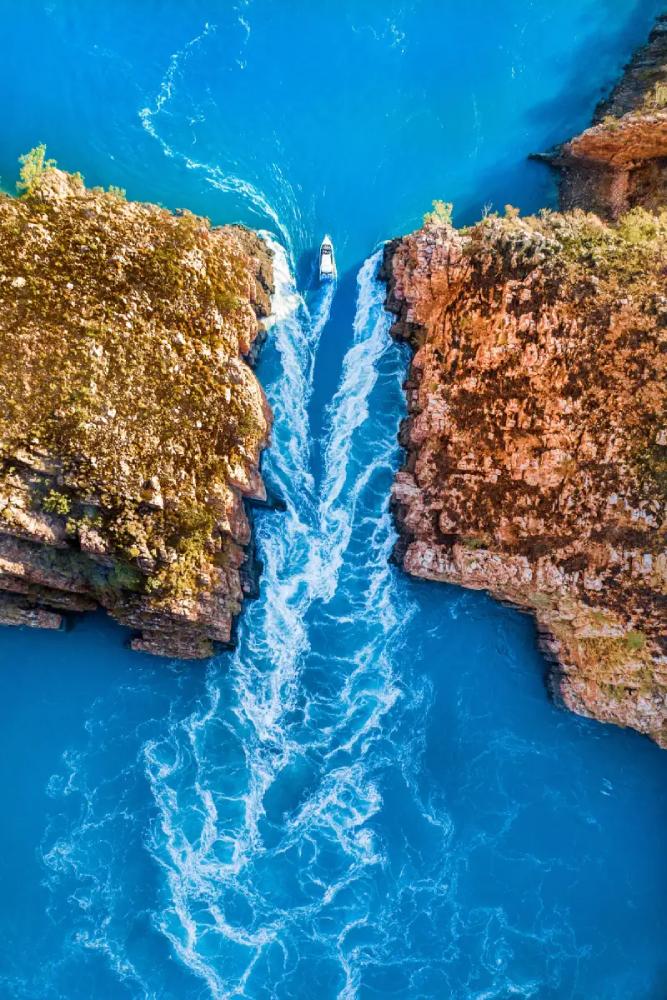 Things to do in the Kimberley Region
Some highlights of the Kimberley region are the Horizontal Falls, one of the world's greatest natural wonders, the world heritage-listed Bungle Bungle Range, Lake Argyle which is the biggest man-made lake in the southern hemisphere, and Windjana Gorge and Tunnel Creek, part of the 375-million-year-old Devonian Reef System. Mitchell Falls is one of the most spectacular waterfalls in Australia.
Of course, no visit to the Kimberley region is complete without a visit to Broome.
El Questro covers 700,000 acres with some incredible things to see. You can visit for the day or stay in one of the accommodation options including luxurious stays, rooms by the river, tented cabins in the wilderness or nights under canvas.
Read this guide on Things to do in the Kimberley region for a full list and information on each one.
Kimberley Itinerary
The RAC have a great self-drive Kimberley itinerary from Kununurra to Broome via Gibb River Trail, which will take between 15 and 17 days.
Kimberley Tours
If you don't want to self-drive, there are a few guided tours like this 11 day tour from AAT Kings from Broome to Darwin or the cheaper 9-Day Kimberley Offroad Adventure from Broome to Darwin.
The Pilbara Region – Australia's North West
The Pilbara region in Western Australia's North West is a vast and diverse land, rich with breathtaking natural landscapes. The region boasts one of the world's most significant collections of ancient rock art as well as stunning outback scenery, Aboriginal heritage sites and hundreds of islands with dazzling white beaches.
Covering an area twice the size of England, the Pilbara attracts tourists through its unique natural features although the high number of visitors to the region is also linked to mining, construction and business travel. Mining, construction and exports dominate the region's economy.
Two inland towns hold records for being the highest town above sea level in Western Australia (Tom Price) and the hottest town in the country (Marble Bar).
Things to do in the Pilbara Region
The Pilbara region will leave you in awe of its beauty on your travels through the incredible landscape. Some of the must-do's of the Pilbara include a visit to Karijini National Park with its red cliffs, spectacular gorges, dazzling waterfalls, and inviting waterholes. This park is also famous for its hiking trails and one of the best scenic walks – Mt Bruce, Western Australia's second highest mountain.
Millstream Chichester National Park is also very picturesque with tranquil gorges, crystal clear rock pools, and a range of hiking trails.
Visit Onslow and The Mackerel Islands for excellent fishing and snorkelling.
Explore Karratha, have dinner at one of the trendy restaurants or enjoy locally brewed craft beer at North West Brewing Co.
The Burrup Peninsula and Dampier Archipelago have the largest collection of ancient Aboriginal rock art in Australia, with over one million rock engravings.
Witness the operations of the world's biggest mining company, and see the big ships of the world's largest export tonnage port, in Port Headland.
Pilbara Tours
AAT Kings have a 13-day guided holiday from Perth to Broome, along the Coral Coast to Broome. The tour stops at the following places enroute:
See up to date prices here
Cultural Experiences in Australia's North West
One of the best things to do in Australia's North West region is to explore Aboriginal history and culture with an authentic Aboriginal tourism operator. Visit rock art and spiritual sites and learn about bush tucker, medicine and beliefs. You can go mud crabbing, fishing or stay at an eco-retreat.
WAITOC, The Western Australian Indigenous Tourism Operators Council, provides advice and information about one of the oldest cultures in the world. You can book tours and experiences through them here.
Tours of the North West Region
Tourradar have a variety of tours on their website with different departure points and routes. They also break the tours down into age range, travel style, tour length and price per day.
Compare North West Tours here
Best time to visit the North West Region
May to October is the dry season with warm days and cool nights and the most popular time to visit the Kimberley region.
November to April is the wet season where you can expect tropical downpours, hot days, and balmy nights. This is when the waterfalls are at their peak, and you will be rewarded with dramatic sunsets. Be aware, though, that some roads may be inaccessible due to flooding.
Cyclone activity is usually between November and April. The Department of Fire & Emergency has great resources to ensure your safety.
The Yawuru people, the native title holders of Broome, have six seasons and read the changing signs of the wangal (winds), the wula (rain), temperature, animals, and plants. You can read more about it on the Bureau of Met site.
Crocodiles in Australia's North West
The Kimberley region is crocodile territory, so you need to be aware and prepared. There are two species of crocodile here, the estuarine (or saltwater) crocodile and the freshwater crocodile. The saltie is the largest living reptile and is a dangerous predator. Download this Crocodile safety and myth-busting factsheet and Crocodile brochure. For more information, see www.nt.gov.au/becrocwise.

For other ideas on where to visit in Western Australia along with the best things to do, where to stay, how to get around, and other essential information, click on the link below.


Save Money Planning your Trip
Click on the links which will take you direct to the website.
Flights ✈️
We fly Virgin Australia domestically due to their competitive prices and fantastic customer service and fly with Qatar Airways to Europe.
Accommodation 🏩
We mainly use Booking.com for accommodation as they consistently have the lowest rates with free cancellation on most properties.
Car Rental 🚘
To compare rental car company prices, we use Discover Cars, an award winning car rental comparison website. They offer competitive pricing in over 10,000 locations worldwide and are highly-rated.
Campervan/RV Rental 🚐
Drivenow is a good resource to compare campervan hire in Western Australia as it includes all the large companies like Britz, Maui, Jucy as well as smaller ones.
Travel Insurance 🌏
Cover-More and Travel Insurance Direct are our preferred travel insurance companies for domestic and international travel.

See this Travel Insurance for Australia guide for more information.
So what are you waiting for? Australia's North West is waiting for you to explore and have your next adventure. It truly is a place that will hold your best memories for a long time to come. Please consider booking through our links to help towards the running of this site. Thank you.
Please come back and let us know in the comment section what you enjoyed the most. Or have you visited the North West region before? Let us now, we'd love to hear all about it!