This list of the best Walpole accommodation in Western Australia is compiled by a local who has visited the area numerous times. Some of the properties included are private rentals, motels, houseboats, and caravan parks.
Walpole is the closest town to the famous Tree Top Walk and is a beautiful, quaint country town. It can be a destination in its own right or part of a Perth to Albany Road Trip.
The attraction for staying in Walpole is being close to nature, surrounded by majestic trees, the wild ocean, tranquil inlets, local fauna and flora, and beautiful beaches.
Walpole can be visited year-round – winter for romantic evenings by a wood fire, summer for enjoying the beaches and escaping the hot weather in Perth, spring for waterfalls, hikes, and wildflowers, and autumn for hiking.
Disclosure: This post may contain affiliate links (of which we use) so we may receive a small amount of commission if you buy something through them. As an Amazon Associate, I earn from qualifying purchases. You can read the full disclaimer here.
Walpole Accommodation Airbnb / Stayz
We use Booking.com for most accommodation bookings as they offer free cancellation on most rooms, have a loyalty program (Genius), a price match guarantee, the site is user-friendly and they have great customer support. We also book through Stayz for private accommodation as they are often cheaper than Airbnb.
Red Tingle Retreat
3 Bedroom – 2 bathroom – sleeps 8 – no pets
This rammed earth cottage sits on five acres with forest views and is only a seven minute drive into town. There are rain showers in both bathrooms and a bath in one for those that prefer to relax in a tub. The kitchen is well-equipped and the open plan living benefits from a slow combustion burner to keep you warm during the colder months.
The property is listed on both Airbnb and Stayz, but Stayz was cheaper for our dates. Compare below:
Walpole Accommodation Chalets
Tinglewood Cabins
2 & 3 Bedrooms – bathroom – sleeps 2 to 5 – no pets
Tinglewood Cabins offer good value accommodation in Walpole with a fully equipped kitchen, fireplace, and washing machine. They are rated 9.4 on booking.com with nearly 300 reviews with guests loving the location.
Check prices on Booking.com here or on Agoda by clicking on the photo.
Walpole Motels & Hotels
Tree Top Walk Motel
Double & Family Rooms – bathroom – sleeps 2 to 5 – no pets
Tree Top Walk Motel features an outdoor pool and guests can order continental breakfast items, which will be delivered the night before. Family rooms are available that sleep up to five.
Check prices on Booking.com here or on Agoda by clicking on the photo.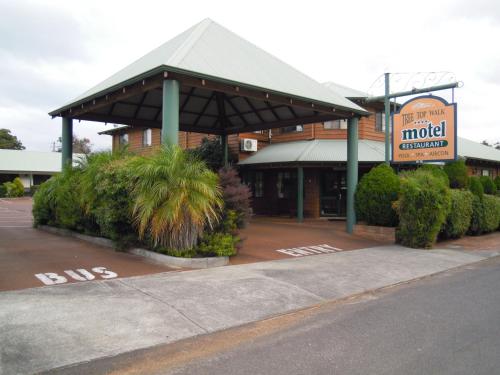 Walpole Accommodation with Pool
The only property with a swimming pool in Walpole is the Tree Top Walk Motel (above).
Walpole Accommodation Pet Friendly
Che Sara Sara Chalets
2 & 3 Bedrooms – bathroom – sleeps 4 to 8 – pets welcome
Che Sara Sara Chalets are 15 km north east of Walpole on the Frankland River. The self-contained chalets have a kitchen with a gas stove/oven, microwave, and a refrigerator and a private bathroom with a shower and washing machine.
Pets are welcome but a bond is payable on arrival.
Check prices on Booking.com here or on Agoda by clicking on photo.
Walpole Accommodation with Spa
Walpole Wilderness Retreat
The best Walpole accommodation with spa is Walpole Wilderness Retreat that feature a spa bath in the main bedroom.
Walpole Accommodation Caravan Park
We have stayed at  Coalmine Beach Holiday Park a few times and loved their glamping tents. It was a luxurious camping experience and one that I would do again. To find out more about these elegant tents, read this Coalmine Beach Holiday Park review.
Walpole WA Caravan Parks
As mentioned, we prefer to camp at Coalmine Beach Holiday Park, but there is also the choice of Walpole Rest Point Caravan Park.
Peaceful Bay Caravan Park is also worth a look if you don't mind being outside of Walpole town.
Walpole Houseboats
For unique accommodation, try Walpole Houseboat Holidays. They offer 4, 6, and 10 berth houseboats to rent along the Walpole-Nornalup Inlet.
Walpole Travel Guide & Things to Do
Walpole is a nature-lovers dream with 400-year old tingle trees, forests, waterfalls, stunning coastline, and incredible hikes. For a complete list, read this guide on things to do in Walpole.
This detailed travel guide provides information on all the regions that make up Australia's South West. Read about the destinations, including what to do and where to stay.

For other ideas on where to visit in Western Australia along with the best things to do, where to stay, how to get around, and other essential information, click on the link below.


Mount Barker is the gateway to Western Australia's South Coast and a popular stop for visitors travelling between Perth and …
If you found this guide on the best Walpole accommodation helpful, please consider booking through one of our links. It won't cost you anything but will help towards the cost of running this site. Thank you.