Perth Getaways – 30 Amazing Ideas for 2023
If you're looking for a place to escape the hustle and bustle of the city, then check out these Perth getaways. As locals, we've been on numerous weekends and longer trips around Western Australia. From coastal towns to rural farms, there's plenty of inspiration for your next break.
Disclosure: This post may contain affiliate links (of which we use) so we may receive a small amount of commission if you buy something through them, at no extra cost to you. You can read the full disclaimer here.
Weekend Getaways from Perth
There's nothing like a weekend escape with friends and family to recharge the batteries and clear your head. So whether you're looking for a relaxing getaway or something more exciting, there are plenty of options.
Here are six weekend getaways two hours from Perth that will leave you eager to return:
Ferguson Valley / Collie
Harvey
Lancelin / Ledge Point / Wedge Island
Perth Hills
York
Chittering Valley
Distance: 177 km – 1 hour 50 mins to 2 hours 10 mins
Best Time To Visit: Spring, Summer, Autumn (needs to be a sunny for Black Diamond Lake)
Interests: Scenic drives, hiking, mountain biking, water activities, nature, history, art, wineries, breweries, food
Ferguson Valley is just over two hours from Perth, but with lush green rolling hills and farmland, it offers a beautiful weekend getaway. Take a scenic drive through picturesque forests, hike or mountain bike one of the many trails in Wellington National Park, and see the largest dam mural in the world.
Place a gnome in quirky Gnomesville, home to over 10,000 gnomes, or visit Collie and the insta-famous Black Diamond Lake, one of Western Australia's most beautiful water holes.
Where to stay: Ferguson Valley Farm Stay
Distance: 140 km – 1 hour 40 mins
Best Time To Visit: Spring (wildflowers & oranges), Autumn (walks)
April = Harvey Agricultural Show
September to May = Trout fishing
Interests: Scenic drives, walks, fishing, nature, history, wineries, food
Harvey is known for its beef, milk, and oranges, but there's more to this farming town than food. Visit Harvey Dam for scenic views, walking trails, a picnic, or trout fishing (between September and May).
There's also the Big Orange sitting on top of a 10m tower, which can be climbed by 62 steps. Access is via Harvey River Estate above the Harvey Fresh citrus orchards, where the oranges are hand-picked for Harvey Fresh orange juice. Entry is a gold coin donation, with proceeds going to Telethon.
Visit the replica of Stirling Cottage for a light lunch or afternoon tea. Convicts built the original cottage, owned by Sir James Stirling and later by the creator of Snugglepot and Cuddlepie, May Gibbs.
Where to stay: Harvey Hills Farmstay
3. Lancelin / Ledge Point / Wedge – Perth & Surrounds
Distance: 126 km – 1 hour 25 mins to 1 hour 40 mins to Lancelin
Best Time To Visit: Summer (for the beach)
Interests: Beach, sandboarding, surfing, kitesurfing, windsurfing, fishing, diving
Visit Lancelin Sand Dunes, the largest sand dunes in Western Australia, for four-wheel-driving, sandboarding, or a  Buggy, Quad Bike, Motocross and Sandboard tour.
Lancelin, Ledge Point, and Wedge Island are popular with surfers, windsurfers, and kite surfers due to the strong winds.
Fishing is another popular pastime in Lancelin, or buy live crayfish from the boats when they dock at the jetty.
Experienced divers will enjoy diving the fourteen shipwrecks that lie along the coast.
Where to stay: Lancelin Lodge
Distance: 45 km – under an hour
Best Time To Visit: Spring (for Araluen tulip festival & wildflowers), Autumn (for waterfalls & hikes)
Interests: Wineries, scenic drives, nature, food, hikes, astronomy, mountain biking
The Perth Hills are one of our favourite places to visit on a day trip and for a weekend getaway. There's so much to do, and has something for everyone.
Lake Leschenaultia, in Chidlow, is a lovely swimming hole and great for picnics or Roleystone's Araluen Botanic Park is beautiful in spring when thousands of tulips are in bloom.
If you enjoy wine, beer, cider, and food, follow the Bickley Valley Wine Trail or the Perth Hills Cider & Brews Trail.
There are plenty of hikes in the Perth Hills, including one of the world's best long-distance trails, the Bibbulmun Track, which runs 1000 km from Kalamunda to Albany. Perth's best waterfalls are in the Perth Hills, such as Lesmurdie Falls, 60 Foot Falls, and Serpentine Falls.
Other attractions include the Perth Observatory, Mundaring Weir, markets, and mountain bike trails.
Where to stay: Tasman Holiday Park Serpentine Falls
Distance: 98 km – 1 hour 15 mins to 1 hour 40 mins
Best Time To Visit: Spring, Winter, and Autumn
Interests: Hiking, history, nature
While York isn't my favourite WA country town and can be visited in a day, you can stay overnight to include some hikes, like Mount Brown Lookout.
As Western Australia's first inland European settlement, you'll see heritage buildings like the York Town Hall and the Old Gaol & Courthouse.
The countryside is a mass of yellow from mid-August to mid-September when the canola fields bloom. Wildflowers put on a dazzling display between September and November.
Where to stay: York's Lookout Lodge Bed And Breakfast
Distance: 70 km – 1 hour
Best Time To Visit: Spring (wildflowers), Autumn (local produce & orchards), Winter
Interests: Hiking, wineries, nature, food, scenic drives, wildflowers
The country towns of Chittering, Bindoon, Moora, and Muchea are part of the Chittering Valley region and the gateway to the Wheatbelt. It's a beautiful spot in spring when the wildflowers are out – visit in September for the Chittering Spring Festival.
Take a scenic drive along the Chittering Farm Flavour Trail to explore farms, local produce, and picturesque landscapes. As you drive through Chittering, look for roadside stalls selling produce direct from the grower. A great way to support the local farmers.
A favourite walk of mine is Djidi-Djidi Ridge, named after the Noongar word for Willy Wagtail, which comes alive in spring with pretty wildflowers.
Where to stay: Bindoon Valley Escape
Family Weekend Getaways from Perth
Some of the best family weekend getaways from Perth are:
Dwellingup
Guilderton
Mandurah
Rottnest Island
Distance: 107 km – 1 hour 15 mins
Best Time To Visit: Summer (camping & swimming), Spring & Autumn (hiking & mountain biking), Winter (canoeing)
Interests: Camping, kayaking/canoeing, hiking, mountain biking, trains
Dwellingup is a popular camping spot surrounded by forest – Lane Poole Reserve is one of the best. There are some beautiful trails for walks and mountain biking, or grab your canoe or kayak for some white water adventures.
The Hotham Valley Tourist Railway is an excellent attraction, especially in winter when a steam locomotive pulls the carriages.
Where to stay: Camp at Lane Poole Reserve
Distance: 92 km – 70 mins
Best Time To Visit: Summer (water activities & beach), Spring (wildflowers)
Interests: Beach, water activities, nature, fishing, wildflowers
A popular place for family getaways from Perth, Guilderton (also known as Moore River) offers sheltered, calm water and sandy beaches for kids to play. Bring your kayak, SUP, or surfboard, or hire a paddleboat, kayak, or canoe at the river mouth.
Moore River National Park explodes with colour in spring with wildflowers.
Anglers can fish off the beach with a chance of catching herring, whiting, tailor, and mulloway or try upstream in the Moore River for large bream.
Where to stay: Moore River Cottage or Guilderton Holiday Park
We mainly use a mixture of Viator, GYG, and Klook for tours due to their low prices and free cancellation policy on most experiences.
Distance: 70 km – 1 hour
Best Time To Visit: Christmas, Summer (beaches, watersports, crabbing)
Interests: Beach, water activities, nature, fishing, wildlife
Book a dolphin tour to see the resident bottlenose dolphins playing in the water or hire a boat to explore the canals. Families enjoy the Pirate Ship Cruise and the Eco-BBQ Boats.
Kayaking, Stand-Up Paddle boarding, and surfing are enjoyable activities in Mandurah.
Crabbing and fishing are popular things to do in Mandurah – either off the beach or in the estuary. Blue Swimmer Crabs are native to Mandurah – the crabbing season runs from 1st December to 31st August, but the best time is January.
Lake Clifton Thrombolites, Penguin Island, and wineries are close by, as is the coastal town of Rockingham.
Where to stay: Seashells Mandurah
Distance:  25 mins ferry from Fremantle, 45 mins from Hillary's, and 90 mins from Barrack Street Jetty, Perth city
Best Time To Visit: Summer (beaches, water activities)
Interests: Beach, water activities, fishing, wildlife, cycling, walks
Rottnest Island, a small, uninhabited island off the coast of Western Australia, is popular for its beautiful natural scenery, wildlife, and stunning beaches. Visitors can participate in several activities, such as swimming, surfing, snorkelling, fishing, and sightseeing.
Hire a bike and discover this beautiful island, then relax with a beer at one of the island's bars.
Around the island, you'll see Quokkas, a cute-looking small wallaby that has become Rottnest's main tourist attraction.
Sealink Rottnest Island offers a standard ferry ticket and combination tickets with bike hire, bike hire and snorkel equipment, and a bus tour.
Rottnest Express also leaves from Fremantle (this is who we booked with last time). They have standard fares and can include bike hire and an Adventure Boat Tour.
Where to stay: Karma Rottnest or Discovery Rottnest Island Glamping Tents
Winter Getaways from Perth
When the rain starts to fall, you're wondering where to go for a winter getaway. Some locations that come to mind are the Southern Forests, The Kimberley, and The Coral Coast. Each has its own unique charms and experiences that make it perfect for a winter holiday:
Bridgetown
Ballingup
Pemberton & Manjimup
Coral Bay & Exmouth
Broome & The Kimberley
Distance: 260 km – 2 hours 45 mins to 3 hrs 15 mins
Interests: R&R, walks, scenic drives
Winter in Bridgetown is a time for some rest and relaxation amongst nature. However, there are still bushwalks to enjoy, maybe followed by lunch at The Cidery.
Bridgetown, the only heritage-listed town in the South West region, has quaint shops and cafes lining the main street.
Where to stay: Thistle Do Bed & Breakfast
Distance: 230 km – 2 hours 20 mins to 2 hours 50 mins
Interests: Walks, scenic drives, kayaking, wineries
The towns of Balingup and Donnybrook, nestled amongst lush rolling hills and the picturesque Preston and Blackwood River valleys, have a lot to offer visitors. Donnybrook has numerous walking trails, some along the Preston River, or you can walk part of the  Bibbulmun Track.
If it's not too wet, kayak or canoe in the Blackwood River from Bridgetown.
Donnybrook, Bridgetown, Boyup Brook, and Nannup are perfect for a scenic drive through native forests, orchards, vineyards, and farmland. Finish the day by visiting a local winery for wine tasting and choose a bottle to have with dinner by a roaring wood fire.
Where to stay: Tegwan's Nest Holiday Home
Distance: 300 km – 3 hours 10 mins to 3 hours 40 mins
Interests: Nature, scenic drives, hiking, food, mountain biking
Visiting Manjimup and Pemberton in winter is a great way to experience the beautiful forests, waterfalls, rivers, and lakes. The temperatures can be low first thing in the morning, but a brisk walk will warm you up.
Climb one of the enormous fire-lookout trees or take the scenic Karri Explorer Drive. Some of our favourite walks and hikes are in Pemberton, including Big Brook Dam, The Cascades, Beedulup Falls, and the Beedelup Loop Walk.
The Australian truffle season starts in June with the annual Truffle Kerfuffle, starting in Manjimup.
Where to stay: Diamond Forest Farmstay
14. Coral bay & Exmouth – Coral Coast
Distance: 1125 km to Coral Bay (12 hours 20 mins) and 1250 km to Exmouth (13 hours 40 mins)
Interests: Beach, water activities, wildlife, diving, snorkelling, fishing, four-wheel driving
Winter is one of the best times to visit Coral Bay and Exmouth, as it's the dry season. These coastal towns are well-known for their white sand beaches and the famous off-shore Ningaloo Reef. Coral Bay is a tiny one-road settlement, whereas Exmouth has a population of around 2,500, which increases to about 6,000 at the height of the tourist season.
Both offer beautiful beaches, diving, snorkelling, wildlife interactions, fishing, and four-wheel driving. Whale shark season ends in Coral Bay in June as they head up to Exmouth (where they stay until October). In addition, Coral Bay and Exmouth have whale watching tours from July to October and other wildlife tours, like turtles and manta rays.
Exmouth has some great hikes in Cape Range National Park.
See where to stop on a Perth to Exmouth road trip.
Where to stay: Ningaloo Reef Resort Coral Bay or Ningaloo Beach Resort Exmouth.
Distance: 2050 km – 23 hours (or 2 hours 30 mins flight) to Broome
Interests: Beach, history, wildlife, nature, scenic beauty
Broome is a small town in the Kimberley region known for its natural beauty and the 22 km Cable Beach. There are several things to do in and around Broome, including visiting the historic town, whale watching, or learning about pearl farming at Willie Creek Pearl Farm.
One of the most popular things to do in Broome is watching the sunset or taking a camel ride along Cable Beach.
You may be lucky enough to coincide your Perth winter getaway with the Staircase to the Moon. This incredible sight occurs from March to November – find the exact dates on Broome's Visitor Centre website.
The Kimberley is one of the most breathtaking regions in the world, offering a host of memorable experiences. Choose from flying over the Horizontal Falls or Bungle Bungles, Wade through Tunnel Creek, Western Australia's oldest cave system or take the Mitchell Falls Explorer Tour.
Where to stay: Moonlight Bay Suites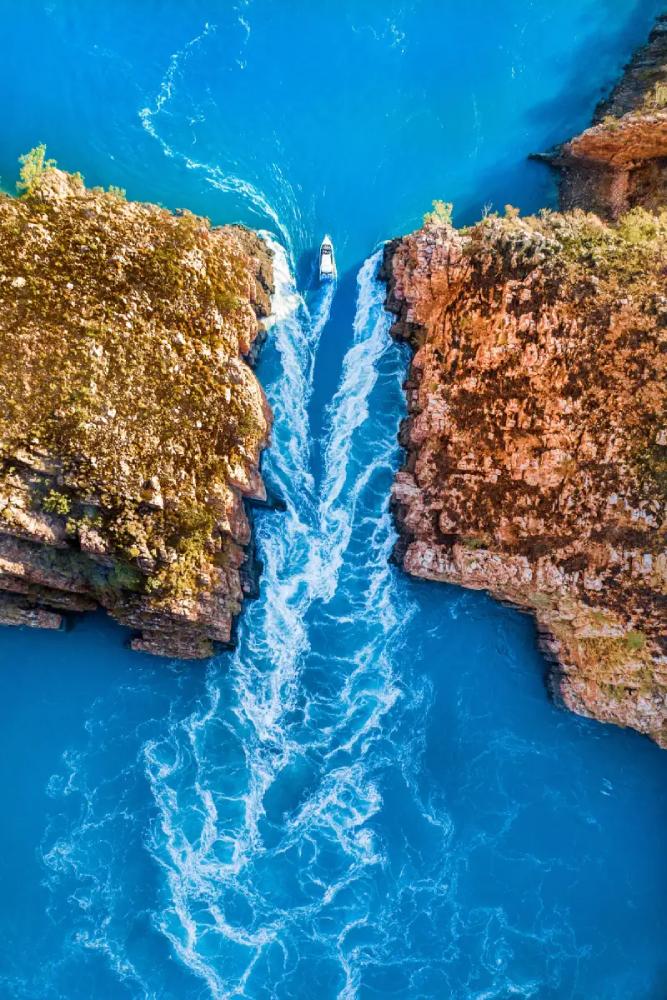 Longer Getaways From Perth
If you're looking for an extended getaway from Perth, Western Australia has some fantastic places to explore, like:
Margaret River region
Jurien Bay
Bunbury
Albany
Walpole & Denmark
Bremer Bay
Esperance
Geraldton
Kalbarri
Monkey Mia & Denham
Distance: 270 km – 2 hours 50 mins to 3 hours 20 mins to Margaret River
Best Time To Visit: Year-round but Summer for beaches and Spring for wildflowers
Interests: Beaches, wineries, breweries, food, nature, hiking, mountain biking, wildlife
Probably the most popular Perth getaway is to Australia's South West's Margaret River region. And it's no wonder why with white sand beaches, world-class wineries, trendy craft breweries, delicious food, forests, caves, and walking and mountain bike trails.
Choose from a number of towns to base yourself – Busselton, Dunsborough, Yallingup, or Margaret River.
There are way too many attractions to list, but some favourites are the Busselton Jetty, beaches in the Margaret River region, the caves, wine tasting, and hiking.
Find all the best places to stop on a Perth to Margaret River road trip here.
Where to stay: best Margaret River accommodation, best Yallingup accommodation, best accommodation in Dunsborough or best accommodation in Busselton
Distance: 220 km – 2 hours 30 mins
Best Time To Visit: Summer
Interests: Beaches, fishing, wildlife, nature, skydiving, wildflowers
Jurien Bay, a relaxed fishing town, is a lovely spot that offers stunning views of the beach and the Indian Ocean. The bay is known for its crystal clear waters and white sand beaches. It's also well-known for the cute Australian sea lions, which you can swim with on a tour.
The best time to visit Jurien Bay is during summer when the weather is hot, and the beaches are at their best. However, there are plenty of other activities to do in Jurien Bay during the year.
Visit Jurien Bay from August to October to see the wildflowers in Lesueur National Park or jump out of a plane with Skydive Jurien Bay.
If you have a 4wd, Stockyard Gully Caves is an adventure.
Stop off at the Pinnacles or Cervantes on your Perth to Jurien Bay getaway.
Where to stay: Jurien Bay Caravan Park
Distance: 350 km – 3 hours 40 mins to 4 hours
Best Time To Visit: Spring (wildflowers), Summer (beaches), Autumn
Interests: Walking, beaches, nature, fishing
This cray fishing town is one of our favourite getaways for some R&R. There's not a huge amount to do, which is the appeal, but there are walks, lovely beaches, and lots of birdlife. It's also an excellent base to explore the area, especially in spring when the wildflowers are in bloom.
Where to stay: Big 4 Dongara Denison Holiday Park
Distance: 168 km – 2 hours
Best Time To Visit: Summer (beaches), Spring, Autumn
Interests: Wildlife, beaches, street art, diving, walking
This port town is great for a short break from Perth, offering visitors streets filled with art, dolphin experiences, great food, and wreck dives.
About 100 to 150 wild bottlenose dolphins live in Koombana Bay and visit the shallows early most mornings. The Dolphin Discovery Centre offers several experiences, including the Interaction Zone, Interpretive Centre, Eco Cruise, and Dolphin Swim.
The Koombana Foreshore Playground features water play activities, climbing towers, and a zipline. Bunbury Wildlife Park is another excellent option for families with  native animals and two walk-through aviaries.
The highly-rated open water Lena wreck dive is a purposely sunk wreck off the Bunbury coast. This easy swim-through has excellent visibility and attracts humpback whales, turtles, skipjack, western blue devils, wobbegong and port jackson sharks, tuna, and dhufish.
Where to stay: Best Bunbury Accommodation
Distance: 417 km – 5 hours
Best Time To Visit: Summer (beaches), Spring (wildflowers), Autumn
Interests: hiking, beaches, history, nature, fishing, art
Albany is one of my favourite getaways from Perth. The beaches are spectacular, with Misery Beach constantly being named one of the best in the world and my personal favourite.
Torndirrup National Park offers fantastic hiking trails and stunning rugged coastal scenery with sweeping views over the Southern Ocean.
Emu Beach is excellent for families with young children as the beach is sheltered and provides calm water for the kids to paddle. There's a shaded picnic area, playground, and boat ramp, and it offers good fishing.
Gull Rock National Park and Two Peoples Bay Nature Reserve have beautiful scenery and beaches, including Little Beach, the most photographed beach in this region.
As Western Australia's oldest colonial settlement, there's a lot of history and heritage buildings to explore. For example, Albany Heritage Park includes the National ANZAC Centre, the Desert Mounted Corps Memorial, lookouts, and Princess Royal Fortress, one of Australia's best outdoor military museums.
Where to stay: Best Accommodation in Albany
Distance: 413 km – 4 hours 45 mins to Walpole, 420 km – 4 hours 45 mins to Denmark
Best Time To Visit: Summer (beaches), Spring & Autumn (hiking)
Interests: beaches, nature, hiking, water activities
Denmark is a small town between Walpole and Albany with highly-rated wineries, stunning scenery, and the incredible Greens Pool and Elephant Rocks.
Denmark Animal Farm and Pentland Alpaca Stud is a fantastic attraction for families where you can feed the animals and maybe hold a joey.
There are walking, biking, hiking, and water trails close to Denmark, including the Bibbulmun Track, a world-class long-distance walk from Kalamunda (in the Perth hills) to Albany. 
Where to stay: Best Accommodation in Denmark
Distance: 504 km – 5 hours 35 mins
Best Time To Visit: Summer (orcas)
Interests: wildlife, beaches, fishing, nature, 4wd, walks, wildflowers
Bremer Bay is one of the few places in the world where you can see Orcas in their natural habitat. Known for their majestic leaping abilities and incredible hunting skills, they can be seen in the Bremer Bay Canyon from January to the beginning of April.
Bremer Bay Orca tours are the main attraction, but the beaches here are striking and some of the best in Australia.  Stream Beach, Dillon Beach, Blossoms Beach, and Peppermint Beach are great 4wd beaches.
Southern Right whales calve in the calm waters between July and November. They can be seen from most of the coast, but the best places to view them are from Point Ann, the Doubtful Islands, and Bremer Beach.
The Weedy & Leafy Sea Dragon, unique to Australia's southern and western coasts, is often seen here. International visitors come to Bremer Bay hoping to see and photograph these rare creatures. The ocean has a huge diversity of underwater flora and fauna due to the nutrient-rich, cooler temperature.
Fitzgerald River National Park is one of Australia's largest parks and offers spectacular coastal views. Wildflowers are at their best from August to November. 
Where to stay: Bremer Bay B&B
23. Esperance – Australia's Golden Outback
Distance: 700 km – 7 hours 40 mins
Best Time To Visit: Summer
Interests: wildlife, beaches, hiking, fishing, nature, 4wd, diving
Esperance is a nature-lovers dream with stunning beaches, fantastic surf breaks, and incredible landscapes. Visit Cape Le Grand National Park for unspoiled white sand beaches and turquoise blue ocean – you may even see kangaroos on the beach at Lucky Bay.
The Recherche Archipelago lies off the coast of Esperance, where you can cruise around the islands.
Frenchman Peak in Cape Le Grand National Park is one of Esperance's best hikes, and the Cape Le Grand Coastal Trail is a challenging 20 km day hike that can be broken up into smaller parts.
Take a scenic flight to view the world-famous Pink Lake Hillier and 300 km of WA's coastline.
Esperance is rated as one of the ten best dive locations in Australia, with the choice of two wreck dives for advanced divers.
Where to stay: Esperance Bay Holiday Park
Distance: 420 km – 4 hours 30 mins
Best Time To Visit: Summer (beaches, watersports), Spring (wildflowers), Autumn
Interests: beaches, watersports, wildflowers, history,
Strong sea breezes during summer make Geraldton popular for windsurfing and kitesurfing, and the beaches attract people wanting to relax, fish, and surf.
Visit popular attractions like the HMAS Sydney II Memorial, Point Moore Lighthouse, and St Francis Xavier Cathedral. Take a walk around the city to see heritage buildings and discover the city's history.
Learn about Yamaji culture, history, natural landscapes, and marine environments at the Museum of Geraldton, and the Shipwrecks gallery features archaeological treasures from four Dutch shipwrecks. Visit an art gallery or explore the streets for contemporary street art and sculptures.
Geraldton's coast is home to some of Australia's best seafood, including rock lobster. This delicacy can be found locally at the popular Skeetas restaurant on the foreshore at the Mantra Hotel.
Where to stay: Gerald Apartment Hotel
Distance: 575 km – 6 hours 10 mins
Best Time To Visit: Spring & Autumn (hiking), Summer (beaches)
Interests: nature, hiking, beaches, fishing, wildlife, boating, abseiling
Kalbarri is one of the most beautiful rugged places in Western Australia and a popular Perth getaway with people looking for fun, adventure, and natural beauty. The hikes in Kalbarri National Park are some of the best hikes we've done, and the scenery is spectacular.
There are numerous activities to enjoy, including surfing, fishing, abseiling, and boating.
Take a scenic flight over  Pink Lake, the Abrolhos Islands, the Zuytdorp Cliffs, or the Murchison River gorges.
Where to stay: Kalbarri Red Bluff Tourist Park . See our tips for the best accommodation in Kalbarri for more options.
26. Monkey Mia & Denham – Coral Coast
Distance: 850 km – 9 hours to Monkey Mia & 823 km – 8 hours 50 mins to Denham
Best Time To Visit: Autumn (fishing, swimming, boating, camping), Winter (hiking), Spring ( diving & snorkelling)
Interests: nature, wildlife, hiking, 4wd
Most people visit the Shark Bay region for the Monkey Mia dolphins, but it offers much more. World Heritage Shark Bay is Australia's largest bay with over 1,000 km of sand beaches and is renowned for its marine life.
Over 10,000 dugongs live amongst the extensive seagrass meadows, one of the largest populations in the world. In addition, humpback whales migrate along the coast and use the bay to rest during their migration in spring.
Take a wildlife cruise, snorkel, dive, fish, hike, and view stromatolites at Hamelin Pool – there's something for everyone.
Don't miss Shell Beach, made up of trillions of cockle shells, and Eagle Bluff for views over Eagle Island. If you have a high-clearance four-wheel-drive vehicle, visit Francois Peron National Park. Skipjack Point was the highlight of Francois Peron NP for us, with contrasting red cliffs, white beaches, and a turquoise ocean; we spotted sharks and stingrays from the lookout.
Where to stay:  Shark Bay Seafront Apartments Denham or  RAC Monkey Mia Dolphin Resort
Romantic Perth Getaways
There's something special about getting away with someone you care about. So whether you're looking to spend time in nature or at the beach, there are plenty of romantic getaways that will leave you feeling content and relaxed.
27. Northam
Distance: 95 km – 90 minutes
Best Time To Visit:
Book a romantic hot air balloon ride over the picturesque Avon Valley and see the golden glow of the sunrise over the rolling hills.
28. Romantic Getaways in Perth Hills
Amaroo Retreat and Spa
These award-winning, luxurious chalets in Mount Helena offer a romantic getaway in the Perth Hills. Unwind with a treatment at the Amaroo Retreat & Spa, enjoy a glass of wine in your private outdoor spa bath, or relax over dinner at The Lounge at Amaroo. Check prices of adult-only Amaroo Retreat & Spa.
Eversprings Glamping
These luxury glamping tents, on an alpaca farm, overlook the valley. There's a choice of two 5-metre tents, both with a queen-size bed and a hot shower and toilet pod. The camp kitchen is well-equipped.
This adult-only accommodation is in Mount Helena. See photos of Eversprings Glamping.
29. Romantic Getaway Swan Valley
The Swan Valley Retreat, Henley Brook
This adults-only retreat offers a peaceful and relaxing experience when you book one of their luxurious suites or villas. Choose from one of three rooms: the Cabernet and Merlot rooms have a balcony, king-sized bed, kitchenette, and outdoor spa.
For a memorable experience, book the Wine Barrel, their premier room with a private panoramic sauna, a welcome platter, and a gourmet breakfast delivered to your room in the morning. See photos here.
30. Romantic Getaways in Australia's South West
Aqua Resort, Busselton
This beach-access resort has luxury accommodation in Geographe Bay, surrounded by eight acres of mature peppermint woodlands and beautiful gardens. Choose from 1 to 5-bedroom houses, some with private heated plunge pools. Facilities include a 25-metre infinity lap pool, a well-equipped gymnasium, a steam room, an outdoor spa, and a full-size tennis court. See prices of Aqua Resort.
Empire Spa Retreat, Yallingup
An adults-only spa retreat in a restored farmhouse has 11 luxury rooms and villas, some in the original farmhouse. Enjoy a soothing massage or sauna in the on-site day spa. Check availability here.
Bina Maya Yallingup Escape, Quedjinup
Family-owned and operated Bina Maya Yallingup Escape, run by Tim and Sara Greay, offers luxury accommodation amongst seven acres of native Australian bushland. The spacious villas are the ultimate couples retreat with a rainwater shower and free-standing bath, complimentary premium music and movie services, a private balcony with forest views, a Nespresso coffee machine and pods, and a European Morso wood fireplace with wood provided. See photos here.
Hidden Valley Forest Retreat. Margaret River
Hidden Valley Forest Retreat offers four accommodation options on 110 acres with lakes, vineyards, pristine forests, and native bush. The Eco Lodges, Wilderness Cabin, and Deepwater Retreat are equipped with European-style kitchens, wood fires, reverse cycle air conditioning, gas barbecues on the deck, and spas (some outdoors, some indoors).
While staying here, you may see various wildlife, including birds, kangaroos, possums, and quendas. See prices here.
Eight Willows Retreat, Margaret River
The 25 self-contained luxury chalets feature fully equipped kitchens, and some have spa baths. Your breakfast basket includes seasonal fruit from their orchard and fresh eggs.
At sunset, kangaroos visit the property, set on 75 acres of natural bushland. See photos here.
Cape Lodge, Yallingup
Award-winning boutique hotel, Cape Lodge, offers 22 adult-only luxurious rooms and suites with king-sized beds and opulent bathrooms. Sitting on 40 acres of manicured parkland and lakes, the property includes tennis courts and an elegant, freeform swimming pool. In addition, the hotel has an 8-acre vineyard producing fine Sauvignon Blanc and Shiraz for its guests.
The Cape Lodge restaurant uses the finest local produce and is a highlight of a guest's stay. See room availability here.
Plan Your Perth Getaway
Accommodation: We mainly use Booking.com for accommodation as they consistently have the lowest rates with free cancellation on most properties. We also book through Stayz for private accommodation as they are usually cheaper than Airbnb.
Car Rental: To compare rental car company prices, we use Discover Cars, an award winning car rental comparison website. They offer competitive pricing in over 10,000 locations worldwide and are highly-rated.
Tours: We use third-party sites Viator, Get Your Guide & Klook due to their free cancellation policies, instant confirmation, price guarantees, and mobile ticketing. We occasionally book through Red Balloon too.
Mobile: Telstra has the best coverage in Western Australia. We buy our sims through Boost who provide 4G/4GX coverage on full Telstra 4G Mobile Network. With up to 82GB for 28 days or 240GB for 12 months, unlimited national calls & text, and international inclusions on selected plans, you're sure to find the right prepaid SIM for you. See plans here.
Travel Insurance: Cover-More protects the travel dreams and experiences of more than 15 million people worldwide every year (including us!). Part of Zurich Insurance Group, they cover 22 countries across five continents with leading positions in the USA, Australia, Brazil, Argentina, Ireland, India and New Zealand. Protect your trip against several COVID-19 scenarios during the current coronavirus pandemic. 
If you found this article helpful, please consider booking through one of our links. The small commission I may receive helps with the cost of running the site. Thank you.