Incredible Things To Do In Albany WA 2023 | A Local's Guide
There are plenty of things to do in Albany WA, or Kinjarling, as the traditional landowners know it. Albany is a popular destination for Western Australians during school holidays and long weekends as it is a safe, peaceful town with stunning natural beauty.
This Great Southern town is full of history, delicious food, and gorgeous beaches with a range of fabulous accommodation to suit everyone.
Albany's most popular activities include fishing, surfing, swimming, diving, hiking, four-wheel-driving, and sampling the region's world-class wine.
Being locals of WA, we have visited Albany numerous times and have a list of our favourite things to do there.
The Orca cruise by Naturaliste Charters in Bremer Bay is one of the best experiences we've had.
Join Busy Blue Bus Tours in Albany on an unforgettable journey to Bremer Bay, home to one of the most incredible sights in nature – Orcas (killer whales) in the wild.
Your orca expedition with Naturaliste Charters is included in the price.
Albany Attractions & Tours
🤩 To Book Tours Direct with the Tour Operators, click the links in the box below
1. Boat Cruises
Boat cruises depart from Emu Point. The Albany Wildlife and Scenic Cruise is a sheltered water cruise with no open sea, where you may see Pelicans, Eagles, Hawks, and an abundance of birdlife and Kangaroos in the wild up close and personal. The tour includes tea, coffee, and hot Damper with a full commentary.
The glass-bottomed Kalgan Queen Scenic Cruises has a 5/5 rating on TripAdvisor from nearly 200 guests. You cruise the sheltered waters of Oyster Harbour and the ancient Kalgan River while listening to a commentary about the history and wildlife.
2. Whale Watching in Albany
Spot whales during the southern migration season from June until early October. The best chance of seeing them from shore is from Kings George Sound and Torndirrup National Park.
However, the best way to experience these incredible mammals is on a whale watch cruise.
The National ANZAC Centre is the most recent addition to the Princess Royal Fortress site. Here you will learn about ANZAC and follow personal stories through the state of the art technology, multimedia, and historical artefacts.
Each visitor can assume a serviceman's or woman's identity and trace their journey through the Great War in an immersive learning experience. Entry ticket is valid any time during opening hours; access to all buildings within the Princess Royal Fortress is included.
The Gap & Natural Wonders Tour Summary
Tour Length: 3 1/2 hours
Departs: Albany at 9 am
Rating: 5⭐️ on Tripadvisor
Dates: Weds, Thurs, Fri and Sat
Inclusions:
Wine tasting at a Ironwood Estate Wines
Morning/afternoon tea
Hotel pickup and drop-off within 10 km Albany CBD
Local driver/guide with live commentary
National Park fees
Explore the history and highlights of Albany on a guided tour. On this half-day adventure you will experience the city's significant heritage sites including Patrick Taylor Cottage, and explore the stunning landscapes of Mount Clarence and Middleton Beach.
Enjoy commentary from your local guide throughout the tour as you take in these spectacular sights.
At the National ANZAC Centre, gain insight into Albany's important part in WWI history and learn more about its involvement with the ANZAC story.
Also enjoy a tea or coffee with delicious scones, jam and cream before your return journey. Join Busy Blue Bus Tours for an unforgettable experience in Australia's oldest colonial settlement.
Vegetarian option is available, please advise at time of booking if required.
Albany History & Highlights Tour Summary
Tour Length: 3 1/2 hours
Departs: Albany at 9 am
Rating: 5⭐️ on Tripadvisor
Dates: Weds, Thurs, Fri and Sat
Inclusions:
Hotel pickup and drop-off
Local expertise
Guided tour and history commentary
Tea/coffee and scones, jam and cream
Entry to National ANZAC Centre
Entry to Patrick Taylor Cottage
The historic Whaling station is an intact whale processing factory and whale chasing ship – fully restored. Unfortunately, I couldn't bring myself to visit, but many people have said it is fascinating.
This three and a half hour tour takes you the scenic route around Albany's Princess Royal Harbor and through Torndirrup National Park to Albany's Historic Whaling Station.
Climb aboard the whale chaser Cheynes IV and marvel at the enormous whale skeletons on display. The history of whaling around Albany is presented in animation, image, and relic as you are guided through this educational and historic attraction. 
7. Wilson Brewing Co
Visit the family-owned and run Wilson Brewing Company for one of their craft beers; you won't be disappointed. It has a small beer garden (there are plans to extend it) with a relaxed indoor seating area. Matty Wilson is passionate about producing top-quality beer using as much local produce as possible. Their core range includes favourites like summer ale, a light session extra pale ale, draught bitter, pale ale, blonde ale, dark ale, and ginger beer (the dark ale was fantastic). The brewery also has a seasonal range – at the moment, they have a dark pale ale brewed with Akoya pearl oysters; now, that's my type of beer!
8. The Great Southern Distilling Company
If spirits are more your thing, visit Great Southern Distilling Co's cellar door for a tasting flight of their craft spirits, or grab a table and enjoy some local produce from their menu. 
You can also book a distillery tour, giving you a peak into making premium single malt whisky in Western Australia. Tours are free, or you can pay A$25 to include three standard tastings.
252 Frenchman Bay Rd
9. Wineries
Monty's Leap was established in 2017 and has a cellar door, restaurant, wheelchair access, picnic facilities, and kids' play area. Their wines include Pinot Noir, Semillon Sauvignon Blanc, Cabernet Shiraz, Sauvignon Blanc, Cabernet Sauvignon, Chardonnay, Shiraz,  and Sparkling, Rosé.
Wignalls Wines on Chester Pass Road offers Rosé, Sparkling, Cabernet Merlot, Chardonnay, Pinot Noir, Sauvignon Blanc, and Shiraz. The family estate has won over sixty trophies and gold medals since 1982.
Oranje Tractor Wine is a solar-powered, environmentally-forward, organic winery on Link Road producing Sauvignon Blanc, Sparkling, Fortified, Dessert, Merlot, Riesling, Shiraz, Tawny and Rosé.
10. The Sandalwood Shop
Visit Australia's largest sandalwood retailer at their distillery, which includes the Sandalwood Café and Gong Relaxation Space. The well laid out shop has some unique Sandalwood products, perfect for gifts for family and friends.
The Sandalwood Café serves coffee made from locally roasted coffee beans, delicious cakes, and light lunches.
For a truly indulgent experience, book a one-hour gong relaxation session.
 2 Down Rd, Albany
Tour Availability
Nearly Free Things To Do in Albany WA
There are plenty of free things to do in Albany Western Australia to keep you occupied during your trip, or you could sit back and relax on one of the many spectacular beaches.
1. Torndirrup National Park | Torgadirrup
If I could choose only one place to visit in Albany, Torndirrup National Park would be it.
You might see the spelling as Torgadirrup; this is the name given by the local Aboriginal community, who are the traditional custodians of this country. The Mirnang people have a Dreamtime story that shows how important the area is to them. Two brothers argued over a woman, so the elders sent them to The Gap. One brother was good with the boomerang, while the other was good with a spear. They stood on either side of The Gap and threw their weapons, striking each other, causing both to fall into the water. The brother hit by the boomerang turned into a shark (the fin is the boomerang), and the other brother turned into a stingray.
Torndirrup National Park shows off the rugged Albany coast so well. It has to be the best outdoor activity in the area, and there's a lot of high competition. The area has sweeping views over the Southern Ocean, which stretches south to Antarctica.
Sitting on the Torndirrup Peninsula, it is only a 15-minute drive south of Albany Town Centre and accessed along Frenchmans Bay Road.
Entrance fees apply to this park, so it's not free but very cheap. All the information can be found on the Parks and Wildlife site. If you plan to visit a few National Parks, we buy an annual pass through the RAC WA as members get 50% off.
Torndirrup National Park is known for its spectacular beaches, breathtaking hikes, and unique wave-carved rock formations. The Torndirrup National Park Map is an excellent way to get your bearings and plan your route.
Spring to early summer is a spectacular time to visit when the wildflowers blanket the ground, but summer is great for the beaches.
Please note that no dogs are allowed in Torndirrup National Park.
2. The Gap and Natural Bridge
The Gap and Natural Bridge are the most popular attractions in Torndirrup National Park. Therefore, I suggest doing them first before hoards of people arrive, as it's a better experience when it's quieter.
The Gap has a 24-metre drop where the ocean has carved out a rugged granite channel. The noise of the sea here is incredible, and it's impressive to watch.
The rocks are granodiorite and gneiss, which formed many kilometres below the surface under extreme temperatures and pressures due to the collision between Antarctica and Australia. This caused the Earth's crust to buckle and a large mountain belt to form.
Just along the sealed path is the Natural Bridge. The mighty Great Southern Ocean has shaped this rock formation. It's astounding to see the strength of the waves crash into the granite boulders and rush under the bridge.
Make sure to stick to the pathway and do not try climbing onto rocks. This coastline is known for king waves, and the ocean is treacherous. There have been six deaths and five serious incidents here since 1973.
3. Stony Hill
Stony Hill, Torndirrup National Park, is a 500m circular walk with 360-degree views. You can see Peak Head and the Great Southern Ocean facing directly south. Princess Royal Harbour and King George Sound can be seen north.
4. Jimmy Newells Harbour
Jimmy Newells Harbour (in Torndirrup National Park)has a lookout that provides breathtaking views of the natural inlet that lies 95m below. The ocean has dug a channel 120m deep, 400m long, and 150m wide. The views and colours are astonishing and well worth the short 100m walk along the paved path.
The harbour is named after Jimmy Newell, a convict brought to Albany in 1826 on the Brig Amity by Major Lockyer. Newell was part of Lockyer's expedition to establish a settlement in King George Sound and arrived on Christmas Day. After serving his time, Newell's family joined him from Tasmania, and they remained in the area. One day Jimmy was fishing and got caught in an unexpected storm but managed to shelter in the harbour. Records show that he died in Albany in 1855.
5. The Blowholes
The blowholes are another popular attraction in Torndirrup National Park.A sign near the start advises whether the blowholes will likely be 'blowing' when you're there. It didn't look like they would be when we visited, but we decided to do the walk anyway.
The trail is 1.6 km return along a paved path and then over granite rocks. Again, there are signs to indicate where the blowholes are but do not stand over as air, water, and loose debris blow through the holes at high pressure and cause injury if you are too close. Also, you should be aware that the sloping rock below the blowholes is extremely slippery when wet and is much steeper than it appears.
In my opinion, unless you know the blowholes will be blowing, I wouldn't bother with the trail. The walk is downhill on the way and uphill return, and it seems a lot longer than the 800 m each way.
6. Albany Wind Farm
The Albany Grasmere Wind Farm is just off Frenchman Bay Road and is worth a look while in the area.
The 18 wind turbines produce clean, renewable energy equivalent to 80 percent of Albany's annual electricity needs. It is free and open to the public every day.
7. Albany Heritage Park
The Albany Heritage Park encompasses Mount Clarence and Mount Adelaide and contains many historical and cultural attractions.
Desert Mounted Corps Memorial sits at the top of Corndarup, Mount Clarence. It is a duplicate of the original statue erected in 1931 at Port Said, Egypt. The granite blocks are part of the original monument and still have the bullet marks from the original memorial. The memorial was erected in Albany after being recast in 1964. The views from here over the Princess Royal Harbour and King George Sound are incredible. This is the location of the ANZAC dawn service held every year. The walk from the car park is up some stairs and along a path lined with memorials.
Padre White Lookout is a walkway at the top of Mt Clarence. It marks where Padre White, the Rector of St John's Church in York St, led his parishioners in 1930. This is claimed to be the first-ever Dawn Service on ANZAC Day in Australia.
Apex Lookout is on the way back along Apex Drive. There are lovely views of King George Sound, Princess Royal Harbour, and even as far as Middleton Beach and Emu Point. Look out for the King Skinks on the rocks below.
The Princess Royal Fortress, Mount Adelaide, is one of Australia's best outdoor military museums. It is one of two pre-federation fortresses constructed to protect intercontinental trade routes. It was decommissioned in 1956, like other coastal defences throughout the Commonwealth. All buildings are open to the public.
Take time to explore the historic gun emplacements and the extensive naval gun collection. There is a range of artefacts, including the original gun turrets from the HMAS Swan and HMAS Torrens, both of which served in the Royal Australian Navy. Children enjoy this part!
The Princess Royal Fortress Married Quarters are semi-detached stone cottages with iron roofs built in 1899 for married personnel.
The Princess Royal Fortress also contains two underground magazines, the Princess Royal Battery and the Plantagenet Battery. They were constructed in 1892 and used to store cordite required to fire the large coastal guns. You can wander through the magazine and see the solid walls and original floors.
The Convoy Walk leads to Convoy Lookout with views over King George Sound. On the walk up, you will pass 21 markers containing information about the ships in the First and Second Convoys, including the names and images of the troopships and escorts.
You can view the Albany Heritage Park Map here.
8. Gull Rock National Park
This small national park near Albany gets its name from a small island off Ledge Beach. Parts of the park offer spectacular views of Breaksea and Michaelmas Islands, King George Sound and Torndirrup Peninsula. The beautiful white sandy beach of Boiler Bay (the east part of Ledge Beach, also known as Gull Rock Beach) is protected from south-easterly winds and perfect for swimming in calm conditions. Here you can see the top of the shipwreck Awhina which sticks up from the ocean floor and is a good snorkel spot.
You can also fish off the rocks to catch leatherjackets, herring, whiting, skippy squid, silver bream, and salmon. However, care must be taken and rules apply as per the Fisheries department.
From Albany, take the Lower King Road north which turns into Nanaraup Road, turn right on Gull Rock Road and follow the signs into the National Park. There is about 8 km of gravel road, but it is suitable for all vehicles.
There aren't any facilities in Gull Rock National Park, including toilets or bins. So please take any rubbish home with you.
9. Two Peoples Bay Nature Reserve
Two People's Bay is about 25km north-east of Albany. It is known for its beautiful beaches and the rediscovery of the presumed extinct noisy scrub bird in 1962.
The Visitor's Centre, before you reach the beaches, is packed with information on the area. There are toilets and picnic tables, where you access the walking trails.
Entrance fees do apply as per Torndirrup National Park.
Most people head straight to Little Beach, the most photographed beach in this region. The view as you walk down to it is stunning. The turquoise ocean gleams against the white sand, and the granite boulders stand out in contrast. There are fantastic views towards Mt Manypeaks and Waychinicup National Park to the north.
10. Salmon Fishing
You can see Salmon Holes from the lookout. However, if you want to access the beach, a winding stairway leads down from the lookout.
It is named after the Australian Salmon that frequent these waters during the annual salmon run. From July to January, Western Australian Salmon reside along the South Coast. Like their favourite food, Pilchards, they prefer cold water and feed offshore in the cold layers of water. Then in February, the salmon "run" west to the Indian Ocean to breed. The south-flowing tropical Leeuwin Current helps spread the salmon eggs along the entire southern coast of Australia.

Salmon Beach is one of the best beach fishing spots in the south-west region of Western Australia. However, it is now compulsory to wear a life jacket if you're going onto or accessing the rocks at Salmon Holes. Tragically, 13 people have died since 1983 after being washed off the rocks here. More information, including licences and rules, can be found on the Fisheries website.
11. Albany Public Art Trail
Download a copy of the Albany Public Art Trail Map to find the artwork as you walk around the town.
12. Mt Melville Lookout
You can access a tower that provides fantastic views over the port and art silos from a small car park. Entrance is free and provides a different perspective of the area. Even though it's not as nice as the other lookouts, it's worth a stop if you drive past. We walked up there for sunset – a pleasant walk with beautiful views.
13. Public Silo Art Trail
The Public Silo Trail is a series of murals on the region's grain silos. The self-drive covers over 1,000 km through Northam, Ravensthorpe, and Merredin.
You can see the ruby sea dragon (Phyllopteryx dewysea) on the silos down at the port.
Albany Beaches
Misery Beach
Misery Beach in Torndirrup National Park is the most spectacular beach in Albany, possibly even Western Australia. In fact, it recently took the award for the best beach in the country by Tourism Australia for 2022!
The sand is soft and squeaks when walked on. The water is a bright turquoise blue that is stunning against the white sand. This sheltered bay is a great spot to swim or snorkel. Despite us visiting in the summer school holidays, the beach was surprisingly quiet. It's an ideal place to relax and take in the beautiful views of King George Sound and its rugged coast. I don't know why it's called Misery Beach, as it's the opposite. It could date back to the whaling days when the whales' blood would be washed up here. Pure misery!
Cable Beach
A giant boulder was incredibly lifted onto Cable Beach (Torndirrup National Park) by the force of the waves. It is pretty hard getting down to the beach from the car park; from the staircase, rocky boulders continue down onto the beach. Swimming is not recommended at Cable Beach due to the strong currents.
Frenchman Bay
Frenchman Bay is located outside Torndirrup National Park but still on the peninsula. It is another stunning bay with soft sand and clear water. There's a boat ramp and a lovely BBQ grassed area with clean toilet facilities. If you are an advanced diver, The HMAS Perth is one of the best wreck dives in Australia and lies beneath the water here.
Whalers Cove – Fishermans Beach
Whalers Cove is on the east side of Vancouver Peninsula, towards Torndirrup National Park, facing King George Sound.
The road is sealed, and from the car park, two paths lead down to the beaches. I have read that the one on the left is optional clothing (although we didn't find that to be the case), or head to the small beach on the right. You can easily climb over the gently sloping rock that divides the two beaches.
Fishermans Beach is dog-friendly and has bush toilet facilities.
Middleton Beach & Ellen Cove
Middleton Beach is the closest beach to the centre of Albany. It's popular with families as it has soft white sand and is suitable for swimming and snorkelling. The kids especially love the floating pontoon out in the ocean at Ellen Cove (the far southern end).
Middleton Beach is our choice when looking for accommodation in Albany.
Unfortunately, the Ellen Cove shark net had to be removed recently due to deterioration. However, the city of Albany is looking to replace it and have it installed by summer. Albany Surf Life Saving Club also patrols the beach in summer for that added security.
Along this part of Middleton Beach, there are toilets, showers, a playground, and a café. The grassed area is shaded by trees, so perfect for a picnic.
The Ellen Cove Boardwalk runs along the coast and provides stunning views over King George Sound and Middleton Beach. The 6km one-way trail goes from Ellen Cove and ends in Stirling Terrace Albany. It's a dual path used by pedestrians and cyclists and hugs Mount Adelaide. If you are here between June and October, keep a lookout for humpback and southern right whales that migrate through Albany.
Talking of wildlife, if you hear rustling in the bush or see a black reptile up ahead, it is likely to be a King Skink (they are common around Albany).
Middleton Beach stretches 4.5km up to Emu Point in the north.
Emu Point
Emu Beach starts at the southern end of the wall, facing south. It's a 400m sandy beach that is usually calm. However, beware of a strong current flowing in the deep channel outside the breakwaters.
Emu Point Beach is a sheltered beach located just inside the entrance to Oyster Harbour on the northern side of Emu Point. It is ideal for children as it is calm and shallow with a pontoon. There's also a shaded picnic area, playground, car park, and boat ramp. Emu Point Beach is a beautiful place to kayak and fish too.
Pelicans are usually around here, waiting for anglers to throw some scraps. But, if you see only one, it will most likely be Percy, who always seems to hang around here.
Neither beaches have life-saving patrols, so be careful in the water.
Look for the Sammy the Seal monument that pays tribute to the beautiful seal tragically killed by a nasty person with a long-bladed instrument on the beach where he usually rested. Read the lovely story of his friendship with Johnathan 'Captain Kalgan' Jones.
Just up from Emu Point, Oyster Harbour is fed by two rivers; the King River and the Kalgan River. It's a commercial fishing harbour along with oyster and mussel farms.
There are two bridges over the Oyster Harbour estuary, one over the Kalgan River on Nanup Road and the other over King River on Lower King Road. Take this route to drive from Middleton Beach to Two Peoples Bay Nature Reserve.
Little Beach, Two People's Bay
It's a lovely walk along Little beach, and stairs lead up to a path at the far end of the beach. If you follow this, it leads to Waterfall Beach. However, we found it hard to climb down the rocks onto the beach with the children. Also, the waterfall wasn't running because it was summer, so we just sat on the rocks and admired the beach from above.
King waves frequently hit Little Beach, which are forceful and deceptive. The water is deep, close to shore, and this beach is not patrolled. Also, in the height of summer, the flies are awful. Despite being fantastic, I couldn't stand it that long here. Bring some insect repellent with you, as that may help.
Albany Hiking Trails
Bald Head Walk Trail
Bald Head Walk Trail is a challenging 12.5km return trail providing incredible views of the Southern Ocean and King George Sound. Known as one of the best hikes in the South West, the trail climbs and descends along the narrow ridgeline of the Flinders Peninsula. This coastal trail is for advanced hikers, and a high degree of fitness is required. Allow 6-8 hours to hike over Isthmus Hill to Flinders Peninsula and on to Limestone Head and Bald Head.  The terrain is steep and challenging in sections. Our family walked part of it (Dave has run the whole length), but it was too hot in summer, so we will return to do it one autumn.
Port to Point Trail
The Port to Point Trail is just over 12 km of dual-use path starting in the city centre and ending at Emu Point. Along the way, you'll see the port with stunning views of King George Sound, Ellen Cove, Middleton Beach, and the stunning coastline. You can walk, or an easier option is to cycle.
Albany Wind Farm to Mutton Bird car park
If you feel energetic, the Bibbulmun Track runs through the wind farm. The day walk to Mutton Bird car park is 13.5 km one way. This trail offers different options to experience astonishing coastal views, spectacular carpets of wildflowers, as well as the site of these spinning giants.
Heritage Trail, Two Peoples Bay
The Heritage Trail is a 4.6km class 4 (moderately difficult) walk. It starts at the Visitor Centre, winding through the peppermint woods and then back along the beach. If you want to go further, a 5 km return spur leads to Little Beach.
Bluff Knoll
Hike to the top of the highest peak in the Stirling Range and the most popular trail in the national park, often ranked as one of Australia's best hikes. You should allow three to four hours to complete the trail, and it does require a certain level of fitness. We climbed it with our twins, who were nine at the time.
Bluff Knoll is an hour's drive from Albany.
Read more about it in our Bluff Knoll Stirling Ranges post.
Castle Rock Trail & Granite Skywalk
Another fantastic hike is Castle Rock, around a 35-minute drive from Albany in the Porongurup National Park. Allow two to three hours to tackle this Grade 5 hike, and be aware that you need to climb large boulders and a ladder to access Granite Skywalk. It's a fun hike with incredible views from the skywalk – one of our favourite hikes.
Kid-Friendly Things To Do in Albany
Brig Amity
This full-size replica of the Brig Amity is a fun thing to do with children in Albany. The original vessel carried settlers and convicts to establish the first European settlement on the west coast of Australia in 1826.
It allows you to experience what it was like aboard a convict ship and what they had to endure. You can explore the upper and lower decks, but some spaces are very low (perfect for kids, though). It's a fun way for children to learn about the first European settlers here.
This replica ship was built in 1975 and is situated a few hundred metres from where Major Edmund Lockyer and the party of 45 arrived on Christmas Day 1826, officially being the first people to land and settle in WA.
The Amity left Albany and supplied another new colony along the Swan River (now Fremantle and Perth). She was wrecked off Flinders Island, Tasmania, on 18 June 1845.
It is best to call ahead on 9841 4844 as opening and closing times may vary. It is closed on Anzac Day until 1 pm, Good Friday, Christmas Day, Boxing Day, and New Year's Day.
The cost in April 2023 was A$5 per adult, A$2 per child, A$4 Concession, and A$12 for 2 adults & 2 children.
You can find The Brig Amity Replica on Princess Royal Drive, close to the city centre.
Kids over 35 kg can enjoy a fun tour of Albany on a segway. This one-hour tour provides headphones to hear your guide's commentary clearly as you make your way around Albany Heritage Park and Middleton Beach.
Emu Point Playground & Beach
Emu Point is popular with families who enjoy the calm water, sandy beach, and facilities. The playground is right on the beach, with grassed areas shaded by trees and barbecues (the playground itself is not shaded, though).
It's not the biggest playground but has enough to entertain the little ones with swings, a climbing net, a slide, and a stand-up see-saw.
Historic Buildings in Albany WA
As King George Sound was the site of Western Australia's first European settlement, it offers plenty of historical sites to discover. 
Albany Town Hall
Albany Town Hall is located at 217 York Street, the main street in town. It opened in 1888 and was where WA's first regional meeting of State Parliament took place.
The Old Post Office
The Old Post Office (1834) was formerly the post office, customs office, and the overland telegraph base station. The University of Western Australia Albany now occupies it.
Stirling Terrace, (East end), opposite Spencer Street.
St John's Church
St John's Church started construction in 1841 and was built mainly by British convicts. This Anglican church of St John the Evangelist was the first to be consecrated in WA.
Vancouver Arts Centre
The Vancouver Arts Centre was built in 1887 and was the former Albany Cottage Hospital. George Temple Poole, a colonial architect, designed the building. It remained a hospital until 1962. 
85 Vancouver Street, Albany WA 6330
Albany Convict Gaol & Museum complex
The complex was built in 1852 for Imperial convicts shipped to WA. Women's cells, the Great Hall, and more warders' quarters were constructed between 1872 and 1875.
Lower Stirling Terrace, Albany WA 6330 (opposite the Police Station)
Albany House
Albany House, built around 1878, was designed by George Inskip and features wrought iron balconies. The Victorian regency building is an early example of a Union Bank of Western Australia regional branch.
119-125 York St Albany
Museum of the Great Southern
The renovated museum overlooks picturesque Princess Royal Harbour on the site of the first European settlement in WA. This Albany museum includes exhibitions, public programs, educational programs, and information on the region's unique natural and social history.

You can read the stories of the Menang Noongar people and the influence of Mokare, a young Noongar warrior.

The Residency building was completed in 1850 and was a store and office for the convict-hiring depot. When that closed in 1872, it became home to the local government administrator until 1953. It had various tenants until 1975, when it was opened as a museum. It was the first branch of the WA Museum outside the metropolitan area.
Residency Road, Albany WA 6330
The Court House
The Court House entrances were built in 1896 and are a unique example of the architecture of that period. You can see it on Stirling Terrace (West).
Patrick Taylor Cottage
The cottage, built in 1832, is the oldest dwelling in Western Australia. This 11 room wattle and daub home is furnished as it would have been in that era. It's a must-see attraction for visitors.
37 Duke St, Albany WA 6330
Earl of Spencer Tavern
This is one of the oldest taverns in WA. Built in 1874, it was originally a boarding house established by Richard Nesbitt. In 1925, it was converted into a shop and owned by the family until about 1978. The Inn was renovated in 1988 to its original charm.
The Royal George Hotel
The Royal George Hotel was built in 1885 and is an example of Victorian Free Classical architecture.
Wesley Church
Wesley Church, on Duke Street, was built in 1890. It's Victorian-style with gothic elements such as pointed arched entrances, a tall spire, and pointed arched windows.
Lastly, see if you can find Dog Rock on your walk around Albany town centre.
Day Trips from Albany
Mount Barker
Pop into the country town of Mount Barker on your way to/from Albany or after hiking the Castle Rock trail. There are a few options for food, then wander through the town to see some cute buildings.
There are some great wineries to visit if you want to purchase wine for your evening. A couple of our favourites include West Cape Howe and Plantagenet Wines.
A tour is another idea for you to consider, like the one below from Busy Blue Bus Tours.
Tour Length: 6 1/2 hours
Departs: Albany at 9:30 am
Rating: 4.5⭐️ on Tripadvisor
Dates: Fri, Sat, Sun & Mon
Inclusions:
Hotel pickup and drop-off (if option selected)
Morning tea/coffee
Lunch
Wine tasting
Live commentary
Denmark
Denmark is a 40-minute drive from Albany and offers stunning beaches, picturesque wineries and spectacular surroundings. The town is known for its scenic drives through farmland, ancient forests and outdoor adventure activities.
The Denmark Animal Farm & Pentland Alpaca Stud is a great attraction for young children. Read about all the amazing things to do in Denmark for more information and ideas.
This 6-hour tour is perfect for foodies and wine connoisseurs alike, with a range of delicious treats to sample during the day. From wine tastings to cider and whiskey, cheese platters and ice cream, this tour has it all!
Plus, you get to enjoy a lunch platter at a local restaurant. Your tour also includes hotel pickup and drop-off within 10 km Albany CBD. So sit back, relax, and let your driver/guide take care of the rest as you enjoy all that Denmark has to offer!
Book your tour today and get ready for a mouthwatering adventure.
Check availability, prices, and book direct with Busy Blue Bus Tours here.
Tour Length: 6 hours
Departs: Albany at 9.30 am
Rating: 4.5⭐️ on Tripadvisor
Dates: Thurs, Fri and Sat
Inclusions:
Tasting wine, cider, cheese, ice cream, chocolate
Wine tasting
Lunch platter
Hotel pickup and drop-off within 10 km Albany CBD
Local driver/guide
Walpole
Walpole is a bit further than Denmark, but still doable as a day trip. The drive is around 90 minutes from Albany. Here you can wander among the incredibly cool tingle trees and ancient forest or see them from above on the Tree Top Walk. Walpole is one of our favourite places in Western Australia, where the forest meets the ocean.
See what there is do in Walpole and plan your day!
Book a tour to see killer whales in the wild if you're lucky enough to be in Albany from January through March. It's one of the most incredible experiences we've had.
From Albany, it will be a long day but worth the experience. If you're basing yourself in Albany, consider booking a tour through Busy Blue Bus Tours who provide transfers from Albany to Bremer Bay return.
The remote road between Albany and Bremer Bay can be dangerous during dawn, dusk, and when it's dark due to wildlife being active. You also have to contend with driving into the bright sun on the way to Bremer Bay and then again on the return journey to Albany.
Instead, why not have a nap or enjoy the passing scenery as Busy Blue Bus Tours take you safely back to Albany.
Included in the tour price is:
Return transfers from Albany to Bremer Bay return with Busy Blue Bus Tours
Bremer Canyon Killer Whale Expedition with Naturaliste Charters    
Morning tea, lunch and afternoon tea prepared by Wellstead Café     
Expert commentary from the on-board Marine Biologist
Daily blog & photos from your expedition to be emailed if requested
Departure Time: 5.30 am from Albany Visitor Centre (arrive 5 minutes early).
Check availability, prices, and book direct with Busy Blue Bus
Read about our adventure on the Bremer Bay Orca Tour here.
Porongurup National Park
Porongurup National Park is about a 30-minute drive from Albany. Here you can do one of our favourite hikes in the South West – Castle Rock.
It's not an easy hike, though, so be prepared for a steep climb, rock scrambling, and a 6m enclosed ladder. If you are moderately fit and mobile, it's worth it for the spectacular views from Castle Rock.
4.7 km Grade 5 – allow 2-3 hours.
If you don't have transport or would like to the knowledge of a local guide, consider the Granite Skywalk Tour run by a local Albany company. This tour is perfect for those looking for an adventurous day out combined with a tasty lunch and wine tasting.
Tour Length: 5 hours
Departs: Albany at 9 am
Rating: 4.5⭐️ on Tripadvisor
Dates: Weds, Thurs, Fri and Sat
Inclusions:
Wine tasting at a Ironwood Estate Wines
Lunch
Hotel pickup and drop-off within 10 km Albany CBD
Local driver/guide
Entrance to Porongurup National Park
Albany Maps
Albany Visitor Centre provide local maps and leaflets on Albany attractions. They can also provide up to date advice on closures, weather, and upcoming events.
221 York Street, Albany
Albany Events
Vintage Car Rally Albany
The two-day Albany Classic features a collection of vintage cars and motorbikes. In 2022, the event had the Mt Clarence Hill Climb, Albany Classic "Around the Houses", entertainment and car displays.
This event usually takes place over the June long weekend.
Albany Weather
During Summer (Dec-Feb), high temperatures average 22°C and minimums about 15°C. Summer is the driest time of year. The sea temperature is warmest from January to March at just over 19°C.
In winter (Jun-Aug), the maximum average drops to 16°C and the minimum 8°C. Winter is also the wettest time of year.
My best time to visit Albany would be January, February, March, April, October, November, or December. 
Albany Accommodation
Albany has many self-contained accommodation options to suit all budgets, but not any 5-star hotels or resorts. For more information, read this article on the best accommodation in Albany.
We've stayed at Middleton Beach Caravan Park a couple of times. It is right on the beach, a 10-minute drive from the centre of Albany. It was perfect as it had kitchen facilities and a bathroom, plus it was only a short walk to cafes. We booked it through booking.com as they had the best rates.
See what price you can get it for today here.
Another time, we stayed at Banksia at Middleton. It's in a perfect location in the heart of Middleton Beach. The apartment was clean with full kitchen facilities, and the bedrooms and bathroom were upstairs. Unfortunately, the décor is a bit dated, and the pipes groaned whenever the water was turned on. Also, the air conditioning is downstairs, so we found it hot upstairs (we stayed at the hottest time of the year).
Where is Albany WA?
Albany is a town in the great southern region of Western Australia's South West. Despite being a port city, it is a popular tourist destination with stunning white sand beaches and incredible natural wonders. Albany is located 418km southeast of Perth, the state capital.
How to get to Albany from Perth
International and domestic visitors will fly into Perth Airport. Find details about visas, prohibited items, currency, and safety in this Australia Travel Guide and tips on arriving into WA and other essential travel information in this Western Australia Travel Guide.
Flights from Perth to Albany
Currently, only REX (Regional Express) is flying to Albany from Perth. The average flight time is just over an hour and costs around $280 return. The prices rise considerably at peak times, like the WA summer school holidays.
The downside to flying is that a vehicle is needed to get to most of Albany's best places. Also, the only option from the airport is a taxi or car hire. Therefore, budget on renting a car when you get there.
Car Hire
There are car hire booths at Perth airport, but it's best to pre-book your car rental.

To compare Australia car hire prices, Discover Cars is an award-winning car rental comparison website. They offer competitive pricing in over 10,000 locations worldwide and are have a high rate of customer satisfaction.

Drivenow is a good resource to compare campervan hire in Western Australia as it includes all the large companies like Britz, Maui, Jucy as well as smaller ones.

Compare Rental Cars Here.

You can either travel the direct route via Albany Highway or take the longer but more picturesque way through the Margaret River region. This in-depth post about the two road trips from Perth to Albany provides essential information, tips, and itineraries for your drive to Albany, including where to stop on the way.
Perth to Albany Bus
TransWA buses run from East Perth to Albany and take about 6 hours. Return tickets start at $67. As with flying, it is best to hire a car upon arrival in Albany.
Luxury Scenic Flight from Perth to Albany
If you have A$2500 to spare, book this scenic flight from Perth to Albany which includes lunch in Denmark, a scenic drive, entrance to the Tree Top Walk, Elephant Rocks, the Old Whaling Station and 'The Gap' and 'Natural Bridge'.
The Ultimate Perth to Albany
Road Trip
A Perth to Albany road trip through the spectacular Margaret River region should be on every traveller's bucket list. Stop at the very best places Australia's South West has to offer.
How far is the Perth to Albany drive?
It's a 415 km Perth to Albany road trip and will take around four and a half hours without stops. This direct route is via Albany Highway (also called State Route 30) and is a relatively straight road and sealed all the way.
Read: Perth to Albany Road Trip for more information.
Albany Name
The area's name in the Nyungar language is Kinjarling, which is said to mean "place of plenty", most likely referring to plenty of rain.
Albany was originally a military outpost named Frederick Town in honour of the son of King George III, Prince Frederick, the Duke of York and Albany.
On 7 March 1831, it was formally proclaimed part of the Swan River Colony, and in 1832 Governor Stirling named the place after the Duke of York and Albany.
Albany History
I would like to respectfully acknowledge the Minang Noongar People who are the Traditional Owners and First People of these lands. I would like to pay my respect to the Elders past, present, and future for they hold the memories, the traditions, the culture, and hopes of the Minang People.
Minang People have occupied this region for over 50,000 years and traditionally lived in the coastal regions during the summer months, then moved inland for shelter in winter.
Albany was sighted by several European visitors long before it was settled by the British:
1627 Dutchman François Thijssen
1792 Frenchman Bruni d'Entrecasteaux
1801 Englishman Matthew Flinders
1826 Frenchman Dumont d'Urville
Major Edmund Lockyer arrived onboard the Brig Amity from Sydney in 1826 to become the first European settlement in Western Australia. Noongar often led explorers through the area as their intimate knowledge of the land and its waterways was invaluable to the British. Many of the original walking tracks used by Minang Noongar eventually became roads.
One Minang Noongar, Mokare, became an intermediary, guide, and good friend of several settlers to the region, particularly Captain Collet Barker. Mokare died in June 1831, most likely from influenza introduced by the British, and was buried close to what is now the Albany Town Hall. 
As time passed, tensions grew, and violence erupted as Europeans made their way further inland, using up resources and intruding on Noongar land. You can read more about the Minang history and culture on the Noongar Culture website.
The Gold Rush in the 1890s brought more settlers. During this time, many of the historic buildings were built along Stirling Terrace.
The whaling industry started due to the lack of minerals for mining and inadequate opportunities for farming and didn't stop until 1978.
What are Albany's Primary Industries?
Albany's primary industries are tourism, fishing, timber, and agriculture.
From 1952 to 1978, whaling was a major source of employment, but (thankfully) the Whaling Station closed operations in 1978. It is now a whaling museum and features one of the 'Cheynes' whale chasers used for whaling in Albany.
Population of Albany WA
According to the 2016 census, 33,145 people were living in Albany.
How Big is Albany WA?
Albany covers an area of 297.2 km².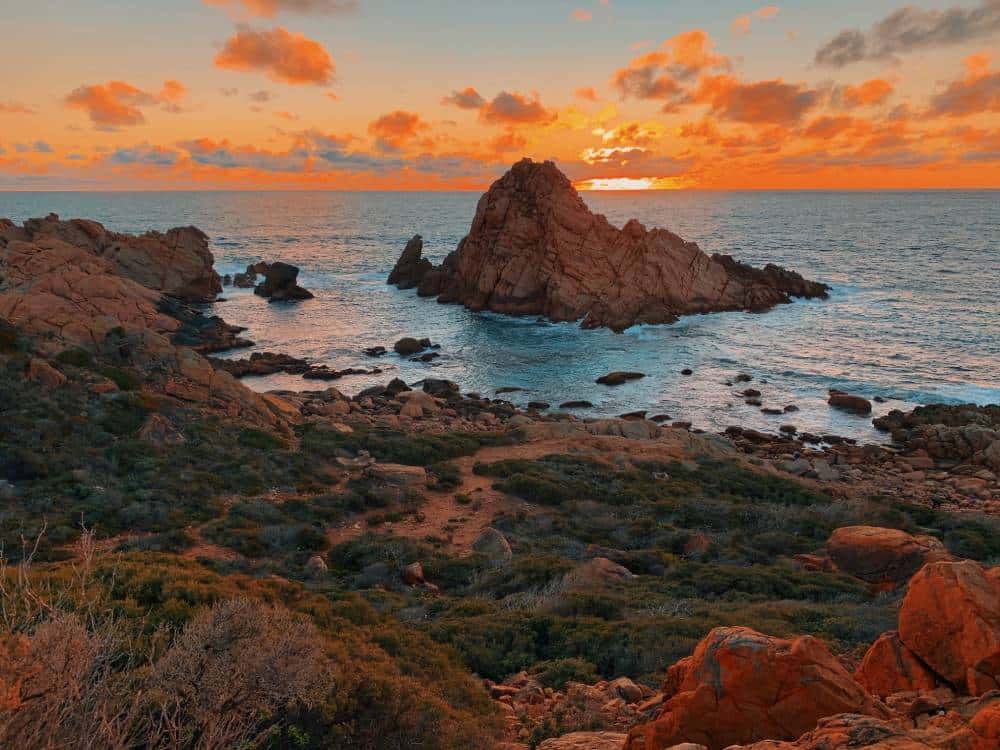 Western Australia's South West Travel Guide
This detailed travel guide provides information on all the regions that make up Australia's South West. Read about the destinations, including what to do and where to stay.



For other ideas on where to visit in Western Australia along with the best things to do, where to stay, how to get around, and other essential information, click on the link below.


Save Money Planning your Trip
Click on the links which will take you direct to the website.
Flights ✈️
We usually fly Virgin Australia domestically due to their competitive prices and fantastic customer service and fly with Qatar Airways to Europe.
Accommodation 🏩
We mainly use Booking.com for accommodation as they consistently have the lowest rates with free cancellation on most properties. We also book through Stayz for private accommodation as they are usually cheaper than Airbnb.
Car Rental 🚘
To compare rental car company prices, we use Discover Cars, an award winning car rental comparison website. They offer competitive pricing in over 10,000 locations worldwide and are highly-rated.
Campervan/RV Rental 🚐
Drivenow is a good resource to compare campervan hire in Western Australia as it includes all the large companies like Britz, Maui, Jucy as well as smaller ones.
Tours & Attractions 🎢
We book direct and use a mixture of third-party sites Viator, Get Your Guide & Klook due to their free cancellation policies, instant confirmation, price guarantees, and mobile ticketing.
Accessing Money 💵
We recently started using Wise to access funds internationally, including trips to Bali and Malaysia. They offer a debit card in 50 currencies and transfers are fast and free from hidden fees and exchange rate markups. Funds can be accessed through ATMs too. Wise has saved us a lot of money compared to our usual credit card and debit card.
Travel Insurance 🌏
Cover-More and Travel Insurance Direct are our preferred travel insurance companies for domestic and international travel.

See this Travel Insurance for Australia guide for more information.
If you found this travel guide on the best things to do in Albany helpful, please consider booking through one of our links. It won't cost you anything but will help towards the cost of running this site. Thank you.