Top 10 Best Places To Visit in Western Australia 2023 🌟
Have you been wondering about the best places to visit in Western Australia? Look no further. I've lived in WA for over 20 years and travel extensively with my family. Let me guide you through the top 10 must-visit destinations that will ignite your love for Western Australia.
🤩 See Western Australia Tours here
Top 10 Best Places to Visit in Western Australia
1. Perth
We begin our journey in Perth, a vibrant city nestled on the banks of the Swan River. From the sun-kissed shores of Cottesloe Beach to the magnificent Kings Park, there's a mix of attractions for everyone.
Pros & Cons of Visiting Perth
✅ Pros
Stunning Natural Beauty & Beaches: Perth is renowned for its breathtaking natural landscapes and pristine beaches. The city has abundant sunshine, crystal-clear waters, and beautiful parks and gardens. Relax on the white sands of Scarborough Beach or City Beach, swim in the Indian Ocean, or explore the picturesque Kings Park and Botanic Garden, which offers panoramic views of the city skyline.
Laid-back Lifestyle: Perth has a relaxed and laid-back atmosphere, making it a great destination for those seeking a slower pace of life.
Vibrant Cultural Scene: This cosmopolitan city has a thriving arts and cultural scene, including art galleries, museums, and theatres. Explore historic Fremantle, known for its maritime heritage and charming markets, or stroll through the lively streets of Northbridge, home to trendy bars, restaurants, and live music venues.
Outdoor Activities: There is no shortage of adventures, from hiking and cycling in the nearby national parks to water sports like surfing, snorkelling, and fishing.
Delicious Food and Wine: Perth has a thriving food and wine culture, with many restaurants, cafes, and bars offering delicious local and international cuisines.
⛔️ Cons
Limited Public Transport: While Perth has a public transport system, it is less extensive compared to some other major cities. You may need to rely on taxis, ride-sharing services, or rental cars to get around the surrounding areas.
Hot Summers: Perth experiences hot summers, which often exceed 35°C (95°F). This intense heat can be challenging, especially those not accustomed to such high temperatures.
Limited Nightlife Options: While Perth has a vibrant cultural scene, its nightlife options are more limited than large cities like London.
Best For: Nature and Beach Lovers, Outdoor Adventurers, Food and Wine Enthusiasts & Cultural and Arts Seekers.
Find Out More:
Things to do in Perth
Best time to visit Perth
Perth city hotels
1 Day Perth Itinerary
Perth Walking Tours
2. Rottnest
A short ferry ride from Perth lies Rottnest Island, an idyllic sanctuary where you can enjoy perfect beaches and encounter the famous adorable quokkas. Take a cycling adventure, snorkel amongst vibrant coral reefs, or relax on the white sand beaches.
Pros & Cons of Visiting Rottnest Island
✅ Pros
Natural Beauty: Rottnest Island is renowned for its natural beauty, stunning beaches, crystal-clear waters, and picturesque landscapes.
Unique Wildlife: One of the major highlights of Rottnest Island is its adorable inhabitants—the quokkas. These small marsupials, known for their friendly and photogenic nature, are found only in a few locations in Western Australia, and Rottnest Island is one of the best places to see Quokkas up close. You can take selfies with quokkas but do not touch them or chase them.
Tranquil Island Escape: The absence of cars on the island creates a calm atmosphere, making it an ideal destination for relaxation and rejuvenation.
Outdoor Activities: Rottnest Island offers a range of outdoor activities and adventures, like diving, snorkelling, surfing, fishing, kayaking, and paddleboarding.
⛔️ Cons
Limited Accommodation Options: Rottnest Island has limited accommodation options, and availability can be a challenging, particularly during peak tourist seasons.
Crowds and Peak Season: During the peak tourist season, Rottnest Island can become crowded, especially around popular attractions and beaches.
Weather: The weather on Rottnest Island can be unpredictable, with potential wind and rough seas. This can impact activities such as boat trips, snorkelling, or diving.
Limited Dining Options: While dining options are available on Rottnest Island, the choices can be limited compared to the mainland.
Best For: Nature and Wildlife Enthusiasts, Beachgoers and Water Sports Enthusiasts, Outdoor Adventure Seekers, Families, and Day Trippers.
Find Out More:
Things to do on Rottnest Island
Rottnest Island Accommodation
3. Margaret River
As we venture south, the enchanting region of Margaret River beckons with its stunning beaches and world-renowned wineries. Indulge in cellar door tastings, savour the finest produce, and enjoy the mesmerising beaches where powerful swells entice surfers from around the world.
Pros & Cons of Visiting Margaret River
✅ Pros
World-Class Wine: Margaret River is internationally renowned for its premium wines. The region has over 200 wineries, many offering cellar door tastings and tours. You can appreciate wine tastings, explore vineyards, and learn about the winemaking process.
Gourmet Food and Farm-to-Table Experiences: Margaret River is a food lover's paradise, known for its gourmet delights and farm-to-table experiences. The region has numerous local producers, including artisanal cheese factories, chocolatiers, olive oil, and organic farms.
Stunning Natural Beauty: This region is blessed with breathtaking natural landscapes, characterised by rolling hills, forests, spotless beaches, and rugged coastlines. Explore one of the Margaret River show caves, take scenic drives through the forest, or hike along the Cape to Cape Track.
Outdoor Activities and Adventure: From surfing and swimming at renowned surf breaks and beaches to bushwalking, mountain biking, and kayaking, there are ample opportunities for adventure and exploration in the great outdoors.
Art and Culture: Margaret River has a great arts scene, with numerous galleries, studios, and art events showcasing the works of local artists.
⛔️ Cons
Crowds and Peak Seasons: Margaret River can experience high numbers during peak seasons, such as summer and school holidays. Popular attractions, wineries, and restaurants may become crowded, requiring advanced planning and making it harder to secure reservations.
Limited Public Transportation: Visitors without access to a vehicle may find it challenging to navigate the region and explore its attractions and wineries independently.
Best For: Wine Enthusiasts, Foodies, and Nature Explorers.
Find Out More:
Things to do in Margaret River
Perth to Margaret River Itinerary
Margaret River Accommodation
4. Albany
Journeying further south, the picturesque coastal town of Albany awaits, showcasing dramatic cliffs, beautiful beaches, and an interesting Anzac heritage. Explore the rugged beauty of Torndirrup National Park, witness the untamed power of The Gap and Natural Bridge, and immerse yourself in the region's poignant history.
Pros & Cons of Visiting Albany
✅ Pros
Natural Beauty: The region offers stunning coastal landscapes, beaches, and picturesque national parks. One of the highlights is Torndirrup National Park, which features rugged cliffs, granite formations like the Natural Bridge and the Gap, and the impressive Blowholes.
Historical Significance: Albany is rich in history and holds significant cultural importance. It was the first European settlement in WA and was a major trading port in the 19th and early 20th centuries. You can explore heritage sites such as the Albany Convict Gaol, the Old Farm Strawberry Hill, and the Albany Historic Whaling Station. One of the key historical events associated with Albany is the departure of the first convoy of ANZAC troops to World War I. The town commemorates this event with the stunning National ANZAC Centre, offering interactive exhibits and an immersive experience.
Wineries: Albany is in the renowned Great Southern Wine region of Western Australia. The area produces exceptional cool-climate wines, particularly Riesling, Chardonnay, and Pinot Noir.
Relaxation: Albany has a peaceful and laid-back atmosphere, making it an ideal destination for those seeking a break.
⛔️ Cons
Limited Public Transportation: While Albany has local transportation options such as buses and taxis, it is advisable to have your own vehicle to explore the region conveniently.
Seasonal Weather Variations: Albany's weather can vary throughout the year. Summers can be hot and dry, while winters can be cold and wet.
Limited Nightlife and Entertainment: Albany is a relatively small town compared to larger cities, so the options for nightlife and entertainment are more limited. Visitors seeking a vibrant and active nightlife may find the town quiet.
Best For: Nature Enthusiasts, History and Culture Buffs, Whale-Watching Enthusiasts, and Family Vacationers.
Find Out More:
Things to do in Albany
Perth to Albany Itinerary
Albany Accommodation
5. Kalbarri
Nature's raw grandeur takes centre stage in Kalbarri National Park, where the Murchison River has carved out a stunning gorge. Marvel at Nature's Window, an ancient rock arch framing breathtaking vistas, and embark on exhilarating hiking trails that wind through this awe-inspiring wilderness.
Pros & Cons of Visiting Kalbarri
✅ Pros
Natural Beauty and Landscapes: Kalbarri has soaring coastal cliffs, magnificent gorges, unspoiled beaches, and the iconic Murchison River. Nature lovers can explore Kalbarri National Park, which offers breathtaking gorges such as Nature's Window and the Z Bend, and vibrant wildflower displays during the spring season.
Abundance of Outdoor Activities: Adventurous visitors can enjoy abseiling, quad biking, or a scenic flight over the region. Water sports enthusiasts can snorkel, dive, or take a river cruise along the Murchison River.
Wildlife and Nature Experiences: Kalbarri is home to diverse wildlife and provides unique opportunities to encounter native Australian species. Visitors can spot kangaroos, emus, and various bird species in the national park and surrounding areas.
⛔️ Cons
Limited Infrastructure: Kalbarri is a smaller town, so the infrastructure is more limited compared to larger cities. You should be aware that amenities, such as shopping centres and restaurants, maybe fewer and have limited options.
Seasonal Weather Variations: Kalbarri experiences hot and dry summers, which can be challenging for some, particularly those sensitive to high temperatures. Additionally, some outdoor activities may be affected during the summer due to the risk of bushfires or extreme heat.
Crowds During Peak Seasons: Kalbarri can be busy during peak seasons, such as school holidays and long weekends. This may result in crowded attractions, popular hiking trails, and limited accommodation availability. Planning and booking in advance is advisable to secure preferred accommodations and avoid peak-time crowds.
Best For: Nature and Adventure Enthusiasts, Wildlife and Birdwatching, Scenic and Nature Photographers, and Family Vacationers.
Find Out More:
Things to do in Kalbarri
Perth to Kalbarri Itinerary
Kalbarri Accommodation
6. Shark Bay
Our exploration continues north to the stunning Shark Bay, where the turquoise waters meet the fiery red dunes. Be greeted by the friendly Monkey Mia dolphins, a unique opportunity to connect with these intelligent creatures. Explore the surreal stromatolites at Hamelin Pool, relics of the Earth's earliest life forms, or take in the ethereal beauty of Shell Beach, where shells stretch as far as the eye can see.
Pros & Cons of Visiting Shark Bay
✅ Pros
UNESCO World Heritage Site: Shark Bay is a designated UNESCO World Heritage Site recognised for its exceptional natural values and biodiversity. The region encompasses diverse ecosystems, including stunning coastlines, vast seagrass beds, and unique stromatolites (ancient microbial structures).
Marine Life and Wildlife: The region is home to a significant population of dugongs (sea cows) and hosts one of the largest and most accessible populations of bottlenose dolphins in the world. You can interact with these intelligent creatures through dolphin encounters at Monkey Mia.
Unique Natural Beauty: Visitors can explore the awe-inspiring landscapes, including the spectacular red cliffs of Francois Peron National Park and the stunning views from the Zuytdorp Cliffs. The breathtaking beaches, such as Shell Beach, with its vast expanses of tiny shells, offer unique and picturesque settings.
Adventure and Water Activities: The region offers numerous adventure and water activities for tourists to enjoy. From snorkelling and diving to fishing and kayaking, there are plenty of opportunities to explore the underwater world and experience thrilling water sports. Additionally, the unique landscapes provide a backdrop for hiking, 4×4 driving, and camping adventures.
⛔️ Cons
Remote Location: The Shark Bay region is relatively remote and far from major cities. This means that reaching the area requires a longer travel time.
Limited Amenities and Services: Due to its remote nature, the Shark Bay region has limited amenities and services compared to more urban areas. Visitors should be prepared for fewer accommodations, dining, and entertainment options.
Weather Conditions: The Shark Bay region experiences hot summers and can be prone to strong winds. During summer, temperatures can be high, and strong winds can affect water-based activities.
Crowded Tourist Spots: Certain areas in Shark Bay, such as Monkey Mia, can attract a high volume, particularly during peak travel seasons. This may result in crowded beaches, limited access to certain activities, and a more touristy atmosphere.
Best For: Nature and Wildlife Enthusiasts, Adventure Seekers, Family Vacationers, and Photography and Landscape Enthusiasts.
Find Out More:
Things to do in Shark Bay & Monkey Mia
7. Ningaloo Reef
Prepare to be spellbound as we venture even further north along the Coral Coast to Ningaloo Reef, a marine wonderland teeming with vibrant coral gardens and a kaleidoscope of marine life. Snorkel alongside gentle giants like whale sharks and manta rays, and witness the breathtaking underwater ballet performed by colourful fish.
Pros & Cons of Visiting Ningaloo
✅ Pros
Spectacular Marine Biodiversity: Ningaloo Reef is renowned for its incredible marine biodiversity, making it a paradise for snorkellers, divers, and marine enthusiasts. The reef is home to over 500 species of fish, hundreds of coral species, and a variety of other marine creatures, including turtles, manta rays, dugongs, and whale sharks.
World-Class Snorkelling and Diving: Ningaloo Reef offers world-class snorkelling and diving opportunities. The reef is easily accessible from the shoreline, allowing visitors to explore the coral gardens and encounter marine life just a short swim away. Snorkellers can enjoy the convenience of the Ningaloo Reef's shallow lagoons, while divers can explore deeper areas and encounter larger marine species.
Whale Shark Encounters: Coral Bay and Exmouth are famous for the annual whale shark migration, attracting tourists from around the world. From March to early August, visitors have the unique opportunity to swim alongside these gentle giants.
Pristine Beaches and Coastal Landscapes: Besides the marine wonders, Ningaloo Reef offers stunning coastal landscapes and dazzling beaches.
⛔️ Cons
Remote Location: Ningaloo Reef is located in a remote area of Western Australia, which means reaching the region can involve a significant travel time. Visitors should plan transportation and logistics accordingly, as services and amenities may be limited in more isolated areas.
Seasonal Crowds: During peak seasons, such as school holidays and the whale shark migration period, Ningaloo Reef can experience high tourist traffic. This may result in crowded beaches, popular snorkelling sites, and limited availability for tours and accommodations. Travellers should plan and book in advance to secure preferred activities and accommodations.
Weather Conditions: Ningaloo Reef experiences a tropical climate, which can bring warm temperatures and occasional storms. You should be prepared for hot and humid conditions and be mindful of weather forecasts and potential changes in water conditions. Adverse weather may affect some activities, so it's important to stay informed and flexible with plans.
Limited Infrastructure: Due to its remote location, some areas around Ningaloo Reef may have limited infrastructure and amenities. Tourists should be prepared for fewer dining options, limited shopping facilities, and the need to stock up on supplies in advance.
Best For: Snorkelling and Diving Enthusiasts, Wildlife and Nature Lovers, and Adventure Seekers.
Find Out More:
Things to do in Coral Bay
Things to do in Exmouth
Perth to Exmouth Itinerary
Exmouth Accommodation

8. Purnululu National Park
Prepare to be enthralled as we make our way to the Purnululu National Park, home to the striking Bungle Bungle Range. These iconic orange and black-striped beehive-shaped domes create a surreal and otherworldly landscape. Whether you take a scenic flight over this natural masterpiece or embark on a challenging hike, the rugged beauty of this ancient land will leave an indelible mark on your heart.
Pros & Cons of Visiting Bungle Bungle Range
✅ Pros
Unique Geological Wonders: Purnululu National Park is home to the iconic Bungle Bungle Range, a UNESCO World Heritage site. These natural geological wonders are a sight to behold and provide a stunning backdrop for exploring the park.
Cultural and Historical Significance: Purnululu National Park holds great cultural and historical significance for the Indigenous people of the area, primarily the Djaru and Gija Aboriginal communities. Visitors can learn about the rich Indigenous heritage and cultural traditions associated with the land.
Remote Wilderness Experience: Its remote location and limited access contribute to its unspoiled nature, so you feel a sense of solitude while exploring its rugged landscapes.
Hiking and Outdoor Adventures: The park features a network of hiking trails allowing visitors to explore its unique formations, stunning gorges, and scenic lookouts.
⛔️ Cons
Remote Location and Accessibility: Purnululu National Park is in a remote part of Western Australia. Accessing the park requires significant travel, often involving long drives on rough, unsealed roads.
Limited Facilities and Services: Purnululu National Park has limited facilities and services. The park has basic campgrounds, but amenities such as shops, restaurants, and accommodations are scarce. You must carry in all water, food, fuel and other supplies.
Harsh Climate and Temperature: Purnululu National Park experiences a harsh and arid climate. Summers can be extremely hot, with temperatures reaching high levels, while winters can be cool and sometimes rainy.
Best For: Remote and Wilderness Seekers, Hiking and Outdoor Adventure Enthusiasts.
Find Out More:
Bungle Bungle Range
9. Broome
Our journey then takes us to Broome, a captivating coastal town steeped in history and brimming with undeniable charm. Walk barefoot on the iconic Cable Beach as the setting sun paints the sky with hues of gold, or embark on a mesmerising camel ride along the shoreline. Immerse yourself in the captivating stories of the pearl industry that shaped this unique corner of Australia.
Pros & Cons of Visiting Broome
✅ Pros
Stunning Beaches and Sunsets: Cable Beach, with its white sands and turquoise waters, is an iconic attraction that offers a picturesque setting for relaxation and leisurely walks. The sunsets over the Indian Ocean are spectacular, painting the sky with vibrant colours.
Rich Cultural Heritage and Indigenous Experiences: Broome has a fascinating cultural heritage shaped by Indigenous, Asian, and European influences. The town has a strong connection to the Indigenous Yawuru people, and visitors can learn about their culture, history, and traditions through various cultural experiences and tours.
Pearl Industry and Pearl Farm Tours: Broome is renowned for its pearling industry, which has played a significant role in its history and economy. Visit pearl showrooms, learn about the pearl farming process, and even take pearl farm tours to witness firsthand how these precious gems are cultivated.
⛔️ Cons
Remote Location: Broome is located in a remote part of Western Australia, requiring a long journey or connecting flights for visitors from major cities or international destinations.
Tropical Climate and Stinging Marine Creatures: Broome has a tropical climate, meaning it can experience hot and humid weather. The coastal waters off Broome have stinging marine creatures, such as Irukandji, during certain times of the year. Visitors should adhere to safety guidelines and be cautious when swimming.
Seasonal Crowds: Broome can experience high tourist traffic during peak seasons, such as the July school holidays and popular events like the Staircase to the Moon phenomenon. It is advisable to plan and book in advance.
Limited Public Transportation: Broome has limited public transportation options, and it may be challenging to rely solely on public transportation within the town and its surrounding areas. Renting a car or joining guided tours is often the most convenient way to explore the attractions and reach remote destinations.
Best For: Nature and Outdoor Adventure Seekers, Beach Lovers, Pearl and Jewelry Aficionados and Escape Seekers.
Find Out More:
Things to do in Broome
Cable Beach Camel Rides
Broome Scenic Flights
Perth to Broome Itinerary
10. Kimberley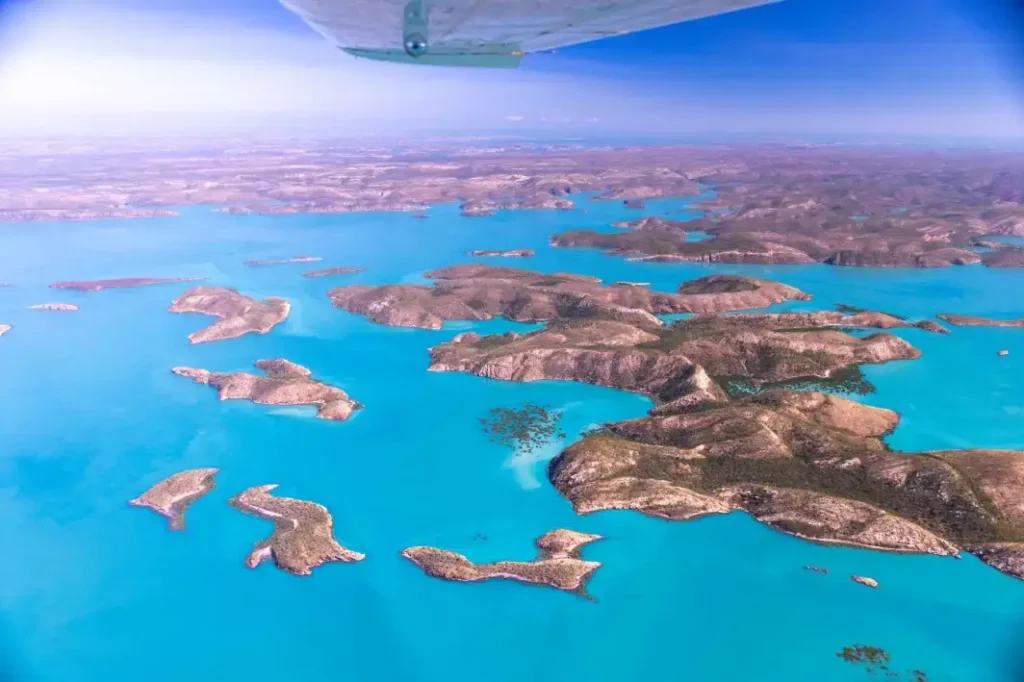 Finally, we arrive at the untamed beauty of the Kimberley region, where rugged landscapes, ancient rock formations, and cascading waterfalls create a canvas of unrivalled beauty. Witness the awe-inspiring Mitchell Falls, cruise through the captivating Horizontal Falls, and allow the untamed wilderness to captivate your spirit.
Pros & Cons of Visiting The Kimberley
✅ Pros
Stunning Natural Landscapes: The region offers diverse and awe-inspiring scenery, from ancient gorges and rugged coastlines to waterfalls, spectacular beaches, and breathtaking sunsets.
Rich Indigenous Culture and History: The Kimberley is home to a rich Indigenous culture and history, with a strong connection to the land. Engage with the local Indigenous communities, learn about their traditions, art, and Dreamtime stories, and gain insights into their deep spiritual connection with the land. Cultural experiences and guided tours provide a deeper understanding of the region's Indigenous heritage.
Abundant Wildlife and Marine Life: The Kimberley is teeming with unique wildlife, both on land and in the surrounding waters. From saltwater crocodiles to unique bird species, wallabies, and marine life, the region offers excellent opportunities for wildlife encounters and birdwatching.
Adventure and Outdoor Activities: Embark on thrilling adventures such as hiking through ancient gorges, cruising along the remote coastline, exploring waterfalls and swimming holes, fishing in clear rivers, or even taking scenic flights over the breathtaking landscapes. The region's rugged terrain and untouched nature offer endless outdoor exploration and adventure opportunities.
⛔️ Cons
Remote Location and Limited Accessibility: The Kimberley is a remote region, and some attractions and destinations require off-road driving or air travel to reach.
Harsh Climate and Weather Conditions: The Kimberley is one of Australia's hottest regions and experiences hot and dry conditions even in winter. The hottest time is November, at the start of the wet season, which brings heavy rainfall and potential flooding.
Limited Infrastructure and Services: The Kimberley has limited infrastructure and services due to its remote nature. Some areas may have limited or no access to facilities such as shops, restaurants, and accommodations.
Insect and Wildlife Hazards: The region is home to various insects and wildlife, including biting insects, dingoes, and crocodiles. You should be aware of your surroundings, take precautions against insect bites, and follow safety guidelines when encountering wildlife.
Best For: Remote and Nature Retreat Seekers, Adventure Enthusiasts, Cultural and History Buffs, Photography Enthusiasts, and Wildlife and Birdwatching Enthusiasts.
Find Out More:
Best of the Kimberley
Other Western Australia Highlights
Karijini National Park
Visiting Karijini National Park in the Pilbara is a breathtaking experience where you'll find yourself surrounded by dramatic landscapes, towering gorges, and cascading waterfalls. Exploring the park's intricate network of hiking trails leads you to hidden gems like Fortescue Falls and Hamersley Gorge, where you can cool off in crystal-clear plunge pools.
Esperance & Bremer Bay
Esperance, with its amazing white sand beaches and turquoise waters, offers a picturesque coastal escape. The iconic Twilight Cove and Lucky Bay, with its resident kangaroos, are perfect spots for relaxation and beachcombing. The captivating Cape Le Grand National Park beckons with its granite peaks and breathtaking coastal scenery, while the nearby Recherche Archipelago showcases stunning islands and wildlife-rich nature reserves.
A short drive from Esperance leads you to the hidden gem of Bremer Bay. Nestled along the stunning turquoise waters of the Southern Ocean, Bremer Bay offers a tranquil coastal retreat. Here, you can witness the magnificent annual migration of orcas, as well as other whale species, creating an unforgettable wildlife experience.
Wildflower Country
Journeying through Western Australia's Wildflower Country is like stepping into a vibrant tapestry of colours and scents. Stretching across vast landscapes, this region comes alive during the wildflower season, typically from late winter to early spring. You'll be amazed by the breathtaking display of native flowers carpeting the fields and covering the hillsides.
FAQs About the Best Places to Visit in Western Australia
What are the best beaches in Western Australia?
WA is renowned for its pristine and picturesque beaches. Some of the best beaches in Western Australia include Cable Beach in Broome, Cottesloe Beach in Perth, Turquoise Bay in Exmouth, Lucky Bay in Esperance, and Greens Pool in Denmark. These beaches offer crystal-clear waters, white sands, and stunning coastal landscapes.
What is the best time to visit Ningaloo Reef?
The best time to visit Ningaloo Reef is between April and July, when the weather is pleasant, and the water is calm. This is when you can have the incredible opportunity to swim with whale sharks, the world's largest fish. However, Ningaloo Reef is a year-round destination, and even outside of this period, you can still enjoy snorkelling, diving, and spotting a variety of marine life, including manta rays, turtles, and humpback whales.
Final Thoughts: Where to Visit in Western Australia
If you have any questions or want to connect with fellow travellers, join our Facebook group to share experiences, get insider tips, and inspire each other to explore the best that Western Australia offers. The adventure awaits, so don't hesitate to join us and start planning your Western Australia getaway!
Read More:
Western Australia Travel Guide
Planning & Resources Guide
Save Money Planning your Trip
Click on the links which will take you direct to the website.
Flights ✈️
We fly Virgin Australia domestically due to their competitive prices and fantastic customer service and fly with Qatar Airways to Europe.
Accommodation 🏩
We mainly use Booking.com for accommodation as they consistently have the lowest rates with free cancellation on most properties.
Car Rental 🚘
To compare rental car company prices, we use Discover Cars, an award winning car rental comparison website. They offer competitive pricing in over 10,000 locations worldwide and are highly-rated.
Campervan/RV Rental 🚐
Drivenow is a good resource to compare campervan hire in Western Australia as it includes all the large companies like Britz, Maui, Jucy as well as smaller ones.
Travel Insurance 🌏
Cover-More and Travel Insurance Direct are our preferred travel insurance companies for domestic and international travel.

See this Travel Insurance for Australia guide for more information.