Bremer Bay: Locals Ultimate Guide & Things To Do 2023
Bremer Bay is a small town in the Great Southern region of Western Australia's South West, but it's one of the few places in the world where you can see Orcas in their natural habitat.

Located on the coast of Southwest Australia, this part of the world is incredibly picturesque and has some of the best beaches in the world on its doorstep.
As locals, we have visited Bremer Bay a few times as the beaches are some of the best in Australia.
This coastal town offers many things to do, including fishing, surfing, hiking, wildlife viewing, and camping.
The Orca cruise by Naturaliste Charters in Bremer Bay is one of the best experiences we've had.
To witness these incredible creatures on the hunt in their natural environment was incredible.
We saw quite a few with some coming close to the boat to check us out.
Top 15 Things to do in Bremer Bay WA
1. Bremer Bay Beaches
I wasn't expecting the beaches in Bremer Bay to be so beautiful. The squeaky, soft white sand and calm turquoise crystal clear water were mesmerizing. They've overtaken Esperance and Albany for my best beaches award, although the ocean here is a bit too cold for me!
Plenty of legal tracks enable you to go four-wheel driving on the beach around Bremer Bay. Stream Beach, Dillon Beach, Blossoms Beach, and Peppermint Beach are some of the best.
Bremer Beach – James Cove & John Cove
Bremer Beach is the main beach in Bremer Bay, but most of it is on the other side of Wellstead Estuary. You can access it at certain times via the sand bar or a 45-minute drive if the sand bar is closed. The beach sweeps around from John Cove on the township side to James Cove on the other side.
The sand is very soft at the James Cove end, so it is recommended to let your tyres down to at least 18psi. This part of Bremer Beach is suitable for fishing and swimming.
John Cove is the closest beach to Bremer Bay townsite and a short walk from Paperbark Park, where you'll find BBQs, toilets, and outdoor showers. This beach is excellent for small children as it is safe and sheltered. It stretches across the sandbar with the northern side being a designated dog exercise area. You can access John Cove from Bremer Bay Road (where the toilets are) or from Cuneo Drive (unsealed).
Back Beach
Back Beach extends for 3 km south of the John Cove headland with the Bremer Bay Golf Course behind the centre of the beach. It can be accessed from White Trail Road, near the Abalone Farm, and is a short walk down. Alternatively, you can get to it via one of the dirt tracks and drive along the beach. However, the sand is very soft, so it is recommended to decrease your tyre pressure to 15psi.
Back Beach is a designated off-leash dog exercise area.
Fishery Beach & Marina
Fishery Beach is a small beach by the marina at Bremer Bay Boat Harbour, where the orca tours depart from. It's a safe and sheltered swimming beach, but be careful of boats in the deeper waters. The rocks to the left are a good snorkel spot, and fishing is good off the jetty.

Facilities include toilet, shower, and changing room. You can launch your boat here too.
Short Beach
This 500 m long east-facing beach has deep water making it good for fishing off the beach. Short Beach has a sheltered lagoon-like swimming spot at the top end.
Dogs are allowed on Short Beach as long as they are on a leash. There's a bush toilet and a gazebo near the car park, although the gazebo seems to be used to clean fish! Unfortunately, you cannot drive onto this beach.
Banky Beach
Banky Beach is an exposed southeast-facing 350 m long beach between two headlands, with steep dunes behind. You can access the beach from the top of the bluff, but it is a steep climb down. This beach also has permanent rips, making it hazardous, so we didn't visit here.
Little Boat Harbour
Little Boat Harbour is great for snorkelling, fishing, and swimming and features the Bremer Dive Trail. You can take your 4wd on this 100m beach and launch your boat if conditions allow. It was one of our favourite Bremer Bay beaches.
There are bush toilets at this beach.
Blossoms Beach
Blossoms Beach is accessed from a slightly corrugated gravel and sandy road. You can take your 4wd on the beach but there is also a parking area (there were a couple of cars there).
This 750m long beach is a good surfing beach, where surf lessons are held during the summer school holidays. However, it's exposed, so it can be very windy, and there are rips, so care must be taken.
Dogs are allowed if on a leash, and there are toilet facilities.
Native Dog Beach
This highly hazardous beach is a great surfing beach for experienced surfers only as there are strong permanent rips.
Toilets are located at the entrance to the Native Dog track.
Dillon Bay
Dillon Bay is 4wd access only, and the beach is very soft up the eastern end, so let your tyre pressure down. It's a great fishing beach with surfing at the western end at Sharpies Corner. However, be aware of dangerous permanent rips.
Stream Beach
The 200 m wide cove is picturesque, but you have to tackle a very steep sandy track (500m) in a gully between two hills. Only for the adventurous 4wds!
2. Tooreburrup Hill Lookout
Tooleburrup Hill lookout has 360° view over the surrounding area, including the Southern Ocean and the bays like Bremer Bay and Dillon Bay and inland to the Stirling Range.
It's a popular land-based whale-watching spot during the season (bring your binoculars).
3. Bremer Bay Lookout Tower & Windmill
You can drive up to the windmill and see the huge blades rotating right above your head. It provides 40% of the town's annual electricity demands, reducing diesel consumption by 40,000 litres.
There's a lookout on the right along the gravel road (Progress Drive) that leads to the Bremer Bay wind turbine. It's hard to see the lookout, but there is a narrow bush track up to the steps of the steel structure. From the top, the views over the town and beyond are beautiful.
4. Whale Watching
If you're in Bremer Bay between July and November, there's a chance to see the Southern Right whales that calve in the calm waters. They can be seen from most of the coast, but the best places to view them are from Point Ann, the Doubtful Islands, and Bremer Beach.
Bremer Bay is most famous for its orcas that visit the Bremer Canyon between January and April. This deep water ecosystem, several nautical miles over the edge of the continental shelf, attracts large numbers of the oceans most revered apex predators, including Orca, sperm whales, giant squid, sharks and beaked whales. In turn, this lures a variety of oceanic birds looking for a free feed.
You can take an Orca tour to view these magnificent creatures in their natural habitat as they hunt for food. This tour is a once-in-a-lifetime opportunity and something that you shouldn't miss if you visit Bremer Bay at this time.
For more information and photos of this incredible experience, read our Orca Whale Watching Bremer Bay review here.
6. Bird Watching
Bremer Bay has a lot to offer if you are an avid bird watcher. Walking along one of the many beaches, you will likely see Pied Oyster Catchers, Red Capped Plovers, Crested Terns, Seagulls, and maybe even a Sea Eagle or Osprey.
The Wellstead Estuary is home to Pelicans, Grebes, Cormorants, Egrets, Stints, Sandpipers, Avocets, and sometimes Black Swans.
In Bremer Bay town, you may come across New Holland Honeyeaters, Red Wattle Birds, Galahs, Red Capped Parrots, Magpies, Crested Pigeons, and Ring Neck Parrots with the Splendid Wren, Fantails, Firetail Finches, Red Capped Robins & Yellow Rumped Thornbills quite common in gardens.
Fitzgerald River National Park has a wide range of birds, some not seen elsewhere.
7. Point Henry Drive Trail
On your first day in Bremer Bay, take the Point Henry Drive Trail, which takes you to some of Bremer Bay's beaches and lookouts. It's a great way to get your bearings and to decide what beaches you want to spare more time at.
Look for the interpretive panels that tell the story of early settlers and European history in Bremer Bay. You can pick up a map at the Bremer Bay Community Resource Centre in town.
8. Walking Trails
There are three walk trails that provide different views of Bremer Bay. As we visited in summer, it was too hot for these walks, but they would be perfect the rest of the year.
Wellstead Estuary Walk Trail
The Wellstead Estuary, 13 km in length, is home to various wildlife, including fish, crustaceans, shellfish, and birds. Devil Creek and Lizzie Creek flow into Bremer River, feeding Wellstead Estuary.
Take the 2 km walk trail along the Wellstead Estuary (4 km return) for lovely views across the water. It's an easy walk with signage along the way and a great way to spot birds and orchids when in season.
The Native Snail Trail
The Native Snail Trail, named after the snail found here, links the town and Bremer Bay Beaches Caravan Park. It starts on Wellstead Road opposite the Dive and Hardware shops and takes you through various landforms. This shared path is ideal for walking, cycling, scooters, and skateboards.
There are places to rest and art along the way, including the Big Snail, constructed by local artist Peter Hill. The sculpture, modelled on the South Coast Land Snail, weighs 700 kg and is about 10,000 times the size of a garden snail.
Sports Club Walk Trail
This walking trail starts at the corner of Franton Way and takes you down to the Sports Club, through bush and parts of the golf course. It's an easy walk with views over Back Beach and a playground at the Sports Club as a reward for the young kids.
9. Diving and Snorkelling
The water temperature in Bremer Bay sits between 17°C to 21°C all year, creating a huge diversity of underwater flora and fauna due to the nutrient-rich, cooler temperature.
The Bremer Bay dive and snorkel sites showcase different colored sponges, vibrant Nudi Brauchs (small sea slugs), tube worms, basket stars, and soft corals. Some of the fish you may see include Redlip Morwong, Western Fox Fish, Blue Devils, Old Wives, Scaly Fin and Zebra Fish.
The extraordinary Weedy & Leafy Sea Dragon, only found along Australia's southern and western coasts, is often seen here. Visitors from around the world come to Bremer Bay in the hope of seeing and photographing these unique creatures.
Bremer Bay Dive has lots of options including guided snorkels, guided dives, and discover dives for those that are not qualified but would like to experience a dive.
10. Cuneo Drive and Rock Cairn
The unsealed Cuneo Drive starts at Bremer Bay Caravan Park and leads up to Rock Cairn, with access to John Cove.
The rock cairn standing here now is a replica of one built by the Wellstead family to alert coastal ships when travelers or cargo were to be collected. A white flag, or a lantern on the pole, would be raised to let the crew know something required delivering to one of the south coast ports they were visiting. This stopped in the 1930s when road transport was utilized.
11. Bremer Bay Telegraph Station
The Bremer Bay Telegraph Station, designed by George Temple Poole, was built in 1896 using local stone.
The Governor of Albany, Frederick Weld, erected the first telegraph pole carrying the telegraph to Eucla and connecting Western Australia to the rest of the world on the 1st January 1875. Bremer Bay's first Telegraph Station was built in 1875, and the line opened the following year, but a fire destroyed the timber building.
Since 1930 the station has mainly been used as a private dwelling, but the Iffla family bought it in 2019 and extensively renovated it to its former glory. The family now run The Telegraph, a café serving breakfast, lunch, and cakes. I've been told the breakfast here is excellent.
12. Wellstead Homestead, Peppermint Grove
One historic site not to miss during your stay in Bremer Bay is Wellstead Homestead, built in the 1850s by pioneer John Wellstead as a home (the farm land was on a squatter basis). Their first house was a wattle and daub-thatch structure until the stone building was finished.
In 1875, Wellstead had to take out freehold leases on the land due to the new Land Acts that year. They grew vegetables, fruit, grazed sheep and cattle, and started a dairy, milking seventy cows by hand twice a day. Three further generations of Wellsteads have lived here and continue the re-development of the original crown grant farmland into a unique eco-tourism experience.
Most of the Wellstead Homestead and buildings (blacksmith shop, shearing shed, woodwork room, saddle rooms, and lime kiln) are made from local stone. The Currawong and Boobook cottages are heritage-listed dwellings, known as the Boys' Room and the Girls' Room, converted from sheep pens as sleeping quarters for the second generation of Wellsteads. Current owner Max Wellstead restored the Boys Room after it fell into disrepair.
If you're interested in historical artefacts, you can visit the Wellstead Museum which has over six thousand items of memorabilia, old motor cars and motorbikes and sheds full of tractors and engines that date back to 1904.
While here, stop for coffee or food at the Wellstead Museums Café, which uses local produce as much as possible. They are renowned for their delicious pizzas cooked in a reconstructed wood-fired baker's oven from the first commercial bakery in Albany.
13. Fishing in Bremer Bay
There are lots of choices of great fishing spots in Bremer Bay, including the estuary and beaches.
Head to Wellstead Estuary for Black Bream, Mullet, and maybe King George Whiting. You may find blue swimmer crabs and prawns when the sandbar is open.
Try fishing off the beach at Short Beach, Little Boat Harbour, and Dillon Bay, close to town.
Further round from Dillon Bay is Reef Beach, the base for the Offshore Angling Club, where you are likely to catch mulloway. Reef Beach is 4wd access only and essentially underdeveloped. Bring a life jacket, or grab one from the Bremer Bay Hardware Store, if you're fishing from the rocks.
14. Fitzgerald River National Park
Point Ann, in Fitzgerald River National Park, is about an hour's drive from Bremer Bay and worth a trip if you have a 4wd. Mobile phone coverage is intermittent, though, even with Telstra, so be prepared and don't rely on google maps. Before you go, download geo-referenced maps of Fitzgerald River National Park to your mobile so you can locate yourself without the internet.
Fitzgerald River National Park is one of Australia's largest parks, covering 297244 ha, with 1883 plant species identified, 75 of which are found nowhere else. More species of animals live here than in any other reserve in Australia's southwest, including 22 mammal species, 41 reptile species, and 12 frog species. Over 200 bird species also live here, like the western ground parrot, the western bristlebird, and the western whip bird.
Wildflowers are a year-round attraction but at their best from August to November. You can see Royal Hakea (Hakea victoria), Quaalup Bells, and Pimelea Physodes on the side of the road but be careful if stopping to look at them.
Nyoongar people lived and travelled through Fitzgerald National Park, using the rivers as passages to access seasonal food. South Coast Nyoongars still use this area to camp and fish, preserving their culture.
The first 5 km is sealed, but the road turns into gravel beyond the entrance and pay station. They can be badly corrugated due to summer traffic and closed if there has been 10mm of rain. We visited in January and the roads were pretty bad. However, reducing our tyre pressure helped with the shaking! Caravans are not permitted into the western side of the National Park except if travelling to the Quaalup Homestead Wilderness Retreat.
Point Ann is the starting point of the Mamang walking trail, a 31 km return hike, and the Point Ann Heritage Trail (1 km return). This is the best place to see whales between May and October and dolphins and seals year-round.
The Mamang Trail goes from Point Ann to Fitzgerald Inlet, where day use and camping facilities provide hikers with the option to rest or stay overnight.
Allow about an hour for the Point Ann Heritage Trail, which features stunning views over Point Charles Bay and the rugged coast. It follows a section of the rabbit-proof fence, the longest single fence in the world, with interpretation panels telling the story about the fence built in the 1900s to stop rabbits and other pests from entering Western Australia's agricultural areas. If you haven't seen the movie, it's worth a watch!
A short 200 m walk takes you to the Mount Maxwell Lookout with views to the western peaks. Look out for the Royal Hakea and various Banksias. Access is from Mt Maxwell Road, off Devil's Creek Road.
The Class 4 West Mount Barren Summit Trail provides sweeping views over the western side of the park, including Gordon Inlet, Trigelow Beach, Point Ann, and the distant outline of the central Barrens. The 1.7 km hike requires a reasonable amount of fitness and will take between one and two hours to complete.

Please use the boot scrubbers provided at the trailhead and stay to the designated walk trails and footpaths to avoid spreading Phytophthora dieback.
Tips for Fitzgerald River National Park
Carry enough fresh drinking water (at least 3-4 litres per person) as none is available in the park
Do not hike in hot weather
Be prepared for sudden weather changes
Do not light fires – use the free gas barbecues
Take any rubbish home with you (bins are not provided)
You can be fined for picking wildflowers
Drive slow to avoid killing wildlife (we saw lots of reptiles crossing the road)
Stay on the roads at all times and observe track closures
Take care near cliff edges as they can be unstable
If swimming, be aware of ocean conditions – the Southern Ocean is unpredictable with huge waves and rips
Wear a lifejacket if fishing from rocks as king waves can occur even on calm days
Park entry fees apply:
| Prices as at February 2023 | Standard Price | Concession Price |
| --- | --- | --- |
| Private vehicle with up to 12 occupants | A$15 per vehicle | A$8 per vehicle |
| Private vehicle with more than 12 occupants | A$7 per occupant 6 years or older | A$2.50 per occupant |
| Motorcycle | A$8 per motorcycle | no concession |
15. Quaalup Homestead
John Wellstead built Quaalup Homestead in 1858, which was used as an outpost and then a barn, as the family lived in Bremer Bay.
John Hassell took out a pastoral lease in 1890, which extended from Jerramungup to House Beach at Hood Point to graze sheep. One brother lived at the homestead and employed a shepherd, James McGlade, to herd the sheep from Quaalup to House Beach.
Sadly, James' daughter (May) died in 1927 at the young age of 18. She was buried along the track leading to Quaalup (the lonely grave on the nature walk).
Mick Hassell extended the homestead by three rooms when he married in 1930, but the family moved out when the main road was built from Jerramungup to Albany.
Geoff and Norma Keen bought Quaalup Homestead in 1974 when he was the Park Ranger and spent years restoring it as it was badly vandalised. In 1989, the O'Brien family bought Quaalup, turned the homestead into a museum, and offered meals in the dining room.
Since June 2004, it has been owned by Karin & Carsten from Germany, who have turned it into Quaalup Homestead Wilderness Retreat, which includes 40 acres of native bush with the homestead giving guests and visitors an impression of the early settlement days.
Wadandi Boodja – Saltwater People's Country
Please take note of this message from Pibulmun Wadandi Yunungjarli Elder Wayne Webb and respect the country we walk on:
Whilst living, travelling, visiting and holidaying on Wadandi Boodja, we ask that you respect the area and walk safely on the country taking time to listen to Boodja (country) as she Wongi (talks) of the season, and leave nothing but foot prints
Food and Drink in Bremer Bay
Bremer Bay Brewery
Bremer Bay Brewery is our top pick for dinner in Bremer Bay. The food is well priced, large servings and delicious – well, our pork belly burger and chips were. The service was prompt and friendly, and the brewery had a relaxed industrial feel. The beer is brewed using only natural ingredients and pure rainwater – the brown ale was good!
Bremer Bay Resort
Unfortunately, Bremer Bay Resort was a bit of a disappointment for us. The main issue was the service, but we visited in the peak tourist season, and I'm not sure they were prepared enough. For example, you need to order drinks at the bar and then queue again to order your food. We were in line for half an hour, so it wasn't a good start. Inside the venue was noisy, making it hard to hear conversations.
The food, however, came out fast. The burgers were tasty and great-value, the pizza was satisfactory, but my dish (Blueback Bucket) was not worth the money. For A$26, it consisted of a few chips, three crispy prawns (that consisted of mainly of wonton), four small squid balls, and a small piece of battered fish that was again mostly batter and exceptionally oily. If the food had been good quality, the serving size would have been adequate. If you eat here, I'd recommend the dirty burger.
The Telegraph on Bremer
We didn't eat at Telegraph on Bremer, but it was recommended to us by a local who said the breakfast was amazing and it has an excellent reputation for good coffee.
Museum Café Bremer Bay
Museum Café is part of the Wellstead Homestead in Peppermint Grove. This had been recommended to us, but we were a bit disappointed in the food. However, pizza night is popular here, so that may be worth booking or try breakfast or lunch and let me know what you think.
Bremer Bay Roadhouse & Cheryl's Café
Pop into the Bremer Bay Roadhouse for food to take away, or you can sit down for a bite to eat in Cheryl's Café.
Bremer Bay General & Liquor Store
The Bremer Bay General Store has a little bit of everything from food to fishing gear and also fuel and Australia Post. They open every day except Christmas Day.
How Long to Stay in Bremer Bay
How long to stay in Bremer Bay depends on the time of year: 2-3 days in winter and 4-5 days in summer.
Bremer Bay Accommodation
Have you booked accommodation?

We use Booking.com for most accommodation bookings as they offer free cancellation on many properties and have a price match guarantee. We book through Stayz (part of VRBO) for private accommodation as we find it is often cheaper than Airbnb.

Tip: Accommodation gets booked quickly, especially during the WA school holidays. To avoid disappointment, book early.
Bremer Bay Resort
A 3-star motel with air-conditioning and private bathroom with tea/coffee making facilities.
Rated 8.1⭐️
Bremer Bay B&B
Accommodation including breakfast and barista coffee each morning. Rooms have private bathroom.
Rated 9.5⭐️
The Blue House
4-bedroom 2-bathroom house, which sleeps up to 8 guests.
Rated 4.9/5⭐️
John Street Shed
Pet-friendly modern 4-bedroom, 3-bathroom house, sleeps up to 10.
Rated 4.8/5⭐️
Bremer Bay Resort offers a range of 3-star motel-style accommodation, from double rooms to two-bedroom apartments. The rooms are old but clean and tidy.
See Prices & Availability here
Bremer Bay B&B offers modern rooms with breakfast every day included. Some rooms have ocean views, while every room has a private bathroom.
See Prices & Availability here
The Blue House sleeps up to 8 guests in the four bedrooms and suits a large family or two small families travelling together. The modern, fully equipped kitchen has everything you'd need, including a Nespresso pod coffee machine. The large decking area overlooks the estuary with views of the ocean.
See Prices & Availability here
Bremer Bay Accommodation Pet Friendly
John Street Shed is a modern holiday home (the owners use it too) that allows pets on request. The four bedrooms sleep up to ten guests but be aware that the main bedroom is separated from the other bedrooms by the alfresco.
Pets are also welcome at both caravan parks outside of school holidays.
Bremer Bay Camping
There are two caravan parks in Bremer Bay: Bremer Bay Caravan Park and Bremer Bay Beaches Resort Tourist Park.
Bremer Bay Weather
Summer (Dec-Feb) – the best time of year to visit Bremer Bay for swimming, diving, and snorkeling at the spectacular beaches. The famous Bremer Bay Orcas make an appearance in January.
Autumn (Mar-May) – Orcas are still around until the beginning of April and it's a good time for hiking.
Winter (Jun-Aug) – cosy up in front of a log fire and take walks along the beach.
Spring (Sep-Nov) – hundreds of wildflowers bloom in Fitzgerald River National Park, making it a wonderful time to explore it.
How to get to Bremer Bay
International and domestic visitors will fly into Perth Airport. Find details about visas, prohibited items, currency, and safety in this Australia Travel Guide and tips on arriving into WA and other essential travel information in this Western Australia Travel Guide.
There are car hire booths at Perth Airport, but it's best to pre-book your car rental.

To compare Australian car hire prices, Discover Cars is an award-winning car rental comparison website. They offer competitive pricing in over 10,000 locations worldwide and are highly rated.

DriveNow is a good resource to compare campervan hire in Western Australia. It includes all the large companies like Britz, Maui, & Jucy as well as smaller ones.

Compare Rental Cars Here.

Perth to Bremer Bay
If you are short on time, it's possible to fly from Perth to Albany and then drive to Bremer Bay. At present, only REX (Regional Express) is flying to Albany from Perth. The average flight time is just over an hour and costs around A$280 return. The price rises considerably at peak times, like summer school holidays.
For a longer trip, take a Perth to Albany road trip and explore the beautiful areas of Australia's South West.
Driving from Perth to Bremer Bay direct will take about five and a half hours. You'll pass through some quaint country towns along the way, where you can stop for a rest and bite to eat. Katanning is a cute place with a fantastic adventure playground and skate park for the kids to let off some built-up energy.
Albany to Bremer Bay
The drive from Albany to Bremer Bay will take you around 2 hours, but you can make a day out of it by stopping along the way. If you haven't yet been to Two Peoples Bay Nature Reserve (Little Beach), then this is a must-do.
Normans Beach and Bettys Beach is off South Coast Highway, around a 45-minute drive from Albany. At Manypeaks, turn right onto Homestead Road – note this road turns into gravel.
Normans Beach has a small camping area (5 sites) and bush toilet about 300 m from the beach. It's a lovely walk along the inlet to a stunning 2.5 km long sandy beach. The contrast between the inlet water, the white sand, and the turquoise ocean are spectacular when the sun is out.
Bettys Beach is south of the inlet and extends for another kilometre.
Another place to stop along the way (although not as good in my opinion) is Cheynes Beach. This protective cove is surrounded by Waychinicup National Park and is great for families. If you visit during spring and winter, Southern Right Whales can be seen from the beach. The salmon run (large schools of salmon) from February to May attract commercial and recreational anglers.
Bremer Bay to Esperance
To continue from Bremer Bay to Esperance will take you just over four hours by road. Stop in Ravensthorpe to view the Silo Art to break up the journey.
History of Bremer Bay
Bremer Bay was home to the Wudjari Noongar people before the arrival of Europeans.
The bay is thought to be named by explorer John Septimus Roe after James John Gordon Bremer, captain of the "TAMAR," under whom he served between 1824 and 1827.

The first European settler was John Wellstead, who arrived in 1850 and built Quaalup Homestead in 1858.
The town was previously called Wellstead, but locals successfully petitioned to change the name in 1962.
The best of Australias's South West
For a list of the best places to go and attractions in this area, read this guide on the best things to do in South West WA.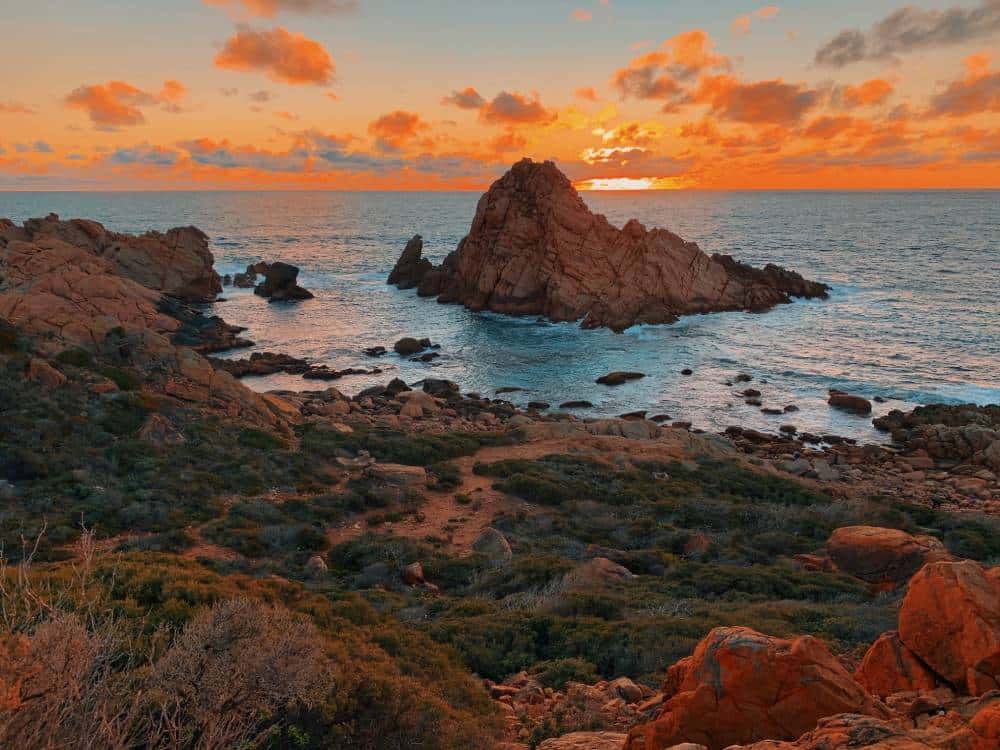 This detailed travel guide provides information on all the regions that make up Australia's South West. Read about the destinations, including what to do and where to stay.



For other ideas on where to visit in Western Australia along with the best things to do, where to stay, how to get around, and other essential information, click on the link below.


Save Money Planning Your Trip
Click on the links, which will take you directly to the website.
Flights ✈️
We fly Virgin Australia domestically due to their competitive prices and fantastic customer service, and fly with Qatar Airways to Europe.
Accommodation 🏩
We mainly use Booking.com for accommodation as they consistently have the lowest rates with free cancellation on most properties.
For pet sitting in Western Australia and worldwide, we are members of Trusted Housesitters. Free accommodation for pet and house sitting.
Car Rental 🚘
To compare rental car company prices, we use Discover Cars, an award-winning car rental comparison website. They offer competitive pricing in over 10,000 locations worldwide and are highly rated.
Campervan/RV Rental 🚐
DriveNow is a good resource to compare campervan hire in Western Australia as it includes all the large companies like Britz, Maui, and Jucy as well as smaller ones.
Travel Insurance 🌏
Cover-More and Travel Insurance Direct are our preferred travel insurance companies for domestic and international travel.

See this Travel Insurance for Australia guide for more information.
If you found this guide on what to do in Bremer Bay helpful, please consider booking through one of our links. It won't cost you anything but will help towards the cost of running this site. Thank you.