Free Things To Do in Donnybrook & Balingup: Locals' Guide 2023
The towns of Donnybrook and Balingup, in the Bunbury-Geographe region of Australia's South West, are nestled amongst lush rolling hills and the picturesque Preston and Blackwood River valleys. They make the ideal weekend getaway from Perth or as a stop on the way to the southern forests or Great Southern region.
As WA locals, we enjoy visiting this part of the state as a Perth weekend getaway or on the way to other south west regions.
Free Things to do in Donnybrook & Balingup Western Australia
Donnybrook, a small town 30 km from Balingup, is known for its orchards and for being the apple capital of Western Australia. Irish settlers moved to the area around 1842 and named it after the place they came from in Ireland.
The first granny smith apple tree was planted in 1900, and the town is now popular with backpackers gaining seasonal work picking fruit from the many orchards. You can stop at farmgate stalls during summer to purchase fresh peaches, nectarines, plums, apricots, and cherries.
1. Apple Park Donnybrook
Apple Fun Park in Donnybrook can be found along the South Western Highway, making it the perfect stop to break up any road trip. The park was created by the Donnybrook Community and designed for the whole family in mind. There are BBQ facilities, toilets, parking, shaded picnic tables, and floodlit at night.
Older children aren't left out either with four-level towers with slides, rope bridges, flying foxes, low rock climbing walls, swings, a space net, and two 9.5 m towers.
Reputed to be Australia's largest free entry fun park, it will keep the kids entertained while you enjoy a coffee.
Our girls love it, and the facilities are kept clean – one of the best parks we have been to.
The car park is accessed from Collins Street, Donnybrook.
2. Apple Blossom in Donnybrook
Head to Donnybrook in October, when the apple blossom is in full bloom. The surrounding fields are illuminated with the pretty pink and white apple blossom, giving it a European atmosphere.
3. Donnybrook Indigenous Sculpture Park
The Donnybrook Indigenous Sculpture Park (also known as the Waugyl Sculpture Park) is on the Preston River Foreshore in the Gnangangarich Park. Here you can learn about the history and customs of the local of the Noongar people through informative signage and images.
98 South Western Hwy, Donnybrook.
4. Old Donnybrook Railway Station
The old railway station, constructed in 1893, is now the Visitor Information Centre. Located on the South Western Highway, you can find local information about attractions and a wide range of brochures, maps, and souvenirs.
5. English Oak Tree Donnybrook
Allegedly the largest English Oak tree in Australia, probably planted around 1893, can be found near the town's railway station on South Western Highway.
6. Walk Trails Around Donnybrook & Balingup
There are many walking trails around Donnybrook and Balingup, including the Bibbulmun Track which passes through Balingup. This is one of the world's greatest long-distance trails, stretching almost 1,000 km from Kalamunda in Perth to Albany.
Preston River Walk Trail Donnybrook – 5km loop
Starting at the Sculpture Park, the Preston River Walk Trail follows a peaceful path alongside the river. The walk includes the suspension bridge, crossing the weir (when the river is low), and encompasses the Preston River Indigenous Walk Trail and the Waugyl Sculpture Park. It's an easy, tranquil walk and kids will love the suspension bridge and crossing the weir.
Lions Sandhills Walk Trail Donnybrook – 4.7km loop
This picturesque trail starts at the corner of Frost and Montgomery Road and passes through jarrah forest, featuring glowing yellow wattle and lots of wildflowers in spring. It's a better walk than the Forest Walk Trail (below).
Lions Forest Walk Trail Donnybrook – 3.7km
Starting at the Donnybrook Cemetery, this 3.7 km bush trail takes around 90 minutes and offers excellent views over Donnybrook and the surrounding countryside.
Balingup Ghost Walk
Discover the Balingup Ghost Walk at the Balingup Heritage Museum. Locals tell stories of the township's pioneers in an interactive presentation.
32 Bridgetown Rd, Balingup.
7. Cycle a section of the Mundi Biddi Track
The 1000 km Mundi Biddi trail is Western Australia's premier long-distance off-road cycling experience, starting at Mundaring in the Perth hills.
8. Canoe or kayak along the Blackwood River
Enter at the end of the Balingup Avenue of Honour, where you will find a stretch of calm water. The closest direct entry points into the Blackwood River are at Wrights Bridge on Balingup-Nannup Road or under the bridge in Bridgetown.
9. Scenic drives
The area around Donnybrook, Bridgetown, Boyup Brook, and Nannup is perfect for a scenic drive through native forests, orchards, vineyards, and farmland.
The Balingup–Nannup Road is one of the region's most scenic, and make sure you stop at the Balingup Heights Scenic Lookout along this road for stunning views of the town and orchards.
The Donnybrook-Goodwood Road to Capel is also scenic, and you can check out Ironstone Gully Falls, which flows after heavy rain.
10. Wineries
Visit one of the cellar doors to taste local wines from up-and-coming wineries of the Blackwood River Valley. Barrecas Wines is touted as one of the best in Donnybrook and was first established in 1994 by Fil Barreca after he worked on a Sicilian vineyard. Their reds are the most popular, with Barbera (aka 'the monster') consistently sold out. Wine tastings are free and the cellar door is open from 10 am to 4 pm Wednesday to Monday.
Another fabulous vineyard is Coughlan Estate (Barton Jones Wines sold to Preeti and Brad Coughlan in 2018), a 4 Star James Halliday winery with stunning rural views. It's also a great place for lunch – try one of the cheese boards while you sample their wine.
Not only does Oakway Estate produce premium wines, but it also houses Donnybrook's first brewery, Ned's Brews Club. Their pizzas are delicious too. Dogs are allowed on the verandah on-lead.
11. Golden Valley Tree Park
Western Australia's largest arboretum, covering 60 ha, was named one of the top 5 locations in Australia to see autumn colours. You will find a unique collection of exotic and Australian trees on one of the many walk trails. This picturesque park is an excellent place for short walks amongst the stunning countryside.
You can stop for lunch as facilities include wood barbeques, picnic tables, gazebo shelter, and toilets.
Golden Valley Tree Park is dog-friendly but they must be kept on a lead at all times.
Entry is free, but a donation will help the work of the volunteers.
12. Browse the shops in Balingup
Balingup is a laid-back, cute country community with a bit of added quirkiness. You will find art galleries and studios, antique shops, and charming cafes. One of the stores, Tinderbox, has developed a following due to its organic hand-made wares, including essential oils, skincare, soaps and perfumes, and teas, condiments, herbs, and spices. So it's worth a stroll down the street of this bohemian place to find some different gift ideas.
13. Wildflowers
If you're visiting Donnybrook & Balingup during spring, you'll find the region ablaze with colour. The Racecourse Flora Reserve, between Mullalyup and Balingup, contains abundant flora and areas of conservation value. The loop trail is an easy 1.7 km walk and a good dog walk.
Racecourse reserve is on South West Highway, 2.5km north of Balingup.
14. Greenbushes mine
Tin mining started in Greenbushes in 1888 and is now recognised as the longest continuously operated mining area in WA. The Greenbushes pegmatite is the largest and highest grade hard rock lithium minerals resource in the world. Lithium ore (spodumene) is mined from the fresh, unweathered zones in the pegmatite exposed in the open pits.
You can view the open cut mine from the lookout, overlooking the Cornwall Pit where tantalum ore was extracted until 2003.
5 Telluride St, Greenbushes (open 8 am to 5 pm daily).
There is also a great 3 km walk through jarrah bushland, where you will see old mining shafts, tunnel entrances, mining trenches, and the historic buildings of Greenbushes. The walk starts and ends opposite the Greenbushes Discovery Centre (pop in for a copy of the walk trail booklet) at the Heritage Park on Blackwood Road.
How to get from Perth to Balingup
International and domestic visitors will fly into Perth Airport. Find details about visas, prohibited items, currency, and safety in this Australia Travel Guide and tips on arriving into WA and other essential travel information in this Western Australia Travel Guide.
There are car hire booths at Perth airport, but it's best to pre-book your car rental.

To compare Australia car hire prices, Discover Cars is an award-winning car rental comparison website. They offer competitive pricing in over 10,000 locations worldwide and are have a high rate of customer satisfaction.

Drivenow is a good resource to compare campervan hire in Western Australia as it includes all the large companies like Britz, Maui, Jucy as well as smaller ones.

Compare Rental Cars Here.

By Car
Balingup, 240 km south of Perth, is a scenic drive of around two and a half hours. It is also easily accessed from Busselton and Margaret River, both about a one-hour drive.
By Bus
You can get to Balingup by a daily bus service from Bunbury (travel by TransWA using the Australind Train or bus from Perth to Bunbury).
South West Coach Lines runs a weekday service.
Balingup has a wide variety of accommodation and would be my choice of where to stay in the region. However, if you wish to stay in Donnybrook, the Donnybrook Motel is highly rated.
We stayed at Birdwood Park Estate Farm Stay, a 3-bedroom American-style barn house with a wood burner and fully equipped kitchen. The property is on a 17-acre hobby farm bound by Balingup Brook on three sides and the Avenue of Honour on the fourth. There are stunning views of the surrounding rolling hills, and the farm stay is a perfect base from which to explore the surrounding region. Our daughters loved the friendly goats, and the fresh bread, cereal, and fruit was a lovely bonus. The accommodation is pet friendly too.
We book through Stayz as they are often cheaper than Airbnb.
See up to date prices here
Tegwan's Nest Holiday Home
This spacious country holiday home features open, airy living areas, a cosy log fire for those cool nights, expansive decking with breathtaking views of the rolling hills. The 4-bedroom house can sleep up to 8 guests, making it perfect for friends and families.
Check Rates Here
Tip: Accommodation gets booked out quickly, especially during school holidays. To avoid disappointment, book early. We use booking.com as most properties offer free cancellation if your plans change. See what's available for your dates here.
See more Ballingup accommodation suggestions here

Balingup & Donnybrook Weather, Forecast & When To Visit
January is the driest month, while July is the wettest.
January is also the warmest month, with an average max temperature of around 30°C and a minimum of 12°C.
The coldest month in Balingup is July, with an average maximum of 15°C and a low of 4°C.
Balingup and Donnybrook are year-round destinations with warm summers but cool nights. Autumn days are warm, and you may get some showers, but the landscape is transformed with autumn colours. Winter brings cool, misty mornings when it's time to cozy up in front of a log fire and enjoy walks all rugged up. Spring still has cold mornings with clear skies and when the orchard trees dazzle with their pretty blossom.
See the Bureau of Met for an up to date 7-day forecast in Donnybrook.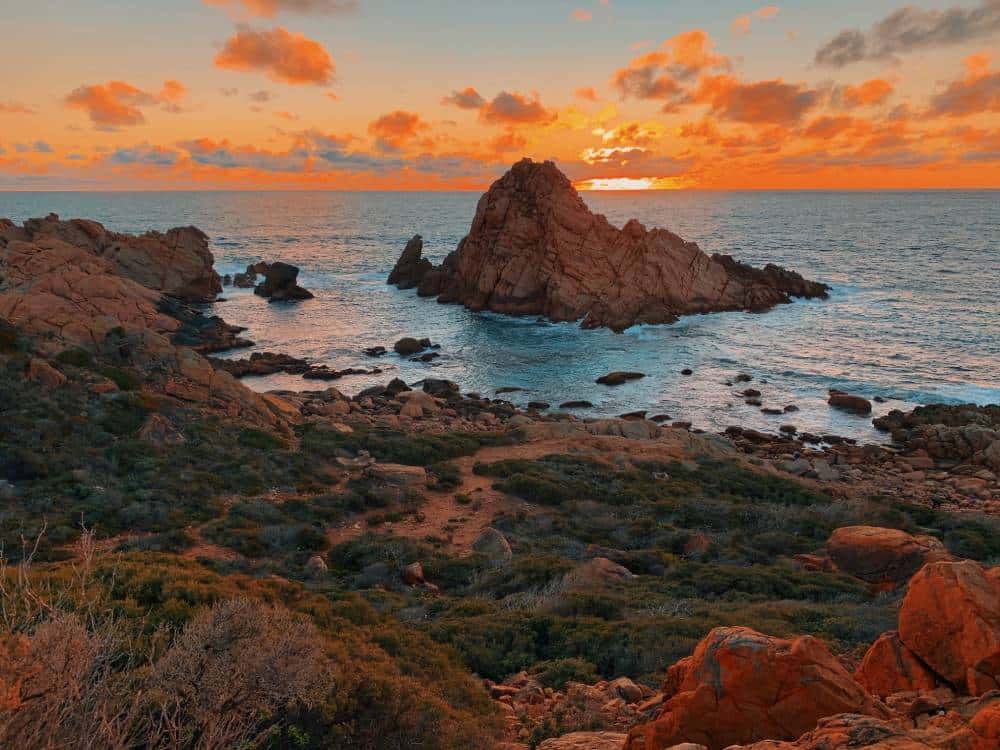 Western Australia's South West Travel Guide
This detailed travel guide provides information on all the regions that make up Australia's South West. Read about the destinations, including what to do and where to stay.



For other ideas on where to visit in Western Australia along with the best things to do, where to stay, how to get around, and other essential information, click on the link below.


FAQ
How long should I stay in Balingup?
You should allow at least two days in Balingup to explore the forest, walk trails, river, wineries and orchards.
Can you get mobile reception in Balingup?
Yes, mobile reception is good in town, but coverage can drop out on the outskirts. You can find free Wi-Fi at the Balingup Visitor Centre.
What is the population of Balingup and Donnybrook?
According to the 2016 Census, 2,824 people lived in Donnybrook and 544 in Balingup.
If you found this travel guide on things to do in Donnybrook and Balingup helpful, please consider booking through one of our links. It won't cost you anything but will help towards the cost of running this site. Thank you.