Looking to travel to WA? There's no need to look any further than this local's Western Australia Travel Guide – we've included travel resources, information, destination guides and tips to help you plan your trip to Western Australia.
Western Australia is a vast and incredibly diverse state that is full of natural wonders and activities to explore. From forests and beaches to dramatic outback and wildlife, there's plenty to see and do in this beautiful part of Australia.
Whether you're looking for vibrant city life or an Outback adventure, this free Western Australia trip guide can help make planning your holiday easy. With detailed information on attractions, hotels, transportation, and more, you'll be able to plan the perfect Western Australia vacation!
🤩 To Book Tours Direct with the Tour Operators, click the links in the box below
Western Australia Travel Guide: Facts
Western Australia is one of six states in Australia and its biggest. Covering a staggering 2.646 million km², it is only home to 2.6 million people. If it was a separate country, it would be the 10th largest in the world.
The capital, Perth, is one of the most isolated cities in the world. Adelaide, in South Australia, is the closest city at 2,131 km away as the crow flies but a whopping 2,700 km if driving. Perth is closer to Singapore than Sydney.
The landscape is varied with fertile soils in the South West region and the red dirt of the North. Western Australia has 12,889 km of coastline and 3,747 islands. The longest river is the Gascoyne River at 760 km and Lake Argyle is the largest built reservoir. The highest mountain is Mount Meharry in Karijini National Park (1,253m) and the highest waterfall is King George Falls in the Kimberley (80m).
The capital city, Perth, is blessed with mainly blue skies and an uncongested city. The white sandy beaches are uncrowded with some amazing surfing and snorkeling spots.
WA Travel Resources & Planning
Don't try and plan your Western Australia vacation by yourself. We've got together all the resources we use that saves us money and makes our trip planning easier.
Find guides on the best time to visit WA, school holidays, getting around WA, Perth Airport guide, itineraries, and road trips.
This should be where you start your reseach and planning!
WA Regions
Let's explore the diverse and breathtaking regions that Western Australia has to offer.
From the rugged landscapes of the Kimberley and the pristine beaches of the Coral Coast to the city of Perth and the stunning forests of the South West.
This is where you can research what to do in each region, where to stay, the best restaurants & bars, hikes & trails, shopping, and the best tours.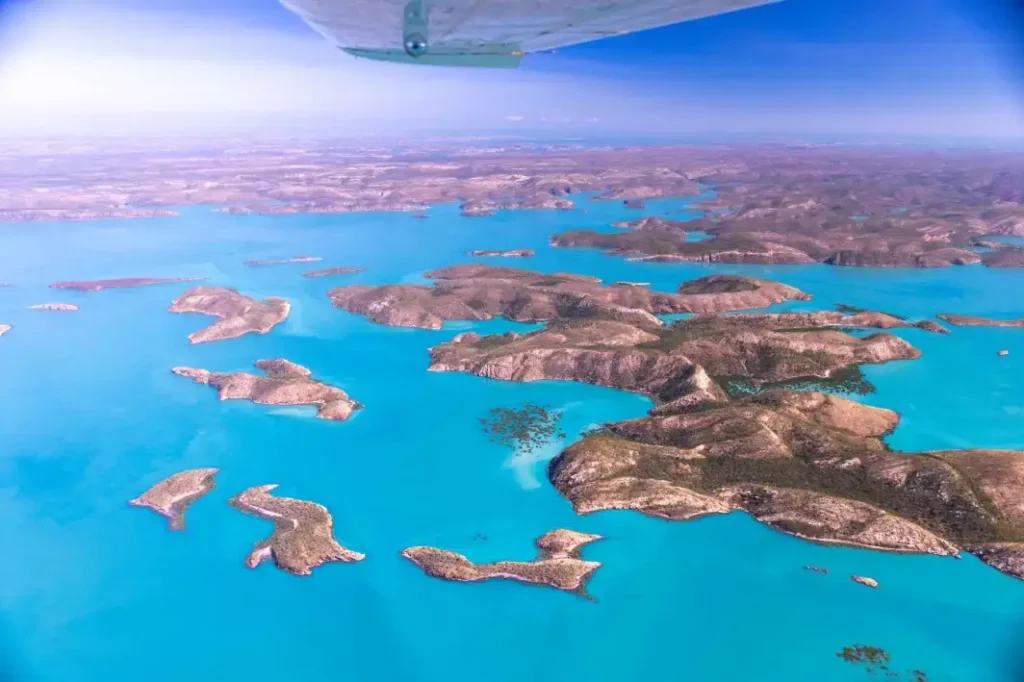 Weather and Best Time to Visit Western Australia
Western Australia experiences a range of climates due to its vast size.
In the northern regions, including the Kimberley and Broome, you'll encounter a tropical climate with hot, humid summers and mild, dry winters.
Moving south, the climate becomes more Mediterranean, characterised by warm, dry summers and cool, wet winters.
To find out more, read this in-depth guide on the best time to visit Western Australia.
International Travel to Western Australia Information
Do I need a visa to enter Western Australia?
You will need a visa to enter Western Australia unless you are an Australian or New Zealand citizen.

You must apply for a visa before traveling. Some visas, including tourist and working holiday visas, can be applied for at your local Australian Embassy. You can apply for some visas on the Australian Department of Home Affairs website.

Prohibited Items into Western Australia
Certain items are not allowed inside Western Australia and you can get into trouble for not declaring them. Some of the prohibited items include drugs, weapons, protected wildlife, fresh or packaged food, plants, seeds, skins, and feathers. More information can be found on the Australian Border Force website.

Keeping Healthy
Speak to your health professional before travelling to Australia and seek travel advice from your country.
Also, check on the Australian Department of Health website for up-to-date information.

Declare prescription medication upon arrival and obtain a doctor's letter advising why you require the medication.

You no longer need to provide proof of your COVID-19 vaccination status to travel to Australia. However, visitors are advised to be up-to-date with routine vaccinations before travel.  WHO recommend hepatitis A, hepatitis B, yellow fever, Japanese encephalitis, rabies, meningitis, polio, measles, mumps and rubella (MMR), Tdap (tetanus, diphtheria and pertussis), chickenpox, shingles, pneumonia and influenza.

The Australian sun is extremely strong and you can burn in as little as 15 minutes. Protect yourself with a hat, sunglasses, sunscreen, and cover up your skin as much as possible. Take particular care between 11 am and 3 pm when UV radiation levels are at its highest. Drink plenty of fluids (no, beer doesn't count).

Always purchase travel insurance before travelling to Australia.

Australian Currency
Australia's currency is Australian Dollars – cash and credit cards are widely accepted.

You can exchange currency at banks, hotels, and international airports. There are ATMs in most towns except remote or outback.

Electricity
Australia's electrical current is 220-240 volts, AC 50Hz.
You may need an adapter for your appliances: the adapter required for Australia is a Type 1 Australia plug, which has two flat metal pins, forming an inverted 'V' shape, and a third pin in the centre.

Mobile Phone
Telstra, the main provider, provides the best mobile coverage. If you are staying in the metro area, the Optus network is cheaper and provides a great service.

For the regions, Telstra is recommended, although no service is available in remote areas.

We use Boost on Telstra 4G Mobile Network.

With up to 82GB for 28 days or 240 GB for 12 months, unlimited national calls and texts, and international inclusions on selected plans, you're sure to find the right prepaid SIM for you.

Time in Western Australia
Western Australia is Western Standard Time – GMT/UTC plus eight hours – and has no daylight savings.
Arriving Into & Getting Around Western Australia
Flights
Perth has an international and domestic airport, separated by a 15-minute drive.
The Perth airport train line takes you into Perth CBD in 18 minutes from T1 & T2. Alternatively, Bus Route 380 runs hourly between T1 and T2 and Elizabeth Quay Bus Station in the city.
From T3 & T4, catch Bus 292 (a circular service between Redcliffe Station and Terminals 3 and 4 with services every 12 minutes during peak), then the Airport Line into the CBD. Bus Route 40 operates between T3 & T4 and Elizabeth Quay Bus Station.
Taxi ranks are at the front of all terminals – the main two are are Black & White Cabs and Swan Taxis.
DiDi, Ola and Uber ridesharing services can also access Perth Airport.
Train
The Indian Pacific is one of the greatest train journeys, travelling across the vast country from Sydney, Melbourne or Adelaide. This 3-day journey is the longest straight railroad in the world.
Road
The easiest way to get around WA is by road. Hire a car or campervan and explore all that Western Australia has to offer. Make sure that the hire vehicle has unlimited kms included if you are planning to go on a road trip. You can drive here with your own driving licence if it is in English and has a photo of you. If not, you'll need an International Driving Permit.
Public Transport
If you are staying in the Perth metro area, the Smartrider card covers public transport including the trains, buses, and ferries. You can find all the information on the Transperth website.
WA Accommodation
Knowing where to stay is one of the hardest parts of planning a trip. Luckily we are here to help.
For tips on where to stay, what type of accommodation is available, what price range you're looking at plus recommendations are all taken care of in our Western Australia accommodation guide.
WA Road Trips
Hire a car and hit the road – the best way to see Western Australia. We use Discover Cars to compare all the major car rental companies to ensure we get the best deals.
Find out our top recommendations for the best road trips in Western Australia.

The Best Destinations in Western Australia
There are so many places to visit, natural and man made landmarks, things to do in Western Australia. From the white sandy beaches and wine region of the South West to the stunning gorges and waterfalls in the Kimberley and everything in between, there's something for everyone.
See our list of the best destinations in Western Australia.
Hikes in Western Australia
If you enjoy hiking, then you will love the variety of trails in Western Australia. The epic Bibbulmun Track covers 1,003 km from Kalamunda to Albany. The Cape to Cape Track runs for 123 km along the Leeuwin-Naturaliste Ridge, between the lighthouses of Cape Naturaliste and Cape Leeuwin. These can both be walked in sections as well.
Of course there are shorter hikes ranging from day hikes to half an hour.
Diving and Snorkelling in Western Australia
There are lots of reefs and wrecks along the Western Australian coast teeming with fascinating marine life. The best places to snorkel are Mettams Pool, Rottnest Island, Yanchep Lagoon, and Exmouth.
Flora and Fauna in Western Australia
WA has the largest collection of wildflowers in the world with around 12,000 different species. It also has 141 mammal species plus 439 different types of reptiles.

Our Western Australia Wildflower Guide details where the best places are to see the wildflowers.
The Diverse Landscapes of Western Australia
Western Australia is blessed with an extraordinary variety of landscapes that will leave you breathless.
Along its coastline, you'll find pristine white-sand beaches that stretch for miles, such as the iconic Cable Beach in Broome and the idyllic Misery Beach in Albany.
Venture further inland to uncover the wonders of the Kimberley region, where dramatic gorges, cascading waterfalls, and rugged mountain ranges create a landscape of raw beauty.
The southwestern corner of the state is adorned with ancient forests, including the majestic karri and tingle trees of the Valley of the Giants and the enchanting Margaret River region with its vineyards and surf breaks.
For those seeking a taste of the outback, the vast expanse of the Nullarbor Plain and the golden sands of the Pinnacles Desert will leave you in awe of nature's grandeur.
Tours in Western Australia
🤩 To Book Tours Direct with the Tour Operators, click the links in the box below
Best Places To Eat in Western Australia
The Perth food and bar scene has come a long way since I moved here in 2000. There are now some cool, funky bars to go with the venues that line the beach which are perfect for the West Australian sundowner.
You have a variety of restaurants to choose, from white linen fine dining to street markets.
The Margaret River region produce world-class wines, Truffles grow in Manjimup, seafood is found all along the coast and WA has excellent craft beers.
WA School Holidays
Use this WA School Holiday Planner to find out when the school holidays are in Western Australia.
Events in Western Australia
January
Perth Cup – Perth's answer to the Ascot races
ATP Cup – one of the largest men's tennis events
Lancelin Ocean Classic – a 4-day windsurfling event
Fringe World – a month-long arts festival
February
Leeuwin Concert – a concert held by Leeuwin Estate
Perth Festival – theatre, music, film, literature and visual arts
March
Nannup Music Festival – a fun-filled weekend of folk, blues, and world music
May
Margaret River Pro – top surfing competition run by the World Surf League
August
Avon Descent – a 124 km white-water rafting race for powerboats, kayaks, and canoes
September
Kings Park Festival – a celebration of spring with a stunning display of wildflowers
October
Perth Royal Show – Western Australia's biggest agricultural show
Blessing of the Fleet – a traditional Catholic festival to bless the crayfish fleet
November
Blues at Bridgetown – a blues, folk, and roots music festival in the country town of Bridgetown
December
Christmas Lights
Tips for Travel to Western Australia
The sun is harsh and can burn in minutes. Ensure you apply sunscreen frequently and protect your face and body as much as possible with long sleeves, hat and sunglasses.
Stay hydrated and drink plenty of water. Don't forget to take a re-usable bottle with you when you go out.
Swim at patrolled beaches between the red and yellow flags. Pay attention to the surf life savers and the notices on the beach. WA have some treacherous beach conditions.
Distances are vast in WA. Be prepared for long journeys and take plenty of breaks to avoid driver fatigue.
Roads in the northern regions can become flooded in the wet season and may be unpassable.
Try not to drive around dusk or dawn to avoid kangaroos and emus on the road (this is when they are most active).
Road trains can be as long as 53m and extreme care must be taken when overtaking them.
Read the Drive Safe Booklet before driving.
Brief History of Western Australia
The discovery of ancient stone artefacts suggest that Perth, or Mooro as it was originally known as, was occupied around 40,000 years ago. The Wadjuk people, a subgroup of the Noongar people, tell the Dreamtime story of how the Swan River (Derbal Yaragan) was formed by serpent-like creatures. The two Wargals lived under what is now Kings Park.
English explorer, William Dampier, sailed down part of the coast in 1688. However, he noted that there wasn't any fresh water source and abandoned the area.
The Swan River Colony was established by the British Government in 1829 and became the first free settlement in Australia. At first there was no hostility between the settlers and the Wadjuk people. However, the government started selling off land cheaply with no regard to the rights of the indigenous people and there became competition for resources.
Yellagonga, the Wadjuk leader, ended up moving his camp to Lake Monger and eventually to the swamp lands north. By the time he died in 1843, his people had been dispossessed of all their land.
FAQ
What is the Perth population?
Perth has a population of around 2.1 million (in 2023).
Social Media
Join our Facebook Group for more inspiration and get answers to any questions you may have and follow us on the channels below.
Save Money Planning your Trip
Click on the links which will take you direct to the website.
Flights ✈️
We fly Virgin Australia domestically due to their competitive prices and fantastic customer service and fly with Qatar Airways to Europe.
Accommodation 🏩
We mainly use Booking.com for accommodation as they consistently have the lowest rates with free cancellation on most properties.
Car Rental 🚘
To compare rental car company prices, we use Discover Cars, an award winning car rental comparison website. They offer competitive pricing in over 10,000 locations worldwide and are highly-rated.
Campervan/RV Rental 🚐
Drivenow is a good resource to compare campervan hire in Western Australia as it includes all the large companies like Britz, Maui, Jucy as well as smaller ones.
Travel Insurance 🌏
Cover-More and Travel Insurance Direct are our preferred travel insurance companies for domestic and international travel.

See this Travel Insurance for Australia guide for more information.
If you found this article helpful, please consider booking through one of our links. The small commission I may receive helps with the cost of running the site. Thank you.