The Best Time to Visit Western Australia: Local's Guide
As a local with a deep passion for WA, I am thrilled to guide you in unravelling the best time to visit Western Australia.
With years of firsthand experience exploring its diverse landscapes, I have come to appreciate the effect timing can have on elevating your journey from remarkable to genuinely extraordinary.
This post will delve into the different seasons and share insider tips to help you plan your trip to WA.
Western Australia's Weather: Summary
Western Australia is lucky to be a year-round travel destination. However, these are the optimum times to visit for certain regions and attractions.
Best Time for Beaches in the South
Summer
Orcas in Bremer Bay
January – April
Best Time for Beaches in the North
Winter
Wildlife Ningaloo
March – November
Best Time for Wildflowers
Spring

Margaret River
Spring, Summer, Autumn
The state's south west has a Mediterranean climate with tropical conditions in the north.
Perth summer temperatures average a max of 30°C with very little rain, and the winters are mild with maximum temperatures of around 19°C. You can find out more in this guide on Perth's weather and the best time to visit.
February is usually the hottest month, and July is the coldest.
The northern part of the state has two distinct seasons; wet and dry. Winter is the best time to visit when the humidity is lower; the skies are blue, and not much rain. Summer will see lower prices but heavy rainfall with the possibility of flooding and cyclones.
The High Season (or Tourist Season) in the south is from Christmas to the end of January, coinciding with the summer Western Australia school holidays. Expect high prices and difficulty in obtaining accommodation at short notice.
The Best Time to Visit Western Australia: Understanding the Seasons
Western Australia experiences four seasons, each offering its unique charm and experiences. Understanding the characteristics of these seasons will help you plan your visit more effectively.
Spring (September to November) 🌺
Spring in Western Australia is a time of renewal and blossoming landscapes. As the temperatures gradually warm up, the region comes alive with colourful wildflowers, creating a spectacular natural tapestry.
The state's southern parts, including the famous wildflower hotspots in the Perth Hills and the Southwest, burst with vibrant blooms. Spring is a lovely time for outdoor activities, with pleasant temperatures and clear skies.
It's an ideal season for hiking, nature walks, and exploring the coastal regions before the summer crowds arrive. Spring is the best time to visit Western Australia for wildflowers.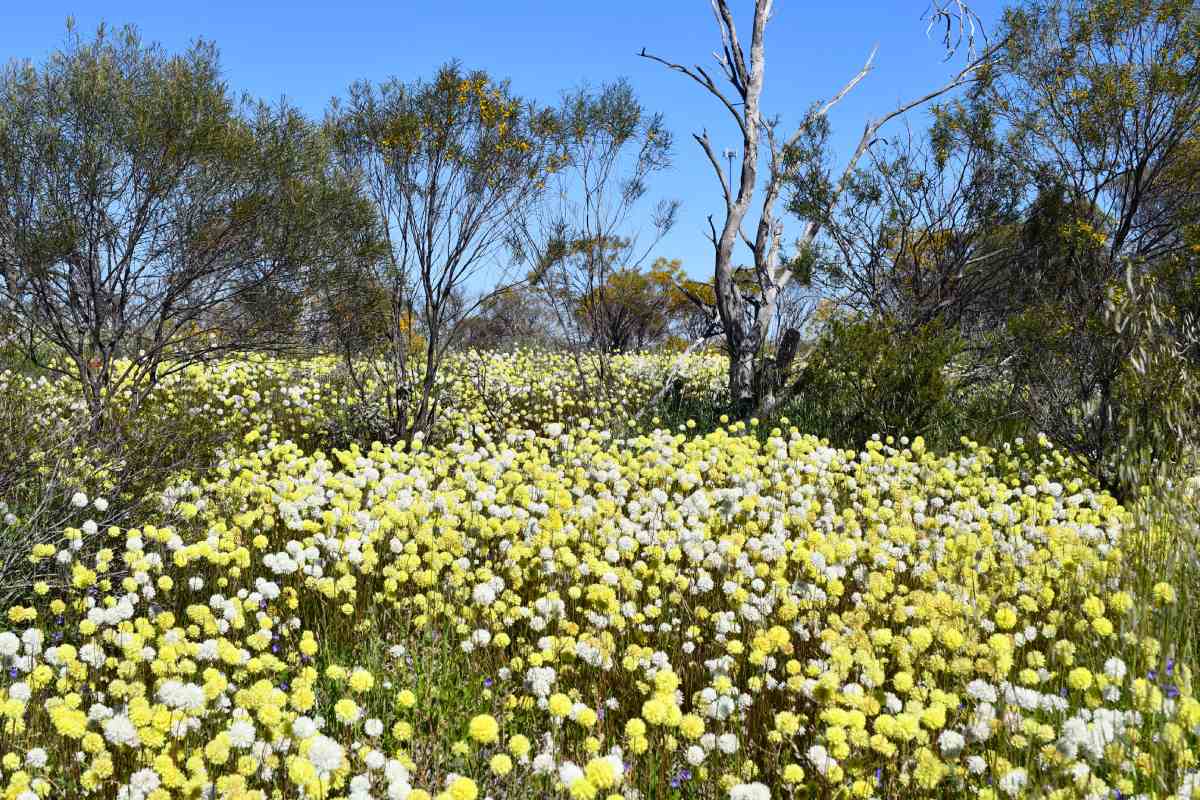 Summer (December to February) ☀️
Summer in Western Australia is synonymous with sunshine, stunning beaches, and endless blue skies.
The coastal areas, particularly in the south, experience warm temperatures, perfect for swimming, snorkelling, and other water activities.
The northern parts, such as Broome and the Kimberley, can be hot and humid, and flooding can occur.
Summer is the time for festivals, outdoor concerts, and cultural events in Perth.
Autumn (March to May) 🍂
Autumn in Western Australia brings milder temperatures, making it an enjoyable time to explore the region. The coastal areas remain pleasant, with warm days and cooler evenings.
Autumn is an excellent season for visiting renowned wine regions, such as Margaret River, as the vines turn into golds and browns. You can indulge in wine tastings and gourmet food experiences and witness the stunning autumn foliage at the same time.
This season is a great time for nature lovers, with fewer crowds, tranquil forests, and the chance to spot migrating whales along the coastline.
🤩 Book a Margaret River Wine Tour Direct here
Winter (June to August) 🐳
Winter in Perth and the south may be cooler, but it's the best time to visit the northwest.
The southern regions, including Perth, embrace a mild and often sunny winter. It's an excellent time to explore the city's culture, visit museums, and indulge in culinary delights.
Winter is also the best season for embarking on an outback adventure, exploring the red landscapes of the Kimberley and enjoying comfortable temperatures for hiking and exploring national parks.
In the far north, such as the Broome region, winter brings pleasant temperatures, allowing you to soak up the sunshine and enjoy beach activities.
Noongar Seasons
The Noongar people, the traditional custodians of the land in the southwest of Western Australia, have a deep cultural understanding of the seasons. They recognise six distinct Noonga seasons, based on the changes observed in the environment and the behaviour of plants, animals, and celestial bodies.
These seasons reflect the traditional ecological knowledge passed down through generations and offer a unique perspective on the natural rhythms of Western Australia.
Birak (December-January)
Birak marks the hot and dry season, characterised by high temperatures and the arrival of the easterly winds. It is a time when the land begins to dry out, and many plants shed their leaves or produce seeds for the next cycle. Noongar people would traditionally burn the land during Birak to manage the vegetation and promote new growth.
Bunuru (February-March)
Bunuru is the hottest and driest period of the year. During this season, Noongar people would move towards coastal areas to take advantage of the cooling sea breezes. Fishing and gathering shellfish become important food sources during this time.
Djeran (April-May)
Djeran signifies the onset of cooler weather. The rains start to appear, and the Noongar people witness the blooming of various plant species. This season is often associated with hunting kangaroos and emus as they come out in search of new growth.
Makuru (June-July)
Makuru is the coldest and wettest season in the Noonga calendar. It brings much-needed rainfall, filling waterways and replenishing the land. Noongar people would focus on sheltered areas and engage in fishing and collecting water-dwelling foods like yabbies.
Djilba (August-September)
Djilba marks the beginning of spring and is a time of transition. The weather starts to warm up, and plant life flourishes. It is a season when Noongar people would collect bush foods, such as wattle seeds and yongka (bush bananas). Djilba is also associated with the birth of many animal species.
Kambarang (October-November)
Kambarang represents the wildflower season when the land is painted with vibrant colours. Noongar people would return to the inland areas, taking advantage of the abundance of bush foods and medicinal plants. It is a time of celebration, storytelling, and sharing cultural knowledge.
There are different ways to spell Noongar, but we respectfully include all groups in the southwest.
Spring Delights: Highlighting the Best Places & Experiences
As the winter chill fades away, Western Australia comes alive with vibrant colours, fragrant blossoms, and a sense of rejuvenation during the spring season.
From the stunning wildflower displays to lively festivals and various outdoor activities, there's something for everyone to enjoy.
Wildflower Spectacular 🌼
Western Australia boasts one of the most spectacular wildflower displays in the world. The wildflower country region, including areas like Mingenew and the iconic Coalseam Conservation Park, become a floral paradise as thousands of native wildflowers burst into bloom.
Delicate orchids, vibrant banksias, and magnificent everlastings blanket the landscapes, creating a breathtaking tapestry of colours.
Take a road trip or embark on guided wildflower tours to witness this natural phenomenon up close.
Kings Park and Botanic Garden 🌸
Spring is perfect for visiting Kings Park and Botanic Garden in Perth. This expansive parkland showcases an extensive collection of native flora, including an impressive display of wildflowers during the spring months.
Wander through the park's trails, enjoy picnics overlooking the Swan River, and soak in panoramic views of the city skyline.
Swan Valley Wine Region 🍷
Spring is a beautiful time to explore the Swan Valley Wine Region. Experience the magic of vineyards coming to life as new grape clusters emerge. The wineries are abuzz with activity, offering cellar door tastings and food pairing experiences.
Indulge in wine tours, sample local produce, and savour alfresco dining at charming vineyard restaurants.
Rottnest Island 🏝️
This season provides the perfect weather to visit Rottnest Island, if you want to cycle or walk around it.
Outdoor Adventures 🥾
Enjoy hiking and bushwalking in areas such as the Cape to Cape Track in the Margaret River region or the Bibbulmun Track, a world-renowned long-distance trail.
Admire coastal views and ancient forests, and embrace the tranquillity of nature. For water enthusiasts, spring offers excellent conditions for kayaking, stand-up paddleboarding, and surfing along the coastline.
Festivals and Events 🐄
Spring is a time of celebration in Western Australia, with a lineup of festivals and events that showcase the region's vibrant culture.
The Avon Descent, a thrilling river race, takes place in spring, attracting participants and spectators alike.
The Perth Royal Show, the state's largest annual community event, offers a colourful blend of agricultural displays, rides, entertainment, and show bags.
Take advantage of the annual Kings Park Festival, a month-long celebration of spring with live performances, guided walks, and family-friendly activities.
The Swan Valley also hosts various spring events, including the Entwined in the Valley festival, celebrating the region's food, wine, and culture.
Summer Escapes: Exploring the Summer Season & its Offerings
As the mercury rises and the sun shines brightly, Western Australia embraces the vibrant and energetic summer season. With its stunning coastline, crystal-clear waters, and exciting activities and events, this is the perfect time to embark on an unforgettable summer escape.
From lounging on pristine beaches to diving into thrilling water sports, Western Australia offers endless possibilities for a summer filled with adventure and relaxation.
Beaches 🏖️
Western Australia boasts some of the most beautiful beaches in the world, and summer is the ideal time to visit them.
The options are endless, from the iconic white sands of Cottesloe Beach in Perth to the remote shores of Lucky Bay in Esperance. Soak up the sun, enjoy refreshing swims, indulge in beach picnics, and relish the laid-back beachside atmosphere that epitomises the Australian summer.
Water Sports & Aquatic Adventures 🏄‍♀️
With its extensive coastline and clear waters, Western Australia is a paradise for water sports enthusiasts.
Surfing enthusiasts can catch world-class waves along the coast, including Margaret River, Yallingup, and Trigg Beach. Stand-up paddleboarding, kayaking, and jet skiing are also popular options for enjoying the summer waters.
Rottnest Island 🤿
Summer is the perfect time to visit Rottnest Island, with its crystal-clear bays and secluded coves. Rottnest offers a range of water-based activities, including snorkelling or diving amidst marine life.
Festivals and Events 💃🏻
The Perth Festival, a celebration of music, arts, and culture, takes centre stage, featuring world-class performances, outdoor concerts, and theatrical shows.
Fringe World Festival, held in Perth and various regional centres, offers a diverse program of entertainment, comedy, and performing arts.
Summer in Western Australia is synonymous with outdoor music concerts and festivals. Take part in open-air concerts featuring renowned local and international artists.
The picturesque settings of wineries, parks, and amphitheatres provide the perfect backdrop for unforgettable performances.
Outdoor Dining and Sunset Experiences 🌅
With warm evenings and clear skies, summer is the best time to enjoy outdoor dining. Along the coast, you'll find beachside cafes, seafood shacks, and stylish restaurants offering delectable cuisine with stunning ocean views.
Experience the lively atmosphere of beachside towns like Scarborough, Fremantle, and Dunsborough, where you can indulge in live music, bustling markets, and social events.
Orca Expedition 🐬
Embark on a thrilling orca watching tour from Bremer Bay and witness these majestic creatures as they hunt and play in the ocean. It's an awe-inspiring experience that will leave you with lasting memories.
Camping and Caravanning ⛺️
With its natural beauty, Western Australia offers fantastic opportunities for camping and caravanning during summer. Discover coastal campsites where you can wake to the sound of crashing waves and enjoy direct beach access.
Water-based Day Trips 🚤
Escape the heat of summer with refreshing day trips to water-based destinations. Take a leisurely boat cruise along the Swan River or cruise Mandurah on a dolphin tour.
Summer Markets and Artisanal Craft Fairs 🌮
Browse stalls selling handmade crafts, artisanal products, fresh produce, and unique souvenirs. Enjoy the lively atmosphere, indulge in delicious food, and support local artisans and growers.
Autumn Tranquillity: Unveiling the Beauty of Autumn in Western Australia
As the summer heat fades away, Western Australia welcomes the arrival of autumn, a season of natural beauty. With mild temperatures, golden landscapes, and a range of delightful experiences, autumn in this region offers a perfect balance between outdoor exploration and cultural immersion.
From leisurely vineyard visits to vibrant cultural festivities, there are lots of reasons to embrace the autumn charm of Western Australia.
Mild Weather and Golden Landscapes 🍂
Autumn in Western Australia brings pleasant temperatures, making it an ideal time to explore the region's breathtaking landscapes. The countryside transforms into a tapestry of golden hues as leaves change colour and vineyards prepare for harvest.
The cooler weather allows for comfortable outdoor activities, such as hiking, cycling, and picnicking, without the intense heat of summer.
Autumnal Walks in National Parks 🍁
With milder temperatures and stunning autumn colours, exploring Western Australia's national parks during autumn is a fantastic experience.
Wander through bushland, witness the changing landscape, and encounter native wildlife. John Forrest National Park, Kings Park, and the Bibbulmun Track offer picturesque trails where you can reconnect with nature and enjoy the tranquillity of the season.
Whale Watching 🐳
Autumn marks the annual northern humpback migration along the Western Australian coast. Take a whale watching tour from places like Augusta or Dunsborough to witness these majestic creatures in their natural habitat.
Scenic Drives 🚙
Journey along winding coastal roads, venture through rolling hills or explore the stunning forests and vineyards.
Popular routes include Perth to Margaret River, which takes you through the heart of the Margaret River region, and the Coral Coast Drive, which showcases the stunning coastline north of Perth.
Wildlife Encounters 🦘
Autumn offers fantastic opportunities to encounter Western Australia's diverse wildlife. Explore national parks and conservation areas to spot native animals such as kangaroos, emus, and colourful birdlife.
Take a wildlife cruise along the Shark Bay World Heritage Area, where you may encounter dolphins, dugongs, and sea turtles.
Stargazing 🌌
With clear and crisp autumn nights, Western Australia provides excellent conditions for stargazing. Venture to remote locations away from city lights to witness the brilliance of the night sky.
The southern hemisphere's constellations, including the Southern Cross, are particularly prominent during this time. Experience the beauty of the Milky Way and be amazed by the vastness of the universe.
🤩Book Pinnacles Desert Sunset & Stargazing Tour Direct here
Winter Wonders: Showcasing the Unique Experiences and Attractions of Winter
While the temperatures may drop in winter, it's the time to see whale sharks in Ningaloo and visit other parts of the northwest.
Breathtaking Landscapes 🌊
Western Australia's landscapes take on a different beauty during winter. Explore the rugged coastline, where crashing waves and dramatic cliffs create a breathtaking backdrop. Venture inland to witness waterfalls flowing at their fullest, such as Lesmurdie Falls.
Cosy Indoor Activities 🖼️
Embrace the winter chill by engaging in indoor activities. Visit art galleries and museums in Perth and Fremantle, like Fremantle Prison or the Perth Mint.
Relax in charming cafes, sip hot beverages, and indulge in gourmet delights.
Winter Surfing and Storm Watching 🌩️
Winter brings bigger swells to the coastline, making it a prime time for surfers to hit the waves. From the renowned surf breaks of Margaret River to more secluded beaches of the South West, experienced surfers can challenge themselves with thrilling rides.
Wine Tasting and Cellar Door Experience 🍷
Winter provides a cosy ambience for exploring Western Australia's renowned wine regions. Enjoy wine tastings and cellar door experiences in the Margaret River, Swan Valley, and Great Southern.
Delight in rich reds and robust whites, paired with local cheeses and gourmet treats.
Winter Wildlife Encounters 🐢
Winter offers unique opportunities for wildlife encounters in Western Australia. Head to Coral Bay or Exmouth to swim with Whale Sharks, Manta Rays, Turtles, and Whales.
🤩Book with Coral Bay Eco Tours Direct here
Winter Hiking and Nature Walks 🥾
Winter in Western Australia presents excellent conditions for outdoor enthusiasts to embark on scenic hikes and nature walks. The cooler temperatures and clearer skies make it a pleasant time to explore trails in national parks and reserves.
Wildlife Encounters
Western Australia has a diverse ecosystems home to a wide range of fascinating wildlife. Whether you're exploring coastal waters, venturing into national parks, or visiting unique wildlife hotspots, there are specific times of the year when you're more likely to spot these extraordinary creatures.
Dolphins
One of the best places to encounter dolphins near Perth is in the sheltered canals of Mandurah. Although you can see them year-round, the best time for dolphin cruises is during the warmer months from September to May.
You can see snubfin dolphins all year in Broome.
Whale Sharks
If you're looking for an awe-inspiring wildlife encounter, head to Ningaloo Reef between March and August to swim with the gentle giants of the ocean: whale sharks. These magnificent creatures migrate through the region during this time, offering an unforgettable snorkelling experience.
Join a guided tour and venture into the crystal-clear waters to swim alongside these incredible creatures, marvelling at their size and grace.
Sea Turtles
Western Australia's coastline is an important nesting ground for sea turtles, including loggerhead, green, and hawksbill turtles. The best time to witness turtle nesting or hatching events along the Coral Coast is from November to March.
Humpback Whales
Witness humpback whales as they migrate along the Western Australian coast. The best time for whale watching is during their annual migration, from June to November.
Head to popular spots such as Geographe Bay, Augusta, and Broome to witness these magnificent creatures breaching and tail-slapping.
I hope this provides you with some helpful information so you can decide what time of year is best for you to visit Western Australia.
Save Money Planning your Trip
Click on the links which will take you direct to the website.
Flights ✈️
We fly Virgin Australia domestically due to their competitive prices and fantastic customer service and fly with Qatar Airways to Europe.
Accommodation 🏩
We mainly use Booking.com for accommodation as they consistently have the lowest rates with free cancellation on most properties.
Car Rental 🚘
To compare rental car company prices, we use Discover Cars, an award winning car rental comparison website. They offer competitive pricing in over 10,000 locations worldwide and are highly-rated.
Campervan/RV Rental 🚐
Drivenow is a good resource to compare campervan hire in Western Australia as it includes all the large companies like Britz, Maui, Jucy as well as smaller ones.
Travel Insurance 🌏
Cover-More and Travel Insurance Direct are our preferred travel insurance companies for domestic and international travel.

See this Travel Insurance for Australia guide for more information.