The 2022 season will be between late July and early October
For those of you who are eagerly awaiting the wildflowers to bloom, we have some tips for you on when and where to see them. Western Australia Wildflowers are a sight not to be missed! The western side of Australia is home to many different types of flowers that will take your breath away. This article provides information about when and where these flowers can be seen as well as nearby accommodation options if you want to stay longer in the area.
Disclosure: This post may contain affiliate links (of which we use) so we may receive a small amount of commission if you buy something through them. As an Amazon Associate, I earn from qualifying purchases. You can read the full disclaimer here.
What time of year do the wildflowers bloom in Western Australia?
The Wildflower Season usually starts in the north and outback regions in June and July. They then continue to bloom southwards from around August. It varies from year to year depending on the climate.
Western Australia Wildflowers 2022 | Where to see them
In Western Australia there is no shortage of places where wildflowers can be found.
Exmouth
The harsh conditions of Exmouth surprisingly produce a large variety of wildflowers with 630 plant species being recorded in the Ningaloo Coast World Heritage area. The wildflower season is generally from June to October but depends on the rainfall.
Cape Range National Park is the best place to look for wildflowers in Exmouth, especially Shothole Canyon, Charles Knife Canyon, Yardie Creek, and Mandu Mandu Gorge. You may see mulla mulla, various wattles, sturt's desert pea, eremophila species and stackhousia.
The beautiful red sturt desert pea, which flowers in late winter, can be found on the side of the road and in the Milyering Discovery Centre car park.
North of Exmouth town, you may see silver bush along Murat Road and Hakea south of the town.
Coral Bay
Like Exmouth, the wildflowers in Coral Bay usually start blooming in the middle of winter (July). You may see orchids and flannel bush.
Kalbarri
Around the Kalbarri National Park coastal cliffs, you will see Murchison rose out in bloom (in-between Natural Bridge and Island Rock).
You can see the pink poker wildflower on the Kalbarri National Park loop walk that leaves from Natures Window (on the cliff top before you descend into the gorge). Also, Woody Pear, Acorn Banksia, and Purple Thryptomenes are coming out.
White Grevillea can be found near the Z Bend along with orchids and claw flower.
If you're up to hiking along the Four Ways Trail, you may spot Orchids, yellow guinea flowers, and Murchison Bell.
Moora
Candy Bush Reserve is located on the Midlands Road entrance to Moora and features walk trails with wildflowers, including the blue fan flower, everlastings, and blue leschenaultia. The reserve is an eight hectare salmon gum and wandoo remnant and you may be able to find the Moora spider orchid, brown-veined shell orchid, and green-veined shell orchid. 
Dalwallinu
The Dalwallinu Discovery Centre is excellent with lots of maps, brochures, and up to date information on where to find wildflowers.
Go to Moon Reserve, Petrudor Rocks & Xantippe Tank to see Blue Fairy, Spider, and Leek Orchids. Sun, Ant, Donkey, and Cowslips.
Coorow
Coorow Farm is one of the best places in Coorow to see wildflowers. It's located 1 km from town on Coorow Latham Road. The trail can be driven or park up as you enter the farm and take a walk through the gates. We saw plenty of everlastings, pompoms, poppies, and other native flowers.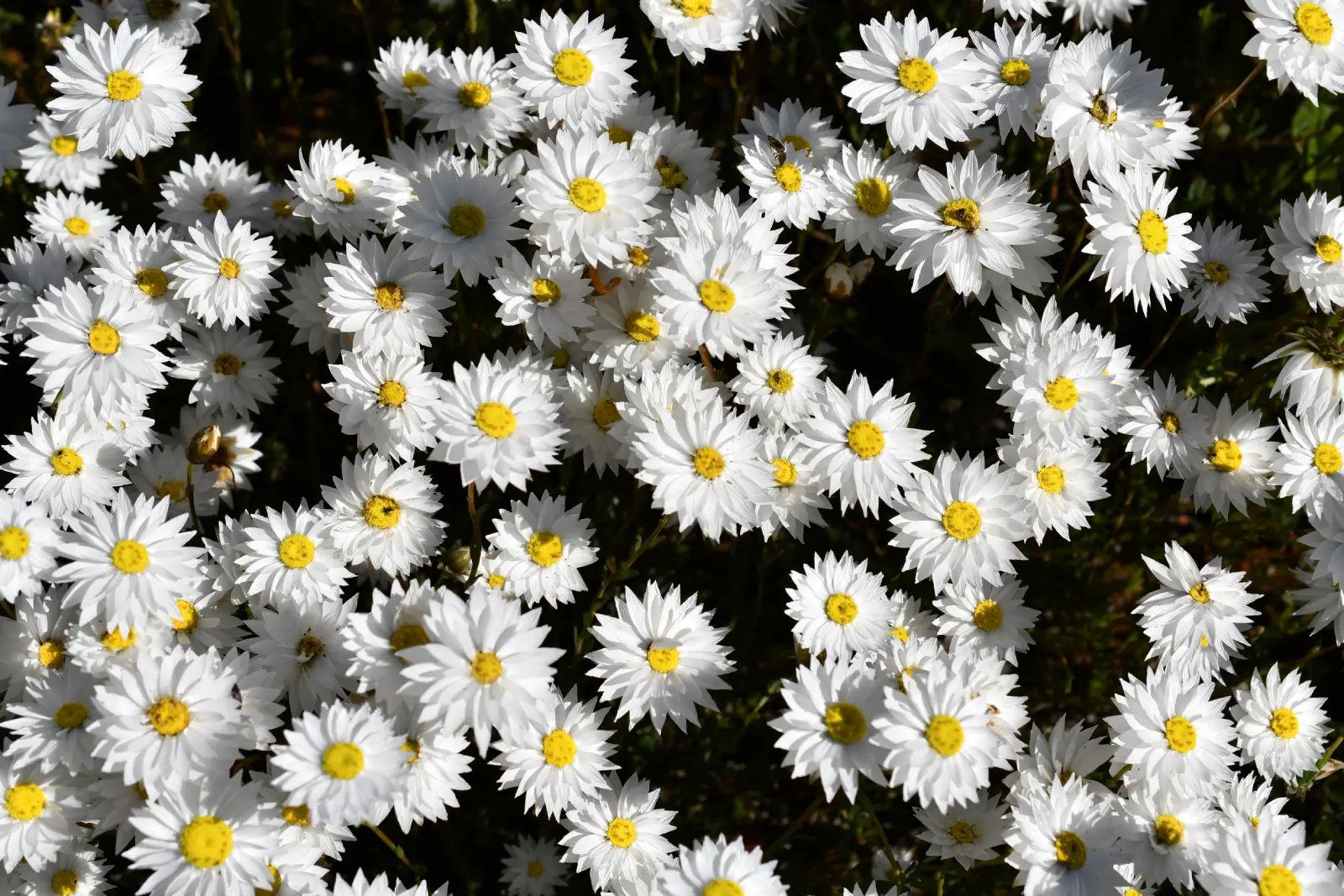 Three Springs
As winter starts to end, the hills of Three Springs Western Australia are a beautiful sight. The rolling hillsides, vast paddocks and yellow wildflowers make for perfect photo opportunities for tourists looking to explore this part of Western Australia.
This small town in the Goldfields region is renowned for its picturesque townscape and old-style wheat silos and offers plenty to do.
The Yarra Yarra Lakes, 16 km south of Three Springs, are home to a variety of birds, including swans, pelicans, ducks and the siberian stilt.
10 km east of Three Springs lies Western Australia's first talc mine and offers stunning views from the lookout there. The talc mine is the second largest in the world and the largest in the southern hemisphere with an annual production exceeding 100,000 tonnes.
Near the Information Bay in town, you will find an Armoured Personnel Carrier used in Vietnam War, which was operated by a local RSL Member. This is where the Heritage Trail starts.
There are several types of wildflowers throughout the town, including orchids, grevillia, hakea, yellow lechenaultia, wattle, and purple stars.
We saw lots of cowslip orchids and blue fairy orchids in Dookanooka Reserve, off Eneabba-Three Springs Road.
Morawa
There are mainly everlastings in Morawa, but we also saw dampiera and pom poms. Along Three Springs Road, near Mt Campbell, you will see the Pink Salt Lakes and white everlastings.        
Check with the Information Centre for directions to the Wreath Flowers.
Mingenew
Mingenew lies in the heart of wildflower country and is close to Coalseam National Park, one of the best places to see carpets of everlastings.
Mingenew Hill has beautiful views over the town and canola fields, which look like a patchwork quilt of yellows and greens. The hill has a variety of Western Australia wildflowers and is a great spot to see the yellow pom pom everlastings. You may find purple fringe lilies and blue fairy orchids walking up the road from Drovers Rest to car park on the hill.
Mingenew Hill is an excellent place to watch the sunset with a glass of wine.
Depot Hill,12 km from Mingenew, you can find a variety of donkey orchids, snail orchids, spider orchids, everlastings, and thryptomene. It was used as an army firing range during World War II and you can walk up a track to the remnants of an old training trench.
We saw lots of cowslip orchids there and spider orchids. Look for arrows in the sand which some kind person has marked pointing to where the orchids can be found (2021).
Coalseam Conservation Park
Coalseam Conservation Park, sometimes called Coalseam National Park, has a variety of wildflowers that will captivate you with their beauty. You can enjoy nature walks along bush tracks to see this confection of wildflowers, wild landscapes and wild animals.
The park features spectacular wildflower displays following winter rains between July-September when there are carpets of pink, yellow, and white everlastings.
The park is the site of the first mined coal deposit in WA and you can see exposed bands of coal seams, along with the siltstones, claystones, and sandstones that stripe the cliff faces. The best place to see these geological formations is from the Irwin Lookout and at the River Picnic Area.
To really see Coalseam Conservation Park in all its beauty, hike the 3.2 km Plateau Loop Trail, which takes you through rare eucalypt woodland to a plateau ridge to enjoy sweeping valley views. The trail leaves from miners campground.
Mullewa
Mullewa is a quaint small town in the heart of wildflower country. It is famous for its abundance of wildflowers, including the rare wreath flowers at nearby Pindar. Make sure to pop in to see the friendly people at the Mullewa Visitor Centre where they will provide you with free maps and information on how to get to the wreath flowers and other walks around the town.
The moderate Wildflower Trail begins on the opposite side of the road to the Mullewa Caravan Park. The trail explores the various species of wildflowers in the region and volunteers have tied biodegradable yellow ribbons to the trees to show where the orchids can be found.
The wreath flowers can be found 29 km outside of Mullewa on the Pindar-Berringarra Road. You will see a sign for them, where you need to turn off on the left. Follow the road for about 10 km and you will see some on the left of the gravel road. This is meant to be the only place to park but there were a few cars parked on the other side of the diversion. A walk trail leads through to the other side where you will see even more wreath flowers.
Make sure to drive the whole loop to see all the stunning wreath flowers.
Western Australia Wildflower Tips
Take nothing but photos so you don't end up with a $2000 fine (it is illegal to pick wildflowers).
Do not trespass on Private Property.
Please don't tramp through the canola fields. These are the farmers' income and you can spread disease.
Visit the Information Centres; they are the best source of information and can direct you to the wildflowers.
Try and spend a few days here. Don't underestimate the distances.
Shops shut early in country towns so either take provisions with you or stock up early.
Look at the Wildflower Tracker to give an idea on what's blooming where.
Western Australian Wildflower Accommodation
We use Booking.com for most accommodation bookings as they offer free cancellation on most rooms, have a loyalty program (Genius), a price match guarantee, the site is user-friendly and they have great customer support. We also book through Stayz for private accommodation as they are often cheaper than Airbnb.
We've stayed in cabins at the Leander Reef Holiday Park and the Big4. These are both in Port Denison by the coast and were perfect for our family. We booked through booking.com as they offered free cancellation. Alternatively, stay inland around either Mingenew or Mullewa.

For other ideas on where to visit in Western Australia along with the best things to do, where to stay, how to get around, and other essential information, click on the link below.


Save money planning your holiday
Click on the links which will take you direct to the website.
Flights: We use different sites to get the best possible price for flights. Check matrix.itasoftware.com to get an idea of the cheapest dates, but you can't book through this site. Compare the cost of flights with Kiwi.com and try different routes.
Travel Guides: As well as using online resources, like other travel blogs, I like to flick through a paper travel guide too. I either rent them from our local library or buy them from Bookdepository if I want to take it with me.

Accommodation: We mainly use Booking.com for accommodation as they consistently have the lowest rates with free cancellation on most properties. We also book through Stayz for private accommodation as they are usually cheaper than Airbnb.
Car Rental: To compare rental car company prices, we use Discover Cars, an award winning car rental comparison website. They offer competitive pricing in over 10,000 locations worldwide and are highly-rated. Another option is Rentalcars.com
Campervan Rental:Drivenow is a good resource to compare campervan hire in Western Australia as it includes all the large companies like Britz, Maui, Jucy as well as smaller ones.
Tours: We use third-party sites Viator, Get Your Guide & Klook due to their free cancellation policies, instant confirmation, price guarantees, and mobile ticketing. We occasionally book through Red Balloon too.
Travel Insurance: Cover-More protects the travel dreams and experiences of more than 15 million people worldwide every year (including us!). Part of Zurich Insurance Group, they cover 22 countries across five continents with leading positions in the USA, Australia, Brazil, Argentina, Ireland, India and New Zealand. Protect your trip against several COVID-19 scenarios during the current coronavirus pandemic. 
I hope you've found the Western Australia Wildflowers guide useful. Please consider using our links to book accommodation. Thank you.