Explore Porongurup National Park: Guide + Things To Do 2023
Porongurup National Park, a protected area in Western Australia's South West, is home to some of the most beautiful landscapes on earth. The heritage-listed park features many natural attractions and offers an array of hiking trails for visitors to explore this amazing landscape.
At over 1 billion years old, the Porongurup Range is one of the oldest mountain ranges in the world, with towering granite peaks, huge Karri trees, and renowned for its natural beauty. It's also home to wildlife like western grey kangaroos, brush tail wallabies, bandicoots, brushtail possums, honey possums, pygmy possums, and bush rats. Since becoming a national park, over 80 species of birds have been spotted, including the threatened Carnaby's cockatoo, Baudin's cockatoo, and the forest red-tailed black cockatoo.

The Porongurup region has something for everyone, there are plenty of activities to keep you busy, but it's also a great place to relax and unwind. Read on for all the popular things to do in Porongurup.
I would like to respectfully acknowledge the Wagyl Kaip people, the Traditional Owners, and First People of these lands. I would like to pay my respect to the Elders past, present, and future, for they hold the memories, the traditions, the culture, and hopes of their people.
Things To Do in Porongurup
Porongurup National Park walks & hikes
Hiking in Porongurup National Park is the best way to experience the 12 km long Porongurup Range. Devils Slide is the highest of the Porongurups at 670m high.
Porongurup is the remains of an ancient bubble deep in earth's core that rose through base rock, pushing it aside. Then, millions of years later, with relentless forces at work (sun, rain, and wind), the granite was worn away to form the beautiful domes you see today.
Castle Rock Trail & Granite Skywalk
4.7 km Grade 5 – allow 2-3 hours
Castle Rock trail starts at the Castle Rock picnic area and climbs steadily through jarrah, marri, and karri forest. You will pass the famous Balancing Rock, a massive round granite boulder that balances precariously on another rounded rock on the way to the lower lookout.
To access the upper lookout and the Granite Skywalk, a suspended walkway around the gigantic Castle Rock, you need to climb over some huge granite rocks and climb a 6m enclosed ladder. However, the exhilarating views across farmland to Albany are worth the effort and provide an exciting perspective through the grid flooring.
It's not for people that have a fear of heights, though, as the walkway curves around Castle Rock to the summit.
Granite Skywalk Tour
If you don't have transport or would prefer a local's knowledge, book the Granite Skywalk Tour run by Busy Blue Bus Tours Albany. This tour is perfect for those looking for an adventurous day out combined with a delicious lunch and wine tasting.
Tour Length: 5 hours
Departs: Albany at 9 am
Rating: 4.5⭐️ on Tripadvisor
Dates: Weds, Thurs, Fri and Sat
Inclusions:
Wine tasting at a Ironwood Estate Wines
Lunch
Hotel pickup and drop-off within 10 km Albany CBD
Local driver/guide
Entrance to Porongurup National Park
Nancy Peak
5.5 km Grade 4 – allow 2-3 hours
The Porongurup car park is the starting point for this stunning hike. As you pass through different ecosystems on your way up, keep an eye out for 'Tree in The Rock' – a mature karri tree growing in the crack of a granite boulder. Next, you'll climb higher through dense karri forest to arrive at Hayward Peak, a moss-covered granite outcrop with views over farmland to the Stirling Ranges.
The trail continues to Nancy Peak and Morgan's View before descending into a pass between Nancy Peak and Devils Slide. When you get to the fork, you have the choice to extend the walk to Devils Slide or return via Wansburgh Walk, a wide gravel firebreak.
You can hike the Nancy Peak trail in the opposite direction.
Devils Slide Trail
5 km Grade 4 – allow 2-3 hours
Devils Slide Trail begins at the Porongurup car park and follows the Wansburgh Walk for 1.6 km along a gravel firebreak. At the junction, turn right, which will take you through the forest to exposed granite. From here, climb up to the wooden boardwalk for views of Nancy Peak. You can then carry on up to the summit of Marmabup Rock.
Bolganup Trail
600m loop Grade 2
The easy Bolganup loop Trail starts at Tree in the Rock car park, leads you through the karri forest, and crosses Bolganup Creek. If you visit between October and February, look for the Australian Bluebell with its small bell-like mauve flowers.
Walitj Meil Walk Trail
1 km Grade 3
The Walitj Meil walk (meaning wedge-tailed eagle) is an easy to moderate loop that takes you through the karri/marri/yate forest. Along this trail, you'll learn about local plants, animals, colonial history and Noongar culture.
You can add the Castle Rock Trail on and visit the Granite Skywalk.
Wansbrough Walk
8 km Grade 4
The Wansbrough Walk starts at Tree in the Rock car park and takes you through karri forest along a gully between Devils Slide and Nancy Peak, meeting up with Nancy Peak Walk and Devils Slide Trail. It eventually connects with Millinup Road and you return the same way. Some people leave a second car at this end.
There are toilets at both Tree in the Rock and Castle Rock picnic areas.
Porongurup National Park Entrance Fee
National Park fees apply to the hikes in Porongurup National Park. The cost is A$15 per vehicle with up to 12 people. If you are spending more than one day in one of the national parks, consider buying a Park Pass. Make sure to display your pass on your dashboard when you're in the park. RACWA members can get the passes for half price.
Porongurup National Park Safety
Tips to ensure you keep safe in Porongurup National Park include:
Carry 2-3 litres of water per person for half to full-day hikes
Wear sturdy shoes or hiking boots as some walks are steep and have uneven surfaces
Layer & take weatherproof clothing in case of bad weather (it can change quickly)
Wear sun protection and Sunscreen (take a small tube with you to reapply on longer walks)
Carry a first aid kit in your backpack
Walk in groups
Clean boots to prevent dieback from spreading
Consider using insect repellent
Check the weather forecast and don't do Porongurup hikes when it's windy & hot due to the risk of bushfire
Take extra care near rock edges as they can crumble without warning or be very slippery
Let someone know where you are going and when you expect to return
Falling branches – eucalypt trees, especially karri, can shed branches at any time. Be extra aware on windy days
Check for park closures at alerts.dbca.wa.gov.au
Pay entry fees or buy a pass
No pets are allowed in Porongurup National Park
Download the Emergency Plus App
Do not handle the poison baits
Bring a PLB if you go off-track
Hike Grades explained
Grade 1 – No bushwalking experience required. Flat even surface with no steps or steep sections. Suitable for wheelchair users who have someone to assist them. Walks no greater than 5 km.
Grade 2 – No bushwalking experience required. The track is a hardened or compacted surface and may have a gentle hill section or sections and occasional steps. Walks no greater than 10 km.
Grade 3 – Suitable for most ages and fitness levels. Some bushwalking experience recommended. Tracks may have short steep hill sections a rough surface and many steps. Walks up to 20 km.
Grade 4 – Bushwalking experience is recommended as tracks may be long, rough and very steep. Directional signage may be limited.
Grade 5 – Very experienced bushwalkers with specialised skills, including navigation and emergency first aid. Tracks are likely to be very rough, very steep and unmarked. Walks may be more than 20km.
Stirling Ranges
If you've done the Porongurup hikes, The Stirling Ranges have some incredible trails, including Bluff Knowl.
Read our guide on these hikes and other things to do in the Stirling Range National Park.
Twin Creeks Conservation Reserve
Friends of the Porongurup purchased the 511ha farming property in 2003 and opened it up to visitors to experience the rare fauna and flora (renowned for its orchids). The reserve has been recognised as an important bushland area with over 67 species of birds.
You can find the reserve on Knights Rd in the vale of Kalgan between the Porongurup and Stirling Ranges.
Porongurup Wineries
The Porongurup Wine region, while small in size, offers beautiful scenic landscapes with an excellent view. The reputation of its cool climate wines, like Riesling, Chardonnay, and Pinot Noir, continues to grow as more boutique producers choose this sub-region to source grapes.

Some of the vineyards in Porongurup are:
Castle Rock Estate
Duke's Vineyard
Ironwood Estate Wines
Zarephath Wines
Millinup Estate Wines
Abbey Creek Vineyard
Mount Trio Vineyard
Castle Rock Estate won 2015 James Halliday Winemaker of the Year and Duke's Vineyard won 2019 Halliday Wine of the Year.
You will need to contact the winery directly for cellar door hours as some are by appointment only.
Scenic Drives
Take a leisurely drive around the entire range using Bolganup Road, Angwin Park Road, Woodlands Road, Millinup Road, Chester Pass Road and Mount Barker-Porongurup Road to see impressive views of granite outcrops. The 23km is mostly unsealed with some steep parts.
Porongurup Accommodation
There isn't a huge range of accommodation close to the Porongurup National Park, but Mount Barker is a 15-minute drive away and Albany 35 minutes. Albany has a wide choice of places to stay for all budgets.
The Sleeping Lady
The Sleeping Lady is situated on a 5-acre property with spectacular views of the Stirling Range. You stay in the cosy 2-bedroom cottage, which offers couples an ideal romantic getaway but is also excellent for families wishing to explore the region. Electric blankets and the wood fire keep you warm in winter, and the air-conditioning provides relief on hot summer days.
Thistledown Farm Cottage
You will find Thistledown Farm Cottage nestled at the foot of the Porongurup Range. Steickie's Cottage is a 100-year old mill worker's home, which has been restored and modernised. It has three bedrooms and can sleep up to eight guests.
Alternatively, find out what's the best accommodation in Albany.
Tip: Accommodation gets booked out quickly, especially during the summer school holidays (December and January). To avoid disappointment, book early. If you use booking.com, most properties offer free cancellation if your plans change. See what's available for your dates here.
Porongurup Camping
We camped at the Porongurup Range Tourist Park. The amenities were clean, and the campers' kitchen was a fully-equipped inside kitchen with tables and a wood fire. They have powered and unpowered grass sites with fire pits available to use seasonally. Pets are welcome on-lead.
If you don't want to camp, there are chalets available that sleep up to four.
Porongurup Weather & Best Time to Visit
November through to March has the least chance of rain in Porongurup, with average highs of 20-25°C. However, May to September can be wet, with July being the wettest. In the winter months, the average high is around 15°C.
Wildflowers are out from August to November, so this would be my ideal time to visit Porongurup. If you want to hike, try to avoid the wet months as the granite will be slippery. If you want a romantic break, winter can be beautiful with mornings mists over the mountains, and you can cozy up in front of a log fire.
Porongurup Location
Porongurup lies in the Southern region of Western Australia, 15 minutes from Mount Barker.
International and domestic visitors will fly into Perth Airport. Find details about visas, prohibited items, currency, and safety in this Australia Travel Guide and tips on arriving into WA and other essential travel information in this Western Australia Travel Guide.
There are car hire booths at Perth Airport, but it's best to pre-book your car rental.

To compare Australian car hire prices, Discover Cars is an award-winning car rental comparison website. They offer competitive pricing in over 10,000 locations worldwide and are highly rated.

DriveNow is a good resource to compare campervan hire in Western Australia. It includes all the large companies like Britz, Maui, & Jucy as well as smaller ones.

Compare Rental Cars Here.

Perth to Porongurup
Perth to Porongurup will take you about 4 hours & 15 minutes by road, along Albany Highway.
Porongurup to Denmark & Albany
Albany is about a half-hour drive from Porongurup, while Denmark is around an hour.
Porongurup to Bluff Knowl
It's only a short drive from Porongurup to the Stirling Range National Park, so it is easily visited on the same trip.
Porongurup Dining
Maleeya's Thai Café
People come from far and wide to taste Maleeya's authentic Thai dishes, featured six years in a row in the Australian Gourmet Traveller Guide. Many of the ingredients come from their organic garden and Maleeya's traditional cooking style was taught to her by her grandmother.
Booking is advised and the family-run café is BYO (bring your own wine).
Ironwood Estate Wines & Café
Ironwood Estate is perfect for lunch with views across the lake, vineyards, and Stirling Ranges. They also serve espresso coffee, desserts, and fine wine.
The Porongurup Village Inn, Shop & Tearooms
The Porongurup Inn is famous for its Devonshire Tea with homemade scones and Scott's Beef & Burgundy Pie, not to mention the delicious homemade desserts.
Karribank and The Karri On Bar
The Karri On Bar is a place where locals catch up and where visitors like to relax. It has a friendly, cozy atmosphere where you can lounge by the fires in winter and dine under the verandah during the summer months. We played a game of pool after dinner and there's also a large outdoor play area for children.
The wood-fired pizza was delicious and there was a great range of local wine and beer. I'd recommend booking in advance during peak times.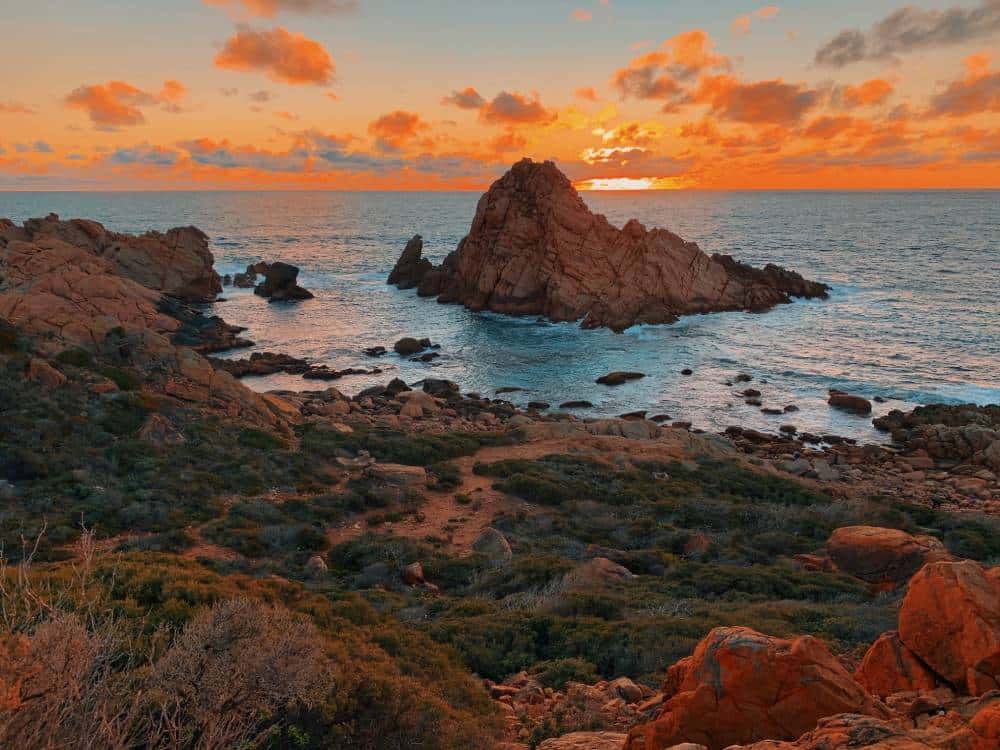 Western Australia's South West Travel Guide
This detailed travel guide provides information on all the regions that make up Australia's South West. Read about the destinations, including what to do and where to stay.



For other ideas on where to visit in Western Australia along with the best things to do, where to stay, how to get around, and other essential information, click on the link below.


Save Money Planning Your Trip
Click on the links, which will take you directly to the website.
Flights ✈️
We fly Virgin Australia domestically due to their competitive prices and fantastic customer service, and fly with Qatar Airways to Europe.
Accommodation 🏩
We mainly use Booking.com for accommodation as they consistently have the lowest rates with free cancellation on most properties.
For pet sitting in Western Australia and worldwide, we are members of Trusted Housesitters. Free accommodation for pet and house sitting.
Car Rental 🚘
To compare rental car company prices, we use Discover Cars, an award-winning car rental comparison website. They offer competitive pricing in over 10,000 locations worldwide and are highly rated.
Campervan/RV Rental 🚐
DriveNow is a good resource to compare campervan hire in Western Australia as it includes all the large companies like Britz, Maui, and Jucy as well as smaller ones.
Travel Insurance 🌏
Cover-More and Travel Insurance Direct are our preferred travel insurance companies for domestic and international travel.

See this Travel Insurance for Australia guide for more information.
If you found this travel guide on what to see in the Porongurups helpful, please consider booking through one of our links. It won't cost you anything but will help towards the cost of running this site. Thank you 🙂