Things To Do in Augusta WA: Ultimate Local's Guide 2023
Augusta WA is a charming town nestled on the south west coast of the state. The region is known for its natural scenery and is a wonderful place to spend a holiday with family or friends.
But where do you start? With so much to see and do, it can be overwhelming to plan your trip.
That's why we've created this ultimate local's guide to Augusta, packed with insider tips and recommendations to help you make the most of your visit. Whether you're looking for the best beaches, top-rated restaurants, or hidden gems that only locals know about, we've got you covered.
Rating: 5/5⭐️ with over 95 reviews
Tour Length: 2 hours 30 mins
Available: mid May to the end of August
Viator Badge of Excellence. Morning or Afternoon tea included. Pioneers of Whale Watching in the Southwest, with over 28 years in the industry. Crew's knowledge & passion for marine wildlife is unequalled. Small family-owned business. 99% success rate. Whale Watching Guarantee.
Our favourite WA Whale Watching Tour Operator.
Top 10 Things To Do in Augusta WA
🤩 To Book Tours Direct with the Tour Operators, click the links in the box below
Leeuwin Road, Augusta
Cape Leeuwin Lighthouse is located on the headland of Cape Leeuwin, the most south-westerly part of Australia's mainland, where the Southern and Indian Oceans meet.
This Augusta lighthouse, opened in 1895, is the tallest in mainland Australia and is listed on the Commonwealth Heritage List. Initially, the lens revolved by a counterweight driving clockwork mechanism, but it became automated in 1992.
The limestone lighthouse is an excellent place to spot whales during their migration from May to September.
You can take a tour of Cape Leeuwin Lighthouse, still an essential working lighthouse, but note that you need to be able to climb the 176 steps. Once at the top, learn about this historic lighthouse and be amazed at the stunning views.
One of the original lighthouse keepers' cottages now houses the Interpretive Centre, an interactive experience looking at the history and lives of the lighthouse keepers.
Open from 9:00 am to 4:00 pm daily, except Christmas Day.
During WA school holidays and public holidays, Cape Leeuwin Lighthouse is open until 5:00 pm.
The café is open for coffee, lunch, and snacks from Friday to Wednesday.

Lighthouse guided tours depart every half an hour from 9:00 am to 4:30 pm and are the only way to view the lighthouse up close.
2. Augusta's Old Waterwheel
Leeuwin Road, Augusta
This historic water wheel was built just before the lighthouse and used to supply fresh spring water for the construction of the lighthouse and, later, for the keepers and their families.
Over the years, the water, high in calcium carbonate, calcified the wheel, preventing it from turning.
The views of the ocean, giant granite boulders, and the rugged coastline are beautiful here, so remember your camera.
If you want to see more of the coastline, try the one-hour walk from Augusta's waterwheel to Skippy Rock using the Cape to Cape track.
Jewel Caves Rd, Deepdene
Jewel Cave is the largest show cave in Western Australia and my favourite in Australia's South West region. This cave is popular with tourists and locals and has become famous for its beautiful formations, including the straw stalactite.
The only way to see this spectacular underground treasure trove is on a fully-guided one-hour tour. If you're looking for things to do with kids in Augusta, this is an excellent option, especially if it's raining.
Read the complete guide on this Jewel Cave WA review.
Augusta is one of the most popular places for tourists to go whale watching in Western Australia to see Humpback and Southern Right whales. The whale watching season starts here from late May until the end of August. Up until mid-July, you have the chance to see energetic humpback whales as they migrate north. Southern Right whales appear in July, but the peak season is August, when they use Flinders Bay to rest with their calves.
As these tours are during the winter, ensure you wear appropriate clothing, as it can be cold and windy out on the ocean. It's also advisable to be flexible with dates in case your tour is cancelled due to bad weather or rough sea conditions.
Our favourite Whale Watching operator, Naturaliste Charters, has a highly-rated whale watching tour that leaves from Augusta.
5. Whale Rescue Memorial
Davies Road, Town Beach, Flinders Bay
The Whale Rescue Memorial is a touching tribute to the remarkable efforts of the local community in saving stranded whales. The memorial shelter overlooks Flinders Bay and features four stainless steel, etched interpretive panels that remind us of the incredible bond between these magnificent creatures and the people who work tirelessly to protect them.
There is also a small plaque relating to the Orca rescue in July 1986, when 114 false killer whales stranded themselves on Augusta`s main beach. Hundreds of people worked day and night for 48 hours to save 96 by getting them back out to sea.
6. Augusta Beaches
The Margaret River region is home to some of the most scenic beaches in Australia. With pristine sands and crystal clear water, this coastline has it all, and it's not hard to see why people flock to this destination every year.
Hamelin Bay
My favourite beach near Augusta is Hamelin Bay, where friendly stingrays come up close in shallow waters. You can also fish off the beach, snorkel, dive, or hike one of the trails.
Read this article on things to do in Hamelin Bay for more information.
Grannys Pool
Granny's Pool, located near Flinders Bay Jetty, is great for families as rocks create a calm pool, breaking the southerly swells. Here you can snorkel, hunt for crabs, swim, or relax under the shade of a tree.
Cosy Corner
Cosy Corner is a beautiful coastal area off Caves Road, 17 km from Augusta. You can stop here on your way to/from Hamelin Bay. The sandy beach looked lovely, but the flies were dreadful (a very hot December), so we decided not to walk down.
There's a limestone platform left of the car park, with several blowholes that blow water up to 6 m high on rough days.
7. Augusta Fishing
Augusta offers a great estuary, beach, and offshore fishing spots.

Try your luck at catching black bream, trevally (skippy), and blue-spotted flathead at the Hardy Inlet, Blackwood, and Scott Rivers. Or head to Cosy Corner from late summer to autumn for herring and salmon.
In calm conditions, Skippy Rock is excellent for tailor, skippy, samson fish, and salmon from late summer to autumn. Pink snapper is in the deeper water offshore.
8. Hillview Lookout
This scenic Augusta lookout can be found along Hillview Road with 360° views across natural bush and farmland to the ocean. We weren't impressed with the views, but the drive through the forest was beautiful. It's worth a visit to get a perspective of the area.
9. Have a Drink at the Augusta Hotel
The Augusta Hotel is a popular gathering spot for locals and visitors. With its warm and inviting atmosphere, it's the perfect place to unwind after a day exploring the stunning natural surroundings of Augusta. The tavern offers a range of drinks, including local and imported beers, wines, and spirits, and delicious pub-style food.
The friendly staff and large outdoor area with views of the Blackwood River and East Augusta make this pub a perfect place to catch up with friends or relax after a busy day.
10. Visit Margaret River
Margaret River is only a thirty-minute drive from Augusta, making it ideal for exploring on a day trip. The area offers world-class wineries, trendy craft breweries, hikes through forests, thrilling mountain bike tracks, and stunning beaches.
Find out more about the area and what are the best things to do in Margaret River here.
Augusta Accommodation
Have you booked accommodation?

We use Booking.com for most accommodation bookings as they offer free cancellation on many properties and have a price match guarantee. We book through Stayz (part of VRBO) for private accommodation as we find it is often cheaper than Airbnb.

Tip: Accommodation gets booked quickly, especially during the WA school holidays. To avoid disappointment, book early.
Top 3 Best Pet-friendly accommodation in Augusta
1. Turner Brook
Turner Brook, a six-minute drive from Hamelin Bay, is on a working farm with pet animals that may be hand-fed, including cows, sheep, goats, and geese.
This three-bedroom house sleeps up to six guests and features air-conditioning, a private bathroom, a dining area, and a flat-screen TV.
Rating: 8.7
2. Country Comfort Cottage
Country Comfort Cottage is an adults-only retreat near Karridale. This cosy one-bedroom cottage has a wood fire to snuggle up in front of in the cooler months and a lovely outside verandah to watch the local wildlife. There's a kitchen with a small fridge, oven, and cooktop.
Rating: 5/5
3. Storm Bay View
Storm Bay View is a renovated 1950s beachfront cottage in Flinders Bay featuring a wrap-around verandah where you can enjoy the stunning view across the ocean to the marina.
There are two bedrooms, sleeping four guests, where you can fall asleep listening to the sound of the ocean. Small dogs are considered with prior approval.
Rating: 5/5
Top 3 Private Accommodation Augusta
1. Sapphire Chalets Augusta
Sapphire Chalets offer fully self-contained accommodation set on 80 acres. They feature a patio, two bedrooms, a dining area, a lounge, and a fully-equipped kitchen with a microwave and stovetop.
Rating: 5/5
2. Hamelin Bay "LinRiebie"
This air-conditioned holiday home is situated among two acres of karri forest and is only a two-minute drive to Hamelin Bay. There's enough parking for a car and a boat.
There are four bedrooms, two bathrooms, and an outdoor bush shower. The modern, fully equipped kitchen includes a dishwasher, coffee machine, and bread maker.
Keep warm in winter with a lovely wood burner and reverse cycle air conditioning.
Rating: 4.9
3. Augusta Sheoak Chalets
The native trees of Leeuwin Naturaliste National Park surround Family-friendly Augusta Sheoak Chalets on Hillview Road. There are three and four-bedroomed houses to choose from, which are suitable for large groups.
Each of these Augusta chalets has a log fireplace, a private patio with countryside views, and a fully equipped kitchen.
Rating: 9
Augusta Hotels & Motels
Baywatch Manor Augusta
The highly-rated Baywatch Manor offers excellent value accommodation in Augusta with a wide range of room options (including wheelchair accessibility). Some rooms have private bathrooms or access to shared male and female facilities.
Guests can use the shared kitchen, laundry, dining area, TV room, and BBQ.
There's heating in the building but no air conditioning.
Rating: 8.5
Augusta Houseboats
Blackwood River Houseboats have three houseboats that they rent out for a unique holiday experience, and you don't need a skipper's ticket to drive them.
Augusta Caravan Parks WA
Turner Holiday Park
Turner Holiday Park is my favourite caravan park in Augusta as it sits right on the banks of the Blackwood River, close to the river mouth. It's perfect for those who enjoy fishing, swimming, and kite or windsurfing.
The powered and unpowered campsites are suited for all campers, from tents to RVs.
If you want to stay here but don't want to camp, Turner Holiday Park offers a range of accommodation options, including three riverfront chalets, an all-access chalet and a two-bedroom chalet.
You often see pelicans and dolphins in the river and large stingrays (mainly in summer) that come in looking for fish scraps. Filleting tables are in the water, which is where you are most likely to see them (especially if being used!).
Dogs aren't permitted at this campsite.
Flinders Bay Holiday Park
Flinders Bay Holiday Park is on the beach and dog-friendly. It offers private powered and unpowered sites in a relaxed atmosphere.
Where is Augusta?
Augusta is a small town in Western Australia's South West, located in the Shire of Augusta-Margaret River.
Perth to Augusta
International and domestic visitors will fly into Perth Airport. Find details about visas, prohibited items, currency, and safety in this Australia Travel Guide and tips on arriving into WA and other essential travel information in this Western Australia Travel Guide.
There are car hire booths at Perth airport, but it's best to pre-book your car rental.

To compare Australia car hire prices, Discover Cars is an award-winning car rental comparison website. They offer competitive pricing in over 10,000 locations worldwide and are have a high rate of customer satisfaction.

Drivenow is a good resource to compare campervan hire in Western Australia as it includes all the large companies like Britz, Maui, Jucy as well as smaller ones.

Compare Rental Cars Here.

Perth to Augusta
You can drive from Perth to Augusta in just under four hours along the main highways.
TransWA runs buses from East Perth to Pemberton that stop in Augusta, taking around five and a half hours.
Margaret River to Augusta
Margaret River is 43 km from Augusta, taking around 35 minutes by car. It's a good place to stop from Augusta to Perth to pick up supplies for the journey back.
The only public transport option is the Trans WA bus that comes through Margaret River on the way to Pemberton, stopping in Augusta.
This bucket list road trip takes in the best of Western Australia's South West region and is a must for first-time visitors to WA.
See a detailed itinerary and plan your route today with tips on where to stay and what to do.
Augusta Weather & Forecast
Summer in Augusta, Western Australia, is usually milder than Perth, cooled by the southerly winds. The average maximum temperature is 23°C with minimums of 17°C. Flies can be a nuisance during warm weather!
Winter is generally wet but has warmer mornings than Perth, with maximum average temperatures of 16°C and minimums of 11°C.
The Bureau of Meteorology provides 7-day forecasts.
How Long to Stay in Augusta Australia
How long you stay in Augusta depends on your activity level. A long weekend is plenty if you want to explore the area. However, if you're going to fish, kayak, or have a relaxed family holiday, I'd recommend five days.
Augusta Restaurants
As Augusta is a small town, restaurants and food options are limited. Most places receive mixed reviews.
Try one of these restaurants/takeaways in Augusta:
Augusta Hotel – typical pub fare with lovely views over the Blackwood River
Augusta Fish & Chips (previously Blue Ocean) – our fish and chips were tasty
The Ragged Robin – we didn't eat here but looks cute
The Colour Patch – a popular place overlooking the inlet
Augusta Bakery – we enjoyed the jam doughnuts
Drive out to Karridale Tavern – a lovely pub for lunch
Augusta Shops
Augusta IGA
Augusta IGA is open seven days a week from 8 am to 6 pm for your shopping needs.
It's a Jem
It's a Jem is a cute gift shop worth a browse for any gifts or souvenirs.
You will need to drive into Margaret River for more shops, including Coles or Woolworths supermarkets.
Augusta History
I want to acknowledge the Traditional Owners of Country and recognise the continuing connection to land, water, and community. We pay our respect to Aboriginal and Torres Strait Islander cultures; and to Elders past and present.
At least 45,000 years before settlers arrived in Australia, this land was occupied by the Wadandi people.
Settlers first arrived on 2nd May, 1830 including Captain John Molloy, a Waterloo veteran, his wife Georgiana, James Woodward Turner, a London builder and surveyor, his wife Maria and seven children, John, Charles, Vernon and Alfred Bussell, and their one servant. However, crops failed, and the land was hard to clear, so the Bussells and Molloys left the area searching for better land.
Davies leveraged the abundant hardwoods in the area and set up sawmills in Coodardup, Karridale, Boranup, and Jarrahdene. The timber was exported through Flinders Bay and Hamelin Bay ports. He successfully established an international market for karri and jarrah hardwoods, with his hardwood paving blocks even being utilized on the streets of London.
Maurice Coleman Davies, a timber merchant, arrived in the 1870s and exploited the abundant hardwoods in the area. Sawmills were established in Coodardup, Karridale, Boranup, and Jarrahdene due to the timber industry growth. Timber was exported through Flinders Bay and Hamelin Bay ports. Davies successfully established an international market for karri and jarrah hardwoods, with his hardwood paving blocks being used on London streets.
In recent years, Augusta has become a hub for eco-tourism and outdoor recreation, with visitors enjoying its pristine beaches, lush forests, and abundant wildlife.
Where did Augusta get its Name?
Captain James Stirling named the town after Princess Augusta Sophia, King George III's daughter.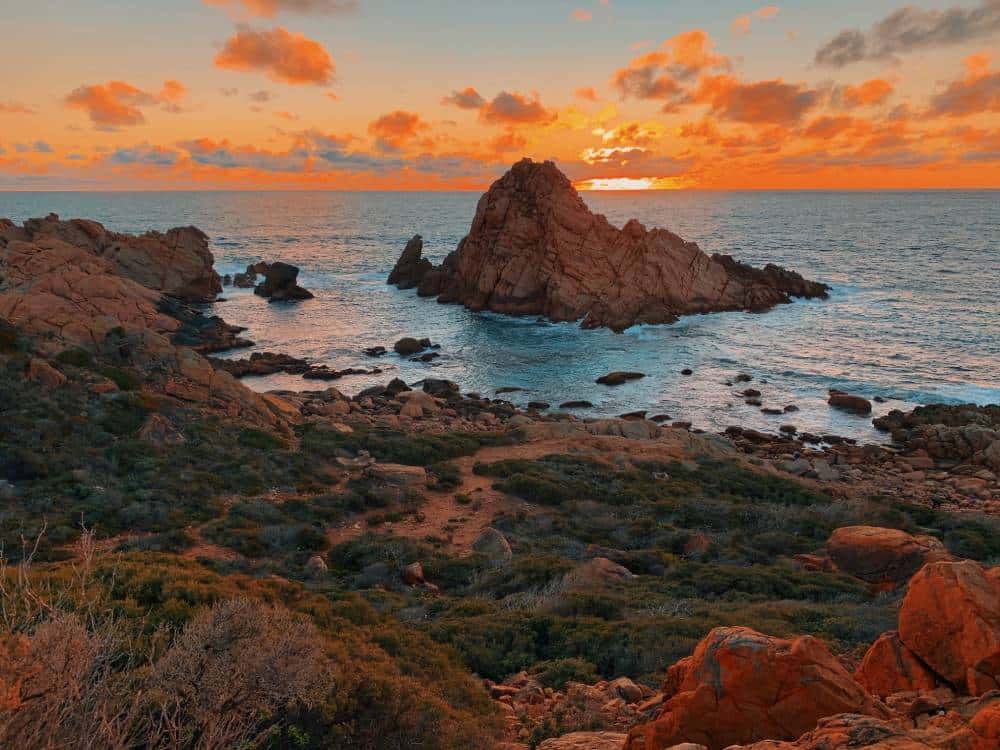 Western Australia's South West Travel Guide
This detailed travel guide provides information on all the regions that make up Australia's South West. Read about the destinations, including what to do and where to stay.



For other ideas on where to visit in Western Australia along with the best things to do, where to stay, how to get around, and other essential information, click on the link below.


Save Money Planning your Trip
Click on the links which will take you direct to the website.
Flights ✈️
We fly Virgin Australia domestically due to their competitive prices and fantastic customer service and fly with Qatar Airways to Europe.
Accommodation 🏩
We mainly use Booking.com for accommodation as they consistently have the lowest rates with free cancellation on most properties.
Car Rental 🚘
To compare rental car company prices, we use Discover Cars, an award winning car rental comparison website. They offer competitive pricing in over 10,000 locations worldwide and are highly-rated.
Campervan/RV Rental 🚐
Drivenow is a good resource to compare campervan hire in Western Australia as it includes all the large companies like Britz, Maui, Jucy as well as smaller ones.
Travel Insurance 🌏
Cover-More and Travel Insurance Direct are our preferred travel insurance companies for domestic and international travel.

See this Travel Insurance for Australia guide for more information.
FAQ
What oceans meet at Augusta?
The two oceans that meet at Augusta are the Indian Ocean and the Southern Ocean.
How many steps does Cape Leeuwin Lighthouse have?
Cape Leeuwin Lighthouse has 176 steps.
🤩 To Book Tours Direct with the Tour Operators, click the links in the box below
If you found this guide on things to do in Augusta helpful, please consider booking through one of our links. It won't cost you anything but will help towards the cost of running this site. Thank you.