Disclosure: This post may contain affiliate links (of which we use) so we may receive a small amount of commission if you buy something through them. As an Amazon Associate, I earn from qualifying purchases. You can read the full disclaimer here.
The name says it all. Jewel Cave is the largest show cave in Western Australia and my personal favourite in Australia's South West region. This cave is a popular tourist attraction and has become famous for its incredible and beautiful formations.
The only way to see this spectacular underground masterpiece is on a fully-guided one hour tour. Read on to learn more about the tour, where to get tickets, photos of inside Jewel Cave, and tips for your visit.
We booked our tickets through Get Your Guide as they were the same price as direct but offer free cancellation up to 24 hours in advance.
Jewel Cave Tour Review
Tours leave every half hour from 9.30 am to 3.30 pm and usually require at least two visitors. The hour-long tours are family-friendly, although it might be too long for very young children's attention span.
The Jewel Cave centre has a café, gift shop, toilets, and interpretive area detailing the cave's history, development, and conservation. Make sure to make use of the restrooms before your tour starts.
We met our friendly guide, Murray, by the glass doors and headed out for a quick safety briefing. Throughout the tour, he was informative and knowledgeable and explained all the important formations as we made our way around the three massive chambers.
As you enter the first chamber, the beauty strikes you immediately with the cave lit up in a golden glow, highlighting the intricate decorations that adorn the cave ceiling. You make your way along a wooden boardwalk and stairs to the first platform, where your guide explains the history of Jewel Cave. If you look up, you can see the Karri trees' tap roots trying to find moisture in the cave and the natural entrance hole formed from a decayed tree.
Some of the amazing geological formations you will see as you pass through the cave are:
the longest straw stalactite in an Australian show cave (5.43 metres long)
the frozen waterfall and organ pipes (beautiful examples of flowstone)
cave coral (showcased with lighting effects)
fossils
helictites
stalagmites
ribbon drapery (cave bacon)
pendulites
Your guide will explain what they are and how they formed.
Bones of the now extinct Tasmanian tiger (Thylacinus cynocephalus), which fell into the cave before the cave was discovered, can be seen in the centre. The skeleton you can see in the Jewel Casket (the lower part of the cave) is a Brush-tailed possum, dated to be 400-500 years old. At this point, look up and see how far down you are – almost 30m deep, meaning Leeuwin Lighthouse can almost fit into this cave!
Towards the end of the tour, all lights are turned off (including phones, etc.) so you get to experience a complete blackout and experience what it was like for the first explorers of the cave.
Despite having 500 stairs (250 down and 250 up), the platforms along the way stagger the descent and ascent. The cave has more CO2 than the air outside, which can cause you to feel breathless climbing the stairs on the way back up. Take your time and rest on the platforms if you feel out of breath.
The tour takes a loop around the three chambers, so you get to see different formations throughout the whole tour. The boardwalks make it easy to navigate, but parts on the return are narrow. You may need to duck your head a few times and squeeze through narrow parts, but it's all pretty easy.
At no point in the tour did we feel claustrophobic. On the contrary, the caves were huge, with plenty of room to move around.
As mentioned previously, this has been my favourite cave to date and well worth the cost of the tour.
Jewel Cave Booking
Tours get booked out, especially in peak times like school holidays, so I advise booking in advance. We booked through Get Your Guide as they offered free cancellation, so we could be refunded if we couldn't make it for any reason.
Jewel Cave Location
Jewel Cave is located off Caves Road, 12 km north of Augusta and 38 km south of Margaret River, in Deepdene.
Jewel Cave History
Jewel Cave is in an area known as the Leeuwin-Naturaliste Ridge, formed from coastal sand dunes when westerly winds along the coast blew beach sand, shells, and corals into huge sand dunes during the last million years. The sand cemented together to form limestone (Aeolian calcarenite) by the action of rainwater.
Data suggests that the limestone could be older than Middle Pleistocene (approximately 1 million years ago). A cave decoration from Jewel Cave, made from calcite, a crystalline form of calcium carbonate, was dated at 466,000 years old.
A "wind hole" was known back in the early 1900s but wasn't rediscovered until 1957, when Cliff Spackman and others found it. Cliff was lowered into the cave and descended 12m through a solution pipe into the chamber. Cliff, Lloyd Robinson, and Lex Bastian continued the exploration in February 1958, where they discovered more than 2 km of cave passages.
Jewel Cave opened to the public on the 26th December 1959 and was named after the Jewel Casket, a small chamber in the lower section of the cave.
Jewel Cave Tips
Wear closed in shoes for walking up and down the stairs
Use the toilet before the tour starts
The cave temperature can be cool so take a light jacket
Don't touch any of the cave formations and stick to the boardwalk
Take a walk around the spectacular karri forest before or after your Jewel Cave Tour
Other Caves in the Margaret River Region
Some other caves to visit in the Margaret River region are:
Other Things To Do in Augusta
Read this guide on things to do in Augusta for a full list of attractions in the area.

For other ideas on where to visit in Western Australia along with the best things to do, where to stay, how to get around, and other essential information, click on the link below.


FAQ
How long is the Jewel Cave Tour?
The fully-guided Jewel Cave Tour lasts an hour and is the only way to see this spectacular cave.
How much does it cost to get into Jewel Cave?
The cost to enter Jewel Cave is A$22.50 per adult, A$20 for a senior and A$11.50 per child (4 to 16 years old). This includes an hour fully guided tour which is the only way to view the cave.
How many stairs does Jewel Cave have?
Jewel Cave has a total of 500 stairs, 250 on the way down and 250 back up.
Is Jewel Cave self-guided?
No, Jewel Cave is not self-guided. The only way to view the cave is on a fully-guided tour.
How far underground is Jewel Cave?
Jewel Cave is 42 metres deep, with the floor being about 24 metres above sea level.
What's in Jewel Cave?
When you visit Jewel Cave, you will see the longest straw stalactite in any tourist cave in Australia, helictites, stalagmites, flowstones, fossils, and cave coral.
Lake Cave or Jewel Cave?
Lake Cave is beautiful (with reflections across the lake), but the enormous Jewel Cave has more geological formations to see and is better in my opinion. I also learnt more on the Jewel Cave Tour.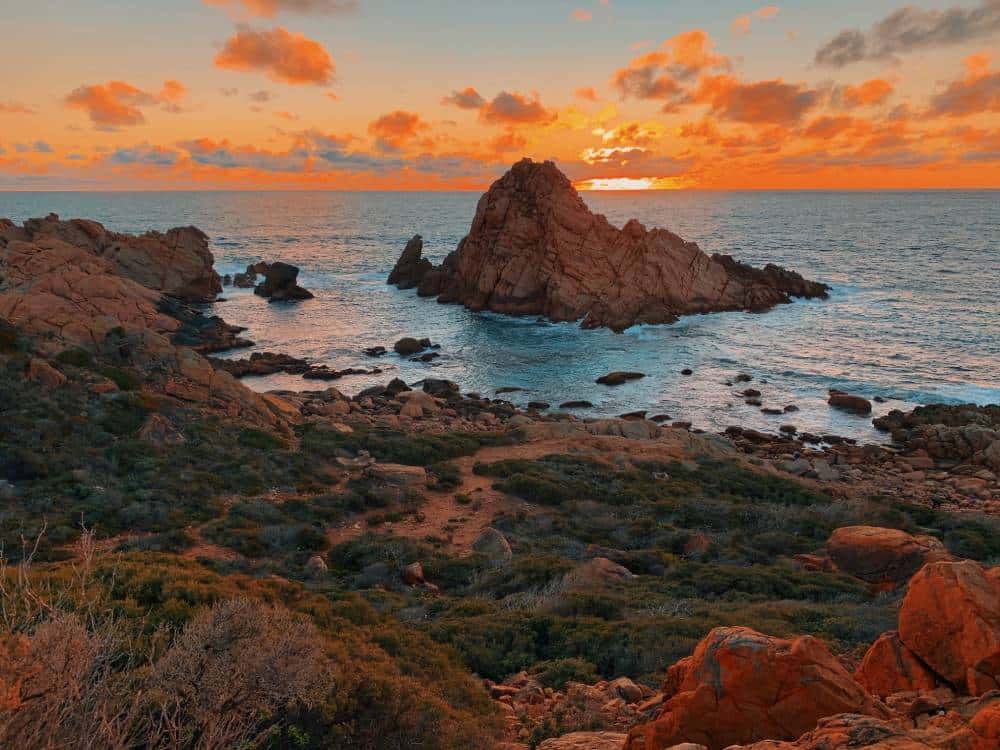 If you don't have much time to explore Australia's South West region, narrow it down with these Top 30 best things to do and places to see list.


This detailed travel guide provides information on all the regions that make up Australia's South West. Read about the destinations, including what to do and where to stay.


Save money planning your holiday
Click on the links which will take you direct to the website.
Flights: We use different sites to get the best possible price for flights. Check matrix.itasoftware.com to get an idea of the cheapest dates, but you can't book through this site. Compare the cost of flights with Kiwi.com and try different routes.
Travel Guides: As well as using online resources, like other travel blogs, I like to flick through a paper travel guide too. I either rent them from our local library or buy them from Bookdepository if I want to take it with me.

Accommodation: We mainly use Booking.com for accommodation as they consistently have the lowest rates with free cancellation on most properties. We also book through Stayz for private accommodation as they are usually cheaper than Airbnb.
Car Rental: To compare rental car company prices, we use Discover Cars, an award winning car rental comparison website. They offer competitive pricing in over 10,000 locations worldwide and are highly-rated. Another option is Rentalcars.com
Campervan Rental:Drivenow is a good resource to compare campervan hire in Western Australia as it includes all the large companies like Britz, Maui, Jucy as well as smaller ones.
Tours: We use third-party sites Viator, Get Your Guide & Klook due to their free cancellation policies, instant confirmation, price guarantees, and mobile ticketing. We occasionally book through Red Balloon too.
Travel Insurance: Cover-More protects the travel dreams and experiences of more than 15 million people worldwide every year (including us!). Part of Zurich Insurance Group, they cover 22 countries across five continents with leading positions in the USA, Australia, Brazil, Argentina, Ireland, India and New Zealand. Protect your trip against several COVID-19 scenarios during the current coronavirus pandemic. 
If you found this Jewel Cave Review helpful, please consider booking through one of our links. It won't cost you anything but will help towards the cost of running this site. Thank you .