Dunsborough Guide 2023 by Locals including the Best Things to do
Dunsborough is a great base to explore Cape Natualiste's pristine beaches, walking trails, and lighthouse. There are a variety of restaurants, cafes, and bars on your doorstep, with many of them family-friendly.
With its beautiful natural surroundings it's easy to see why Dunsborough would be on your list of places to visit in Western Australia.
The list of things to do in Dunsborough seems endless and has all of the ingredients for a perfect getaway. The South West region of Western Australia is like our second home as we have spent so much time there over the years.
🤩 To Book Tours Direct with the Tour Operators, click the links in the box below
Top 17 Things To Do in Dunsborough
Meelup Regional Park is an area of outstanding beauty that extends along the coastline from Dunsborough to Bunker Bay. The coastal drive along Eagle Bay Meelup Road is spectacular. The beaches along this stretch of coast are some of the best beaches in the world.
Whale season in Dunsborough is usually from early September until around November/December. Humpback Whale migration passes through Geographe Bay while the Southern Right Whales start to depart the area in October with their calves.
Late September to early November is the peak time to see these beautiful marine giants.
To see them from the mainland, head to Point Piquet on Cape Naturaliste. Whales swim through this deep channel daily and are often seen. We've seen them off the coast at Meelup Beach a couple of times too.
Of course, the best way to get up close to these spectacular marine giants is on an exciting whale watching cruise. On this boat ride, you may see dolphins, sea birds, and seals as well as whales. The cruise is on a big boat, with few passengers, for the best possible views with morning tea included.
Receive a complimentary Busselton jetty entry ticket for Busselton departures.
If you suffer from sea-sickness,  anti-nausea wristbands are available free of charge.
In the unlikely event of no whale sightings, you will be offered a complimentary repeat tour.
At present they are offering free cancellation where you can cancel up to 24 hours in advance to receive a full refund.
2. Meelup Beach
Meelup Beach is a sheltered bay that's great for swimming and also has a grassed area that provides some much-needed shade in the summer months. We have even spotted whales off the coast of this beach during whale season (we saw them in September). Facilities include BBQs, toilets, changing rooms, and showers. Read more about Meelup Beach.
3. Castle Rock Bay
Castle Rock Bay is just off Meelup Beach Road. The beach has beautiful white sand and calm waters in summer. If you look up the beach to the right, you will see Castle Rock. Walk along the beach or on the Meelup Trail to get up close to Castle Rock.
4. Point Picquet
Situated between Eagle Bay and Meelup, the narrow strip of white sand at Point Picquet comes and goes with the tide. The stunning red ochre rocks stand out against the white sand, turquoise water and green shrub, making it one of the most photographed locations in the area.
You can swim here but it does require some clambering to shore. Point Picquet isn't the best surfing spot but winter would be your best bet here.
5. Eagle Bay
Eagle Bay is another spectacular beach in Cape Naturaliste. The white sandy bay and crystal clear water of the Indian Ocean is mesmerising and is one of the best swimming beaches in the area. It's become the home for the wealthy with many Million Dollar mansions. Pop into Eagle Bay Brewery while you are here.
6. Bunker Bay
Bunker Bay is near the end of Cape Naturaliste and has the same soft sand as Eagle Bay and Meelup Beach. The sheltered bay is perfect for swimming, snorkeling, and fishing. Here you will find the luxury Bunker Bay Resort, a wonderful place to stay for families and couples alike.
7. Shelley Cove
Shelley Cove is at the far west end of Bunker Bay. This sandy beach is about 100 m wide but mostly rocky. It's not the best swimming beach but excellent for snorkeling and a photographers dream. If you're an early riser, catch the sun rising over the ocean here.
Located only 13km from Dunsborough, this beautiful lighthouse is one of the most popular attractions near Yallingup and worth a visit.
Cape Naturaliste Lighthouse was built in 1903 from limestone that was quarried from Bunker Bay. It sits at 123 metres above sea level at its highest point and has views of the Indian Ocean, Cape Naturaliste, Leeuwin-Naturaliste National Park and Geographe Bay. The light is 14 foot in diameter and made in England by Chance Brothers. The steps are made of Burmese teak and the fact they still remain shows what brilliant craftmanship they are.
Three lighthouse keepers lived in the quarters which you can see when you visit Cape Naturaliste Lighthouse. This lighthouse was the last one manned in on mainland Australia with the last keeper leaving in 1996.
The guided tour provides an informative talk on the history and functions of the lighthouse. The guide tells tales of the ships wrecked off this dangerous coastline and how hard it was being a lighthouse keeper. Even our daughters were intrigued by it all and listened intently.
There are 59 stairs to climb, but the views from up there are spectacular. Cape Naturaliste is the perfect vantage point for spotting whales on their annual migration so keep your eyes peeled.
There's a café on-site if you want a drink or snack and the manicured gardens are picturesque. There are walking trails that leave from here too.
I recommend booking in advance as it does get very busy and the tours get fully booked.
9. Canal Rocks
Here you will find a timber walkway that crosses the canal in between huge granite rocks. Once at the end of the boardwalk, the rocks can be carefully climbed for impressive views of the Indian ocean.
It is spectacular here at any time of the year. Summer brings the turquoise water and winter brings the storms and huge waves crashing onto the rocks.
We enjoy Canal Rocks in winter as it's amazing to see the power of the waves and hear the roar that they make.
Kids enjoy clambering over the rocks, but be careful, the ocean is treacherous. One of the best free things to do in Dunsborough.
10. Dunsborough Foreshore
The calm Geographe Bay is perfect for Stand Up Paddle boarding, canoeing, and other water sports. During summer, families enjoy the large swimming enclosure and pontoon as well as picnics on the grass. Dunsborough foreshore is not only child friendly but dog friendly too.
11. HMAS Swan Wreck Dive
The HMAS Swan DE 50, purposely sunk in 1997, is one of Australia's first sunken dive wrecks. This river class destroyer escort is 113m long, 12.5m wide and 22.5m tall with the upper deck at about 15 metres below the surface. You may see large western blue groper, blue morwong, dusky morwong, mulloway and samsonfish on the dive.
You need a permit from the Department of Environment and Conservation or the visitor centre to dive the HMAS Swan. The best time to dive this wreck is from mid-September to mid-May.
Dave dived the HMAS Swan with Cape Dive Dunsborough, who were amazing!!
12. Simmo's Ice Creamery, Dunsborough
Simmo's Ice Creamery is a must whenever we are in the Margaret River region. They have a playground, a large grassed area for kids to run around, toilet facilities, and picnic tables. Oh and did I mention the ice cream is amazing. Not just for kids, I can confirm that adults will love it here too!
Read: Simmo's Ice Creamery review.
Koomal Dreaming Tours, operated by Wadandi custodian Josh "Koomal" Whiteland, will introduce you to the world's oldest living culture. You get to experience the Wadandi and Bibbulman country through the eyes of the traditional owners of this land where you'll taste native foods, discover bush medicine, and meet the animals and plants.
The Wadandi and Bibbulman people of the Busselton, Dunsborough and Margaret River areas have walked this land for over 50,000 years and this is your opportunity to follow in their footsteps.
Josh recounts stories of the Dreamtime spirits that relate to his traditional area and shows his traditional fire lighting skills.
One tour takes visitors deep into Ngilgi Cave for a uniquely memorable didgeridoo cave experience.
Book direct with Koomal Dreaming Tours.
Yallingup Caves Rd, Yallingup WA 6282
14. Margaret River Chocolate Factory, Metricup
Even though we have a Margaret River Chocolate Factory in the Swan Valley in Perth, we still pop into the Margaret River Chocolate Factory when we are in the area.
The Margaret River store is the original factory, opened in 1999, and one of the most popular tourist destinations in Western Australia.
The girls (and us) love the free samples of chocolate plus there's a café with seating indoors and out. Children can watch the chocolates being made through the large viewing window. There's plenty of room outside for them to play while you enjoy a coffee.
This is a beautiful cave with coloured lights lighting up the stalagmites, stalactites, helictites, and shawls. There are quite a few stairs to negotiate but it's an easy walk along boardwalks once you are down.  Our kids loved the option of crawling through a small space and down a slide.
There are many tours on offer here but we chose the semi-guided tour of Ngilgi Caves, which begins by explaining about the cave and the Aboriginal history and beliefs of the cave. The rest of the time, you are able to explore at your own pace but there are guides around if you want to ask questions. There was also a crystal display when we were there that our girls enjoyed.
This is a great thing to do in Dunsborough when it's raining.
Read: Ngilgi Caves Tour Review
16. Visit Busselton
There's a lot of things to do in Busselton to keep you busy, including beautiful beaches, incredible wildlife experiences, fun attractions for families, romantic settings for couples, and the historic Busselton Jetty.
Read: Things to do in Busselton and Busselton Jetty Information plus Underwater Observatory Review
17. Visit one of the many Wineries or Breweries
Ok, let's be honest. My main reason for visiting the Margaret River region is for the wine. Luckily for us, lots of wineries and breweries cater very well for families and make life a lot easier.
Our post on Margaret River Family Friendly Breweries will give you some ideas on where to have lunch or just pop in for a drink.
This incredible seafood and sunset cruise is an excellent option for couples looking for a romantic thing to do in Dunsborough.
Step aboard a luxury boat for a 7-course gourmet meal with fine wines from Howard Park, which are served throughout the cruise.
As you enjoy an array of delicious WA seafoods, take in the spectacular coastline that this region is known for.
There's an option to go for a swim or snorkel or just relax on the deluxe vessel before heading back as the sunsets over the Indian Ocean.
Day Trips from Dunsborough
When we stay in Dunsborough, we always venture further afield in the Margaret River region. My recommendations for day trips from Dunsborough are to Yallingup and Margaret River. There's lots to do in these areas including the stunning Sugarloaf Rock, Mountain Bike tracks, Cape to Cape track, and beautiful beaches.
Read: Things to do in Yallingup and Things to do in Margaret River
Dunsborough Accommodation
There are plenty of options for accommodation in Dunsborough, although you should book well in advance as they book up quickly, especially in peak season. We have stayed in the following Dunsborough accommodation:
Ramada Resort by Wyndham Dunsborough – we've stayed here twice. The rooms are a little worn but are good value. A good option if you want to be close to the beach and have an onsite pool.
Cape Villas Dunsborough has been our favourite place to date. We've stayed in these villas a few times now and would book them again. They are new with everything you could possibly want. Even though it's off the main road, it is very quiet and an easy walk into town.
We booked this one through booking.com and the other one through Stayz. We found that Stayz had a larger choice than Airbnb and at a cheaper price. Read about our price comparisons on Cape Villas review.
For more ideas on where to stay, read this guide on the best accommodation in Dunsborough.
How to get to Dunsborough
International and domestic visitors will fly into Perth Airport. Find details about visas, prohibited items, currency, and safety in this Australia Travel Guide and tips on arriving into WA and other essential travel information in this Western Australia Travel Guide.
There are car hire booths at Perth airport, but it's best to pre-book your car rental.

To compare Australia car hire prices, Discover Cars is an award-winning car rental comparison website. They offer competitive pricing in over 10,000 locations worldwide and are have a high rate of customer satisfaction.

Drivenow is a good resource to compare campervan hire in Western Australia as it includes all the large companies like Britz, Maui, Jucy as well as smaller ones.

Compare Rental Cars Here.

Dunsborough takes 2 hours and 45 minutes to drive from Perth. Take Kwinana Freeway (State Route 2) and then Forrest Highway (State Route 1). At Bunbury, follow Bussell Highway and then signs to Dunsborough.
If you are visiting Western Australia, consider a Perth to Albany road trip or a Perth to Margaret River road trip. It's the best way to explore Australia's South West region.
Dunsborough Weather and Forecast
The hottest months are January and February, where the average highs are 28 degrees.
The coldest months are from July and August. During this time, the temperature will be around 16, with a minimum of 7.
The most rain falls between June and July, with January and February being the driest months.
See the detailed 7-day forecast at the Bureau of Meteorology.
The annual average water temperature in Dunsborough is about 19.5°C. The coldest time is winter and spring (around 18°C) and warmest is summer and autumn (21°C).
Brief History of Dunsborough
I would like to respectfully acknowledge the Noongar People, the Traditional Owners, and First People of these lands. I would like to pay my respect to the Elders past, present, and future, for they hold the memories, the traditions, the culture, and hopes of the Noongar People.
Dunsborough's original name is Quedjinup, which means 'Place of Women' in the local Aboriginal Wardandi (sea people) dialect. The Wardan Centre in Yallingup was opened as a place where local Wardandi Noongars can pass on and maintain cultural knowledge. 
European settlement in the Dunsborough area began as settlers travelled north from Augusta. Land was set aside for the town in the 1830s but Dunsborough was not gazetted until 1879.
Cape Naturaliste was built in 1903 to support the increased shipping traffic. A general store opened in 1925, followed by a bakery five years later.
The town became popular with surfers in the 1960s and the wine industry began to bloom in the 1980s. Today toursists flock to Dunsborough for its beautiful beaches, closeness to the Margaret River wine region, the fantastic surfing, and top quality restaurants.
Save Money Planning your Trip
Click on the links which will take you direct to the website.
Flights ✈️
We usually fly Virgin Australia domestically due to their competitive prices and fantastic customer service and fly with Qatar Airways to Europe.
Accommodation 🏩
We mainly use Booking.com for accommodation as they consistently have the lowest rates with free cancellation on most properties. We also book through Stayz for private accommodation as they are usually cheaper than Airbnb.
Car Rental 🚘
To compare rental car company prices, we use Discover Cars, an award winning car rental comparison website. They offer competitive pricing in over 10,000 locations worldwide and are highly-rated.
Campervan/RV Rental 🚐
Drivenow is a good resource to compare campervan hire in Western Australia as it includes all the large companies like Britz, Maui, Jucy as well as smaller ones.
Tours & Attractions 🎢
We book direct and use a mixture of third-party sites Viator, Get Your Guide & Klook due to their free cancellation policies, instant confirmation, price guarantees, and mobile ticketing.
Accessing Money 💵
We recently started using Wise to access funds internationally, including trips to Bali and Malaysia. They offer a debit card in 50 currencies and transfers are fast and free from hidden fees and exchange rate markups. Funds can be accessed through ATMs too. Wise has saved us a lot of money compared to our usual credit card and debit card.
Travel Insurance 🌏
Cover-More and Travel Insurance Direct are our preferred travel insurance companies for domestic and international travel.

See this Travel Insurance for Australia guide for more information.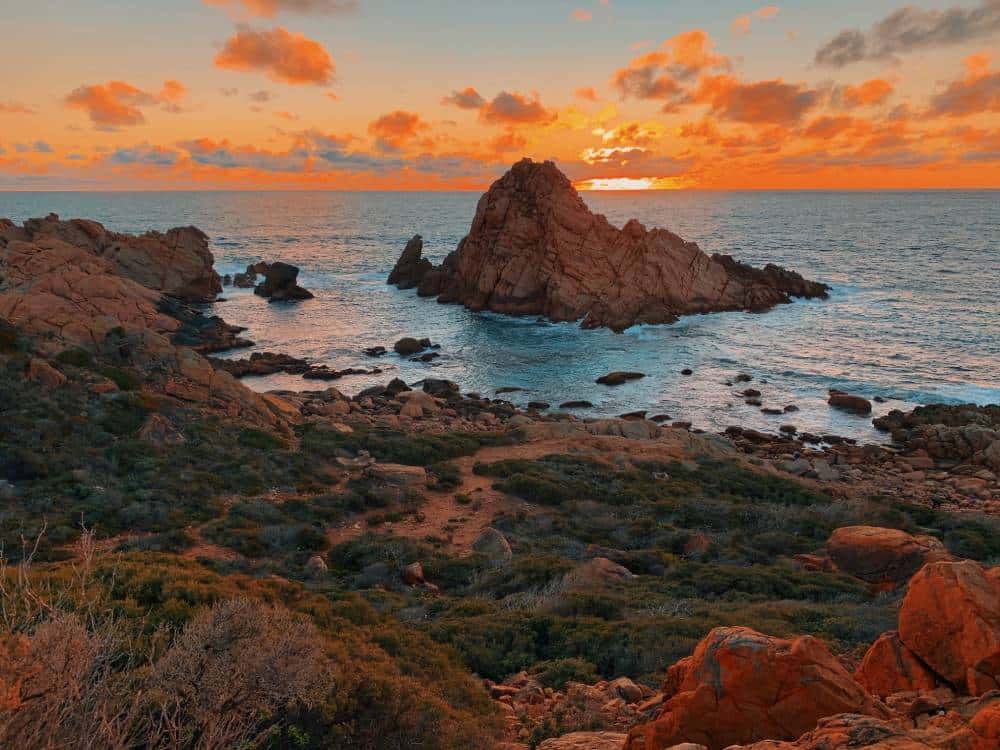 Western Australia's South West Travel Guide
This detailed travel guide provides information on all the regions that make up Australia's South West. Read about the destinations, including what to do and where to stay.



For other ideas on where to visit in Western Australia along with the best things to do, where to stay, how to get around, and other essential information, click on the link below.


If you found this guide on things to do in Dunsborough Western Australia helpful, please consider booking through one of our links. It won't cost you anything but will help towards the cost of running this site. Thank you.