The Best Beaches in the Margaret River region: a Locals Guide 2023
As Perth locals, we have visited Western Australia's South West numerous times over the years as part of a Perth to Margaret River road trip. This gives us an insight into the best beaches in the Margaret River region. Whether you want a family-friendly beach, the best surf breaks, a beautiful coastal walk, or an Instagram-worthy photo, this article contains our favourites.
Margaret River is predominately known for its world-class wine and gourmet food. However, the picturesque beaches here are some of the best in Western Australia, if not the whole of Australia. There are 130 pristine beaches in the Cape to Cape region.
The Best Beaches in the Margaret River region
This region is blessed with white sandy beaches and a turquoise blue ocean. Some bays are sheltered with calm water, while others are excellent surfing spots. We think the best beaches in the Margaret River region are:
Castle Bay & Castle Rock Beach
Meelup Beach
Point Piquet
Eagle Bay
Bunker Bay & Shelley Cove
Yallingup Beach
Smiths Beach
Injidup Natural Spa & Injidup Beach
Surfers Point
Margaret River Mouth & Prevelly Beach
Gnarabup Beach
Redgate Beach
Hamelin Bay Beach
The beaches in Geographe Bay are protected, making the blue waters calm and warmer. These bays are some of the most beautiful beaches in Western Australia.
1. Castle Bay & Castle Rock Beach
Castle Rock Beach is popular with photographers due to the rock formations of Sail Rock to the west and Castle Rock to the east. The granite rocks are particularly striking at sunrise, but late afternoon is also a good time to capture the rocks' colours changing from vibrant orange to red.
Castle Bay is a picturesque spot that makes it ideal for picnics and is less crowded than Meelup Beach (although it is now becoming more well-known and busier).
You can walk to Castle Rock Beach from Dunsborough in around 50 minutes, or it's a 5-minute drive.
The 500-metre walk to Meelup Beach is along the coastal track, passing by tiny beaches that hide behind granite rocks.
2. Meelup Beach
The next beach up the coast from Castle Bay is Meelup Beach. This stunning beach is one of the best in the Margaret River region and is very popular with families. Meelup is the best beach for children to go swimming as there are tiny waves and Surf Lifesavers patrol in summer.
Locals and tourists flock here due to its picturesque soft white sand and turquoise, calm waters. The shaded grassed area above the beach is perfect for a picnic, or you can use one of the free BBQs. The car park is close to the beach with clean public changing rooms, toilets, and showers.
For those who don't like sitting around, you can hire Stand Up Paddle Boards, kayaks, and bodyboards from Meelup Beach Hire. They also rent out beach volleyballs for use on the free nets and beach umbrellas to protect from the intense sun.
It can get crowded during the WA summer school holidays, so I advise securing a parking spot early.
People also come here to fish from the beach or moor their boats off the coast.
The sunsets are magical, and a wonderful place to spend a balmy summer evening. 
Meelup Beach Accommodation: Our favourite place to stay close to Meelup Beach is at Cape Villas in Dunsborough.
Read about our price comparisons on Cape Villas review.
3. Point Piquet
Point Piquet is another beautiful bay a little further up Eagle Bay-Meelup Road. This small beach only appears in summer when the tide changes; otherwise, it's more of a rocky cove. The water is sparkling clear and makes a stunning contrast against the orange granite rocks and the green coastal vegetation. Great for photographers. You may be able to spot whales from June to November. There's a car park at Point Piquet and toilets.
4. Eagle Bay
As you carry along this spectacular coastal drive, you reach Eagle Bay, located in Meelup Regional Park. This beach is also a favourite with families, offering safe swimming, a wide expanse of white sand, and rock pools to explore.
We like to visit Eagle Bay in the morning and then stop at Eagle Bay Brewery for lunch. This craft brewery gets jam-packed, so it's best to book ahead, especially in the summer.
The beer and wood-fired pizzas are great, plus a children's playground keeps the kids occupied.
Wise Wine is also close by, which has a beautiful restaurant with gorgeous views over the gardens and bay. Perfect for a romantic lunch or a girly afternoon.
Eagle Bay Accommodation: There are nearly 50 properties in Eagle bay on Stayz. Click here to view them.
5. Bunker Bay & Shelley Cove
Bunker Bay is 2 km of white sand on the Cape Naturaliste headland. It's a perfect swimming beach but also excellent for snorkelling, fishing, and surfing.
We enjoy having an early breakfast at Bunkers Beach House (aka Bunker Bay Café), then heading down to the beach.
A little further up the road is Shelley Cove. This sandy bay and rocky headland are among the most beautiful bays in the area. The water is crystal clear, and you can find good snorkelling on the reef and rocks off the beach.
Shelley Cove is one of the few north-facing beaches in Western Australia.
Near the Cape Naturaliste tip are three well-known surf spots: Quarries, Lighthouse, and Windmills. Head to Surf Forecast for the best times to surf here and surf conditions.
Bunker Bay Loop is a 3.6 km walking trail up to the Cape Naturaliste Lighthouse.
Read: Things to do in Dunsborough.
Bunker Bay Accommodation: We haven't stayed at the Pullman Bunker Bay Resort Margaret River, but it has been recommended to us by numerous friends who have loved staying there.
6. Yallingup Beach
The beaches on this side of the Margaret River region aren't as pretty as the Geographe Bay beaches, but they have their own special qualities.
Yallingup is my favourite suburb to stay in the Margaret River region. I like that it is mainly residential, and the views along the coast from the top road are jaw-dropping. My favourite view is as you turn the corner driving towards Yallingup. The view of the surf-battered coast and beach is mesmerising. We like to stop at one of the car parks to watch the surfers ride the huge waves.
It's an excellent option for families with a calm lagoon and a fantastic children's playground. The sparkling water in the lagoon makes it a great place to snorkel and look for marine life.
Yallingup Beach is also an excellent surfing spot and played an important part in the South West surfing history.
The last time we were in Yallingup, a mother whale and calf swam past us close to shore. It was first thing in the morning and made our day.
Read: Things to do in Yallingup
Yallingup Accommodation: Read this guide on the best Yallingup accommodation for tips on where to stay.
7. Smiths Beach
Smiths Beach is just down the coast from Yallingup, accessed via Caves Road and Canal Rocks Road.
Smiths Beach is a large, flat, sandy beach backed by rugged dunes. It's popular with surfers, and boogie boarders, with the Supertubes break being one of the best-known between Cape to Cape.
Smiths Beach Accommodation: Smiths Beach Resort features modern luxury apartments on the beachfront. See all the photos here.
8. Injidup Natural Spa
Injidup Natural Spa is not technically a beach but became famous on Instagram due to its beauty. The Injidup beach is found along a walking trail from the Injidup car park. Waves fall over this natural rock pool formation, forming a natural spa.
9. Surfers Point
Surfers Point is the number one surfing beach in the Margaret River region, with high-quality, consistent surf year-round. People have been visiting the area since 1958 to surf these incredible waves. Surfers Point is now home to the Margaret River Pro and Margaret River Surf Classic.
The biggest swells can be seen in winter and autumn.
Head here to watch the surfers riding some of the best Indian Ocean waves. Or if you want to try surfing, book a lesson with Margaret River Surf School.
🤩 See Prices & Availability of Surf Lessons Direct Here
10. Margaret River Mouth Beach
The Margaret River winds through the hills to the ocean but is usually cut off by a sand bar. Please pay attention to signs asking you not to dig the sand bar out as it causes a drop in the water level in the estuary, killing fish. Young children enjoy paddling in the river mouth.
11. Gnarabup Beach, Prevelly
This sandy beach is close to Margaret River and popular with families swimming, snorkelling, and fishing. The reef provides calm conditions for the little kids to swim or paddle, but it isn't patrolled, so take care in the ocean.
The lookout on the cliff provides spectacular views of the beach and river mouth.
If you visit Gnarabup Beach, try the delicious breakfast or lunch at the White Elephant Café. The food and coffee are excellent, and the views over the ocean are beautiful.
Read: Things to do in Margaret River
Margaret River Accommodation: Find out where we stay and our tips on the best accommodation in Margaret River here.
12. Redgate Beach
Redgate Beach is a beautiful sandy beach between rocky outcrops known for its surf break. However, conditions can change rapidly, and there are dangers of strong rips and large swells. People have lost their lives here, and the beach is unpatrolled, so please take care.
13. Hamelin Bay
South of Margaret River, not far from Augusta, is Hamelin Bay. If you are staying in Yallingup or Dunsborough, it's a long drive but you can combine it with a visit to one of the caves.
The main reason to visit Hamelin Bay is to see the stingrays that come close to shore. The best chance of seeing them is early morning when the water is calm. They hang around the boat ramp waiting for scraps from the fishing boats. If you stand there, they will come up to you. Just remember they are wild, so don't touch them.
There are some fantastic wreck dives for advanced divers and a lot to see when snorkelling.
The observation deck provides spectacular views over one of the best Margaret River beaches.
Read: Things to do in Hamelin Bay
Location and how to get to the Margaret River region
Margaret River is in the South West region of Western Australia.

International and domestic visitors will fly into Perth Airport. Find details about visas, prohibited items, currency, and safety on our Australia page.
There are car hire booths at Perth Airport, but it's best to pre-book your car rental.

To compare Australian car hire prices, Discover Cars is an award-winning car rental comparison website. They offer competitive pricing in over 10,000 locations worldwide and are highly rated.

DriveNow is a good resource to compare campervan hire in Western Australia. It includes all the large companies like Britz, Maui, & Jucy as well as smaller ones.

Compare Rental Cars Here.

Margaret River is a 3-hour drive along State Route 2, National Route 1, followed by State Route 10.
When to visit the best beaches in the Margaret River region
The hottest months are summer, December to February, where the average highs are 26/27 degrees. These are the best months to visit the Margaret River region beaches if you want to swim. However, this is the most popular time of year, so accommodation prices are at their highest.
March, April, and November have warm 22-25 degree days with minimums of around 11. These months are beautiful for walks along the beaches and coastal paths.
If travelling late spring to early summer, be prepared that flies can be annoying this time of year, particularly near bushland.
You may spot migrating whales from lookouts along the coast from June to November.
Wildflowers will be out from around August to November.
See the detailed 7-day forecast at the Bureau of Meteorology.
Beach Dangers in Western Australia
Let's be clear; many dangers face visitors to most beaches worldwide, not just in Western Australia. No tourist has been attacked by a shark in WA. Although they do happen, it is extremely rare. Sharks have attacked a few people each year, but over one hundred die from drowning over the same period.
Non-tropical marine stingers, such as the Bluebottle (physalia) or Hair Jelly (cyanea), are usually found south of Geraldton. Their stingers are not generally life-threatening but can cause discomfort if you get stung.
Tropical marine stingers, such as the Irukandji and Box Jellyfish (Chironex fleckeri), are considered dangerous, and caution must be used when entering the ocean during the 'marine stinger season', which generally runs from November to March. Find out how to treat stings on the HealthDirect site.
Rock fishing is enjoyed by many along the West Australian coastline. However, it can be dangerous, so follow these tips to stay safe.
The number one danger on Western Australian beaches are rips and, on average, are responsible for nineteen deaths annually. Read this guide from Surf Lifesaving on how to spot a rip and how to get out of one. It could save your life.
Stick to patrolled beaches, never swim/snorkel/surf alone, pay attention to the signs, and swim between the red and yellow flags.
For full information on beach dangers in WA, visit Surf Lifesaving.
Things to do in Margaret River
Find out more about the area and things to do in our full guide on things to do in Margaret River.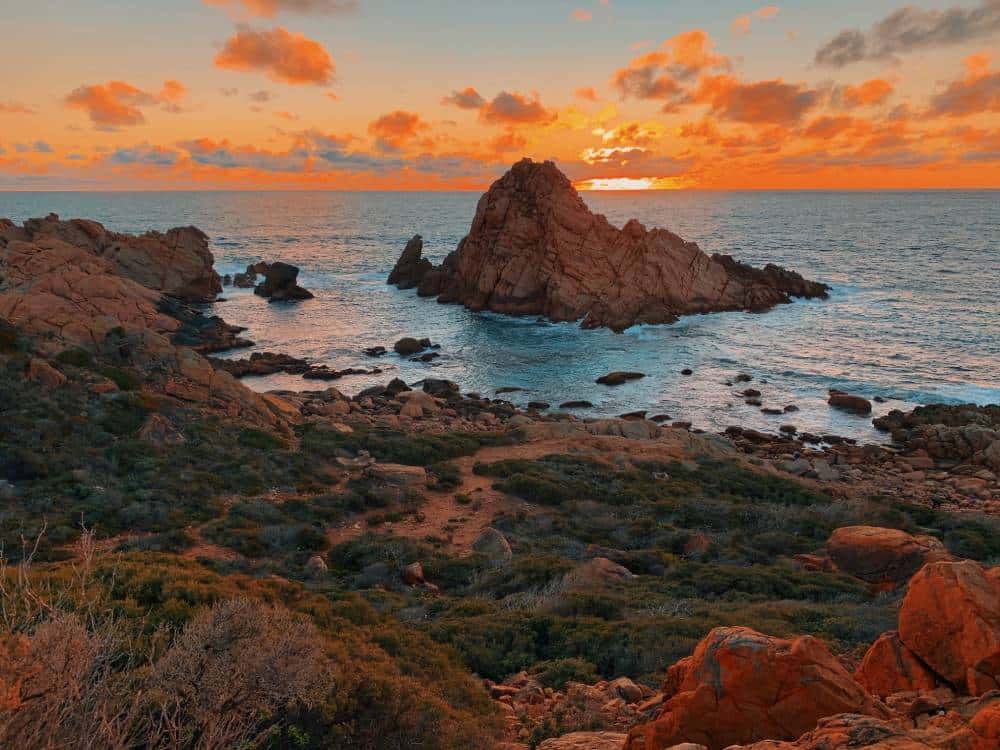 Western Australia's South West Travel Guide
This detailed travel guide provides information on all the regions that make up Australia's South West. Read about the destinations, including what to do and where to stay.



For other ideas on where to visit in Western Australia along with the best things to do, where to stay, how to get around, and other essential information, click on the link below.


Save Money Planning Your Trip
Click on the links, which will take you directly to the website.
Flights ✈️
We fly Virgin Australia domestically due to their competitive prices and fantastic customer service, and fly with Qatar Airways to Europe.
Accommodation 🏩
We mainly use Booking.com for accommodation as they consistently have the lowest rates with free cancellation on most properties.
For pet sitting in Western Australia and worldwide, we are members of Trusted Housesitters. Free accommodation for pet and house sitting.
Car Rental 🚘
To compare rental car company prices, we use Discover Cars, an award-winning car rental comparison website. They offer competitive pricing in over 10,000 locations worldwide and are highly rated.
Campervan/RV Rental 🚐
DriveNow is a good resource to compare campervan hire in Western Australia as it includes all the large companies like Britz, Maui, and Jucy as well as smaller ones.
Travel Insurance 🌏
Cover-More and Travel Insurance Direct are our preferred travel insurance companies for domestic and international travel.

See this Travel Insurance for Australia guide for more information.
Have you found a secret beach in Margaret River? Or what's your favourite beach in the region? let us know in the comments.
If you found this guide on the best beaches in the Margaret River region helpful, please consider booking through one of our links. It won't cost you any more but will help in keeping this site going. Thank you.