Top 11 Things To Do in Ferguson Valley 2023
The beautiful Ferguson Valley is perfect for a weekend away from Perth. From Wellington National Park to the quirky gnomes, it has something for everyone. There are lots of boutique wineries to choose from as well as craft breweries, and it's a fabulous foodie destination. The valley is picturesque, with winding roads, streams, and views of cattle grazing on the green rolling hills. Read on to find out all the best things to do in the Ferguson Valley.
The Top 11 things to do in the Ferguson Valley
1. Gnomesville
Community-driven Gnomesville is such a quirky place that it's a fun must-do in this region. In the middle of the bush, there are around 10,000 gnomes that call this place home. It's rumoured that Gnomesville began in the 1990s after a resident placed a single garden gnome in the hollow of a tree and now visitors bring their own gnomes to leave here. It's funny to see how creative they are, some with signs that have come from all over the world.
We took our gnome down with us and found the perfect spot for him to live. Don't forget to mark your gnome with your name and where you are from.
It's incredible that this has become such a major tourist attraction and is included in many local tours.
Gnomesville is located on the Eastern Junction Roundabout of Wellington Mill Road and Ferguson Road in Wellington Mill, surrounded by natural bushland.
2. Wellington National Park – Wellington Dam and Honeymoon Pool
Wellington National Park covers 17,000 hectares and consists of mainly Jarrah, Marri, and Blackbutt Forests. The Collie River runs through it, making it ideal for swimming, canoeing, and fishing. A word of warning, though, the water is freezing! Although I'm sure, it would be refreshing in the height of summer.
The bush walks are scenic, especially during wildflower season when you can see up to 300 different species. Keep a look out for the 70 different types of birds, including the endangered Carnaby's Black Cockatoo.
If you don't fancy walking, then there are also mountain bike trails running through the forest.
The King Jarrah tree also calls Wellington National Park home. This majestic jarrah tree is thought to be 300-500 years old and is around 36 metres tall. A wooden boardwalk leads to the tree and around it, allowing visitors to view the tree safely and protect the tree roots. The area around the King Jarrah Tree supports an abundance of small birds and mammals. In the early morning, you can see many species, such as the splendid fairy-wren, scarlet robin, grey fantail, inland thornbill, and golden whistler.
Honeymoon Pool is an idyllic place for a picnic or a barbeque. There are free gas barbeques, picnic tables, and universal access toilets in the nearby campground. It's the perfect area for families as kids can run freely (just be mindful of the water).
The views from the Wellington Dam Lookout are interesting, with views over the dam and Collie River Gorge. The dam is worth visiting to view the largest dam wall mural in the world, painted by Guido Van Helten.
Read this post for more information on Wellington National Park – it's one of the best free things to do in the Ferguson Valley.
3. Dardanup Heritage Park and Trail
Dardanup Heritage Park has a large collection of historic agricultural and industrial machinery, including trucks, cars, machinery and household items.
The 2.5km Dardanup Heritage Trail encompasses 15 heritage sites, including the first Catholic Church in Western Australia outside the metropolitan area.
4. Eaton Foreshore Walk – 5km return
Eaton Foreshore Walk meanders along the Collie River through attractive natural salt marsh vegetation. The southern side of the walk takes you through bushland with paperbarks, peppermint trees and sheoaks. Look out for the bottlenose dolphins that often frequent the river.
5. Crooked Brook Trails
Crooked Brook Forest offers four walk trails, including Forest Path, a sealed 600m loop ideal for spotting wildflowers. You'll also find a nature playground, picnic facilities including free gas barbecues, a picnic shelter and tables suitable for wheelchairs, wheelchair-accessible toilet facilities and information on local wildlife and plants, including life in the billabong. This walk is dog-friendly.
Crooked Brook Forest is located 25 km from the centre of Bunbury and 7 km from Dardanup, off Crooked Brook Road.
6. Wineries in the Ferguson Valley
I like nothing more than finding a new winery and indulging in some wine tasting, especially with a delicious cheese platter. The Fergie Valley has 20 vineyards and wineries producing awesome small-batch wines, with Talisman taking the Gold Perth Royal Wine Show award.
St Aiden Wines, a family-run winery, is located in the heart of the Geographe Wine Region. Their varieties include Chardonnay, Cabernet, Semillon, Sauvignon Blanc, Muscat, Malbec and Tempranillo, Merlot and soon Fiano. You can taste these at the cellar door for a small charge. St Aiden Winery is dog-friendly, selling dog treats with plenty of water bowls around.
Green Door Wines is a small boutique winery with incredible views from its cellar door. You'll notice the grand green door, imported from Morocco, with the Moorish theme of the winery matching the predominantly Spanish/European characteristics of the wines. There's a charge of A$3 pp for wine tasting, redeemable on any wine purchase.
Willow Bridge Estate is an impressive winery with a 5 red star James Halliday award. They continue to produce outstanding wines that represent exceptional value for money.
Ferguson Falls Winery is an ideal lunch spot with award-winning stone-baked American and Italian style gourmet pizzas and picturesque scenery.
Hackersley Estate was awarded "5 Star Winery" status by James Halliday in 2013 and now boasts a gold plate awarded restaurant to complement the quality wines.
7. Breweries in the Ferguson Valley
If wine isn't your thing, how about a craft brewery? They are trendy in Western Australia, and there are two close by – the Bush Shack Brewery and the Wild Bull Brewery.
Wild Bull Brewery is a family-friendly craft brewery serving food alongside its beers. I thoroughly enjoyed their Black Angus Porter (we didn't eat there as I'd read mixed reviews about the food), and the outlook is stunning over vineyards and rolling hills. However, it gets busy around lunchtime, so it is best to book ahead. This brewery is also dog-friendly.
Bush Shack Brewery (formerly Moody Cow Brewery) was booked out when we visited and, therefore, couldn't sample their menu or beers. Guess it's a good reason to return – I'd like to try their wheat beer (Dark Roast Wheat Beer 4%) and the Red ale (Yallingup Old 5.5%). We did look around; the food looked delicious and there was a fun and relaxed atmosphere. Dogs are allowed on the deck and they have a huge grass area for a walk. I would give this one a try; just book ahead (unlike us!).
8. Mountain Biking
Mount Lennard Mountain Bike Network, near Pile Road in the Wellington National Park, is a fun area of trails, mainly on a gentle slope. The most popular is the technical Grizzly trail, which weaves through the jarrah forest, providing experienced mountain bikers with obstacles, jumps, and berms.
9. Bunbury
Bunbury is only a 20-minute drive from the Ferguson Valley and has plenty of activities to keep you (and the little ones) occupied. First, head to the Bunbury Discovery Centre to try and see one of the bottlenose dolphins that frequent Koombana Bay. You can also visit the Interpretive Centre and go on a dolphin eco-cruise. While there, take a walk along the newly developed foreshore, then head to Victoria Street's cosmopolitan cappuccino strip for a coffee and bite to eat.
For a complete list, read this guide on things to do in Bunbury.
10. Collie
It will take you around 35 minutes to get to Collie, through some picturesque scenery. My favourite spot in Collie is Black Diamond Lake. If you visit on a sunny day, you will be rewarded with stunning turquoise-green water surrounded by nature. This lake is perfect for stand-up-paddle boarding or canoeing and makes a lovely spot for a picnic. Just take some chairs as there isn't any grass to sit on.
Check out this guide on more things to do in Collie.
11. Donnybrook
Donnybrook is 20 minutes from Ferguson Valley and a good option if you have kids.

Apple Park is Australia's biggest free entry fun park with play equipment for all ages. Older kids will enjoy the four-level towers with slides, rope bridges, flying foxes, low rock climbing walls, swings, a space net, and two 9.5 m towers. So, grab a coffee from across the road and watch your children happily play.
There are some good trails in Donnybrook too. For more information, read this guide on things to do in Donnybrook and Balingup.
Ferguson Valley Tourist Drive
The Ferguson Valley Drive is a great way to explore the area. See a copy of the Ferguson Valley brochure for the route and stops along the way.
Photography
There are an abundance of scenic views in the Ferguson Valley for the keen photographer. Some popular choices are:
View from Green Door Winery and Cafe
View from Pile Road
The gnomes at Gnomesville
The King Jarrah Tree
Early misty mornings on the rolling hills
Wildflowers in the Crooked Brook Forest
The stunning Splendid Fairy Wren
Wellington Dam Mural
Ferguson Valley Accommodation
We've stayed in the Ferguson Valley twice, once with extended family on a farm stay, and the other a weekend escape from Perth.
Ferguson Farmstay
Ferguson Farmstay is an excellent accommodation choice for families with young children. They have ten fully self-contained rustic chalets with scenic views over the surrounding countryside. If you stay at least two nights, farm activities are free, including animal feeding, a pony ride for children, and a tractor ride to the back of the property to feed the cows. Read this Ferguson Farmstay review for more information, along with photos.
Glen Mervyn Lodge
This charming farmhouse has four bedrooms and can sleep up to 12 guests. The fully equipped large kitchen overlooks the countryside with sweeping views across the valley, where you may see emus and kangaroos wandering past.
For more information and photos, read our Glen Mervyn Lodge review.
See up to date prices here
Have you booked accommodation?

We use Booking.com for most accommodation bookings as they offer free cancellation on many properties and have a price match guarantee. We book through Stayz (part of VRBO) for private accommodation as we find it is often cheaper than Airbnb.

Tip: Accommodation gets booked quickly, especially during the WA school holidays. To avoid disappointment, book early.
Camping in the Ferguson Valley region
If you want cheap bush camping, Wellington National Park has some beautiful spots:
Potters Gorge has lakeside camping for caravans, camper trailers, campervans and tents. There are no-flush pit toilets, free gas BBQs, picnic tables, and fire pits (only to be used seasonally).
Honeymoon Pool is well equipped with flushing toilets, free gas BBQs, picnic tables, and a fire pit per camping site. Tents only.
Stones Brook at Honeymoon Pool has flushing toilets, free gas BBQs, and picnic tables. Tents only.
Gelcoat Rapids is a quieter camping site offering no-flush pit toilets, picnic tables, and campfires (seasonally). Tents only.
You can book directly with the Department of Parks and Wildlife.
Stockton Lake (near Collie) also has a campground with toilets and camp fires are allowed seasonally in the designated concrete fire rings provided. It doesn't need reserving and operates on a first-come, first-served basis.
If you want a caravan park, Bunbury or Eaton are the best places to stay:
If you're looking for more accommodation options in Bunbury, check out this guide on the best Bunbury accommodation to find out where to stay.
Where is the Ferguson Valley?
The Ferguson Valley is in the Bunbury Geographe region of Western Australia's South West, 15 km from Bunbury.
How to get to the Ferguson Valley
International and domestic visitors will fly into Perth Airport. Find details about visas, prohibited items, currency, and safety in this Australia Travel Guide and tips on arriving into WA and other essential travel information in this Western Australia Travel Guide.
There are car hire booths at Perth Airport, but it's best to pre-book your car rental.

To compare Australian car hire prices, Discover Cars is an award-winning car rental comparison website. They offer competitive pricing in over 10,000 locations worldwide and are highly rated.

DriveNow is a good resource to compare campervan hire in Western Australia. It includes all the large companies like Britz, Maui, & Jucy as well as smaller ones.

Compare Rental Cars Here.

Perth to Ferguson Valley
It will take around 2 hours to drive the 175km from Perth to the Ferguson Valley. The easiest route is via the Kwinana Freeway and then State Forest Highway.
Bunbury to Ferguson Valley
Bunbury is only a 15-minute drive from the Ferguson Valley via Boyanup-Picton Road.
Ferguson Valley Weather, Forecast & When To Visit
January is the driest month in the Ferguson Valley, while July is the wettest.
January is also the warmest month, with an average max temperature of around 30 °C and a minimum of 13°C.
The coldest month is July, with an average maximum of 15°C and a low of 4°C.
The Ferguson Valley is a year-round destination, but I especially like it in winter or early spring when the fields are bright green and I can snuggle up in front of a log fire with a nice glass of local red wine.
See the Bureau of Met for an up to date 7-day forecast in the Ferguson Valley.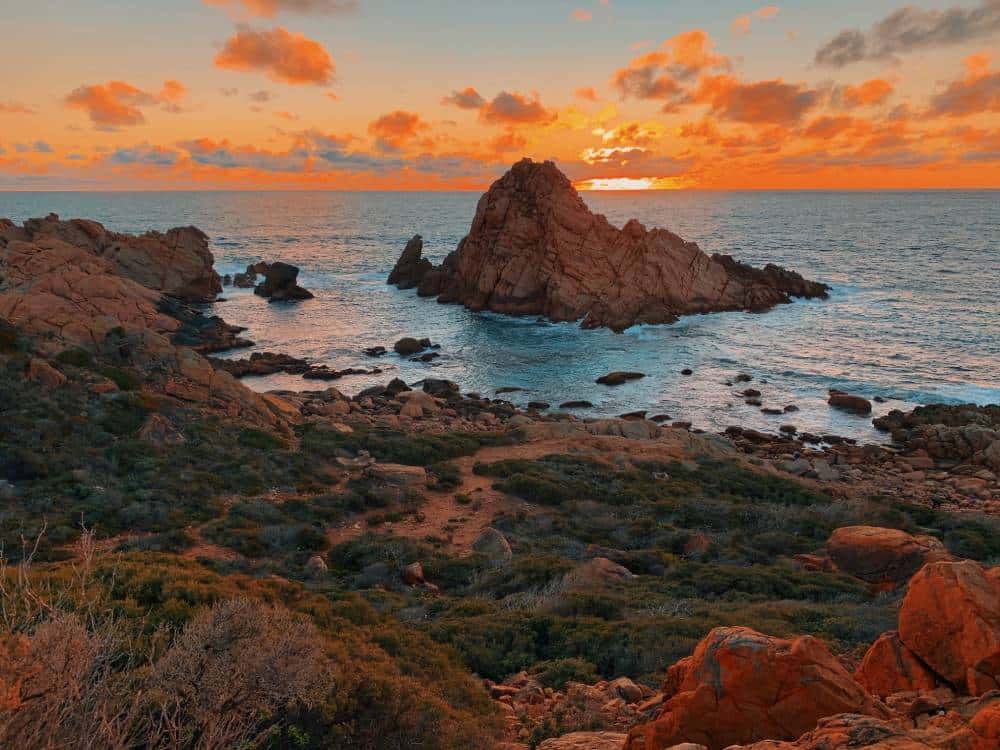 Western Australia's South West Travel Guide
This detailed travel guide provides information on all the regions that make up Australia's South West. Read about the destinations, including what to do and where to stay.



For other ideas on where to visit in Western Australia along with the best things to do, where to stay, how to get around, and other essential information, click on the link below.


Save Money Planning Your Trip
Click on the links, which will take you directly to the website.
Flights ✈️
We fly Virgin Australia domestically due to their competitive prices and fantastic customer service, and fly with Qatar Airways to Europe.
Accommodation 🏩
We mainly use Booking.com for accommodation as they consistently have the lowest rates with free cancellation on most properties.
For pet sitting in Western Australia and worldwide, we are members of Trusted Housesitters. Free accommodation for pet and house sitting.
Car Rental 🚘
To compare rental car company prices, we use Discover Cars, an award-winning car rental comparison website. They offer competitive pricing in over 10,000 locations worldwide and are highly rated.
Campervan/RV Rental 🚐
DriveNow is a good resource to compare campervan hire in Western Australia as it includes all the large companies like Britz, Maui, and Jucy as well as smaller ones.
Travel Insurance 🌏
Cover-More and Travel Insurance Direct are our preferred travel insurance companies for domestic and international travel.

See this Travel Insurance for Australia guide for more information.
If you found this guide on things to do in the Ferguson Valley helpful, please consider booking through one of our links. It won't cost you anything but will help towards the cost of running this site. Thank you.