Bunbury is a coastal port city in Western Australia's South West, located near the mouth of the Collie River. This town has much to offer for travellers looking for an enjoyable time with plenty of outdoor activities. For those looking to explore, many trails take you through wetlands and along the shores of the Indian Ocean. Read on for our top fun things to do in Bunbury and important travel information.
Disclosure: This post may contain affiliate links (of which we use) so we may receive a small amount of commission if you buy something through them. As an Amazon Associate, I earn from qualifying purchases. You can read the full disclaimer here.
Things to do in Bunbury Western Australia
Bunbury Dolphin Discovery Centre
Koombana Bay is home to around 100 to 150 wild bottlenose dolphins, which are regularly seen in the bay and surrounding waters.
Mrs. Evelyn Smith, a local resident, began feeding the dolphins in the mid-60s, but it wasn't until 1989 that Bunbury Dolphin Trust hired a dolphin specialist to continue this tradition.
The Interaction Zone was created in 1990, and the Dolphin Discovery Centre followed four years later. It's unknown why these dolphins keep coming back, but researchers think it's not just for the small amount of food they receive, as many don't get any fish. There's a board at the front of the building showing the times and dolphins that have shown up, which you can use as a guide to find the best time to visit. When we were there, it was around 8 am to 9 am. It's one of the best things to do in Bunbury for free.
The centre also runs the Marine Turtle Rescue & Rehabilitation Facility, the only one in the Southwest of Western Australia licensed by the Parks & Wildlife. Since its inception in the mid-'90s, they have successfully rehabilitated and released approximately 200 marine turtles. 
There are several experiences at the Dolphin Discovery Centre with the Interaction Zone, Interpretive Centre, Eco Cruise, and Dolphin Swim.
Interaction Zone
The Interaction Zone is a dedicated protected area for people and dolphins to interact overseen by volunteers. This is free, but the strict guidelines must be adhered to, and remember that it is illegal to touch any wildlife, including these dolphins.
Interpretive Centre
You will get an immersive experience by visiting the Interpretive Centre, which features interactive displays, has feeding programs, and showcases an extensive range of themed fish and coral aquariums. You can purchase tickets through Get Your Guide with free cancellation up to 24 hours in advance to receive a full refund for the same price as direct. However, if you want a family ticket, it is cheaper to buy online at Dolphin Discovery.
As an Advanced Eco-Tourism attraction, they do not have captive dolphins on display, but you can explore the wild dolphins of Koombana Bay with a guide to learn about their natural behaviours.
Dolphin Eco Cruise
A great way to see the wild dolphins is on this dolphin eco cruise, where you'll spend 90 minutes within Koombana Bay on a boat designed to get you as close as possible to the dolphins. The skipper and crew will introduce you to the local Bottlenose Dolphins as they interact in their natural environment.
Dolphin Swim Tour
Join this dolphin swim tour if you're up for adventure and want to get up close to the dolphins. An experienced guide and trained volunteers will accompany you as you venture into the open waters of the serene Koombana Bay.
Join this dolphin swim tour if you're up for adventure and want to get up close to the dolphins. An experienced guide and trained volunteers will accompany you as you venture into the open waters of the serene Koombana Bay. However, as they are wild animals, dolphin interaction cannot be guaranteed, but you get a second tour free if there are no dolphin sightings.
The Swim Tour season runs from November to April, with tours departing every day (except Tuesday) at 8 am.
Bunbury Foreshore
The new foreshore redevelopment in Bunbury has breathed new life into the waterfront from Koombana Bay to Casuarina Boat Harbour. Kids will enjoy the Koombana Foreshore Playground with the water play activities, climbing towers, and a zipline. You can grab a coffee at the Hello Summer Beach Kiosk and watch them play happily.
Take a walk over Koombana FootBridge, which is designed to resemble a ship's hull. On the ground are the names of the numerous shipwrecks in Koombana Bay.
You will see the new sculpture, Wardandi Boodja, representing the face of a Noongar elder and standing as a reminder that Noongar culture is vibrant and strong.
Bunbury Farmers Market
Bunbury Farmers Market is the place for fresh produce, much of it sourced from surrounding farms. In addition, you can choose from gourmet pies, delicious local and French cheeses, hand-pressed juices, fruit, vegetables, cured meats, baked goods, and a range of sauces, spices, and chutneys.
This indoor marketplace is a popular stop for people heading down south so they can stock up on all these goodies to compliment the Margaret River wines. Don't go thinking you'll be able to grab a bargain as it's a market, though, as it can be pretty pricey as the products are top quality.
Bunbury Museum and Heritage Centre
The state of the art Bunbury Museum and Heritage Centre is housed in the former 1886 Bunbury Boys School. It includes an extensive range of items relating to Bunbury's history along with audiovisual exhibits. Another free Bunbury attraction and great rainy day activity.
Bunbury Regional Art Gallery
The Bunbury Regional Art Gallery, housed in a former convent, is Western Australia's largest regional art gallery and hosts world-class exhibitions.
Bunbury's Street Art
Bunbury has the most extensive collection of street art in regional Australia. Download a copy of the map here and discover the incredible street art Bunbury has to offer.
Bunbury Wildlife Park & Big Swamp Parklands
One of the best things to do in Bunbury with kids is to visit the Bunbury Wildlife Park, where you can enjoy seeing some of the native animals along with two walk-through aviaries. Kangaroos can be hand-fed in a paddock with lots of native trees.
Inside the free-flight aviaries, birds will fly to you and take food from the palms of your hands. We always enjoy having a chat with the funny cockatoos and ask them to dance for us. Don't put your hand in their cages, though, as they can bite despite looking cute!
Allow about an hour to spend at this small zoo. If you're an Entertainment Cardmember, they currently have two-for-one admission (one per membership).
Bunbury Wildlife Park is an excellent spot for a picnic, and the Big Swamp Playground is close by. While here, take the Big Swamp Wetlands Walk, which meanders through the wetlands. Don't miss the beautiful Paperbark Walk.
Lena Ship Wreck Dive
The "Lena" is a purposely sunk wreck off the Bunbury coast that now attracts over 100 species of marine life, including humpback whales, turtles, skipjack, western blue devils, wobbegong and port jackson sharks, tuna, and dhufish. The boat was fishing illegally in Australian waters in the early 2000s. It was chased all the way to South Africa before she surrendered, being one of the most prolonged sea chases in maritime history.
The highly-rated open water Lena wreck dive is an easy swim-through with no silt and with excellent visibility.
Marlston Hill Lookout Tower
The walk up to the Marlston Hill Lookout Tower is short but steep and gives you a 360-degree view of the surrounding area and beyond. This former lighthouse has been converted into a viewing tower with panoramic views of Koombana Bay, Bunbury Harbour, and the hinterland. It can be very windy at the top, especially in the afternoon.
Other lookouts
Boulters Heights, between Haig Crescent and Wittenoom Street, is a challenging climb but offers incredible city views.
Koombana Park Lookout is the newest viewpoint overlooking Leschenault Inlet, Mangrove Cove, and Koombana Bay. The site also has a playground, seating areas, and barbecues.
Bunbury Lighthouse
You cannot access the Bunbury Lighthouse, but it can be viewed easily from the paths and Marlston Hill Lookout. The black and white checkered lighthouse is a popular Instagram photo location, especially at sunset.
Cultural Tour
Take this Ngalang Wongi Aboriginal Cultural Tour to learn about local Noongar guide Troy Bennell's Indigenous heritage and culture. Listen as he tells Dreamtime stories and the traditions of his family growing up.
Back Beach
Head to Back Beach for water activities, including bodyboarding, surfing, snorkelling, swimming, and fishing. If you'd prefer to keep dry, the coastal path is great for walking, running, or cycling. You can hire bikes from Melo Velo.
Mangrove Walk
If you're a nature lover, then you will enjoy the Mangrove Walk around the Leschenault Estuary, which takes you through Western Australia's southern-most mangroves. These wetlands are a favourite breeding spot of the Black Swan and have over 70 bird species living there.
Wyalup Rocky Point
The 130 million-year-old Basalt Rock of Wyalup Rocky Point is of high cultural importance to the local Indigenous people. Wyalup means 'place of mourning' due to the area previously being a Noongar burial ground.
Take in the views from the beach lookout, and the playground will keep the kids occupied while you relax watching the sunset. There are also BBQ facilities here.
Dine or Drink out
Bunbury has improved massively over the years and now has many small bars, intimate wine bars, pubs, cafes, and restaurants to choose from. If you're after coffee, head to Victoria Street's cosmopolitan cappuccino strip.
Try the refurbished Rose Hotel, Nicolas Ristorante, Lost Bills, or visit Cuprum Distillery's cellar door to pick up some truffle gin, coffee liqueur, or other incredible spirits sourced from local botanicals.
Bike Ride
There are two child-friendly bike rides around Bunbury – the Leschenault Inlet Loop and the Big Swamp Wetlands.
The Leschenault Inlet Loop is a 5 km ride around the inner inlet that starts and ends at Koombana Beach.
The purpose-built cycle track around the Big Swamp Wetlands is about 3-4 km and a great option for younger kids.
Dog Friendly Walks
There are a few walks you can take your dog on, including forest and waterside.
The Maidens 1.8 km
This walk in South Bunbury takes you along crushed limestone paths through the sand dunes in the Maidens Reserve. Along the way, you can stop at the lookouts for sweeping views of the ocean and city.
Manea Park 2.3 km
Manea Park is an excellent place to view the beautiful wildflowers in spring. It is also a fantastic bush reserve that supports several threatened species, including the forest red-tailed black cockatoo and both native species of white-tailed black cockatoo.
Leschenault Inlet Circuit 5 km
This popular walk winds around Leschenault Inlet, home to the southern-most mangroves in Western Australia. Read the signs that have been installed, made out of timber recycled from the old jetty and the former Koombana rail bridge.
Big Swamp Wetlands 3.5 km
To protect the wildlife (there are over 60 species of birds), dogs are limited to the outer path. Across the road, there is a off-lead exercise area.
Back Beach
Take a walk along the dual use path and stop at one of the two dog exercise beaches along the way.
Bunbury Visitor Centre
We usually stop at Visitor Centres to pick up free maps of the area, so pop in and see the friendly guides at the Bunbury Visitor Centre.
Bunbury Accommodation
Bunbury has many accommodation options, including hotels, motels, beachfront accommodation, caravan parks, self-contained apartments, and private rentals.
How to get to Bunbury from Perth
International and domestic visitors will fly into Perth Airport. Find details about visas, prohibited items, currency, and safety in this Australia Travel Guide and tips on arriving into WA and other essential travel information in this Western Australia Travel Guide.
There are car hire booths at Perth airport, but it's best to pre-book your car rental. Choose from Avis, Budget, Europcar, Sixt, Hertz, Enterprise, and Thrifty.
To compare rental car company prices, I use Discover Cars, an award-winning car rental comparison website. They offer competitive pricing in over 10,000 locations worldwide and are have a high rate of customer satisfaction.
Drivenow is a good resource to compare campervan hire in Western Australia as it includes all the large companies like Britz, Maui, Jucy as well as smaller ones.
You can get from Perth to Bunbury by train, bus or car.
Perth to Bunbury by car
The quickest way to get to Bunbury from Perth is by car, which will take about an hour and 50 minutes. You can make it part of a South West Road Trip from Perth to Albany.
Perth to Bunbury by train
Trains runs twice daily between Perth Station and Bunbury Station, taking two and a half hours. Tickets on the Australind train are around A$34.20 one way.
Perth to Bunbury by bus
TransWA run coach services between East Perth and Bunbury, taking between two and a half and three hours, depending on the route.
South West Coach Lines runs daily services from Perth to Bunbury, taking about three hours. Tickets cost approximately A$58 one way.
Bunbury Weather & Forecast
February is the driest month, while July is the wettest. 
February is also the warmest month, with an average max temperature of around 30 °C and a minimum of 16°C.
The coldest month in Bunbury is July, with an average maximum of 17°C and low of 7°C.  
The ocean is warmest in March (22.2°C) and coldest in September (17.9°C).
If you want to visit the beach, or swim with the dolphins, summer is the best time to visit Bunbury. However, it can be too hot for walks. The shoulder seasons of spring and autumn can be a lovely time of year with sunny days and cooler nights.
See the Bureau of Met for an up to date 7-day forecast in Bunbury.
Bunbury Events
There seems to be always something happening in Bunbury. See Bunbury Geographe Visitor Centre for a full list of events.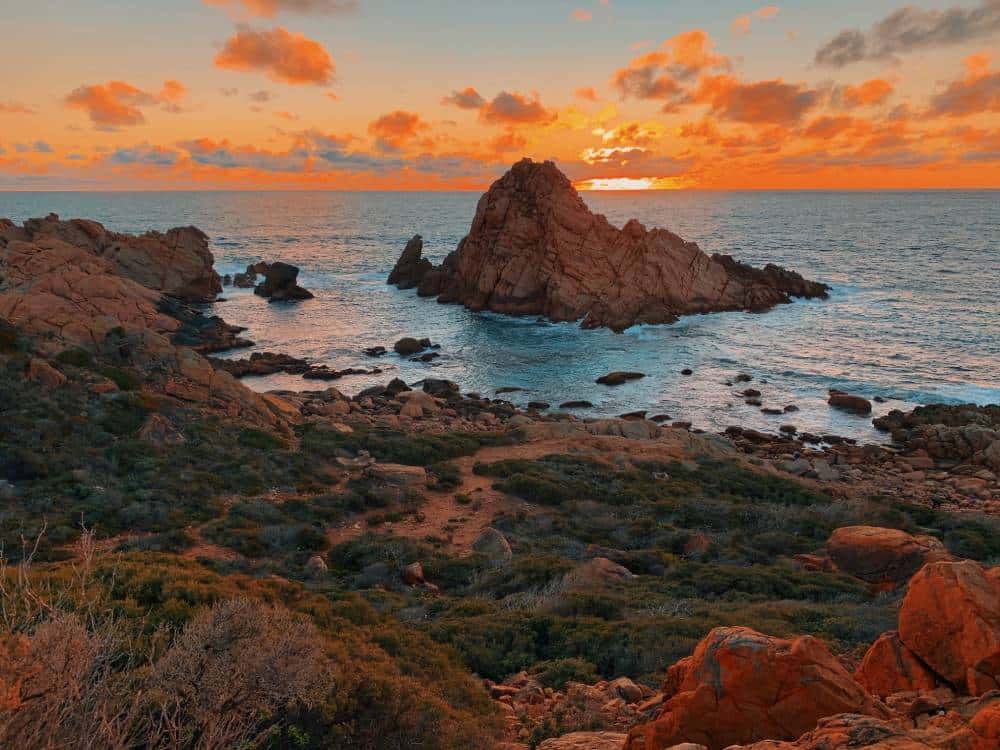 Western Australia's South West Travel Guide
This detailed travel guide provides information on all the regions that make up Australia's South West. Read about the destinations, including what to do and where to stay.


Bunbury History
The Bunbury area was originally known as "Goomburrup" before the arrival of settlers.
The town was first settled in 1838 and was named in recognition of Lieutenant Henry William St Pierre Bunbury, who developed the problematic inland route from Pinjarra to Bunbury.
By 1842, Bunbury had 16 buildings, and a port serviced the local industries, including timber. Railway lines in 1891 and 1893 increased the port's importance, exporting Karri and Jarrah wood to England.
Bunbury became a city in October 1979.

For other ideas on where to visit in Western Australia along with the best things to do, where to stay, how to get around, and other essential information, click on the link below.


Save money planning your holiday
Flights: We use different sites to get the best possible price for flights. Check matrix.itasoftware.com to get an idea of the cheapest dates, but you can't book through this site. Compare the cost of flights with Kiwi.com and try different routes.

Accommodation: We mainly use Booking.com for accommodation as they consistently have the lowest rates with free cancellation on most properties. We also book through Stayz for private accommodation as they are usually cheaper than Airbnb.
Car Rental: To compare rental car company prices, we use Discover Cars, an award winning car rental comparison website. They offer competitive pricing in over 10,000 locations worldwide and are highly-rated.
Campervan Rental:Drivenow is a good resource to compare campervan hire in Western Australia as it includes all the large companies like Britz, Maui, Jucy as well as smaller ones.
Tours: We use third-party sites Viator, Get Your Guide & Klook due to their free cancellation policies, instant confirmation, price guarantees, and mobile ticketing. We occasionally book through Red Balloon too.
Mobile: Telstra has the best coverage in Western Australia. We buy our sims through Boost who provide 4G/4GX coverage on full Telstra 4G Mobile Network. With up to 82GB for 28 days or 240GB for 12 months, unlimited national calls & text, and international inclusions on selected plans, you're sure to find the right prepaid SIM for you. See plans here.
Travel Insurance: Cover-More protects the travel dreams and experiences of more than 15 million people worldwide every year (including us!). Part of Zurich Insurance Group, they cover 22 countries across five continents with leading positions in the USA, Australia, Brazil, Argentina, Ireland, India and New Zealand. Protect your trip against several COVID-19 scenarios during the current coronavirus pandemic. 
FAQ
What are the best things to do in Bunbury?
The best things to do in Bunbury are:
Dolphin Eco-Cruise
Visit the Dolphin Discovery Centre
Enjoy watersports or relaxing on one of the beaches
Take the Mangrove Walk to see over 70 species of birds
Learn about the local Aboriginal culture on a Ngalang Wongi Aboriginal Cultural Tour
Dive or snorkel the Lena Dive Wreck
What is the population of Bunbury?
Bunbury is the state's third-most populous city after Perth and Mandurah, with a population of 71,090, according to the 2016 census.
We hope you found this guide on things to do in Bunbury useful. If you have any questions, feel free to email me or leave a comment below. Have you already visited Bunbury? What did you think? Let me know below.
Please consider using our links to book any accommodation or tours as this won't cost you any extra, but we receive a few cents, which helps in the cost of running this site. Thank you.