The Best Margaret River Brewery 2023 Guide by a Local
Looking for the best breweries in Margaret River? As Perth locals, we visit this region several times a year on a Perth to Margaret River road trip with our family and enjoy visiting the local breweries for lunch.
Find out what we think of the breweries in the Margaret River region.
Our Review of Family Friendly Breweries in Margaret River
The Margaret River region in Western Australia's South West might be well known for its wine but it is now becoming a great destination for craft beer lovers, having the highest concentration of microbreweries in the state.
These family-friendly breweries are perfect when you just want to chill with a beer, have some delicious food, and let the kids have fun in the playground or grassed areas. There's even a Craft Beer Trail which takes you to eleven breweries, although I feel that's a bit much for one day. We prefer to pick one for lunch and relax there.
Cheeky Monkey Brewery & Cidery
Cheeky Monkey Brewery and Cidery gets busy during peak season and it can be hard to find a table. Therefore, I suggest booking in advance (sittings are for 1 hour and 45 minutes only).
We usually get pizzas for us to share, but they have kids meals which include an activity pack. The food is typical pub fare with cheeseburgers, fish and chips, steak sandwich, and pasta being some of the items on the menu.
Your children will love the playground which is fenced in. It's a picturesque spot with views of the surrounding countryside and dam (be careful with small children). You can sit outside on one of the many picnic tables while the kids play on the grass.
In winter, the inside fireplace and brick and glass interior makes it cozy. The high timber tables are perfect for extended families or groups of friends.
The Margaret River Ultra Marathon (which Dave takes part in every year) finishes at this brewery.
Cheeky Monkey is open Monday to Thursday 10 am – 5 pm and Friday to Sunday 11 am – 6 pm.
Bootleg Brewery
Update 2022 – I wouldn't recommend Bootleg Brewery to families any more. It appears to cater more for tour groups, hens and stag parties, and large groups of youngsters. The food has gone downhill and it's not a nice environment for children to be around. It's a shame as we have spent many afternoons here, playing the games, and enjoying a beer or two.
Bootleg Brewery is the Margaret River region's original brewery, opening in 1994. It has it all – good food, great beer, scenic views of the lake, a kids menu, children's playground and games. We particularly loved playing the giant Jenga, as you can see from this photo. An alfresco area provides shade and there are some tables near the playground. There's a lot of open space for the kids to run around and it's dog-friendly.
Be mindful if you have small children that the lake is not fenced.
Bootleg Brewery is open Wednesday to Sunday 11 am to 5 pm and the restaurant is open from 11 am.
Colonial Brewing Co
Update 2022: On our last visit, we weren't that impressed with the service or food.
This family-friendly brewery has a sun-protected playground, huge grassed area, and various sports equipment to keep the kids occupied. The food is great and includes a kids menu. On the weekends, there's sometimes a live band, which adds to the atmosphere.
Colonial Brewing Co is open from 12 pm to 5.30 pm and until 9 pm on Fridays.
Cowaramup Brewing Co
This family-owned micro brewery, which opened in 2006, has scenic views, a kids playground, and a lovely grassed area.
Cowaramup Brewing Co have a range of handcrafted ales, lagers, and local wines. Their menu consists of food like pizza, burgers, fish & chips, and salads. The kids menu is small with the option of fish & chips or ham & cheese pizza. We haven't eaten here yet but the beer tasting paddle was great (really liked the wheat beer).
The name Cowaramup derives from the native name for the purple crowned lorikeet, Cowara, which is featured on their logo.
When we visited (after lunch), it was peaceful with plenty of tables. However, it could be busy around lunch.
Margaret River Brewhouse
This Margaret River micro brewery, which opened in January 2016, is co-owned by three families. Margaret River Brewhouse started as a dream of a place where families could hang out and locals could walk to. Two of the owners gave up their jobs and recruited chef Aaron Brown to join them. It has gone from strength to strength due to their delicious food and excellent beer.
The setting is relaxed, dog-friendly, and there's a small playground and sandpit for the kids. The shaded timber decking overlooks the lawn where there are more tables.
There are plenty of craft beers to choose from including the regulars like kolsch, pale ale, stout, IPA, brown ale, lager, and ginger beer. There are an additional sixteen beers that are seasonal.
This is one of our favourites; the food is delicious and great value, the atmosphere is lively, and the beers are great (IPA and Brown Ale were standouts for me). The duck curry was cooked to perfection and full of flavour.
Open seven days a week from 11 am to 9 pm.
The Beer Farm
The Beer Farm was previously a dairy farm so it's got a rustic feel to it and has a cool vibe. The brewery is built on 80 acres of farmland with the hay shed now a bar area.
Everyone is welcome here, including children and dogs. There's not a playground but your kids can have fun on the slip and slide every weekend (11 am to 2 pm).
Booking are recommended and are for an hour & forty-five minutes.
Open Sunday to Thursday 11 am – 6 pm, Friday 11 am – 9 pm and Saturday 11 am – 7 pm.
Eagle Bay Brewing Co
Eagle Bay Brewing Co is a family owned brewery set on a 66-year-old working farm. The outdoor area has stunning views and a great place to enjoy their handcrafted beers and wines.
The lunch menu has sharing options, wood-fired pizzas, and a variety of mains. There are vegetarian, gluten-free, and nut-free options.
There's a playground and plenty of room for the kids to run around. The kids menu has a choice of mac & cheese, fish & chips with salad, or kids pizza.
Open daily 11 am to 5 pm. Bookings are recommended.
Wild Hop Brewing Co
Wild Hop Brewing Co is a family owned micro brewery in the heart of the Margaret River Region. This boutique brewery crafts some amazing beers that are only available at their brewpub, or in kegs at some venues or growler fill bottle-shops in Western Australia. Due to the fact that they batch brew, meaning that each batch is different, the tap list changes on a regular basis.
You can create your own beer tasting paddle like we did. It cost A$16 for four beers – I chose the Not Nearly Pale Black IPA, Flavoured David Red IPA, Nala Raspberry Porter, and Relentless Absurdity Dry Hopped Saison. I enjoyed and recommend them all although the Red IPA slightly pipped the rest as my favourite.
Unfortunately, we didn't have a good experience with our food but friends have enjoyed it here. Maybe we were just unlucky with our choice of dish (we both had the Pulled Pork Brewers Buns) as the meat was watery and didn't have any taste). However, their whole rotisserie chicken seemed a popular choice so we may try that next time.
Tours
Drivers must have a blood alcohol limit of 0.05 or less in Australia so consider a tour like this one. Nobody has to be a designated driver and you can all enjoy the craft beers at these incredible breweries.
Other Things To Do in The Margaret River region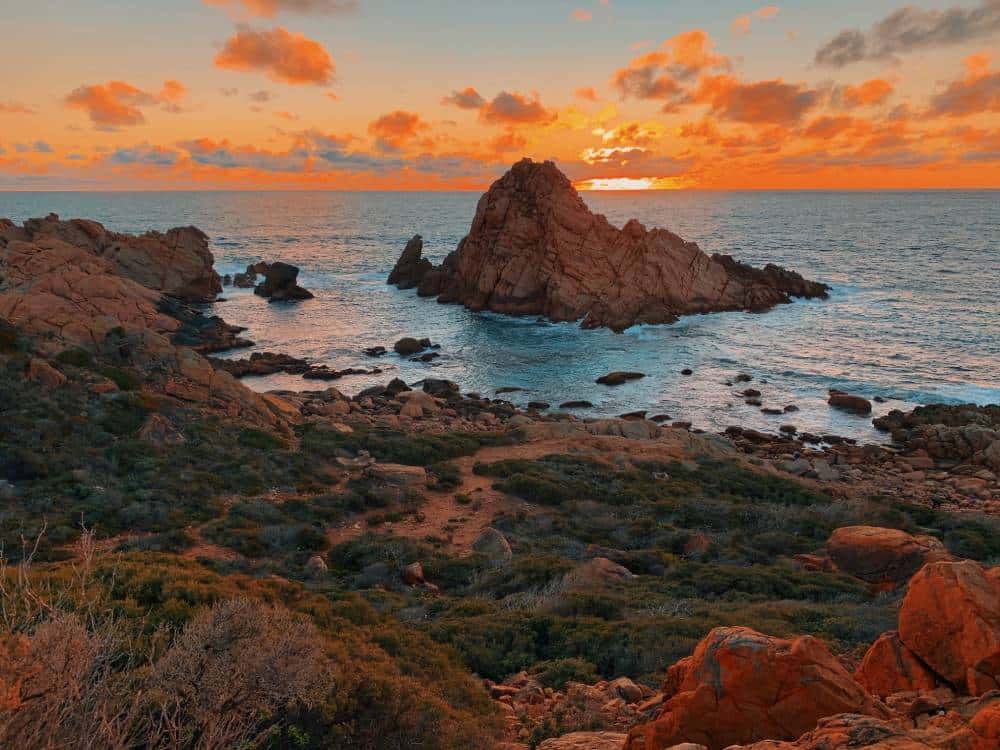 Western Australia's South West Travel Guide
This detailed travel guide provides information on all the regions that make up Australia's South West. Read about the destinations, including what to do and where to stay.



For other ideas on where to visit in Western Australia along with the best things to do, where to stay, how to get around, and other essential information, click on the link below.


Save Money Planning Your Trip
Click on the links, which will take you directly to the website.
Flights ✈️
We fly Virgin Australia domestically due to their competitive prices and fantastic customer service, and fly with Qatar Airways to Europe.
Accommodation 🏩
We mainly use Booking.com for accommodation as they consistently have the lowest rates with free cancellation on most properties.
For pet sitting in Western Australia and worldwide, we are members of Trusted Housesitters. Free accommodation for pet and house sitting.
Car Rental 🚘
To compare rental car company prices, we use Discover Cars, an award-winning car rental comparison website. They offer competitive pricing in over 10,000 locations worldwide and are highly rated.
Campervan/RV Rental 🚐
DriveNow is a good resource to compare campervan hire in Western Australia as it includes all the large companies like Britz, Maui, and Jucy as well as smaller ones.
Travel Insurance 🌏
Cover-More and Travel Insurance Direct are our preferred travel insurance companies for domestic and international travel.

See this Travel Insurance for Australia guide for more information.