Uncover the Best Accommodation in Busselton 2023 from a Local
Are you looking for the perfect place to stay during your next vacation in Busselton, Western Australia? If so, this blog post is for you!
Here we will discuss the best accommodation in Busselton and provide an in-depth look at all of your options. We understand that finding a comfortable and affordable place to stay can be daunting, so our goal is to make it easier by providing reliable information about the various hotels and resorts available. Whether you're looking for luxury or budget-friendly options, we've got you covered.
Top 4 Accommodation in Busselton
Some of our top recommendations include:
Aqua Resort
Resort with world-class facilities and direct beach access.
Rated 9.1⭐️
Mandalay Holiday Resort
Holiday park with high-quality accommodation & glamping tents.
Rated 9.2⭐️
Busselton Beach House
4-bedroom luxury two-storey beachfront home.
Rated 9.5⭐️
Living Waters Busselton
6-bedroom 6-bathroom luxury residence with private jetty.
Rated 9.8⭐️
Luxury Holiday Homes Busselton
Rated 9.8⭐️
This incredible 6-bedroom 6-bathroom luxury residence has it all. You can even moor your boat on your own private jetty with 23m of Canal frontage.
Wouldn't it be an incredible experience to stay in one of the most luxurious houses in Busselton, where you can watch the sunset over the Canal and see the spectacular sunrise over the Estuary? Imagine sitting in the spa watching dolphins swim past as the sun sets with a glass of champagne.
Ideal for: couples with friends or a girls' weekend getaway.
See Prices & Availability here
Rated 9.5⭐️
This 4-bedroom luxury two-storey beachfront home has fantastic Geograph Bay views, being only 70m from the beach. The owners supply kayaks and bikes to use along with beach equipment.
Ideal for: families or friends travelling together.
See Prices & Availability here
Rated 9.6⭐️
Sunset Cove was voted in the Top 10 holiday homes Stayz 2021 awards. The luxury beachfront property features 8 bedrooms and 6 bathrooms with private mooring directly out the front of the home. The beach is just across the road providing spectacular ocean views from the house, including the 12-seater spa.
The Indoor/Outdoor Alfresco area is huge and has a TV, ceiling fans, indoor BBQ, small fridge, bench space and access to the spa room.
Ideal for: families or friends travelling together.
See Prices & Availability here
Best Hotels in Busselton
Aqua Resort – Five-Star Accommodation Busselton
Rated 9.1⭐️
Aqua Resort offers luxury Busselton accommodation with world-class facilities, including a 25-metre infinity lap pool, a well-equipped gymnasium, steam room, outdoor spa and a full-size tennis court. In addition, the resort has direct beach access and is only a short drive away from Busselton, Dunsborough and Margaret River region.
There's a variety of accommodation options from one-bedroom apartments to a five-bedroom double-storey house, some of which have a private plunge pool.
Ideal for: couples and families.
See Prices & Availability here
Best Family Accommodation Busselton
Rated 9.2⭐️
This popular holiday park features high-quality, self-contained accommodation, which includes the option of 1,2, or 3 bedrooms. The newly opened luxurious glamping tents are perfect if you're looking for some glamour, a romantic weekend away, or a family camping trip without the hassles of putting up or packing away a tent.
Families love it here as children are well catered for with an indoor pool and shallow beach, outdoor solar heated pool with water slide, games room, jumping pillow, four adventure playgrounds and a new summit playground.
Food trucks and coffee vans visit the holiday park, so you don't even have to leave to get a good morning coffee.
We enjoyed all the facilities (girls loved the water slide) and the cabins were clean, well kept, and everything we needed was provided. The beach is literally across the road, so convenient for walks along the coast and watching the sunset.
Be prepared for lots of children, especially during school holidays.
Ideal for: families or romantic couples weekend glamping.
See Prices & Availability here
Mid-priced Self Contained Accommodation in Busselton
Rated 9.5⭐️
FortyTwo – Oceanside Retreat Busselton is a 2-bedroom, 2-bathroom accommodation with free WiFi, air conditioning, a flat-screen TV with satellite channels, a fully equipped kitchen, and a patio with garden views.
The accommodation is part of a resort with an outdoor swimming pool, gym, spa and sauna.
Ideal for: families.
See Prices & Availability here
Rated 8.6⭐️
This 3.5-star resort, located in West Busselton, offers self-contained accommodation in a tranquil setting.
Accommodation options include 1, 2, or 3 bedroom self-contained villas and poolside villas. All have a patio, a fully equipped kitchen, and a TV with cable channels.
Guests can enjoy free Wi-Fi, a swimming pool, tennis courts, and BBQs.
Ideal for: families and couples.
See Prices & Availability here
Rated 8.3⭐️
The Sebel Busselton offers beachfront accommodation in stunning Geographe Bay. All apartments, ranging from studios to three bedrooms, include a TV and either a well-equipped kitchenette or a full kitchen.
Facilities at The Sebel include:
An indoor heated pool.
Outdoor resort-style pool.
A fitness centre with a jacuzzi.
Games room.
We stayed here when our daughters were young, and they loved the pool. It was great being right on the beach, so we didn't have to go far. The barbecues meant we didn't have to cook inside, although the kitchen facilities were excellent. The accommodation was clean and had everything we required for our stay.
See Prices & Availability here
Rated 8.5⭐️
RAC Busselton Holiday Park (previously BIG 4 Peppermint Park) is nestled amongst 8 hectares of natural bushland and offers two large outdoor pools.
The range of facilities is incredible, with a 9 hole mini-golf course, a volleyball court, basketball practice area, jumping pillow, football goal posts, soccer nets, cricket pitch, BMX bike track, nature play area, playground, and games room.
The self-contained guest rooms offer a kitchenette with a microwave, a fridge, air-conditioning, DVD player, and a TV.
RAC Busselton Holiday Park is our go-to for camping and cabins. The park is well maintained, and the facilities are kept clean. During the school holidays, there's always something going on for the kids, like movie nights. If you look carefully at night, you may see one of the many possums that live in the peppermint trees.
Read: Complete review of RAC Busselton.
See Prices & Availability here
Top 10 Accommodation in Busselton with a Pool
Accommodation in Busselton with Pets
Rated 9.5⭐️
Only 800 m from the beach, this 4-bedroom Busselton holiday home allow pets on request and has been designed to accommodate two families in comfort.
There's a fee of A$50 per dog, with a maximum of two. However, please note new Busselton regulations for holiday homes require guests' dogs not be left unattended at the property at any time.
See Prices & Availability here
Rated 9.4⭐️
This 2-story beachfront home offers spectacular views across Geographe Bay. The four bedrooms provide a spacious home or three couples or two families. Even your dog can stay on request.
Relax in the large outdoor area or spacious living areas with a gas log fire for the cooler months.
See Prices & Availability here
Accommodation in Busselton for Large Groups
This beautiful private rental is fantastic for large groups as it can sleep up to 24 guests in the 11 bedrooms. All rooms at this huge beach retreat feature a private en-suite, free Wi-Fi, and flat-screen TVs.
Take a short stroll to the secluded Wonnerup Beach or relax on the balcony or island gazebo and watch the sun set over the Vasse Wonnerup Wetlands.
See Prices & Availability here
Cheap Accommodation in Busselton
Rated 8.2⭐️
Discovery Park (previously Amblin Holiday Park) offers budget-friendly accommodation in Busselton, with an indoor heated pool, children's playground, and BBQ facilities.
Choose between on-site vans, glamping safari tents, bungalows, and beach cottages with all featuring a kitchenette, private bathroom, air conditioning, TV, and DVD player.
The holiday park has beach access to Geographe Bay.
Ideal for: families.
See Prices & Availability here
Rated 8.1⭐️
The Busselton Motel is a 10-minute walk from the local bus station, a 5-minute walk from dining options and a 10-minute walk from Busselton Jetty.
The air-conditioned guest rooms are fitted with a fridge and TV and the en-suite bathroom has a shower.
The property offers barbecue facilities and a pool is located off-site at their sister property, Busselton Villas and Caravan Park, a 3-minute drive from the property.
Ideal for: solo travellers & budget accommodation for couples.
See Prices & Availability here
Rated 8.4⭐️
Big 4 Breeze Holiday Park (previously Beachlands) is one of the most popular holiday parks in Busselton. Maybe it's the high standard of accommodation, resort-style facilities and family-friendly facilities and activities that families love.
Children love the outdoor pool with its splash and play zone and the giant jumping pillow and adventure playground.
There's plenty of accommodation options, including studio cabins, chalets, spa villas, and bungalows.
Ideal for: families
See Prices & Availability here
Rated 8.3⭐️
Busselton Villas and Glamping Village offer self-contained villas, park cabins, and luxury glamping sites surrounded by immaculate grounds and shady peppermint trees. Facilities include a swimming pool, games room, kids' playground and barbecue.
The glamping tents look lovely and would make a perfect romantic getaway.
Ideal for: romantic couple getaway and families.
See Prices & Availability here
Have you booked accommodation?

We use Booking.com for most accommodation bookings as they offer free cancellation on many properties and have a price match guarantee. We book through Stayz (part of VRBO) for private accommodation as we find it is often cheaper than Airbnb.

Tip: Accommodation gets booked quickly, especially during the WA school holidays. To avoid disappointment, book early.
Things to do in Busselton
This guide on things to do in Busselton provides not only a list of the best places to go but it includes other tips to ensure you have a great time.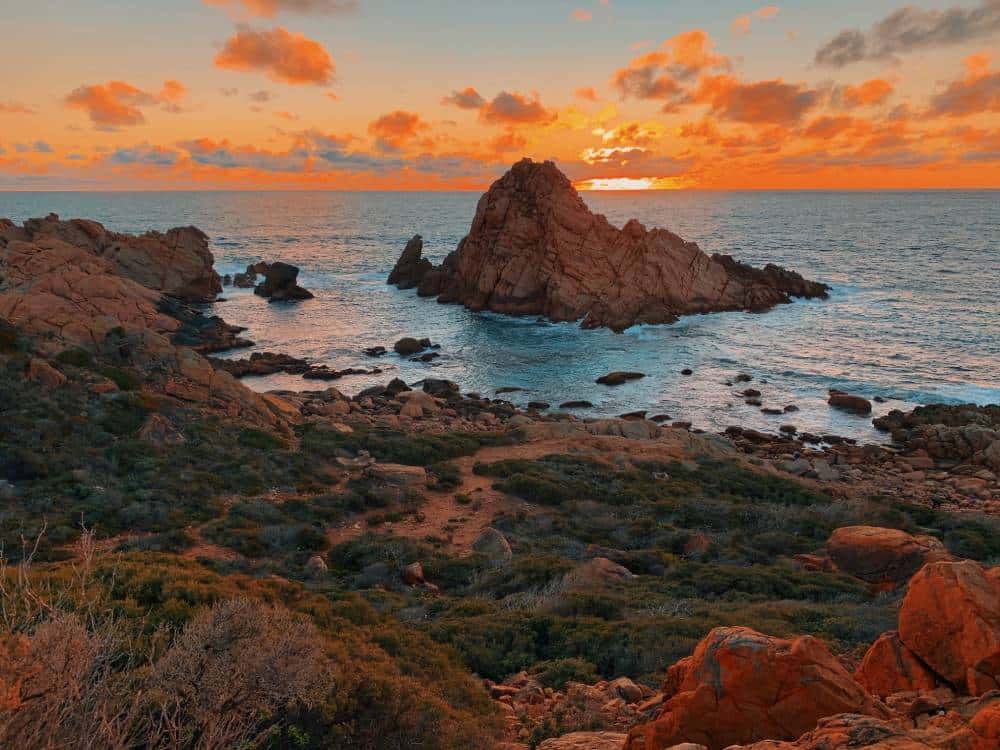 Western Australia's South West Travel Guide
This detailed travel guide provides information on all the regions that make up Australia's South West. Read about the destinations, including what to do and where to stay.



For other ideas on where to visit in Western Australia along with the best things to do, where to stay, how to get around, and other essential information, click on the link below.


Save Money Planning Your Trip
Click on the links, which will take you directly to the website.
Flights ✈️
We fly Virgin Australia domestically due to their competitive prices and fantastic customer service, and fly with Qatar Airways to Europe.
Accommodation 🏩
We mainly use Booking.com for accommodation as they consistently have the lowest rates with free cancellation on most properties.
For pet sitting in Western Australia and worldwide, we are members of Trusted Housesitters. Free accommodation for pet and house sitting.
Car Rental 🚘
To compare rental car company prices, we use Discover Cars, an award-winning car rental comparison website. They offer competitive pricing in over 10,000 locations worldwide and are highly rated.
Campervan/RV Rental 🚐
DriveNow is a good resource to compare campervan hire in Western Australia as it includes all the large companies like Britz, Maui, and Jucy as well as smaller ones.
Travel Insurance 🌏
Cover-More and Travel Insurance Direct are our preferred travel insurance companies for domestic and international travel.

See this Travel Insurance for Australia guide for more information.
If you found this guide on the best Busselton accommodation helpful, please consider booking through one of our links. It won't cost you anything but will help towards the cost of running this site. Thank you.