The Best Things To Do in Busselton WA 2023: Locals Guide
Known as Busso to us locals, this coastal town has been attracting holidaymakers for years. There are some great things to do in Busselton for any traveller, including beautiful beaches, incredible wildlife experiences, fun attractions for families, romantic settings for couples, and the historic Busselton Jetty. So, if you're looking for something fun to do while visiting Busselton, this post will help you find your perfect activity.
Rating: 5/5⭐️ with over 380 reviews
Looking for an unforgettable outdoor experience in Western Australia?
Look no further than Forest Adventures South West in Ludlow!
Nestled among the towering trees of the Tuart Forest, this thrilling treetop adventure park offers something for everyone.
With a variety of courses ranging from easy to challenging, visitors of all ages and abilities can test their skills and push their limits while soaring through the treetops on ziplines, navigating obstacles, and enjoying breathtaking views.
Book your adventure direct with Forest Adventures SW today and get ready to unleash your inner Tarzan!
Top 8 Things to do in Busselton for families
Families flock to Busselton as they like the safe swimming beaches and all the kids' activities close by.
Rating: 5/5⭐️ with over 380 reviews
Forest Adventures, located in the spectacular Ludlow Tuart Forest, offers 2 hours of adrenaline-filled fun on high rope courses and flying foxes through the impressive forest.
Only a 20-minute drive from Busselton, this amazing adventure park covers eight acres of unspoiled natural bushland and features six huge courses combining rope and wire challenges with a staggering 77 activities.
People of all abilities can join in the fun as the courses are varied in height and difficulty and have world-class European safety standards.
It's one of the best family attractions in Busselton.
Book direct with Forest Adventures now to avoid disappointment (booking is advised).
12 Ludlow Park Rd, Busselton Western Australia
2. Busselton Jetty
Rating: 4.5/5⭐️ with over 3,600 reviews
Busselton Jetty is the most popular attraction in Busselton. At 1,841 m long, the Busselton Jetty walk has views over the stunning Geographe Bay. Built in 1864, it is the longest timber piled jetty in the southern hemisphere.
You can visit the Interpretive Centre for free or take the Busselton Jetty train to the Underwater Observatory and end of the jetty.
If you want to walk or fish along the jetty, you must buy a day pass from the Interpretive Centre.
Our complete guide on Busselton Jetty provides information on everything to do, prices, and a review of the Underwater Observatory.
3. Deep Sea Pool
Deep Sea Pool is located at the end of Busselton Jetty, where an Ocean Guardian electrical shark barrier has been installed around it. Powered by the same technology subsidised by the WA State Government for diving and surfing, the world's first virtual shark net emits electromagnetic pulses that deter sharks and manta rays but does not harm them or other marine life. A win win as far as I'm concerned.
This protected swim, snorkel and scuba dive area can be entered from a universal access platform. You can find lockers at the Underwater Observatory.
4. Par 3 Mini Golf
Rating: 4.5/5⭐️ with over 35 reviews
You can find the Par 3 Mini Golf at the historic Old Broadwater Farm in West Busselton. The world-class 18-hole mini-golf course will keep kids entertained while keen golfers can enjoy the nine shady fairways.
It also has the Neighbourhood Bar and Café, which offers a place to enjoy your morning Barista-made coffee or relax with a drink of a craft beer, wine, or spirit on a sunny afternoon.
The golf course is open every day from 8 am, with the last tee-off an hour before sunset. You can hire equipment if you don't have yours with you.
The mini-golf is open:
Dec – Jan 8 am – 8 pm daily
Feb – Nov 8 am – 8 pm Fri & Sat and 8 am – 6 pm Sun-Thu
Prices in April 2023 for the Par 3 mini-golf were:
Adults A$19
Seniors A$13
Under 16s A$13
Family of 2 adults & 1 child A$47
Each additional child A$9
There are active bees on the course, so be aware if you have allergies.
1 Spinifex Court, West Busselton
5. Whale Watching
Western Australia offers some of the best whale watching in the world, with many natural coves and harbours perfect for viewing these gentle giants.
From September each year, you'll be able to see majestic humpback whales and their calves as they head south to Arctic waters, using Geographe Bay as their final resting area. You even have the chance to spot Southern Right and Blue Whales.
Rating: 5/5⭐️ with over 740 reviews
Tour length: 2 hours
This two hour tour departs daily from September through to early December, led by a fully qualified marine biologist. The purpose-built boat can seat up to 30 people in the cabin, plus you can relax on the spacious deck.
Complimentary coffee, tea, filtered water, and biscuits are included, but please bring your reusable drink bottle to reduce plastic waste.

Service animals are allowed, and the boat is stroller friendly, but, unfortunately, wheelchairs cannot be accommodated.
Rating: 5/5⭐️ with over 550 reviews
2021 TRAVELLERS CHOICE AWARD
Tour length: 2 hours
You can choose from a morning or afternoon cruise, which includes free access to Busselton Jetty and discounts at the gift shop and restaurants.
Tours depart daily from the Port Geographe Marina at 9:45 am and 1:15 pm. From there, you out into the pristine waters of Busselton to see these loveable giants up close.
A free CD per booking of whale pictures from previous tours is included, and free anti-nausea wristbands if required.
Unfortunately, this whale cruise is not wheelchair accessible.
6. Nocturnal Wildlife Watching
On this early evening wildlife tour, you will get to see a colony of endangered woylies, a rare native Australian marsupial that's related to the kangaroo.
The expert guide will take you on a leisurely walk through a wildlife reserve where you may see kangaroos, bandicoots, and possums.
Watch the woylies as they become active while enjoying a billy tea and biscuits (included in ticket).
Unfortunately, this tour is not wheelchair accessible.
Viator from A$85 with free cancellation up to 24 hours before – see more here.
GYG from A$85 with free cancellation up to 24 hours before – see more here.
7. Primal Archery (previously Busselton Archery Park)
Primal Archery is perfect for experienced and first-timers with its ten-target archery course and five-target course.
They are open from 9 am Wednesdays to Mondays with the last entry at 4 pm (except during school holidays when they are open every day).
There's also the fun Archery Tag, a bit of a mix between paintball and dodgeball, where you can "shoot" each other with foam-tipped arrows.
You can stay for a game of mini-golf on the 9-hole course.
11 Cookworthy Rd, Abbey
Looking for an exciting and educational adventure in Western Australia? Discover Deadly in Carbunup River is the perfect attraction.
This unique wildlife experience allows you to get up close to some of Australia's most deadly creatures, including snakes, spiders, and crocodiles. You'll learn about these fascinating creatures, and gain a deeper appreciation for their important role in the ecosystem.
In addition to the educational component, Discover Deadly also offers live feeding demonstrations.
Top 4 Things to do in Busselton in winter or when it's raining
If you're looking for what to do in Busselton when it's raining or during winter, these ideas should give you some inspiration.
1. ArtGeo Cultural Complex
The ArtGeo Cultural Complex, in Queen Street Cultural Precinct, is housed in restored heritage-listed buildings.
The Courthouse complex, one of the oldest buildings in Busselton, allows you to wander through courtrooms, magistrate rooms, police station, gaol cells, and exercise yard. During this time, you will learn about the notorious criminals and imagine being locked up behind one of the heavy wooden doors.
In the old courtroom, the gift shop has a lovely range of art, jewellery, pottery, glasswork, cards, photography, and woodwork. You will find the artist studios, where you can meet the artists and watch them create their beautiful art, in the rear courtyard. Maybe stop for a coffee at the Lockup Coffee House, where you can sit inside if it's raining.
The ArtGeo Gallery is across the road in a neo-classical brick and tile pavilion built for the Agricultural Bank of Western Australia in 1931.
Open every day from 10 am to 4 pm.
2/4 Queen St, Busselton
2. Shelter Brewing Co
Shelter Brewing Co, situated by the Busselton Jetty, opened in late 2020 and is licensed for 650 people in its restaurant and function rooms.
The two-level building's vast 10m floor-to-ceiling windows provide spectacular views of the jetty and Geographe Bay. The brewery features a central open brewery, lounge area, viewing gallery, and kids' playground. They open at 7 am for coffee and bagels, then at 10 am, switch over to the pub menu, which includes burgers and wood-fired pizzas. The pizzas are delicious and big – you can get away with three pizzas between four.
Beer is brewed on-site and overseen by head brewer and director Jason Credaro (related to Credaro Wines, the oldest family-run winery in the south west region). If you don't like beer, there are wines and spirits on the menu – all Western Australian.
Bookings are recommended and you must be on time (they only allow you 15 minutes before giving your table away). The table is yours for two hours.
Brewery tours can be booked (A$55 at the time of writing) and include a tasting paddle, pint, and lunch on the Brewer's Deck.
11 Foreshore Parade, Busselton
3. Vasse-Wonnerup Wetlands
Grab your raincoat and explore the Vasse-Wonnerup Wetlands, recognised as one of the most important waterbird habitats in Western Australia. Over 30,000 water birds inhabit these wetlands, including Western Australia's largest regular breeding colony of Black Swans. They were accredited as a "Wetland of International Importance" under the Ramsar Convention in 1990.
The Vasse-Wonnerup Wetlands consist of the Vasse and Wonnerup estuaries and their exit channels, the Wonnerup Inlet and the seasonal connection between the two estuaries known as Malbup Creek. In addition, Deadwater and Swan Lake are associated wetlands.
This area is of great cultural and historical importance to the Wardandi people as it provided a good food source.
4. Busselton Museum
The Busselton Museum, housed in the Old Butter Factory, is packed with memorabilia and photos of days gone by. Learn about the history of agriculture, transport, whaling and day-to-day life. Unfortunately, though, it doesn't cover the history and culture of the traditional landowners.
Located by the Vasse River, the museum's replica of the Jetty Rotunda provides lovely views.
The state-owned Butter Factory opened in 1918 but was bought by South West Dairy Produce Co-operative in 1926, who changed the name to Sunny West. The government's Group Settlement Scheme, where settlers were recruited from other parts of Australia and the UK and given land and subsidised for stock and expenses, created an upsurge in dairy production.
Butter was made here until 1952, ceasing operation due to increased overheads and improved road transport. The building was used as a truck depot until 1973 when the Shire of Busselton took it over and leased some of the space to the Busselton Historical Society.
Today the museum is run solely by volunteers.
Busselton Museum is open 10 am to 4 pm Wednesday to Monday (closed Tuesdays).
Old Butter Factory Complex, Peel Terrace, Busselton
Top 4 Things to do in Busselton for Free
1. Busselton Foreshore
Busselton Foreshore is always a hive of activity with locals and visitors enjoying the beautiful Geographe Bay views. Not only is it an excellent place to be at sunset, but it's also a lovely picnic spot.
Families love the foreshore with its three playgrounds, including the shipwreck adventure playground. If you have younger kids, they will have fun at the train playground, and Busselton Skate Park provides hours of fun.
There are free public barbecues, seating, and shaded picnic areas to relax and enjoy the view or you can choose to have something to eat at one of the many cafes and restaurants that line the waterfront.
The trail along Busselton Foreshore is used by cyclists, runners, and walkers. Dogs are allowed on the path and grass areas as long as they are on a lead.
The Busselton Foreshore Markets are at Signal Park every 1st, 3rd and 5th Sunday of the month. Here you will find local crafts, bric-a-brac, clothing, and local produce. It's a great way to support the locals.
2. Tuart Forest National Park (previously Ludlow State Forest)
Tuart Forest National Park contains the largest remaining section of pure tuart forest in the world. Tuart trees, Eucalyptus gomphocephala, are endemic to the Swan Coastal Plain and only grow on coastal limestone 200 km on either side of Perth. The park represents the most southern occurrence of tuart and is home to the tallest and largest specimens of the trees remaining on the Swan Coastal Plain.
Western Australia's largest remaining wild population of the endangered western ringtail possum is found in the park as the trees contain lots of hollows, and peppermint is their primary food source. In addition, Brushtail possums, brush-tailed phascogale, bush rat, kangaroo, quenda (also known as the southern brown bandicoot), birds of prey and nocturnal birds live in the forest.
To have the best chance of seeing these rare animals, do the Possum night spotlighting trail, intended to be completed at night with a spotlight or large torch. This easy 1.5 km walk has red reflectors on the trail markers and information plaques guide the way.
Tuart Forest National Park contains Aboriginal sites of mythological, archaeological, cultural and spiritual significance, so please treat it with respect.
3. St Mary's Church
Visit St Mary's Church, the oldest church in Western Australia, built in the 1840s by early settlers. It's constructed of limestone and jarrah with sheoak shingles for the roof and is still used as a place of worship today.
You can look around the graveyard and read the inscriptions on many of the settlers' tombstones, including the Bussell family, one of the first European families to settle in the area.
43 Peel Terrace, Busselton
4. Busselton Beach
Busselton Beach is popular with families due to its safe swimming in normal conditions. A swimming enclosure is put in place during the summer months, just west of the jetty. This beach is the longest continuous part of the bay, starting at Siesta Park groyne and ending 15.3 km later at the Port Geographe groyne. You can find toilet and shower facilities near the beach.
As Cape Naturaliste protects the beach, it tends to have little swell making it perfect for swimming but not for surfing.
Seagrass is often washed up at the eastern end of the beach and can be smelly at times!
Meelup Beach, near Dunsborough, is another stunning beach worth visiting.
Top 3 Things to do in Busselton for Couples
As well as the attractions above, consider one or two of these fun activities.
This incredible seafood and sunset cruise is an excellent option for couples looking for a romantic thing to do in Busselton.
Step aboard a luxury boat for a 7-course gourmet meal with fine wines from Howard Park, which are served throughout the cruise.
As you enjoy an array of delicious WA seafoods, take in the spectacular coastline that this region is known for.
There's an option to go for a swim or snorkel or just relax on the deluxe vessel before heading back as the sunsets over the Indian Ocean.
2. Romantic stroll along Busselton Jetty at night
Take a romantic walk along Busselton Jetty at night and look up at the stars twinkling in the black night sky.
When the Interpretive Centre is closed, admission is free, but access to the final 150 m of the jetty is only possible during the Underwater Observatory Operating Hours.
3. Half-day coastal and wildlife tour
If you don't have transport, this half-day coastal and wildlife tour takes you through the spectacular Leeuwin-Naturaliste National Park. As you witness the beautiful coastline, you will learn about the unique ecosystem of Geographe Bay.
The tour will continue through Meelup National Park to Ngari Marine Park, where the guide will launch the underwater camera to capture marine life (weather permitting). After, you'll head to one of my favourite beaches, Bunker Bay, where the white sandy beach meets the sparkling turquoise ocean.
Cape Naturaliste is the next stop where you can see the limestone cliffs and views from the cape. You may see dolphins and whales (in whale watching season) as you walk along the coast.
The last stop is the stunning Sugarloaf Rock, where you can enjoy a gourmet platter of local produce along with your choice of a glass of local wine, beer or coffee.
You can bring strollers, but the tour is not wheelchair accessible.
Viator with free cancellation up to 24 hours before – see more here.
Day Trips from Busselton
Dunsborough
Dunsborough is only a 20-minute drive from the city of Busselton, making it perfect for a half-day trip. The beaches on Cape Naturaliste are stunning; think perfect bays of white soft sand and crystal clear turquoise water. While there, you can visit the Cape Naturaliste Lighthouse and spot whales during the whale season.
For more ideas, read this guide on things to do in Dunsborough.
Yallingup
If you're into surfing and like a laid-back vibe, you will love Yallingup, a 30-minute drive from Busselton. This part of the South West also has incredible beaches and a spectacular coastline. Visit the Insta-Famous Aquarium and Injidup Spa, visit a winery for wine tasting or lunch, or walk along part of the Cape to Cape track.
Check out this guide on things to do in Yallingup for a full list of what to do and see.
Margaret River
Margaret River wine region is a bit further, around 45 minutes, but still easy to visit on a day trip from Busselton. Some of the best things to do are visiting one of the many caves, hiking and mountain biking, stopping at a beach and visiting a winery or brewery.
Read this guide for a complete list of things to do in Margaret River.
Bunbury
If you didn't stop at Bunbury on your way to Busselton, drive the 45 minutes north to this coastal port city. The main attraction is the Bunbury Dolphin Discovery Centre and the foreshore. However, there's a lot more to do here, including hiking and street art.
Find out all the other things to in Bunbury.
Where is Busselton?
Busselton is in Western Australia's South West, on the shores of Geographe Bay, about 230 km south of Perth.
How to get to Busselton
International and domestic visitors will fly into Perth Airport. Find details about visas, prohibited items, currency, and safety in this Australia Travel Guide and tips on arriving into WA and other essential travel information in this Western Australia Travel Guide.
There are car hire booths at Perth Airport, but it's best to pre-book your car rental.

To compare Australian car hire prices, Discover Cars is an award-winning car rental comparison website. They offer competitive pricing in over 10,000 locations worldwide and are highly rated.

DriveNow is a good resource to compare campervan hire in Western Australia. It includes all the large companies like Britz, Maui, & Jucy as well as smaller ones.

Compare Rental Cars Here.

By Car
It's an easy 3-hour drive from Perth to Busselton along State Route 2.
You can stop at one of the rest stops along State Route 2 or pop into one of the towns along the way, like Mandurah or Bunbury.
Use this Perth to Margaret River road trip itinerary if you want to see more places on the journey to Busselton.
The Ultimate South West Road Trip
Jump in the car or campervan and explore what Western Australia's South West has to offer. This South West Road Trip itinerary is flexible so you can choose the length and where you want to go with handy tips.
By Public Transport
Trains run from Perth to Australind twice daily then you transfer to the TRANSWA bus to Busselton (heading to Pemberton).
For a more frequent service, get the train to Mandurah. However, you will still need to connect with the TRANSWA bus.
South West Coach Lines also provide a service from Perth to Busselton, but it is more expensive.
When to visit Busselton
For me, summer and spring are my favourite times of year to visit Busselton. Summer brings warm weather, perfect for the beach and water activities. Spring is beautiful with the wildflowers out and when whales can be spotted along the coast.
It's quieter in winter, and you will find accommodation cheaper (except the July school holidays). There are still things to do in Busselton in winter but not as many options as in the warmer months.
How long to stay in Busselton
A long weekend is ideal for exploring what Busselton has to offer, or you can make it part of a Perth to Albany road trip, or even a Perth to Esperance road trip.
Busselton Accommodation
Busselton has plenty of accommodation options for all types of travellers, including holiday parks, camping, luxury stays, self-contained and budget.
For all our recommendations of the best accommodation in Busselton, including places we have stayed, click below.
Find out where to stay here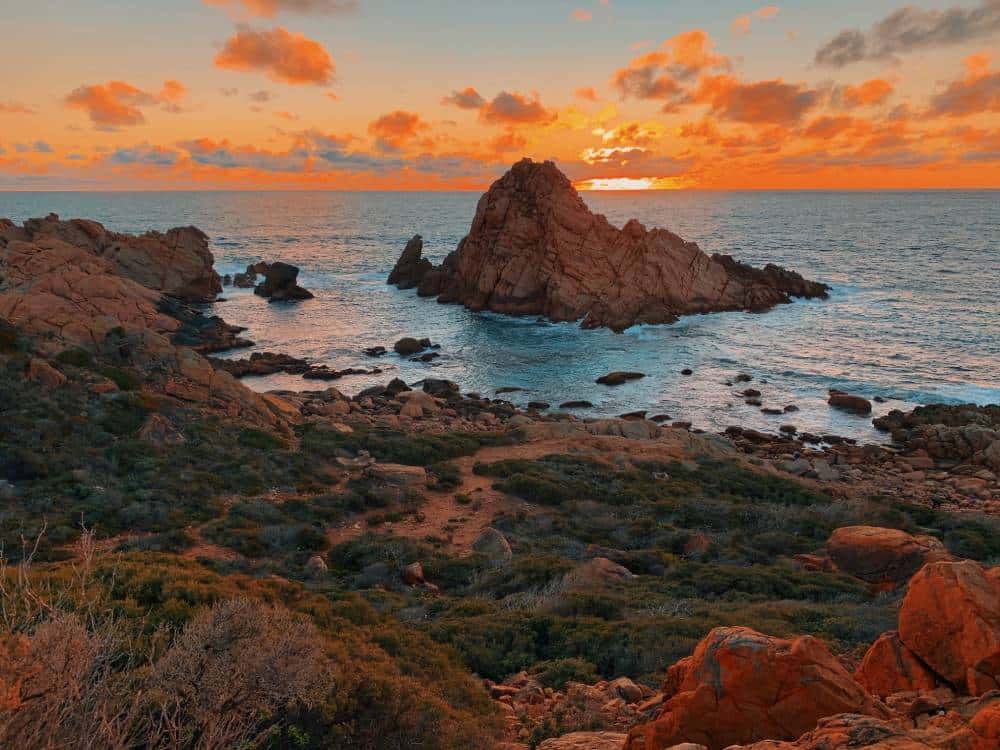 Western Australia's South West Travel Guide
This detailed travel guide provides information on all the regions that make up Australia's South West. Read about the destinations, including what to do and where to stay.



For other ideas on where to visit in Western Australia along with the best things to do, where to stay, how to get around, and other essential information, click on the link below.


If you found this travel guide on the best things to do in Busselton helpful, please consider booking through one of our links. It won't cost you anything but will help towards the cost of running this site. Thank you.