Busselton Jetty Western Australia: Locals Detailed Guide 2023
Busselton jetty runs over the protected waters of Geographe Bay and is the longest timber-piled jetty in the southern hemisphere at 1841m long. It's a popular place for weddings, diving, and swimming. For example, the Busselton Jetty Swim (an internationally recognised event) attracts 3,000 competitors.
Busselton Jetty is a popular tourist attraction, with about 200,000 visitors each year; a non-profit community organisation known as Busselton Jetty Inc. operates it. It's a must-see for any visitor to the area.
As we live in Perth, we visit Busselton regularly, and the jetty is always part of our holiday plans.
Location of Busselton Jetty
Busselton is in the South West region of Western Australia, less than a two and a half-hour drive from Perth.
International and domestic visitors will fly into Perth Airport. Find details about visas, prohibited items, currency, and safety in this Australia Travel Guide and information on arriving into WA and other essential travel information in this Western Australia Travel Guide.
Follow this Perth to Margaret River road trip itinerary for where to stop along the way.
There are car hire booths at Perth airport, but it's best to pre-book your car rental.

To compare Australia car hire prices, Discover Cars is an award-winning car rental comparison website. They offer competitive pricing in over 10,000 locations worldwide and are have a high rate of customer satisfaction.

Drivenow is a good resource to compare campervan hire in Western Australia as it includes all the large companies like Britz, Maui, Jucy as well as smaller ones.

Compare Rental Cars Here.

History of the Busselton Jetty
Construction of Busselton Jetty began in 1864, with the first section opening the following year. It has been extended many times since then.
The last commercial vessel to use the jetty was in 1971, and it was closed a year later. The jetty then deteriorated due to wood bores, fires, and rot.
In 1978, Cyclone Alby partly destroyed the jetty, and the government wanted to demolish it.
The community came to the rescue, raising funds to restore it, and a community not for profit organisation was formed.
The WA State Government gave $24m towards the complete restoration of the jetty in 2009, along with $3.1m from the City of Busselton.
Does it cost money to walk on Busselton Jetty?
If you are over 17, you have to pay a fee of A$4 for a Jetty Day Pass to walk along Busselton Jetty. The day pass is available to purchase when the Jetty Access Interpretive Centre is open and gives you access to dive, fish, swim or walk the jetty. Access to the jetty is free when the centre is closed.
The walk takes about 25 minutes each way.
Prams, walkers, wheelchairs and mobility scooters are allowed on the jetty, but the train needs to pass.
Busselton Jetty Opening Times
Busselton Jetty is open 24 hours a day.
Interpretive Centre
The Interpretive Centre and Heritage Museum are open daily except on Christmas Day.
Interpretive Centre (Late April – Early September)
Interpretive Centre (Late September – Early April)
9:30 am – 4:15 pm*
8:30 am – 5:15 pm*
Jetty Train
Trains leave the Interpretive Centre on the hour, weather permitting.
Bookings are essential.
Jetty Train (Late April – Early September)
Jetty Train (Late September – Early April)
10:00 am – 4:00 pm*
9:00 am – 5:00 pm*
Underwater Observatory
Tours leave the Interpretive Centre on the hour, weather/ocean conditions permitting.
Bookings are essential.
Underwater Observatory Tours (Late April – Early September)
Underwater Observatory Tours (Late September – Early April)
10:00 am – 3:00 pm*
9:00 am – 4:00 pm*
*The schedule is approximate only and subject to change due to weather, wind, and ocean conditions.
Interpretive Centre – Busselton Jetty
At the start of Busselton Jetty, this iconic blue building is where you can book your tickets for the train and underwater observatory. It also has a wide range of reasonably priced souvenirs (I have bought presents from here) and essentials like sunscreen.
Busselton Jetty Train
The Stocker Preston Express electric jetty train runs the length of the jetty, ferrying visitors back and forth. It started as a fundraiser back in 1995 and is still going.

The red electric train is powered by 30 solar panels, keeping it on the move for four days. There are 90 seats on the train, with 6 in each carriage.
The return train trip is around 45 minutes, but you can get off and walk to the pier's very end before returning (the end of the jetty is currently closed due to the construction of the Village).
The train journey price is A$16 for an adult and A$9.50 for children (aged 3-17). You can use these tickets as a Jetty Pass, allowing you to access the jetty all day.
Select the Wheelchair option if you require your wheelchair or walking frame during the Jetty Train ride or Underwater Observatory. Unfortunately, prams are not allowed on the train due to space confinement, so a baby carrier is recommended.
Busselton Jetty Underwater Observatory
You can only access Busselton Jetty Underwater Observatory on a tour that operates every hour on the hour and lasts about one hour and forty-five minutes. The observatory descends 8 metres to the ocean floor via a spiral staircase, providing an up-close view of the marine environment.
Read this Busselton Jetty Underwater Observatory review for all the information and photos.
The New Busselton Jetty Underwater Observatory
It was announced at the end of 2020 that the new Australian Underwater Discovery Centre (AUDC) would replace the existing underwater observatory. The semi-submerged whale-shaped building would have a higher capacity than the current one, with larger viewing windows offering panoramic views of the jetty's ecosystem. The hope is to add underwater dining, underwater sculptures, and marine art, enhancing Busselton Jetty's 155-year-old experience.
Unfortunately, due to construction costs rising dramatically, the project is uncertain. The initial forecast of A$32m has blown out to A$49m, making the BJI Board and senior staff investigate all options to see if the project can go ahead.
The 2021-2022 Annual Report states that The Village project is due for completion in July 2023. This will comprise of a world-class interactive environmental space known as the Marine Discovery Centre, an ocean café, and staff and volunteer facilities.
Construction has begun on this project, so you can't access the jetty beyond the Underwater Observatory.
Busselton Jetty Museum
The Jetty Museum, inside the Interpretive Centre, has two interactive timelines with touch control with stories, photos, and videos. It is free to enter.
Busselton Jetty Dive
Busselton Jetty is a popular recreational dive spot that allows you to experience the diverse marine life amongst the pylons. The water depth is a maximum of 9 meters, and you can easily access it from the jetty without a boat.
Mermaid Tours
Southwest Mermaids may be returning to the Jetty for summer – watch them swim past the windows of the Underwater Observatory.
See the Busselton Jetty Facebook page for updates.
Deep Sea Pool
Busselton Jetty's universal access platform has an Ocean Guardian electrical shark barrier installed around it, powered by the same technology subsidised by the WA State Government for diving and surfing.
The world's first virtual shark net emits electromagnetic pulses that deter sharks and manta rays but do not harm them or other marine life, creating a protected swim, snorkel and scuba dive area.
There's a pontoon within the Deep Sea Pool in summer too and lockers are available at the Underwater Observatory.
Open from November to March.
Busselton Jetty Rules
No alcohol
No dogs or cats
No bicycles, scooters, or skateboards
No spearfishing
No naked flames
No smoking
Busselton Accommodation
Busselton has plenty of accommodation options for all types of travellers, including holiday parks, camping, luxury stays, self-contained and budget.
For all our recommendations of the best accommodation in Busselton, including places we have stayed, click below.
Busselton Tours
Viator have a great range of tours that are competitively priced and offer free cancellation on most experiences.
Things to do in Busselton
This guide on things to do in Busselton provides not only a list of the best places to go but it includes other tips to ensure you have a great time.

Other Things To Do in the Margaret River region
For more ideas on the must-see places and attractions in the Margaret River region, please see the following guides: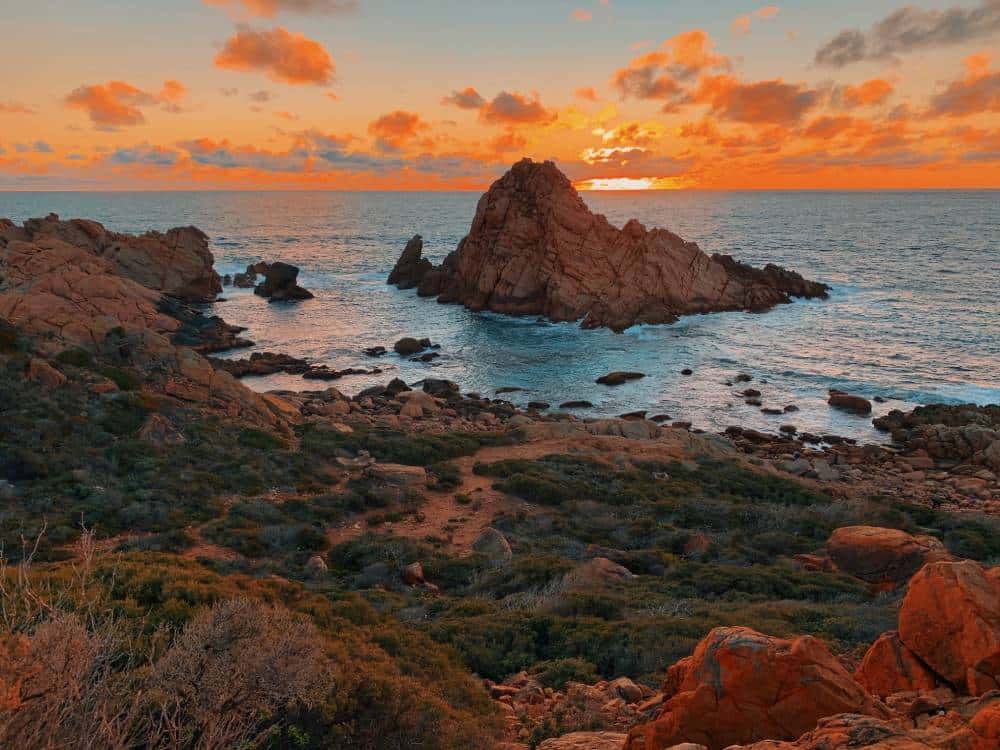 Western Australia's South West Travel Guide
This detailed travel guide provides information on all the regions that make up Australia's South West. Read about the destinations, including what to do and where to stay.



For other ideas on where to visit in Western Australia along with the best things to do, where to stay, how to get around, and other essential information, click on the link below.


Save Money Planning your Trip
Click on the links which will take you direct to the website.
Flights ✈️
We fly Virgin Australia domestically due to their competitive prices and fantastic customer service and fly with Qatar Airways to Europe.
Accommodation 🏩
We mainly use Booking.com for accommodation as they consistently have the lowest rates with free cancellation on most properties.
Car Rental 🚘
To compare rental car company prices, we use Discover Cars, an award winning car rental comparison website. They offer competitive pricing in over 10,000 locations worldwide and are highly-rated.
Campervan/RV Rental 🚐
Drivenow is a good resource to compare campervan hire in Western Australia as it includes all the large companies like Britz, Maui, Jucy as well as smaller ones.
Travel Insurance 🌏
Cover-More and Travel Insurance Direct are our preferred travel insurance companies for domestic and international travel.

See this Travel Insurance for Australia guide for more information.
FAQ
Can you walk along the Busselton jetty at night?
Yes, you can walk along Busselton Jetty at night. When the Interpretive Centre is closed, admission is free. However,  access to the final 150 m of the jetty is only possible during the Underwater Observatory Operating Hours. 
What is at the end of the Busselton Jetty?
Towards the end of Busselton Jetty is the Underwater Observatory. The last part of the jetty features a mural of a life-sized whale, a selfie direction dial, and a wind vane. It's also a great place to spot wildlife.
If you found this Busselton Jetty Underwater Observatory review helpful, please consider booking through one of our links. It won't cost you anything but will help towards the cost of running this site. Thank you.