Port Denison & Dongara | 10 Best Things To Do
Port Denison and Dongara is the kind of place you immediately fall in love with. We've visited this laid-back coastal town four times on various road trips and found out all the best places to go and what to do there.

This cray fishing town, which has a population of nearly 2800, is a popular place to holiday in or as a stop on a road trip to Kalbarri, Exmouth, or even Broome. It's also ideal for a Perth getaway.
Disclosure: This post may contain affiliate links (of which we use) so we may receive a small amount of commission if you buy something through them, at no extra cost to you. You can read the full disclaimer here.
How to get to Port Denison Dongara

Port Denison is on the Coral Coast of Western Australia, 350km north of Perth. The twin towns of Port Denison and Dongara are divided by the Irwin River.
International and domestic visitors will fly into Perth Airport. Find details about visas, prohibited items, currency, and safety in this Australia Travel Guide and tips on arriving into WA and other essential travel information in this Western Australia Travel Guide.
There are car hire booths at Perth airport, but it's best to pre-book your car rental.

To compare rental car company prices, Discover Cars is an award-winning car rental comparison website. They offer competitive pricing in over 10,000 locations worldwide and are have a high rate of customer satisfaction.

Drivenow is a good resource to compare campervan hire in Western Australia as it includes all the large companies like Britz, Maui, Jucy as well as smaller ones.

Compare Rental Cars Here.
It will take around 4 hours to drive to Port Denison from Perth via Brand Highway or along the Indian Ocean Drive.
If you drive along the Indian Ocean, keep a lookout for emus. The drive is nice, with sand dunes and the ocean to break up the bushland view. You can stop in Cervantes and Jurien Bay (the bakery is good there) to break up the journey. Green Head is another option if you want a walk.
Port Denison Weather
The highest rainfall can be expected between May and August, with June being the wettest. Conversely, December is usually the driest month.

The hottest month is February when it averages 26.7°C, and the coldest is July, when it drops to 14.4°C.
Brief History of Port Denison Dongara

I would like to respectfully acknowledge the Wattandee people who are the Traditional Custodians and First People of these lands. I would like to pay my respect to the Elders past, present, and future for they hold the memories, the traditions, the culture and hopes of the Wattandee people.
Lieutenant George Grey was the first European to pass through this region in 1839. Unfortunately, he became shipwrecked at Gantheaume Bay near Kalbarri and had to trek the 700 km back to the Swan River Colony in Perth.
In 1845, a team led by the Gregory Brothers discovered the Irwin River. They found a coal seam in a river bed and reported back to Perth.
The Wattandee people saw the first settlers from Perth arrive in 1850 with cattle and sheep.
The town was surveyed two years later and named Dhungarra – a name given to the area by local Indigenous people to indicate a "meeting place of seals."
The first flour mill was built in 1859, now known as Denison House. The jetty at Port Irwin (now Port Denison) was built in 1867 to accommodate the ships collecting wheat, flour, wool, and sandalwood.
The townsite started to grow with the addition of shops, a police station, and a school, with a bridge being built in the late 1880s to connect Port Dension and Dongara.
It became popular for summer holidays after the Second World War and remains popular today.
The Top 10 Things To Do in Port Denison & Dongara
1. Thungarra Trails
Six easy walking trails highlight Port Denison and Dongara, ranging from 2.7 km to 9 km.
The Dongara Port Denison Tourist Information Centre provides a map detailing the routes and what to see.
Make sure to stop by the boardwalk and climb the lookout. The view is breathtaking, overlooking the Indian Ocean and Irwin River.
Trail 1 – Calico is a 4.6km easy loop that starts at Granny's Beach and takes you up Point Leander and along Ocean Drive. Climb the lookout opposite the boardwalk on Ocean Drive for spectacular views of the Irwin River and the Indian Ocean.
Calico is an outdoor fitness system app that lets you track your walk via the totem poles every 500m.
Trail 2 – Dongara is a 3km loop trail that begins at the Irwin River Lookout in Church Street, along the beach to Town Beach, and then along the river bank until Hunts Road. Here you will pass the old Police Station and Courthouse, now the museum, and then the Visitor's Centre. Walk along Church Street back to the lookout.
Trail 3 – Irwin Heritage River is a 4.6 km loop that starts at the Irwin River Lookout and takes you around the river. This walk is good for viewing the local birdlife. Take the stairs to the riverbank path, which leads onto boardwalks and the beach. Be prepared to get wet feet crossing the river mouth.
Further along, you can take the bridge over the river and walk along the boardwalk. Opposite is another spectacular lookout of the ocean and estuary. The boardwalk leads onto Ocean Drive, then follow the path into Retreat Boulevard, and at the end, head down to the river and follow the track.
The first building you see on the banks is Denison House, used by local arts groups but was originally the site of the first flour mill in 1865. Follow the river track to Irwin River Park, then cross the bridge onto the Dongara side and down the stairs back onto the river track to complete the loop.
Trail 4 – Fishermans is a 2km loop taking in the beach and Marina of Port Denison. Starting a Fisherman's Lookout and Obelisk, a memorial to the many lives lost on this treacherous coastline, you follow the track to South Beach. The Surf Club and StarFish Café are located here, although it was closed when we went past.
The walk takes you back to the Marina via White Tops Road and George Street, where you'll continue to the Fishermen's Hall in front of the Old Jetty ruins at the Fishing Boat Harbour.
Trail 5 – Coastal is a 6km trail that starts at Granny's Beach, where you'll follow the footpath along the coast until you come to the boardwalk river crossing. Cross the walk bridge and follow the Irwin River.
This part of the beach is known as Nun's Pool as it was where the Dominican Sisters swam after walking along the river to the beach from their school at the now Priory Lodge Hotel.
Cross the bridge on Point Leander Drive and back down onto the river trail on the Port Denison side. The house at the end of the river trail was the site of the first Flour Mill in 1865 and is now known as Denison House and used by local art groups.
Follow the river around and back onto the footpath on Retreat Boulevard, which will join the Estuary Boardwalk. Here you can see birdlife, including Black Swans, Ibis, and Pelicans. Then, follow the footpath along Ocean Drive back to Granny's Beach.
Trail 6 – Lookouts, which starts at Fisherman's Lookout, is the longest trail at 9 km. Head along the Marina foreshore to Grannies Beach and follow the path along Surf Beach, passing Nun's Pool. If you have time, cross the road and climb the stairs to the lookout, overlooking the Indian Ocean and the Irwin River Estuary.
Cross the river over the boardwalk and follow it onto the Dongara side. When you approach the Irwin River Bridge, take the stairs and cross the river on Point Leander Drive. Then, head back down to the Irwin River Park and follow the river trail, where you'll see a building on the banks of the river, which was the site of the first Flour Mill in 1865.
Follow the river around, and you will come to a footpath in Retreat Boulevard, which will lead onto the boardwalk and Ocean Drive.
2. Beaches
Granny's Beach
Granny's Beach is great for families, swimming, and snorkeling. The grassed area is shaded and perfect for a picnic and a lovely spot to watch the sunset.
The consistently strong southerly sea breeze makes it a good choice for windsurfing. 
This was our favourite beach here and handy if you stay at the Big 4 Port Denison, as it is right outside. The beach cabins are right on the front, with ocean views from the lounge area and decking.
Northshore Beach
Northshore Beach is excellent for surfing and also has a grassed area.
Nun's Pool
Nun's Pool is the perfect beach for snorkeling as the reef provides a sheltered pool.
Seaspray Beach
Seaspray Beach Café is open for breakfast and lunch. This beach has toilets and showers, but be careful of strong rips.
South Beach
South Beach is popular with windsurfers, kite surfers, surfers, and sand boarders. Windsurfing is best from November to January, when shore winds and rolling waves make this area perfect for downwinders.
You can drive 2WD and 4WD cars on the sand here, as long as you know what you are doing!
Swim only at patrolled beaches, between the red and yellow flags, and read the safety warnings on the beach signs.
Australia's sun is very strong, so apply sunscreen and wear sun-smart clothing, a hat, and sunglasses.
3. Fishing
There are plenty of options for fishing in Port Denison. Bring your dinghy and try to catch tailor, snapper, whiting, dhufish, and Western Rock Lobster. Launch from the boat ramp in Port Denison.
You can also try catching blue manner crabs, tailor, silver bream, whiting and mulloway at one of the three jetties on the marina.
This area is famous for its Western Rock Lobster. Watch the catch being unloaded from the fishing boats each day.
If you don't have any luck, you can always buy fresh fish from Seaz Denison Seafood at the jetty. We bought oysters and Exmouth Prawns, which were both fresh and delicious.
4. Dongara Historic Walk
The best way to see Dongara's historic buildings is on the Heritage Walk, a 4km walk highlighting 28 heritage buildings. You can buy a booklet from the Visitor Centre, in the Old Police Station. Focal points include the Royal Flour Mill, built in 1894, Priory Lodge, the Old Police Station, built in 1870, and Russ Cottage.
5. Russ Cottage
Titus Russ arrived in the colony in 1853, aged 12, with his family. He moved to Dongara around 1860 and later married Caroline Smith Wintle. He squatted on land owned by his employer, Edward Hamersley, a partner in The Cattle Company. Russ built the cottage between 1868 and 1870, and it is believed that limestone weighing over 50 tonnes was carted by a wheelbarrow from 500m away. The house was home to three generations of the Russ family until 1960.
Russ Cottage has been beautifully restored and provides an opportunity to appreciate the unique lifestyles of the early settlers in the 1860s. You can take a guided tour of the cottage and see how the early farming families lived from 10.15 am to 12 pm Mon, Tues, Weds, Fri and Sat.
6. The Big Red Western Rock Lobster
The Big Western Rock Lobster is situated on the Brand Highway & Moreton Terrace corner and is worth a photo when passing or walking by.
7. Illegal Tender Rum Co
The Illegal Tender Rum Co is an award-winning craft distillery in Dongara. You can book a facility tour with a personal guide taking you through the distilling process and offering tastings. Unfortunately, we could not do this as we had under-18s with us.
You can visit Illegal Tender Rum Co's cellar door to purchase their spirits.
8. Dongara Denison Drive-In Cinemas
Opened in 1967, this is one of two Drive-In cinemas still operating in Western Australia and is open from Spring through to late Summer (September to early May).
The Dongara-Denison Surf Life Saving Club Dongara operates the Dongara Denison drive-in, a non-profit cinema with a digital projection showing first-run movies.
Take your camp chairs or sit in the bag of your car and watch a movie under the stars.
It is located on Port Leander Drive at the corner of Ridley Street.
9. Geraldton
Port Denison to Geraldton will take around 45 minutes.
If you haven't been before, it's worth exploring. Some of the best things to do are:
Take a walk along the stunning Foreshore
Visit the HMAS Sydney II Memorial at 10.30 for a free daily tour
Learn about life in this region at the Museum of Geraldton
Drive up to the Point Moore Lighthouse, the oldest surviving Commonwealth lighthouse in the state
Wander around Marine Terrace with boutique shops, street art, and cafes.
Read more on this guide on the best things to do in Geraldton.
10. Wildflowers
If you are here from August to October, drive to see the wildflowers.
Coalseam National Park (pictured) and the areas around Mingenew come alive with carpets of everlastings.
This WA Wildflower Guide is a great resource for where to see these stunning wildflowers.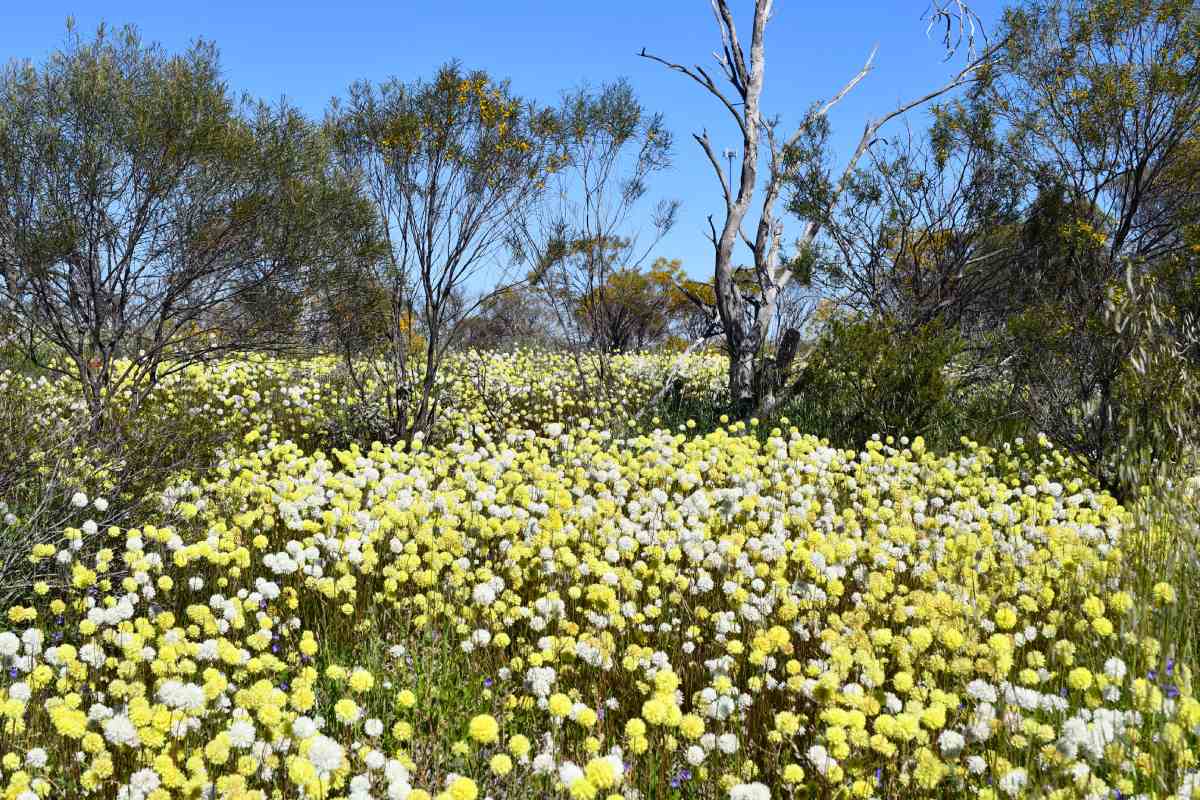 Accommodation in Port Denison
Have you booked accommodation?

We use Booking.com for most accommodation bookings as they offer free cancellation on many properties and have a price match guarantee. We book through Stayz (part of VRBO) for private accommodation as we find it is often cheaper than Airbnb.

Tip: Accommodation gets booked quickly, especially during the WA school holidays. To avoid disappointment, book early.
Our top choice for where to stay in Port Denison is at the BIG4 Dongara Denison Beach Holiday Park right on Granny's Beach. Their beach cabins are right on the front and have spectacular views over the ocean.
See how much the cabins are for your dates here or, if you are a Big 4 member, book direct for a 10% discount.
We also rented a chalet at Leander Reef Holiday Park, a great budget accommodation option. Chalets have a private bathroom, air conditioning/heating, flat-screen TV, microwave, fridge, stovetop, and toaster. The cabin was clean, and the holiday park was very quiet.
See latest rates and availability here
The Lazy Lobster Holiday Units and Chalets are also very popular, although we have yet to stay there.
Camping options are available at Big 4 Caravan Park, Leander Reef, and Dongara Tourist Park.
Places To Eat in Port Denison & Dongara
Being a country town, there are limited food options compared to a city. However, the couple of restaurants we did eat at were very good.
ISeaspray Beach Café is open for breakfast and lunch. The food and service here are amazing. It's very popular and is often full.
The Dongara Hotel pub is our favourite place for dinner (and the breakfasts are tasty too). The servings are big, and it has an extensive menu, delicious food, and friendly service. There's an outdoor area as well as indoors. The fish and chips are scrumptious, as are the curries.
As with most Australian country towns, there's a bakery in Dongara if you are after some sweet treats.
The Green Beanie, a quirky caravan-style coffee van, has great coffee for your caffeine fix, or Poppies By The Park in Dongara is always busy.

For other ideas on where to visit in Western Australia along with the best things to do, where to stay, how to get around, and other essential information, click on the link below.


Save Money Planning your Trip
Click on the links which will take you direct to the website.
Flights ✈️
We usually fly Virgin Australia domestically due to their competitive prices and fantastic customer service and fly with Qatar Airways to Europe.
Travel Guides 📖
As well as using online resources, like other travel blogs, I like to flick through a paper travel guide too. I either rent them from our local library or buy them from Bookdepository if I want to take it with me.
Accommodation 🏩
We mainly use Booking.com for accommodation as they consistently have the lowest rates with free cancellation on most properties. We also book through Stayz for private accommodation as they are usually cheaper than Airbnb.
Car Rental 🚘
To compare rental car company prices, we use Discover Cars, an award winning car rental comparison website. They offer competitive pricing in over 10,000 locations worldwide and are highly-rated.
Campervan/RV Rental 🚐
Drivenow is a good resource to compare campervan hire in Western Australia as it includes all the large companies like Britz, Maui, Jucy as well as smaller ones.
Tours & Attractions 🎢
We use third-party sites Viator, Get Your Guide & Klook due to their free cancellation policies, instant confirmation, price guarantees, and mobile ticketing. We occasionally book through Red Balloon too.
Accessing Money 💵
We recently started using Wise to access funds internationally, including trips to Bali and Malaysia. They offer a debit card in 50 currencies and transfers are fast and free from hidden fees and exchange rate markups. Funds can be accessed through ATMs too. Wise has saved us a lot of money compared to our usual credit card and debit card.
Travel Insurance 🌏
Cover-More and Travel Insurance Direct are our preferred travel insurance companies for domestic and international travel.

See this Travel Insurance for Australia guide for more information.
If you found this Port Denison guide helpful, please consider booking through one of our links. It won't cost you anything but will help towards the cost of running this site. Thank you.