The Best Perth to Jurien Bay Road Trip Itinerary
Are you thinking about a Perth to Jurien Bay Road Trip in Western Australia? Find out how to get there, what to see on the way, and tips for your journey. All this by a local who has lived in Perth for over 20 years.
Perth to Jurien Bay Distance
The driving distance from Perth to Jurien Bay is 219 km.
Perth to Jurien Bay Travel Time
You can get from Perth to Jurien Bay by road in less than two and a half hours.
How to get from Perth to Jurien Bay by road
International and domestic visitors will fly into Perth Airport. Find details about visas, prohibited items, currency, and safety in this Australia Travel Guide and tips on arriving into WA and other essential travel information in this Western Australia Travel Guide.
There are car hire booths at Perth Airport, but it's best to pre-book your car rental.

To compare Australian car hire prices, Discover Cars is an award-winning car rental comparison website. They offer competitive pricing in over 10,000 locations worldwide and are highly rated.

DriveNow is a good resource to compare campervan hire in Western Australia. It includes all the large companies like Britz, Maui, & Jucy as well as smaller ones.

Compare Rental Cars Here.

The quickest way from Perth is to take the Mitchell Freeway (2) to the end at Hester Avenue and turn right. After 1 km, turn left onto Wanneroo Road, which becomes Indian Ocean Drive at Yanchep.
Indian Ocean Drive takes you all the way up to Jurien Bay.
Read these Indian Ocean Drive Tips to stay safe on these roads (there have been numerous accidents on this stretch).
🤩 To Book Tours Direct with the Tour Operators, click the links in the box below
Perth to Jurien Bay Road Trip Itinerary
Duration: Three to Five Days
Best Time: Summer, autumn, and spring.
Jurien Bay can be visited as a massive day trip (not recommended), for a weekend, or as part of a road trip. This Perth to Jurien Bay Road Trip itinerary can be adapted to suit your requirements and length of time away.
Head out of the city on the Mitchell Freeway (State Route 2) and stay on it until the end. At Hester Avenue, turn right and follow the road until you reach Wanneroo Road, then turn left towards Yanchep. This road becomes Indian Ocean Drive which will take you to Jurien Bay.
Yanchep National Park
If you haven't been to Yanchep National Park, take the turnoff to Yanchep National Park, off Wanneroo Road. One of the best things to do here is the 240m Koala Boardwalk, where you'll get to see koalas living in a natural environment. They are usually relatively easy to spot and close to the walkway, providing fantastic photo opportunities.
Koalas aren't the only native wildlife in Yanchep National Park. It is also home to many western grey kangaroos that can be seen early in the morning or late afternoon. At other times, look for them resting in the shade.
If you want to spend a bit longer here, the park has nine walk trails suited to various ages and fitness levels from 500m up to 46.2km!
There are free BBQs available along with plenty of places for a picnic or visit the Yanchep Inn, open from 8 am until late, for breakfast, lunch, or dinner. The Chocolate Drops Tearooms are perfect for coffee/tea and something light to eat.
Guilderton
Guilderton is a small coastal town where the estuary meets the ocean and is ideal for relaxation, swimming, fishing, surfing, and kayaking.
If you have time in your schedule, make a 5 km detour to visit Moore River (as the locals call Guilderton). The grassed area along the foreshore is a nice spot for a picnic or wander up to the lookout for beautiful views over the ocean and river mouth.
You may even want to stay longer and spend the night here. The link below provides ideas on accommodation in Moore River/Guilderton.
Guilderton Travel Guide
For more ideas on what to do here, places to eat, and where to stay, click on the link below.
Have you booked accommodation?

We use Booking.com for most accommodation bookings as they offer free cancellation on many properties and have a price match guarantee. We book through Stayz (part of VRBO) for private accommodation as we find it is often cheaper than Airbnb.

Tip: Accommodation gets booked quickly, especially during the WA school holidays. To avoid disappointment, book early.
Lancelin
As you travel further north along Indian Ocean Drive, you'll notice how the landscape changes from native bush to agricultural land and sand dunes.
Half an hour from Guilderton, is the small town of Lancelin, famous for its sand dunes, which are the largest in Western Australia. You can reserve sandboards here and collect them from 7 am every day of the week for a fun activity. 2wd vehicles can access the dunes, but you will need to park at the base of the dunes.
If sandboarding doesn't appeal to you, take a drive to Lancelin's lookout for views over the beach and ocean.
If you're planning on exploring Yanchep and Guilderton, you may want to see what accommodation is available in Lancelin before venturing further up the Coral Coast.
Lancelin Travel Guide
For more ideas on what to do here, places to eat, and where to stay, click on the link below.
Wedge Island
As you leave Lancelin behind you, consider a stop at Nilgen Lookout for views over the bushland to the ocean.
Wedge Island is only a 35-minute drive from Lancelin and a great place to stop for morning tea and a swim if you have a 4wd. Other vehicles can now access Wedge Island but need to use the car park, four-wheel-drives can drive onto the beach and set up for the morning (it gets very windy late-morning/afternoon).
The Pinnacles
The next stop on this Perth to Julien Bay road trip is the incredible geological limestone formations of the Pinnacles, located in Nambung National Park, about half an hour from Wedge Island. It's amazing to see this desert landscape so close to the ocean. You can see the coast from the Pinnacles Lookout.
If you have your own car, an unsealed road takes you around the Pinnacles, where you can stop to wander amongst them and take photos. Otherwise, park in designated parking bays and walk the short distance.
A Guide to The Pinnacles
This guide provides information on the history and how to see the Pinnacles.
Cervantes
The fishing town of Cervantes is a 15-minute drive from the Pinnacles, where you can take a walk around Lake Thetis, a small inland saline lake, to view the living marine stromatolites.
While there, take a drive to the ocean-front to see cray boats moored or have a swim at one of the beaches.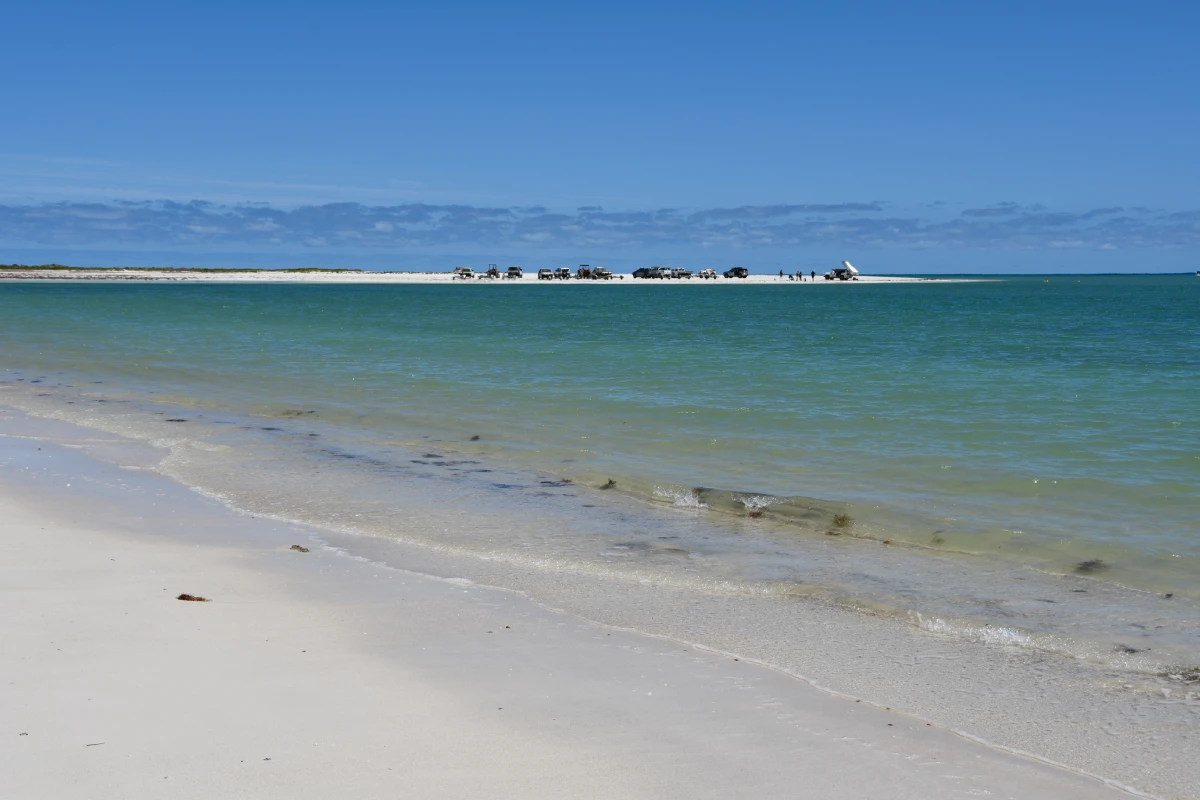 A Guide to Cervantes
This travel guide provides a list of things to do in Cervantes, accommodation options, and where to eat.
Jurien Bay
The last stop on this Coral Coast road trip is Jurien Bay, a popular holiday destination for Perth locals. Choose from activities such as relaxing on white sand beaches, surfing, fishing, and snorkelling in the protected bay.
If you base yourself here for a couple of days, there are other options including Lesueur National Park, Stockyard Gully Caves, Sandy Cape and Greenhead.
Things To Do in Jurien Bay
For a complete list of things to do in Jurien Bay, click on the link below.
Jurien Bay Accommodation
Jurien Bay Caravan Park has a range of air-conditioned chalets that sleep from two up to seven. The Jurien Bay Tourist Park is in an excellent location right by the beach and close to the bakery, tavern, shops, Jurien Bay Hotel and IGA.
Jurien Bay Motel Apartments have a wonderful reputation for their air-conditioned apartments, which feature modern kitchens. The central location means that you don't have to walk far to the shops, foreshore, and restaurants.
Aqua Shack, a 3-bedroom house located 200 m from the beach, has a large garden with a barbecue. The fully equipped kitchen provides guests with a dishwasher, a microwave, a washing machine, a fridge, and an oven.
Coastal Paradise features a terrace with sea views, an outdoor swimming pool, and a bar. This Jurien Bay accommodation can sleep up to six guests in the three bedrooms. So, if it's a spectacular property you're after with lots of space, then this is the holiday accommodation for you.
Where To Eat in Jurien Bay
As Jurien Bay is a small town, there isn't a massive range of dining options. However, here is a list of some of the best places to eat in Jurien Bay:
Jurien Bay Bakery (delicious pies & sausage rolls and good coffee – recommended)
Sandpiper Tavern (tasty pizzas and great service – recommended)
Murray St Grill (good reviews on Tripadvisor)
Family Affair Café
Jurien Jetty Café
Perth to Jurien Bay Road Trip Packing List
If you take prescription medication make sure you have enough for the duration of your trip and bring a script renewal from your doctor
Swiss army knife, torch, & spare batteries
First aid kit, emergency blanket & fire extinguisher
Tools & spare tyre
Duct tape
Umbrella/rain protection
Mix of clothing, including lightweight and breathable options for hot days and layers for cooler evenings
Comfortable walking shoes
Swimwear & towels
Insect repellent – mosquitoes can carry diseases such as encephalitis and Ross River fever
Sun protection – sunscreen, large brimmed hat, sunglasses, and long-sleeve top
National Park holiday or annual pass, which can be purchased online or at various outlets like visitor centres. RAC WA offer a 50% discount for members
A CB Radio is helpful if you are planning to travel to remote areas
Cash and credit/debit cards
Toiletries
Toilet Paper
Travel mugs, reusable water bottles, utensils, rubbish bags, and reusable bags
Eskie or portable fridge
Snacks and Water
Camera, drone, phone, tablet, and chargers
Entertainment (cards, board games, books etc.)
Guidebook (I still like having a paper version)
Tips for a Perth to Jurien Bay Road Trip
Leave early in the morning to arrive well before dusk when animals can hinder and danger the roads.
Don't drive tired. If you feel sleepy, pull over at one of the many rest stops on the side of the road.
Make sure you have plenty of water for your journey – stay hydrated.
Keep some snacks handy for the car journey.
Be prepared that you may lose the radio signal in some parts, so bring some music with you.
Know your route and research the best places to stop along the way. Our Western Australia travel guides provide great advice on which hotels, restaurants and attractions to visit.
Check for road closures which can be closed due to several factors, including bush fires.
If you are towing a caravan, trailer, or boat ensure you know the legal load limit for your vehicle and that it is well secured. The maximum speed limit for a vehicle towing a trailer or caravan is 100 kmph, unless otherwise signposted.
Buy a Telstra SIM card as their regional coverage is the best.
Road trains (large trucks with up to four carriages) can be as long as 60m so extreme care must be taken if overtaking.
Keep up to date with emergency advice on the WA Emergency site.
The open road speed limit is 110 km per hour and 50 km per hour in built up areas. However, pay attention to the signs as they often change.
It is illegal to touch your mobile phone while driving and all passengers must wear a seatbelt.
Carry a first aid kit.
It is highly recommended to have a GPS in order to avoid getting lost or download a mapping app like Avenza that provides a map even when you are out of range.
Note a list of emergency contacts before you leave.
Keep valuables out of sight.

With these considerations in mind, you should be able to enjoy a safe, fun, and memorable road trip from Perth to Jurien Bay.

For other ideas on where to visit in Western Australia along with the best things to do, where to stay, how to get around, and other essential information, click on the link below.


Save Money Planning Your Trip
Click on the links, which will take you directly to the website.
Flights ✈️
We fly Virgin Australia domestically due to their competitive prices and fantastic customer service, and fly with Qatar Airways to Europe.
Accommodation 🏩
We mainly use Booking.com for accommodation as they consistently have the lowest rates with free cancellation on most properties.
For pet sitting in Western Australia and worldwide, we are members of Trusted Housesitters. Free accommodation for pet and house sitting.
Car Rental 🚘
To compare rental car company prices, we use Discover Cars, an award-winning car rental comparison website. They offer competitive pricing in over 10,000 locations worldwide and are highly rated.
Campervan/RV Rental 🚐
DriveNow is a good resource to compare campervan hire in Western Australia as it includes all the large companies like Britz, Maui, and Jucy as well as smaller ones.
Travel Insurance 🌏
Cover-More and Travel Insurance Direct are our preferred travel insurance companies for domestic and international travel.

See this Travel Insurance for Australia guide for more information.
If you found this Perth to Jurien Bay Road Trip helpful, please consider booking through one of our links. It won't cost you anything but will help towards the cost of running this site. Thank you.