Collie is a regional mining town in Western Australia's South West. It's about a two-hour drive from Perth, making it an ideal destination for day trips or a weekend getaway. Although the town is small, there are several outdoor activities and attractions to see in the Collie River Valley region. Here are our top things to do in Collie Western Australia, including camping, hiking, and swimming in Honeymoon Pool. Collie is becoming one of the top destinations in Western Australia.
Disclosure: This post may contain affiliate links (of which we use) so we may receive a small amount of commission if you buy something through them. As an Amazon Associate, I earn from qualifying purchases. You can read the full disclaimer here.
Things to do in Collie WA
Follow the scenic Lennard Drive
Lennard Drive is a single-way scenic road through Wellington National Park. It starts at Wellington Dam near the kiosk beside the dam. The first stop is The Rapids, a fast-moving part of the Collie River.
At Big Rock, stop for a picnic or a swim in the calm water.
Following the river, you will arrive at Little Rock. Here, a path will lead you to the picnic area and the water. The sloping granite banks are gentler, and the water is slow, pooling at the shallow part, then cascading over rocks into a deeper pool.
The last stop along the drive is Long Pool. This hidden swimming spot can't be seen from the road, but it is signposted. Here you can access Long Pool from a wooden deck by the picnic area.
If you turn right into River Road at the T junction at the end of Lennard Drive, it takes you over a bridge and into Honeymoon Pool. From here, you can continue on River Road back onto Wellington Dam Road and exit the National Park.
Lennard Drive is sealed but not suitable for caravans, motor homes, and cars towing trailers due to the windy bends.
Hike in Wellington National Park
Wellington National Park has 17,000 ha of unique eucalypt forests of jarrah, marri, and Karri (blackbutt) with around 70 species of birds. During spring, the wildflowers come into bloom with more than 300 colourful plants.
The park has numerous walking and bicycle trails, offering a variety of experiences depending on your fitness level. Maps are available in the Visitor Center or download here.
Jabitj (running water) walk trail  – 12 km return
This hiking trail runs between Honeymoon Pool along the Collie River to the kiosk, through forest, granite outcrops, pools, and rapids. You should allow two to three hours each way.
Kurliiny Tjenangitj (come and see) walk trail – 9.5 km loop
You are rewarded with stunning views of the Collie River and forest after a steep climb. For a shorter walk, it's a 5 km return from Honeymoon Pool to the lookout.
Sika dual use trail – 9.8 km loop
This walking and cycling trail starts at the kiosk and heads north through jarrah forest with views over the Collie Valley. Potters Gorge is a lovely place to stop with its good swimming and picnic areas.
Munda Biddi cycle trail
This long-distance cycle trail goes from Perth to Albany, passing through Wellington National Park. 
Wiilman Bilya Trail – 20 km walk trail
This walking trail extends from Wellington Dam to the Coalfields Highway, through impressive blackbutt and jarrah forest and past granite outcrops. You should expect a full day walk in either direction, with the option to camp overnight at Nyingarn campsite or Potters Gorge.
Swim at Honeymoon Pool
Honeymoon Pool, part of Wellington National Park, is shaded with a canopy of peppermint trees. A large wooden deck extends out through the river offering easy access into the water. In the summer, it is the perfect place to cool down (be warned, the water is ice cold!)
See the mural at Wellington Dam
Please note that the vehicle and pedestrian bridge at the bottom of the mural is closed due to a planned upgrade. Work is expected to be completed by 2023/24, but you can find up-to-date information from the Water Corporation.
Wellington Dam is one of the most impressive dams in Australia, thanks to the 8,000 sqm mural that covers the wall. World-renowned Australian artist, Guido Van Helten, completed the work in February 2021, and it is believed to be the world's biggest dam wall mural. The murals are called reflections and are inspired by local stories and photographs.

You can view it from the bottom and walk across the bridge or view it from above from the lookout. I recommend doing both to see it from different perspectives.
Photos don't do it justice; it is an incredible work of art on a vast scale. Don't visit the Collie River Valley region without seeing this mural.
Kiosk At The Dam is now licensed and offers locally produced craft brew and wine alongside its seasonal menu.
Relax at The Quarry
The Quarry is a large grassed area with barbecues and picnic tables along Wellington Dam Wall. The quarry was formed during the construction of the wall when material was required. Now the granite face backdrop is the perfect place for children to run around and for picnics.
Swim at Black Diamond Lake Collie
Black Diamond Lake is arguably one of the most popular things to do in Collie and an Instagram hotspot. This lake was originally a mine site but now attracts people due to its stunning turquoise colour (best when sunny).
Read this Black Diamond Lake guide for important information.
Kayak at Stockton Lake
Stockton Lake is another old open-cut mine converted into an artificial lake. The calm waters are perfect to swim and kayak and are also popular for boating and water skiing.
While swimming is allowed, you swim at your own risk as the water is mildly acidic due to past mining. Water can suddenly become very deep and can be freezing, and submerged rocks are a hazard, so don't dive or jump in.
Dogs are allowed here but must be kept on a lead.
Visit Minninup Pool
Minninup pool is used for cooling off during the summer, fishing, and canoeing. It's also popular with photographers capturing the beauty of the place, especially on those cold winter mornings.
Picnic tables and toilet facilities are available here.
Fish or waterski at Lake Kepwari
Another former mine site, now filled in with water from the Collie River, Lake Kepwari is ideal for water activities and lakeside camping. There's a designated waterski area on the lake along with a boat ramp.
You can fish here but check the fishing season with the Department of Fisheries.
Lake Kepwari is dog-friendly, but they must be kept on a lead.
Go Mountain Biking
Collie is fast becoming the top 'Trip Adventure Town' in WA thanks to its A$10 million Collie Adventure Trail project, offering world-class mountain bike and walk trails through stunning landscapes. There are more than twenty trails for beginners and pros, with new trails being added.
You can hire a bike from the Kiosk near the dam.
Learn about Collie's History
Collie, founded in 1897 after coal was discovered along the Collie River in 1883, opened its first coal mine in 1927. Visit the Replica Underground Coal Mine at the Collie Visitor Centre, then cross the road to the Coalfields Museum.
While at the Visitors Centre, pick up maps and brochures for the area and stop to view the locomotives (free of charge).
Coffee from Wagon 537 & Waterspray Park
Wagon 537 is a pop-up coffee shop in a heritage train wagon, popular among travellers and locals. They serve delicious food and drink, including Margaret River Roasting coffee, milkshakes, cold-pressed juices, hot chips, sandwiches, wraps, bagels, hamburgers and cakes.
If you're here during the summer, Waterspray Park is close by and a perfect spot for the family to relax.
Glen Mervyn Dam
Glen Mervyn Dam is 18 km south of Collie and is a popular spot for waterskiing, swimming, and fishing. You can camp on the western side via a narrow unsealed track, which is not designed for towing caravans. It is dog-friendly, but they must be kept on a lead (fox baiting occurs nearby, and the baits are highly toxic to pets).
The Rail Heritage Centre was closed when we visited as it's not open on weekends. We walked over the railway bridge and could view the old railway station but couldn't access it.
Dog Friendly Walks
Karak Trail 3.5 km
The Karak Trail starts near the Collie Cemetery and winds through forest to end in Allanson. You'll enjoy the walk through jarrah, marri, and paperbark trees. Look out for the red-tailed cockatoo that the walk is named after (the local Aboriginal word).
Timber Park
Timber Park is a dog agility park with a range of obstacles for your dog. However, dogs are required to be on-lead.
Collie River Walk 10 km
Park at the Soldiers Memorial Park and embark on this picturesque trail that follows the Collie River. There are picnic sites along the way and this cool swinging suspension bridge.
Where to Eat & Drink in Collie
The Federal Hotel, or the Feddy as it's known, is a heritage-style hotel that offers great food and friendly service.
8 Thai Ladies is highly recommended for their authentic cuisine and bulletproof coffees.
Head to Harris River Estate Winery for some wine tasting and lunch at their Cellar Door restaurant. Relax on the balcony with a shared platter and a bottle of their wine, looking out over the beautiful dam and vineyard. If you don't like wine, don't worry, they also have a microbrewery and a small range of Australian botanical-infused gins.
Collie Accommodation
Tip: Accommodation gets booked out quickly, especially during school holidays. To avoid disappointment, book early. We use booking.com as most properties offer free cancellation if your plans change. See what's available for your dates here.

We also book through Stayz rather than Airbnb as they are often cheaper.
We stayed at Glen Mervyn Lodge, private accommodation just south of Collie, near the Glen Mervyn dam. We thoroughly enjoyed our stay in this renovated farmhouse.
For more information and photos, read this Glen Mervyn Lodge Review.
Try Red Tail Retreat, a luxury, fully self-contained accommodation in the North of Collie, for modern comforts. The rooms contain a full kitchen with a dishwasher, coffee machine, washing machine, microwave, fridge, and cooktop/oven.
Whispering Pines Bed and Breakfast is a highly-rated B&B that offers a choice of four rooms, all with ensuite. The Treetop room adds a bit of romance with its four-poster bed, with a balcony in the treetops overlooking the garden.
Collie also has three great motels that receive excellent reviews: Black Diamond Lodge, Banksia Motel, and Collie Ridge Motel.
We use Booking.com for most accommodation bookings as they offer free cancellation on most rooms, have a loyalty program (Genius), a price match guarantee, the site is user-friendly and they have great customer support. We also book through Stayz for private accommodation as they are often cheaper than Airbnb.
Camping in the Collie River Valley region
Wellington National Park offers bush camping close to Collie.
Potters Gorge has lakeside camping for caravans, camper trailers, campervans and tents. There are no-flush pit toilets, free gas BBQs, picnic tables, and fire pits (only to be used seasonally).
Honeymoon Pool is well equipped with flushing toilets, free gas BBQs, picnic tables, and a fire pit per camping site. Tents only.
Stones Brook at Honeymoon Pool has flushing toilets, free gas BBQs, and picnic tables. Tents only.
Gelcoat Rapids is a quieter camping site offering no-flush pit toilets, picnic tables, and campfire (seasonally). Tents only.
You can book directly with the Department of Parks and Wildlife.
Stockton Lake campground has toilets with universal access and camp fires are allowed seasonally in the designated concrete fire rings provided. It doesn't need reserving and operates on a first-come, first-served basis.
How to get from Perth to Collie
International and domestic visitors will fly into Perth Airport. Find details about visas, prohibited items, currency, and safety in this Australia Travel Guide and tips on arriving into WA and other essential travel information in this Western Australia Travel Guide.
There are car hire booths at Perth airport, but it's best to pre-book your car rental. Choose from Avis, Budget, Europcar, Sixt, Hertz, Enterprise, and Thrifty.

To compare rental car company prices, I use Discover Cars, an award-winning car rental comparison website. They offer competitive pricing in over 10,000 locations worldwide and are have a high rate of customer satisfaction. Another option is Rentalcars.

Drivenow is a good resource to compare campervan hire in Western Australia as it includes all the large companies like Britz, Maui, Jucy as well as smaller ones.
Perth to Collie by car
The quickest way to get to Collie from Perth is by car, which will take about two and a half hours. 
Perth to Collie by bus
TransWA runs coach services between East Perth and Pemberton, stopping in Collie, which takes around 3 hours and 40 minutes.
Collie Weather & Forecast
January is the driest month, while July is the wettest. 
January is also the warmest month, with an average max temperature of around 30 °C and a minimum of 13°C.
The coldest month in Collie is July, with an average maximum of 15°C and a low of 4°C.  
If you want to swim in the pools, summer is the best time to visit Collie. However, the shoulder seasons of spring and autumn can be a lovely time of year with sunny days and cooler nights. Don't write winter off either, as it can be nice to cuddle up in front of a wood fire or curl up in bed with an electric blanket while spending your days hiking or mountain biking.
See the Bureau of Met for an up to date 7-day forecast in Collie.
Swimming information for the pools
The Department of Health provides helpful tips for swimming in Western Australia's rivers, estuaries, lakes, dams and beaches. Please take time to read the information before swimming in one of the pools near Collie. The Department of Parks and Wildlife also offers advice, some of which is common sense, but other points are worth noting.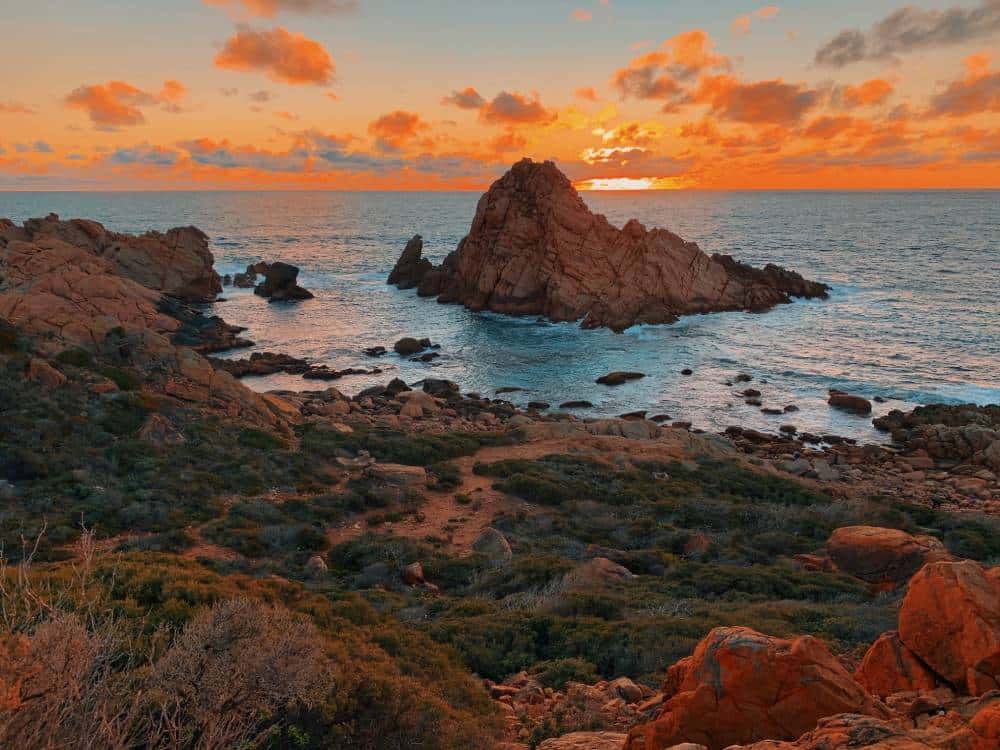 Western Australia's South West Travel Guide
This detailed travel guide provides information on all the regions that make up Australia's South West. Read about the destinations, including what to do and where to stay.



For other ideas on where to visit in Western Australia along with the best things to do, where to stay, how to get around, and other essential information, click on the link below.


Save money planning your holiday
Click on the links which will take you direct to the website.
Flights: We use different sites to get the best possible price for flights. Check matrix.itasoftware.com to get an idea of the cheapest dates, but you can't book through this site. Compare the cost of flights with Kiwi.com and try different routes.
Travel Guides: As well as using online resources, like other travel blogs, I like to flick through a paper travel guide too. I either rent them from our local library or buy them from Bookdepository if I want to take it with me.

Accommodation: We mainly use Booking.com for accommodation as they consistently have the lowest rates with free cancellation on most properties. We also book through Stayz for private accommodation as they are usually cheaper than Airbnb.
Car Rental: To compare rental car company prices, we use Discover Cars, an award winning car rental comparison website. They offer competitive pricing in over 10,000 locations worldwide and are highly-rated. Another option is Rentalcars.com
Campervan Rental:Drivenow is a good resource to compare campervan hire in Western Australia as it includes all the large companies like Britz, Maui, Jucy as well as smaller ones.
Tours: We use third-party sites Viator, Get Your Guide & Klook due to their free cancellation policies, instant confirmation, price guarantees, and mobile ticketing. We occasionally book through Red Balloon too.
Travel Insurance: Cover-More protects the travel dreams and experiences of more than 15 million people worldwide every year (including us!). Part of Zurich Insurance Group, they cover 22 countries across five continents with leading positions in the USA, Australia, Brazil, Argentina, Ireland, India and New Zealand. Protect your trip against several COVID-19 scenarios during the current coronavirus pandemic. 
If you found this travel guide on things to do in Collie helpful, please consider booking through one of our links. It won't cost you anything but will help towards the cost of running this site. Thank you.